As an Amazon Associate, we earn from qualifying purchases made on our website.
Yamaha and Dynaudio are two renowned and well respected brands in the audio industry that produces high quality car speakers, headphones, soundbars, and subwoofers.
In this article, we will cover a general overview of both brands, looking specifically at sound quality, durability, price and so on. Of course, each brand has different devices at different price points, however we will compare them as closely as we can.
Yamaha is a highly respected brand in the audio industry known for its wide range of high-quality audio products for a variety of applications, while Dynaudio is a well-regarded brand in the audio industry known for its high-quality speakers and headphones.
Pros and Cons of Dynaudio:
Pros: Known for producing high-quality speakers with excellent sound quality and strong bass response. Many of their products are designed to be aesthetically pleasing and can be a good fit for a home theater setup.

Cons:

Some of their products can be expensive, and some users have reported issues with durability.
Pros and Cons of Yamaha:
Pros: Known for producing a wide range of audio and video products, including speakers, headphones, and home theater systems. Many of their products are well-regarded for their sound quality and value for money.

Cons:

Users have sometimes reported issues with their Yamaha receivers not producing any signal.
Quick History
Yamaha Quick History
Yamaha is a Japanese brand that was established by Torakusu Yamaha in the year 1887. It produced the first Yamaha piano in the 1900s, which eventually laid a solid foundation for the many products that followed.
Yamaha is one of the largest audio product manufacturers with a reputation that sees their products used in international competitions and by renowned musical maestros. The Yamaha brand has a wide range of products that cut across professional audio equipment, digital and acoustic musical instruments, home audio products, and many others.
Dynaudio Quick History
Dynaudio is a Danish loudspeaker manufacturer that was founded in 1977. Dynaudio builds car speakers using only their own drivers, for home use, professional use and car audio systems. Dynaudio products have been used by BBC, Volvo, Bugatti, Volkswagen and several recording studios.
However, Volkswagen has switched to a different audio supplier for most of their new vehicles. Currently, only the Volkswagen Touareg is still available with a Dynaudio sound system from the factory.
Sound Quality
Yamaha Sound Quality
Yamaha audio equipment is known for producing clear and rich bass delivery and overall exceptional quality sound.
Yamaha speakers have multiple sound modes with an incredible ability to deliver soft but loud sound delivery. This is because of their high dynamic range, which includes a great deep bass and an extended high.
Dynaudio Sound Quality
Dynaudio devices are known for their precise sound and sensitive response. Their in-house drivers have superb audio reproduction, with well-balanced tones.
Some of their tweeters use their Hexis built-in dome for rich amounts of detail in the sound output. Coupled with their in-house woofer driver, you get a well-balanced sound output that doesn't blow out or subdue some tonal ranges.
Features
Yamaha Features
Yamaha has one of the most diverse selections of audio products with diverse features, which might make the feature hard to generalize. However, here are some across their audio devices.
Wireless connectivity including Bluetooth, Wi-Fi, and Music Cast (for multi-room connection).
Voice command features such as Google Assistant and Amazon Alexa
HDR10+, HDMI, 8K/60Hz, and 4K120Hz
Online streaming support for Spotify, Apple AirPlay, etc
Virtual surround
Dynaudio Features
Dynaudio devices have a lot of useful features that make them easier to use or improve their sound quality. Some common features found in Dynaudio devices are:
Wide selection of ports, including HDMI, USB, coax, aux input and optical audio input.
Wireless connection using wifi or Bluetooth
Stream from iRadio, Apple Airplay, UPnP™ via wireless network connection
Play music streamed from macOS, iOS, Android, Windows or Windows Mobile devices using a Bluetooth wireless connection.
Provide USB battery charging for appropriate devices.
Build Quality
Yamaha Build Quality
Yamaha products use modern groundbreaking technology to deliver high-end audio products. Their products are known for delivering premium performance and last a pretty long time.
Yamaha products come with an impressive aesthetic delivery and long-lasting function. This is because they pay attention to the use of high-quality material in the production of their devices.
Dynaudio Build Quality
Dynaudio is very conscious about the quality of their products, down to the smallest components. They manufacture their own drivers and use the best materials for the components.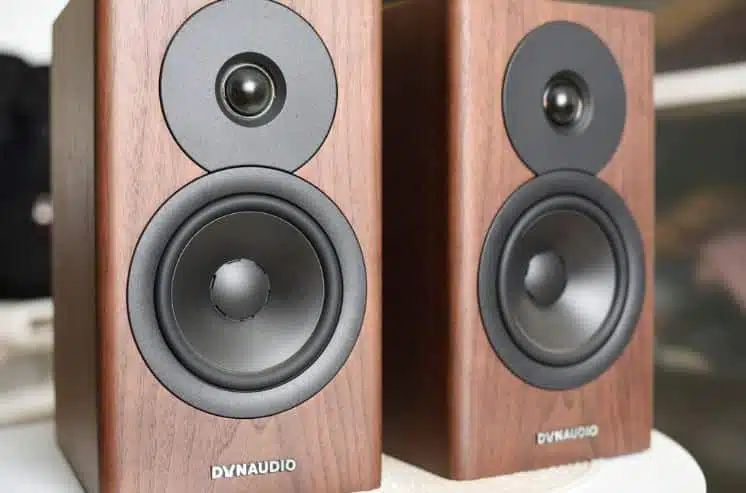 The Dynaudio Evoke 10, for example, has a magnesium silicate polymer (MSP) woofer and coated soft dome tweeter for excellent durability and accurate sound output.
The body is constructed from durable materials such as wood veneer, aluminum and sturdy plastic that are braced and damped to minimize vibrations.
Ease of Use
Yamaha Ease Of Use
Yamaha offers an array of easy-to-use audio equipment. This includes wireless-enabled streaming speakers such as the Yamaha MusicCast WX-030. Yamaha products include devices with buttons that are easy to operate and remote control for use across the room.
Dynaudio Ease Of Use
Dynaudio devices are easy to set up and operate. They support the use of infrared remotes and the Connect Control app which makes it still much easier to use them
Cost
Yamaha Cost
Yamaha has an array of products that are more affordable than most other brands. For example, the Yamaha R-S202BL Stereo receiver is a high-quality receiver that costs around $200 to $300 but offers more features than other products in the price range.
The price tag you will get for most Yamaha products is listed below.
High-quality receivers from $200 to $1500
Speakers:
Centre channel speakers – $70 and upwards
Indoor/outdoor speaker – $100 and upwards
Ceiling speakers start at $130, and
Bookshelf speakers from $120
Dynaudio Cost
Most Dynaudio devices have midrange prices, but some of their products have high-end price tags. The price ranges of some Dynaudio devices are given below.
Floorstanding: $1200 – $25,000
Bookshelf: $400 – $5000
Subwoofers: From $2400 and above
Transmitters: From $300 and above
Space Requirements
Yamaha Space Requirements
Most Yamaha products, particularly the soundbars and Bluetooth speakers, are a great fit for ‌any room. The portable size and sleek design of most of these devices make them fit easily into small spaces without demanding too much space..
Dynaudio Space Requirements
Dynaudio devices vary a lot in size. They have desktop/bookshelf models to large, floorstanding speakers. For example, the petite Dynaudio Evoke 10 desktop speakers measure 180x315x266mm (WHD) and weigh 6.7kg compared to the Dynaudio Emit 50 that measures 8.1″ x 44.9″ x 12.3″ (WHD) and weighs a hefty 57.2 lbs.
Remote Controls
Yamaha Remote Controls
Most Yamaha audio devices come with a handheld remote control for simple control of the device. But, beyond the physical remotes, Yamaha designed a virtual remote for almost all the audio products from the brand. This includes headphone control, multimedia music control, MusicCast Controller, and AV Controller.
This virtual remote can be downloaded from the app store for Android, iPhone/iPad, and PC use.
Dynaudio Remote Controls
Dynaudio devices can be remotely controlled using an infrared remote or the Dynaudio Connect Control app. To use the app, the devices have to be connected over the same WiFi network.
Power Range
Yamaha Power Range
The power range for an average floor-standing Yamaha speaker is around 100 watts to 200 watts. However, a Yamaha bookshelf speaker has a power range of 200-600 watts.
Dynaudio Power Range
Dynaudio devices come with large power ranges for powerful sound output. The Dynaudio Evoke 10 is rated at 160 Watts peak power. The much larger Dynaudio Emit 50 is rated at 240 Watts.
Frequency Response
Yamaha Frequency Response
Yamaha audio equipment have a general frequency range of about 28 Hz-25kHz.
Dynaudio Frequency Response
The frequency response ranges vary from device to device, though they all are within recommended levels for maximum enjoyment.
The petite Dynaudio Evoke 10 has a frequency response range from 47Hz–23kHz, which is excellent for a speaker of its size. The Dynaudio Emit 50 floorstanding speakers span a wider 33Hz – 25KHz.
Conclusion
Yamaha is one of the oldest audio companies in the world today, but they have only grown better over the years. They have a range of diversified products, including musical instruments, and professional and personal audio products.
Dynaudio is a brand that manufactures devices that deliver quality audio output with great accuracy. The great thing is that you can enjoy their devices whether you have money to spend or you are on a tight budget.
Norvan Martin is the founder of BoomSpeaker.com. He is a professional Electronics Engineer and is passionate about home theater systems and AV electronics. BoomSpeaker was created as an online hub to share his knowledge and experiences as it relates to home theaters and home audio electronics.
My email: admin@boomspeaker.com
Connect on Pinterest and Linkedin