Getting the right speaker to match your receiver and deliver a high-quality sound experience has become much easier today than it was a few years ago. However audio manufacturers are getting more adventurous and more into the digital realm.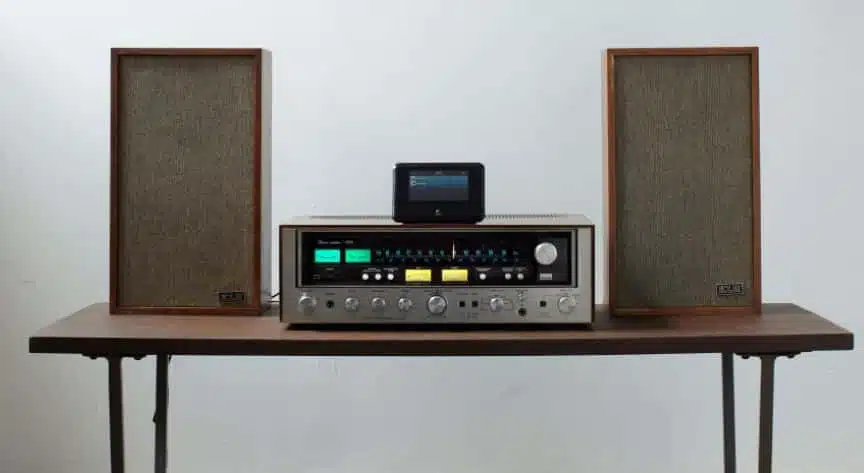 What if you have a vintage receiver and you want a vintage speaker to match it? In this article, we will be looking at the best vintage speakers for vintage receivers.
Let's get to it. Please note that being vintage speakers, not all are available on Amazon, but we have provided the necessary links where available. While you are at it, check out our list of the best vintage receivers for standalone options.
The Best Speakers For Vintage Receivers
If you are looking for a speaker with improved functionality and affordability, the Crosley CR3110A-GY Octave is a great choice.
Apart from its gorgeous, antique design, this speaker comes with an integrated construction.
An added woofer makes this unit a great match for your vintage receiver. Besides, the added Bluetooth, aux, and USB capabilities help you link the device with different audio sources.
But what makes this speaker great for your vintage receiver? As we already mentioned, the lightweight unit delivers excellent sound at different frequencies, has a gorgeous vintage design, has excellent connectivity, and is quite affordable.
2. Best Electrostatic: QUAD ESL-57
This vintage speaker was introduced in the market in the 1950s as a mono speaker. The speaker delivers an exquisite upper-frequency performance with a cool cling-film-like panel.
The gently curved panel is liked by many music lovers with many describing the sound experience as "spacious", "transparent", "open", "lifelike", and "neutral".
3. Best Frequency Response: BBC LS3/5A
Driven by the need to monitor the quality of broadcast programs by the BBC, this studio monitor speaker unit has a 2-way system with a sealed enclosure. We also have a complete list of the best vintage bookshelf speakers that you can check out.
Finished with a real wood veneer, it has a frequency response of between 70Hz to 20kHz.
The speaker was designed and built by BBC in 1972 and an exact similar copy is currently produced by Falcon Acoustics.
4. Best Standing: Spendor BC1
If you want a speaker that produces warm and focused sound, a great mid and bass with a unique tweeter integration, try Spendor BC1. The speaker requires a stand and is good for any vintage receiver.
A design model of 1976, the Spendor BC1 is a three-way system that offers a Celestion tweeter. They are also considered excellent vintage speakers.
5. Best Neutral: KEF R105
These are three-way vintage speakers which use Bextrene cones. It is a quite neutral standing speaker with a smoothened bass acoustic.
Besides, it provides spacious upper frequencies support. The speaker was first released in 1977 and is still available in the market. These are especially excellent vintage speakers for vinyl.
6. Best For Large Spaces: Tannoy Westminster
Tannoy Westminster is designed like a folded horn. It is quite large, implying that they can only be used in large rooms.
Also, they have a knack for producing good sonic imaginary clearly and are one of the best vintage speakers.
7. Best Internal Damping: Yamaha NS1000
This speaker uses beryllium (use as the speaker radiator because it's lightweight, rigid, and offers great internal damping) and tweeter units with a whooping 12-inch bass unit.
The bass units can be charged with a battery if played too loud. They however need to be linked together carefully. The speaker can be a good match with your vintage receiver and delivers smooth tight bass.
The Mashal Acton M-ACCS-10127 is an outstanding speaker based on its classical design.
The speaker is classified as one of the best vintage speakers for vintage receivers for the following reasons:
They are simple and produce a warm and smooth audio
They come with both bass and treble knobs
They can be used both in wired and Bluetooth mode
Finally, if you want a vintage receiver, there are many brands to consider. For example, there are many older vintage Insignia receivers. If you're interested, we answer the question, are Insignia receivers good and who makes them?
How Much Have Speakers Evolved?
Speakers, especially vintage designs have greatly evolved. However, receivers have equally evolved, and matching them with the right speaker will give you the best combination for extraordinary listening.
Which One Matter The Most – Age, Drivers, Design And Innovation?
It is important to note that the age of a speaker does not dictate the quality of sound it delivers. Therefore, newer doesn't mean better, and old is not always gold either. Check out our guide on vintage vs modern speakers to earn more.
A good speaker offers the best model in terms of design and has drivers that adequately conform to the connectivity and sound environment of the receiver. This is where vintage speakers win for vintage receivers.
Vintage speaker designers give priority to sound and innovation. In essence, this is why Vintage receivers integrate amplifiers with tuners that act as a radio.
The design you get, coupled with the innovation, drives the quality of sound you get from the combination of a vintage receiver and speaker.
Factors To Consider When Choosing A Vintage Speaker
Choosing the right speaker to integrate with your vintage receiver may not be easy and even if you determine the correct one for you, it may be hard to find.
Once you have fully understood the various factors to consider when choosing the right speaker, you shall be in a better position to make the right decision.
Here's a checklist of things to consider when choosing vintage speakers.
The quality of sound: This is usually affected by the impedance matching between the speaker and the vintage receiver. Matching your speaker with the receiver impedance will guarantee you a better listening experience.
Size of the room: However good some speakers maybe, their design may not fit adequately to the acoustics of your room.
Bass requirements: Bass is an important music consideration. However, not every music lover prefers to listen to deep bass. This will also be affected by the type of music you prefer to play.
The cost: Speakers are an investment. Some of them are very expensive. It is therefore important that you look at your budget before deciding to buy a new audio device.
FAQs
1. Do vintage speakers still have that charm?
It mostly depends on the speaker. They may or may not produce great sounds but will most emit the vintage sounds of the time when they were initially made. You can say they still hold the same charm as long as they are not being compared to modern speakers. Technology has advanced ever since. Regardless, they still have that vintage feel of the golden era.
2. I want vintage speakers that do not take up much space. Which one should I get?
QUAD ESL-57 will be the best option in this respect. They are slim, aesthetic, and also have the vintage touch of the 1950s. As mentioned, the speaker delivers an exquisite upper-frequency performance with a cool cling-film-like panel.
3. How long can these vintage speakers last? Can they produce sound?
If properly taken care of, vintage speakers can last up to 40-50 years before they start deteriorating. This mainly depends on the materials used to build them and the environment in which they are kept.
If the vintage speakers have been properly looked after, then yes, they may produce sound according to old standards.
4. Can keeping my vintage speakers outside damage them?
If you keep your vintage speakers outside, for example, under direct sunlight, close to your windows, on the balcony, and if the environment is prone to rain, then they can definitely get damaged. They will start accumulating dust. This will lead to the breakage of the electromagnetic voice coils and completely spoil the audio. It is crucial to avoid keeping them outside. You can keep them outside for party decoration or for some time, but not longer than 3-4 hours.
Final Thought
As we have mentioned, getting a good speaker and receiver match is important for good-quality audio output. That is why you need the right speaker for your vintage receiver.
The above-mentioned speakers have undergone some innovation in better technology to match the upgraded vintage receivers. If you have a vintage receiver, you can use any of the above speakers and expect a thrilling musical experience.
Finally, you can check out our definitive list of the best vintage speakers of all time! You can also look at our list of the best speakers from the 70s if you're interested in that time period.