As an Amazon Associate, we earn from qualifying purchases made on our website.
You need a subwoofer to add some extra oomph to your audio system and give your music the depth you desire. To get this kind of experience, you should go for a sub designed with your needs in mind. Now, which types of subwoofers are suitable for your needs? Read on for all the important details about different types of subwoofers.
There are many different types of subwoofers including active subs that have a built-in amp and passive subs that use external amps. There are ported subs that have a port in the cabinet and sealed subs that use closed boxes. Others have passive radiators as ports. There are also front and down-firing subwoofers as well as bandpass and horn-loaded subwoofers.
Choosing the best subwoofer is a difficult task. It's not just about your personal preference but also the setup of the rest of your system. Let's discuss the different types of subwoofers so that you can make an informed and smart decision.
What are the Different Types of Subwoofers?
When looking for the best subwoofer, you should start by considering the options that you have. Here are the main types of subwoofers that might give you the best listening experience, depending on your entertainment needs:
Passive Subwoofers
External amplifiers power these types of subwoofers. The amount of power you require for these amps to serve you well is directly proportional to the bass you need.
For example, to reproduce extreme bass, your receiver or amplifier should output an amount of power that's enough to sustain bass effects through the sub without being drained fully.
Other factors, including the speaker requirements and the size of the room, can also determine your passive subwoofer's power requirements.
To learn more, check out our article on active vs passive subwoofers.
Powered or Active Subwoofers
This sub combines the subwoofer speaker and an amp inside the same cabinet. For your powered subwoofer to serve you well, all you need is a line output (pre-out, LFE out, sub out) from your receiver and AC power.
This arrangement is unique in that it takes away a vast power load from your receiver or amplifier. So, it allows your receiver or amplifier to power your tweeters and the mid-range more easily.
Due to the high degree of efficiency, you might find this subwoofer type the best option. The subwoofer's small size and simple installation are other reasons you could find them highly valuable.
To learn more, check out our article on active vs passive subwoofers.
Component Subwoofers
The component subwoofer refers to the speaker driver itself and is designed to function in different subwoofer enclosures.
Depending on the subwoofer's arrangement, it can serve you well on low or high power. Overall, component subwoofers can be the best choice if you want a custom-built audio system.
Enclosed Subwoofers
Enclosed subs refer to component speakers that come pre-mounted in the correct box. If you want to improve your bass quality but don't have adequate time to custom-make your sound system, it could be the ideal choice.
However, you should bear in mind that component subwoofers offer a much better raw bass production than enclosed ones. Moreover, you require an external amplifier to power these subs.
Ported Subwoofers
A ported sub comes with an extra opening or hole, known as a port. It allows air to escape and increases the subwoofer's bass level and guarantees you a rich, thick sound.
These subs can move a lot of air and fill up a very large room with sound.
Which are the Best Subwoofer Design Variations and Setting Options?
Subwoofer designers use various design variations as well as setting options to optimize the low-frequency performance further. You can use these features to classify different types of subs. Here are the specific design variations and settings that you may need to think of when looking for a subwoofer that best suits your requirements:
Front and Down Firing
Front-firing subs have speakers that are mounted pointing forward. These units radiate sound to their fronts and sides.
On the other hand, down-firing subwoofers direct the sound toward the ground and the front. To get the most out of these subs, you should place them on stands or shelves.
Two Separate Chambers
A bandpass speaker has two separate chambers. One of them has a port that releases radiation that originates from the front cone.
You are highly likely to find them in professional live sound equipment like line array systems that feature large arenas. Moreover, many of them are used in sub-cabinets designed for car audio.
Bandpass subwoofers are highly complex, but they allow for clean, natural bass output. Moreover, they will enable you to specify the bass levels you want to come through your speakers.
Passive Radiator
Some subwoofer designers take the ported speakers idea a step further. They use two passive radiators that aren't wired to the amplifier instead of the port. The movement of these radiators allows sound to escape with a great frequency range.
If you look around, you'll notice that passive radiators are standard components of many modern Bluetooth speakers and subwoofers.
Many music enthusiasts now understand that passive radiators allow them to get a decent low-frequency range irrespective of the subwoofer's size. In other words, these radiators make it possible for you to design and use small enclosures that deliver excellent sound quality.
Vehicle-Specific Features
If you're a music lover who desires to get the best entertainment when driving your car, you should choose either a powered or unpowered vehicle-specific sub. Choose one tailored to fit in your car model's space and is color-matched with your vehicle's interior.
Like the powered subwoofers, they require a small space but take care of your listening needs. Of course, due to their size, these subwoofers are not the best if you are looking for massive bass.
Horn Loaded Subwoofer
Horn-loaded subwoofers produce highly directional sound, meaning they typically sound much better than their counterparts. How?
They focus on the sound that could have been spread out in various directions and channel it to the desired direction through a longhorn speaker.
Crossovers
This feature refers to electronic circuits that route frequencies below a particular point to the subwoofer. It allows the main, center, and surround speakers to produce the rest of the frequencies. A typical crossover point is 80Hz and 100Hz.
Tapped Horn
Subwoofers with tapped horns use the two sides of a high-powered, long-excursion driver in a ported cabinet. It comes with two paths that combine in phase at the mouth of the horn.
Cardioid Settings
Cardioid settings help to configure two or more subwoofers. In this case, one of the subs is reversed and phase-inverted. This way, it produces a cancellation at the back.
Are 12 or 15-Inch Subwoofers Better?
You can also classify subwoofers depending on their sizes. So, you can call your powered subwoofer that's 12 inches a 12-inch sub.
Overall, you can name your sub depending on its sub. Does the size matter? Yes, it does. For example, as a general rule, 12-inch subwoofers produce more bass than 10-inch subwoofers.
12-Inch Subwoofers
These are the most versatile subwoofers and can adequately handle a wide assortment of music.
If you are an audiophile with a big appetite for bass, you can go for it without looking back. Experienced music lovers agree that it's excellent for producing the extra bass you need. Therefore, these subs are less responsive and are ideal for slow-paced music like Blues, Rap, Rhythm, and Rnb.
To learn more, check out our article on 10-inch vs 12-inch subwoofers.
15-Inch Subwoofers
These subwoofers are the most powerful and deliver the deepest bass given their favorable large size.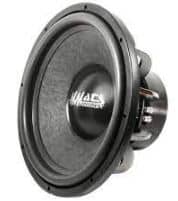 Nonetheless, they lack the tight responsiveness that small subwoofers like 8-inch and 10-inch speakers offer (These small subs are best for vehicles).
If you like listening to Rap, Hip Hop, and other EDM genres, you'll find 15-inch subwoofers incredibly beneficial.
Types of Subwoofers For Cars – Can You Put Any Subwoofer in a Car?
Yes, you can put any subwoofer in your car, provided it fits in your enclosure. Car subwoofer drivers come in a wide variety of sizes ranging from 6 inches to 15 inches. Besides the size, you should consider the amount of power and bass you want before choosing one.
Please remembers that you should go for car subwoofers if you want the best listening experience. Let's see some of the most popular types of car subwoofers that you can consider below.
Bass Tubes
Bass tubes are enclosed in tubes and allow you to add bass to your audio system without using too much space in your car. Many drivers think that these subwoofers can't deliver an incredible sound. However, they are easy to install and are, therefore, a great choice for DIY installation.
If you are looking for the best bass tubes, you can consider the options made by Pyle and Bazooka. The first one offers bass tubes that range from 8″ to 12″. They can handle as much as 800 watts. The latter option provides car subs ranging from 6″ to 12″.
To learn more, check out our article on subwoofer bass tubes vs bass boxes.
Shallow Mount Subwoofers
As the name suggests, these subwoofers have a shallow mounting depth. Due to this, they are suitable for installation in tight spaces. That's the reason you are highly likely to find shallow-mount subwoofers in places such as in the back dashboard and under the car seat.
Shallow mount subwoofers are ideal for installation in small-sized car trucks. They offer tight bass and take little space. However, they may not be the best for you if you prefer listening to loud, booming sounds as you drive.
Self-Amplified Bass Solutions
Designers of these subwoofers build them into enclosures that in-line amps power. Due to their unique structure, these car subs are useful for a quick and easy upgrade that allows you to save a lot of space in your vehicle. However, like the bass tube, they aren't the best if you want an incredibly powerful sound.
One of the best-rated all-in-one bass solutions that you can consider if you value quality is the Infinity BassLink series.
Please note that there are also powered and passive car subwoofers. The size of your sub can also directly influence the sound quality you receive. In other words, if you want incredible sound, you should consider going for large-sized car subwoofers.
How Do I Set Up Passive Subwoofers?
First and foremost, you need to have your passive subwoofer connected to one of the speaker connectors. After that, you can connect the speaker wire to the speaker line of the subwoofer. Notably, there will be 'Speaker In' ports on your passive subwoofer, while taking the remaining vigil that your subwoofer does not admit excess power way above what the receiver can actually supply.
Is It Dangerous To Connect A Passive Subwoofer To A Receiver?
Yes, it can get dangerous to link passive subs to a receiver because passive subwoofers require much more power to be able to reproduce the bass so experienced. Consequently, there is a likelihood that your receiver may not distribute the requisite power for your subwoofer to function most favorably. Please do not forget that you might even cause the receiver to blow if you are not careful with your subwoofer, especially when comes to older or poor-quality devices.
What Are The Top 5 Subwoofers?
1. Rockford Fosgate P300
This sub comes with a complete, self-contained unit; everything is built-in. It has a powerful amplifier that lets out 600 watts peak and 300 watts RMS.
Also, its automatic off/on function is enabled. It has a built-in bass EQ with a remote bass level control and an adjustable low pass crossover at 12dB/Octave, allowing the frequencies you wish to pass through. A closed-loop design ensures the speaker and amp inside the enclosure are working harmoniously to achieve the premier performance level.
2. MTX Audio Terminator Series TNE212D
Housed inside the cabinet are two twelve-inch subwoofers. This device cannot fit into the trunk of your car, not unless you fit it in the back seat, for it is big. It comes with a frequency response of 10Hz to 150Hz. Each speaker can handle 200 watts of RMS.
3. JL Audio 10W6v3-D4 10″ 600W Dual 4-Ohm Car Subwoofer
The subwoofer has a ten-inch speaker capable of delivering 600 watts of RMS. Its cone is made of heavy-duty and tough Polypropylene. It produces a deep and resonating bass that is clear and much defined even at higher volumes, devoid of distortions. The frequency response is 22-200Hz, ensuring a transient experience.
4. Orion HCCA12 12″ Car Subwoofer 2000 Watts
The Orion HCCA 12 is a monster of its kind. It puts out a frightening 5000 watts of power, 2500 RMS. It is worth your budget.
It has a rubber surround which allows the speaker some movement, producing a punchy bass. It also absorbs some of the unwanted excess energy it produces. It comes with Polypropylene making it very long-lasting and resilient.
It is designed to be fitted into space in the boot or trunk of your car so conveniently, and it will need a depth of six inches. The size of the actual speaker is 12 by 12.5 by 6.5 deep. It weighs a massive 68 pounds.
5. Rockville RVB12
It is easy to install, and it is very powerful. Above all, it is cost-effective.
This RVB12, an all-in-one unit, is a complete system for generating a big sound for your car's entertainment system.
It is a 12″ inch subwoofer that discharges 300 watts RMS, and the peak is at 500 watts. It has a frequency response of 30 Hz to 150 Hz.
What Size Subwoofer Has The Deepest Bass?
In the market are 15-inch subwoofers, which offer the most powerful and deepest bass thanks to their enormous size. These subs, however, lack the tight responsiveness of their tiny counterparts, an essential component. The subs will take much of your space which is why they are commonly used in large trucks and SUVs.
Summing Up
You can see you have several different types of subwoofers out there that you can use. Before choosing one, consider whether you'll get the right amount of bass, need an external amplifier, and the like. That's all you should do to avoid choosing types of subwoofers that you don't need.
Norvan Martin is the founder of BoomSpeaker.com. He is a professional Electronics Engineer and is passionate about home theater systems and AV electronics. BoomSpeaker was created as an online hub to share his knowledge and experiences as it relates to home theaters and home audio electronics.
My email: admin@boomspeaker.com
Connect on Pinterest and Linkedin