Any sound home theatre system will boast some form of surround sound. Surround sound envelopes the listener and provides a rich, detailed listening experience.
One of the best ways to create a surround sound experience is floor-standing tower speakers for surround sound.
Floor-standing tower speakers for surround sound are the premier choice for audiophiles, offering unequaled power and performance.
When choosing a proper tower speaker for surround sound, several factors must be considered.
This includes how the tower speakers produce surround sound, placement in the room, frequency response, power rating, drivers, sensitivity, impedance, and several other factors that we have already considered for you.
Best Overall
Polk Audio T50 150 Watt Home Theater Floor...
Best Audio Performance
Polk Audio Monitor 60 Series II Floorstanding...
Best Bass
Polk Audio Monitor 70 Series II Floorstanding...
Best Overall
Polk Audio T50 150 Watt Home Theater Floor...
Best Audio Performance
Polk Audio Monitor 60 Series II Floorstanding...
Best Bass
Polk Audio Monitor 70 Series II Floorstanding...
So, we created a list of the best tower speakers for surround sound to help you create your exciting home theater:
Best Floor-Standing Tower Speakers For Surround Sound
Design and Features
The Polk T50 Home Theater boasts the latest technology and design from Polk's high-end speakers.
It uses one-inch silk dome tweeters to give you crispy highs, while a 6.25-inch extended composite driver covers the midrange.
The T50 also comes in a lightweight and compact cabinet design, making it an excellent choice to get a surround sound experience in a small room.
Performance
Right from the start, the T50 gives a good impression with its clear and loud sound with a commendable well-defined bass.
The T50 also features Polk's cutting-edge Dynamic Balance Technology that eliminates system resonance and sound distortion. The vocals and acoustic instruments are clear and concise while listening to music, but don't expect chest-thumping effects.
Pros
Compact and stylish housing
Hides dust and fingerprint well
Great audio performance
Easy to setup
Cons
You'll need an additional subwoofer to enjoy a powerful bass
It's only available in a black vinyl color
Verdict
The Polk Audio T50 is among the top options for shoppers looking for a small and stylish home theater capable of quenching their musical needs.
It's a less expensive alternative than others that offer the same experience, delivering outstanding sound quality using state-of-the-art technology.
Design and Features
While the Monitor 60 Series has a dated design, it has excellent features that promise a brilliant performance.
A 1-inch dynamic cone tweeter reinforced by a strong neodymium magnet adequately covers the high-end, while its 5.25-inch audio driver covers the bass. Moreover, its MDF cabinet comes with strong bracing to minimize resonance.
Performance
Polk Audio has designed the Monitor 60 Series II to deliver comprehensive dispersion audio with an excellent midrange and detailed bass response.
Its double-amping connection concept might confuse some, but it improves the system's sound performance. The low frequencies could be better, though the sound is clear and loud.
Pros
Powerful neodymium tweeter
Smooth and seductive audio performance
Excellent damping to reduce resonance
Mylar bypass capacitors
Cons
Poor performance on low frequencies
The connection might be a little challenging for some
Verdict
At around 37 inches tall, the Polk Audio Monitor 60 Series II is ideal for any entertainment room, small or large.
Its simple design blends well with any interior décor, making it an excellent choice for anyone trying to improve their audio experience. Additionally, it has big stabilizer feet that enhance stability on any floor for precise bass response.
Design and Features
Like others in Polk's Monitor Series, the Monitor 70 Series II features a durable MDF enclosure that reduces resonance.
This top-of-the-line floor-standing speaker comes with a dynamic balance dome tweeter to cover the low frequencies, while four 6.5-inch woofers guarantee immense power.
Moreover, the speaker's excellent craftsmanship makes it easy to set up and use.
Performance
With lightweight dual composite drivers, the Polk Audio Monitor 70 Series delivers excellent midrange clarity with powerful bass.
It generates wide sound dispersion for medium and large rooms, with a non-resonating enclosure that ensures everything is crisp.
Pros
Durable construction
Affordable price
Wide sound dispersion
Easy to match with a gaming subwoofer
Cons
The Speaker quality needs improvement
Verdict
These are top-of-the-line speakers from the franchise's "Monitor" Series. The sound quality is terrific, giving you a smooth and precise musical experience.
This floor-standing speaker also has a good bass extension, and you can easily pair it with a sub for a more cinematic audio experience in a big room. Even better, it comes at a bargain price.
Design and Feature
The Elac Uni-Fi UF5 is another creation from a name synonymous with quality budget speakers, Andrew Jones.
It comes with the audio delicacy of a soft dome tweeter, paired with the harmonic accuracy of a 4-inch aluminum tweeter to achieve sonic perfection.
More importantly, it comes in a balanced three-way design, making it a tremendous full-range system.
Performance
As a three-way speaker, the UF5 comes with a second crossover optimized for bass reproduction.
Unlike many towers, this speaker will suffice as a standalone satellite speaker, though some add a full-sized subwoofer for a ground-shaking bass. It has a formidable power handling capability, allowing it to accurately create clear and powerful bass.
Pros
Sophisticated triple aluminum woofers
Accurate bass reproduction
High-quality feet and base
Durable cabinets
Cons
Generally on the higher end in terms of price
Verdict
While the price might hold you back, the UF5 is a great three-way speaker with enhanced bass and an excellent design.
It's a recommendable floor-standing speaker for a decent entertainment area, standing 38 inches tall with a set of screw-on feet for stabilization. It's still among the best speakers under $500 and great value for your money!
Design and Features
With high-end features and unrivaled audio performance, the SPFS52 Floor-stand Loudspeaker is another brilliant creation by renowned audio engineer Andrew Jones.
It has a custom wave guide engineered in its 1-inch soft dome tweeter to widen the sweet spot and eight sophisticated crossovers for strong audio quality at less power.
Performance
Using three 5.3-inch woofers, this speaker offers a powerful sound for a small or medium room. Its curved cabinet design eliminates standing waves in the cabinet, offering an appealing listening experience.
The speaker is a bit bulkier than most competitors, but it sets new heights in sound quality at a very affordable price.
Pros
Excellent sound quality
It has three bass woofers
100watts of audio power
Cons
Its large center might be challenging to place
It only comes in a black woodgrain vinyl finish
Verdict
If you have space, the SPFS52 is simply an excellent-sounding home theatre retailing at a budget price.
It may not be a good fit for those working with a small space, but you get a great sounding 5.1 home theatre with a 100-watt subwoofer. It's hard to believe you're working a little north of $100.
Floor-Standing Speakers With 12 Inch Woofer
When most people use floor-standing speakers for surround sound, they look for floor-standing speakers with 12-inch woofers. 12-inch subwoofers are the most common woofer size, providing an excellent mix of accuracy, loudness, and affordability. A 12-inch woofer is also a perfect choice for a good combination of punch and boom.
Below is a list of great floor-standing speakers with 12-inch woofers:
Klipsch Reference 5.1 Home Theater System with 2x...
KIT INCLUDES: Klipsch Reference 2x R-625FA Dolby Atmos Floorstanding Speaker, Black | 2 Grilles (installed) |...
FLOOR STANDING FEATURES: Built-in Elevation Channel for Dolby Atmos | Dual 1" Aluminum Diaphragm Compression...
SUBWOOFER FEATURES: Powerful 12" copper-spun front-firing woofer | All-digital amplifier delivers 400 watts of...
Cerwin Vega Home Audio SL-12 12" 3-Way Big Cabinet...
delivers a true 3-way sound experience and incredible realism using three drivers, each dedicated to the...
larger cabinet for deep, solid bass and amazing power handling
clarity of the dedicated midrange and high frequency drivers
Why Use Tower Speakers For Surround Sound?
If audio clarity and immersive experiences are your top priorities in a home audio system, then tower speakers are better than soundbars.
While soundbars are famous for their sleek and mountable design, ideal for small spaces, they won't deliver a head-spinning full-range sound.
Here's why you need a 5.1 home theater or any other tower speaker for a surround sound experience:
1. Placement of the Screen & Pinpoint Sound Accuracy In The Front Stage
Speaker placement is essential for surround sound. One of the first considerations is the location of the television or projector screen since it should influence the placement of all the speakers except for the subwoofer: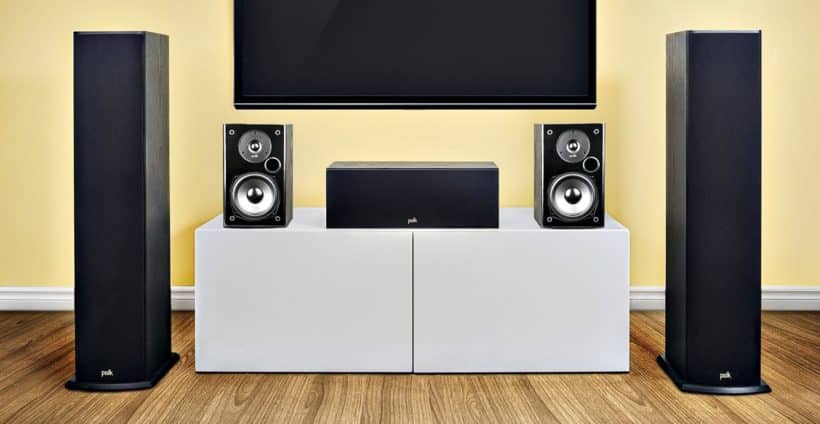 The center channel speaker: This speaker should be aligned directly with the center of the screen, whichever screen it is. However, unlike many people may think, it does matter if you place the center speaker above or below the TV screen. In most cases, we recommend placing it under the TV screen.
The subwoofer: The subwoofer can be placed anywhere in the room.
Tower Speakers For Surround Sound: The tower speakers for surround sound should be placed at an equal distance from the screen. The ideal length is about 1 m from the edge of the screen – so they should be an equal distance from the screen.
In addition, they should be an equal distance away from you, the listener. Finally, the tower speakers for surround sound should not be placed too close to a wall since there should be a gap of about 30 cm.
2. Pinpoint Sound Accuracy In The Front Stage
Good accuracy is critically important. When playing a video game or watching a movie, the screen takes up the more significant part of your field of vision.
As such, it's essential for the sound to feel like it's coming from specific points in front of you, not just bouncing at you.
While tower speakers for surround sound create an excellent surround sound experience, they also produce good accuracy on the front stage. A high-performance front paired with the center and left speakers are highly efficient at creating pinpoint imaging in the front stage.
3. Accurate Frequency Response
With challenging material, precise audio reproduction without any inaccuracies or coloration can be difficult, especially when you want to crank the volume.
However, tower speakers for surround sound have more tweeters, woofers, and drivers and more cabinet volume to maintain spot-on accuracy throughout the frequency spectrum. Moreover, you can change the crossover frequency of the speakers if you want, and multiple loudspeakers work uniformly to create accurate sound at any volume level.
4. Dialogue Intelligibility
We can all agree that the human voice is vital to any home theater experience. For that, it's crucial to have a center channel speaker that renders vocals and dialogues with crisp clarity to release the full impact of words.
Remember that about 70% of audio content goes through the center channel, so having a dedicated anchor speaker between the front right and left main speakers makes a huge sonic difference.
5. Deep and Powerful Bass
If you've ever used a powerful subwoofer, you must know that most can't fit in a soundbar cabinet. For compensation, most soundbars come with a pre-paired subwoofer, but it doesn't do much in playing bass.
A Tower speaker delivers deep low-frequency extension, allowing you to enjoy incredible power with pinpoint accuracy at all volume levels with no blurring soundstage.
6. Sweet Spot Adjustments
As convenient as your soundbar can be, there are several installation flexibility issues involved.
A soundbar is placed below your TV or on a wall, creating a single listening spot where you can enjoy the best sound quality.
Sweet spots also exist in tower speakers, but you can easily optimize them based on speaker angling and placement. You can easily change the speaker's position without sacrificing audio quality.
7. Theater-Style Presentation
Aside from audio performance and quality, the visual statement of a home entertainment system is also essential.
Tower speakers show that you thoroughly enjoy the entertainment of a surround sound system, allowing you to create stunning theater-style presentations and impacts.
Using Large Speakers For Surround Sound
Is using prominent speakers for surround sound a good idea? You do not need prominent speakers for surround sound in small and medium-sized (up to 3000 sq ft) rooms. This is because surround speakers are placed closer to your listening position and do not need to work as hard as other speakers in a home theater system. However, larger speakers may be required if your home theater room is larger than 3,000 sq ft.
FAQs
Polk and Bose are both fantastic brands. Regarding sound quality and subwoofers, Bose takes the cake here, and it is better than Polk.
3. What is the advantage of floor-standing speakers?
Floor-standing speakers come with the capacity to produce higher frequencies. Higher frequency means louder and more powerful sound, resulting in an incredible audio-visual experience.
4. Do I need a subwoofer with floor-standing speakers?
Most tower speakers do not require a subwoofer since they create good bass independently. However, a subwoofer would be a wise addition to your system if you want to hear deep, room-shaking bass. Floor-standing speakers will perform at their peak in mid and high-range frequencies when used with a subwoofer.
Recap
Choosing a tower speaker for surround sound is not always an easy task, and tower speakers are excellent choices for surround sound. These floor-standing speakers usually are better than other arrangements – including setting up several speakers, a soundbar with a subwoofer, etc.
We hope our list led you to the best tower speaker for surround sound to fit your home theatre needs. The main thing you need to decide is what type of tower speaker will suit your needs.
Now that you clearly understand the different tower speakers for surround sound available, that choice should be more precise and much more manageable. Please browse our website for more information on tower speakers and surround sound.