As an Amazon Associate, we earn from qualifying purchases made on our website.
Though nowadays kids are mostly into smartphones and tablets, they still love walkie-talkies.
Walkie-talkies are great for playing walkie talkie games (spy games, hide and seek, etc.). Moreover, it's a simple way for kids to keep in contact without their parents monitoring too much like they would with a smartphone, for example.
The problem is, shopping for walkie talkies for kids isn't easy, you shouldn't just buy a regular handheld game radio. Most walkie talkies are too complicated for kids, some are too large, some are too expensive, some produce too much radiation – there is just no end to the problems.
Top 3 Picks
Best Budget Option
Retevis RT628 Walkie Talkies for Kids,Toys for...
Best For Emergencies
Midland GXT1000VP4 50 Channel GMRS Two-Way Radio -...
Best For Large Groups
Retevis H-777 Rechargeable Walkie Talkie Adults,...
Best Budget Option
Retevis RT628 Walkie Talkies for Kids,Toys for...
Best For Emergencies
Midland GXT1000VP4 50 Channel GMRS Two-Way Radio -...
Best For Large Groups
Retevis H-777 Rechargeable Walkie Talkie Adults,...
For example, if your kids keep losing these devices, you could for example get them a earpiece with a mic for your walkie talkie and strap the walkie talkie to hand with a strap.
Knowing this, we have compiled a list of the best walkie talkies available for kids. Of course, the list is categorized so that you can choose based on your own needs.
The Revetis RT628 22-channel walkie talkie is a fantastic choice for kids when working with a tight budget.
It offers a range of incredible features that make it better than a regular toy, including a small and portable design, with solid exteriors to give the kids a strong grip.
At just 90g, the RT628 is lightweight and easy to carry. It has intuitive controls and is easy for kids to operate.
Additionally, it features an LCD-display that is highly visible in any condition, call-alert signals and an inbuilt flashlight.
The RT628 is a 22-channel walkie-talkie with both GMRS and FRS frequencies. That drastically reduces outside interference when communicating. It also has a simple and highly visible talk button that activates the inbuilt microphone in both one-on-one and one-to-many communications. The only downside is that it can be tricky and annoying to search for the right channel.
The GXT1000VP4 is the ideal walkie-talkie for kids to use during emergencies.
This walkie talkie is an excellent choice for long-distance communication, with an impressive 36-mile range in open fields. However, the prescribed range works under optimum conditions.
Made for emergency situations, the Midland GX1000VP4 walkie-talkie for kids features about 50 GMRS channels and channel scan function.
It comes with JIS4 waterproof protection that protects it from water splashes and strong exteriors for durability.
The GX1000VP4 walkie-talkie for kids comes with a backlit LCD-display that makes it easy to read at night. However, you have to deal with battery drainage. A high-end unit, it comes with a monitor scanner for monitoring activities in your channel and a keypad lock feature.
Additionally, he Midland GXT1000VP4 comes with a standard rechargeable battery that gives you 2-3 days of battery life, but you can also use 4 regular AA batteries.
Apart from that, it comes with an automatic scan feature that displays all the available channels on a LCD display.
This handheld ham radio is suitable for treasure hunting, trekking, camping and other outdoor activities.
Pros
Lightweight and easy to carry
Excellent signal reception
Superb audio quality
The build quality is perfect for rough usage
Cons
Heavy battery drain after several years
The VOX button needs a little improvement
Too many controls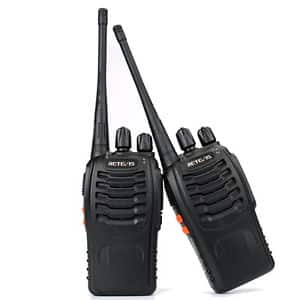 If you are looking for the best walkie talkies for a larger party, a family hike or trip, the Retevis H-77 is the walkie-talkie for you.
This two-way radio makes an affordable buy for a large group, featuring 16 channels.
Additionally, it's highly functional and easy for kids to use, but it may act up when searching for the right channel.
The Retevis H-777 is easy to use at night, thanks to its in-built flashlight. The belt clip makes them easy to carry, and it supports both USB and DC charging. Additionally, it weighs only 180g and comes in a small and compact body.
The H-777 features an incredible 1000mAh battery that can last a whole day when active and up to 72 hours on standby mode. Moreover, the controls are intuitive, and the plastic exterior is very safe for kids.
Designed with kids in mind, the FayagooWalkie talkie comes with a compact, camouflage design with modern controls and an LCD screen.
The exteriors are strong enough to withstand a fall from over a meter high, and it's also highly durable.
This walkie talkie features a built-in flashlight for dark environments, and it has an excellent range of over 4 miles. Additionally, it features custom call tones, headphones, external mic support, and hands-free calling.
With a kid-friendly design, this unit uses three AAA batteries (including rechargeable batteries). It's equipped with 22 GMRS/FRS channels enhanced by 38 privacy codes to significantly cut down external interference and protect your privacy. All these features justify the slightly higher price tag that it commands.
The T388 mini is a lightweight and compact walkie-talkie that's perfect for small hands.
Available in a range of friendly colors, it comes in a modern and appealing design. Its ergonomic design allows kids to have a good grip and it weighs a little over 100g.
With a simple operation process, it has an auto-scan feature that scans channels, and you can read them through the LCD backlit display.
Additionally, the Zomei T388 supports about 22 channels and requires four AAA batteries to offer a long playtime.
The T388 is built with an environmentally friendly material that is both durable and well suited for kids. The sound is smooth and crisp, with an auto-squelch function to turn off background noise.
If you want your kid to feel like a little secret agent, the Spy Gear Ultra Range Walkie talkie is your best bet.
The unit comes with a high-end design that appeals to your kid's spirit of adventure, and they can easily carry this walkie-talkie around the neighborhood while playing their top-secret mission games.
Among other features, the Spy Gear Walkie talkie stands out for its simple design and long communication range. It gives your kids a communication range of over 3km and delivers an excellent spy experience.
As a modern unit, the Spy Gear Ultra Range features a simple click-and-hold button for communication. It requires six AAA batteries to operate and it's perfect for children over the age of six years. However, their design makes them more appropriate for kids under the age of 10 years.
Conclusion
Walkie talkies for kids is a good idea for more reasons than one. Firstly, they are great for group walkie games for kids. Secondly, they foster some sense of independence (when going to the park for example), and finally, they provide some level of security.
Whatever reason you decide to purchase a walkie-talkie, we hope you found your perfect match on this list.