As an Amazon Associate, we earn from qualifying purchases made on our website.
You just purchased a new set of headphones and realized that the bass is very powerful – too powerful for your liking. This is a common problem with Bose, Audio Technica, Shure, Presonus, and Beats headphones especially.
Some of these headphones exaggerate your bass to rather ridiculous levels. In this article, we will show you how you can solve this issue of too much bass in your headphones.
1. Adjust The Equalizer Settings
Whether you are using your headphones on a smartphone, Windows computer, MAC computer, or another device, adjusting the equalizer settings is a good way to reduce bass in your headphones.
Check for audio manager software or just equalizer software.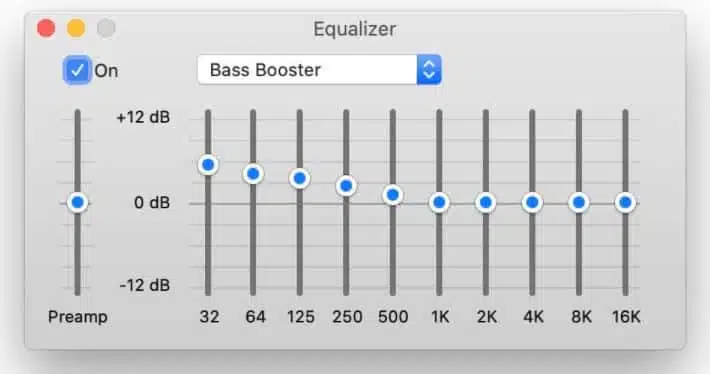 EQ allows you to boost or cut the sound in multiple frequency bands. In other words, you can turn down the bass and turn up the mids or vice versa.
It's similar to the bass and treble knobs on an old stereo. Just check for the slider that you can use to adjust the bass.
On A Computer: To get a complete set of options, you can download EQ software for your device that will allow you to change bass levels.
On A Smartphone: With a smartphone, you can download EQ apps for Android and possibly iOS. However, please note that these only apps will only modify a running audio app, so you have to run them each time you're listening. If you want a fixed setting, you need to root your phone.
What Setting Should You Adjust?
Try setting the treble and bass if the music player has this, or use a button that is a simple version of the equalizer for high and low bass.
If this is not in the system, you could return the headset or hand it to a buddy and look for another set.
2. Get A Hardware Equalizer
If you don't want to download any software if you want to reduce bass on multiple devices, you can purchase a hardware equalizer.
These dedicated EQ units are for consumer audio and include an auto-setting function that would profile your listening room and make the necessary adjustments.
This means, even if your headphones are designed to deliver heavy bass, the EQ will modify the same.
3. Turn Off Bass Boost
Bass boost is as its name suggests an option to increase the bass output from your headphones. Turning off this option will help to reduce and level out the bass of your headphone.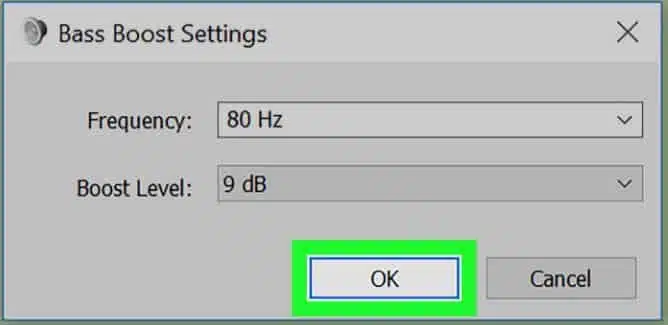 Just look for a "Bass Boost" or "Loudness" setting. Normally, you won't find one in wired, passive headphones.
However, you will find it on headphones that actively alter your sound, including wireless and active noise-canceling headphones.
Why Do Headphones Have Bass Boost
You may be wondering why some headphones need a bass boost. In general, most headphones will have a loudness setting that you can use to increase volume.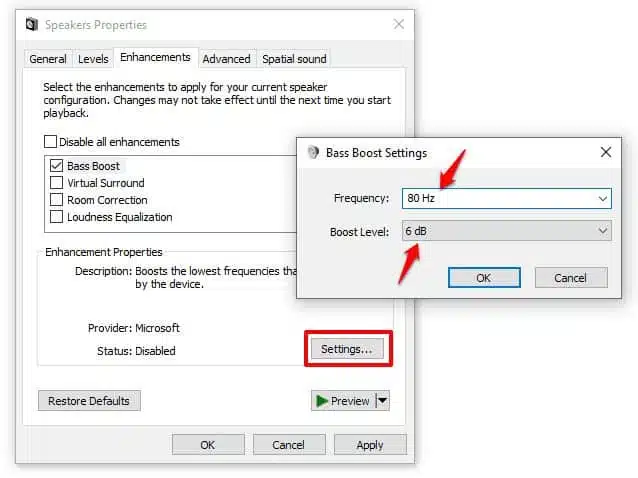 This of course will amplify all the frequencies including high, mid, and low frequencies. Bass boost allows you to drown out all the low frequencies (for example noisy city streets, there is lots of low-frequency background noise).
In other words, bass boost offsets the background noise so that you can get a flat-sounding result.
To learn more, check out our guide on how to bass boost a headphone.
4. Use A USB DAC
If you are using a computer, sometimes the integrated soundboard will add elements to the sound. Sometimes this is in the form of adding bass boost for example.
FiiO Headphone Amps Portable DAC USB Type-C...
Easy to Operate Design: The refined E10K-TC is tiny enough to carry with you wherever you go but is also right...
Impeccable XMOS Decoding: The E10K-TC comes with the flagship XMOS XUF208 for better USB decoding. Compared to...
Quality Chips to Delight your Ears: The DAC is the PCM5102, with improvements to the flatness and delays of...
If you use a USB DAC, you will completely bypass the onboard soundcard of your computer. You can then adjust the DAC settings as you may require.
5. Check The Soundtrack
Sometimes it's just this soundtrack that's the issue. Certain kinds of music these days emphasize bass, so try another soundtrack from a different genre to see if that's the issue.
6. Check the Music Player
The first step is to rule out the music player. You need to determine if the issue is the music player or the headphones.
Try auditioning the headphones on a number of different music players, stereos, PCs, gaming consoles or so on.
This way, you can determine if the boosted bass is due to the headphones or the music player.
Now if you find that the heavy bass is just coming from one player, this may indicate that the player itself is in some kind of "bass boost" mode. Here are some typical examples:
Smartphones: Built-in smartphone speakers lack bass, but the devices normally have a software-based bass boost option for headphones. This is why "comes with the phone" earbuds have little to no bass response to speak of.
Receivers and Amps: Receivers and amplifiers normally have a loudness setting.
Windows PC or MAC: Windows and iOS operating systems tend to handle bass boost or equalization (EQ) as an operating system setting.
7. Is It Just You?
Sometimes the heavy bass you hear may just be your own personal perception. In other words, the level of bass that sounds good to you may be much lower than for many people.
In this case, you will have a problem with most headphones that have even a low level of heavy bass.
8. Headphone Design
The headphone design may also affect the level of bass you experience. For example, an over-the-ear headphone may seem to be more bass-heavy than regular headphones.
9. Heavy Bass Headphones Are For Noisy Environments
As we have said before, bass-heavy headphones will sound "flat" when listened to in noisy environments, like city trains, planes, buses, cars, and on city streets.
This is because these noisy areas will have a lot of low-frequency background and environmental noise. The bass heaviness of your headphone will override that and create a flat response.
In this case, the bassy balance will no longer sound overdone. However, if you listen in a quiet room, then you will hear the heaviness of the bass.
10. Is Your Problem Really Bass of Treble?
Some headphones have too much bass and some have too much treble. whichever you have an issue with, you can adjust the EQ settings to reduce the high or low frequencies.
FAQs
Is too much bass bad for headphones?
Can bass damage headphones? Once the bass is at an acceptable volume, it will not damage a headphone. However, at a very loud volume, heavy bass can easily damage headphones. However, bass-heavy headphones can easily handle low frequencies well.
Why do people like bass-heavy headphones?
Many people like bass-heavy headphones because the bass is powerful and creates an immersive experience. It creates a powerful impact and a party-like experience. However, not everyone likes bass-heavy headphones. For example, this is why some people think Beats headphones are bad.
Does Bass ruin your hearing?
Bass will not harm your hearing if kept at normal levels. However, if the bass is too heavy, or too loud, it can damage the small diaphragm in your eardrum. Check out our guide on noise level charts to learn more.
What does loud bass do to your body?
If you listen to extended bass at high levels, it may increase your blood pressure and blood sugar, while decreasing your body's ability to fight off disease. This is a general issue with noise either from music or noise pollution.
Can loud bass make you sick?
Listening to heavy bass for extended periods can cause ill effects on your body. For example, you may end up feeling nauseous.
Is loud bass bad for you?
Listening to heavy bass for extended periods can have a negative effect on your body. It may result in a ruining effect in your ears and over time may cause a condition called tinnitus and can reach up to 70 decibels.
Can Bass ruin Airpods?
The Bass itself will not damage your AirPods but if the bass delivered to your AirPods is too high, this won't be an issue due to the fact that AirPods are wireless. It's more of an issue for your ears than anything else.
What headphones have the best sound quality and bass?
There are quite a few headphones that can deliver excellent sound quality and good bass. Check them out:
Beats Solo3
Beats Solo3 Wireless On-Ear Headphones - Apple W1...
Plantronics BackBeat Pro
Poly (Plantronics + Polycom) Plantronics BackBeat...
Sony MDR-1A
Sony MDR1A Premium Hi-Res Stereo Headphones...
1More Triple Driver
1MORE Triple Driver In-Ear Earphones Hi-Res...
Beats Solo3
Beats Solo3 Wireless On-Ear Headphones - Apple W1...
Plantronics BackBeat Pro
Poly (Plantronics + Polycom) Plantronics BackBeat...
Sony MDR-1A
Sony MDR1A Premium Hi-Res Stereo Headphones...
1More Triple Driver
1MORE Triple Driver In-Ear Earphones Hi-Res...
Too Much Bass In Headphones Windows 10 or Windows 11
If there is too much bass in headphones on windows 10 or windows 11, you need to check the equalizer settings and reduce the bass levels.
How To Reduce Bass On Headphones Windows 10 or Windows 11
How to reduce bass on headphones in windows 10 or windows 11? You need to open the audio settings, go to equalizer settings and reduce the bass levels.
How To Decrease Bass On Headphones Android
how to decrease bass on headphones Android? To decrease bass on headphones on Android, you need to open the sound settings and reduce the bass levels.
Conclusion
There are many reasons your headphone bass may be too high. This includes equalizer settings, the music player, or even the headset design. We hope one of these suggestions helped you to troubleshoot and fix your headphone bass issue.
Norvan Martin is the founder of BoomSpeaker.com. He is a professional Electronics Engineer and is passionate about home theater systems and AV electronics. BoomSpeaker was created as an online hub to share his knowledge and experiences as it relates to home theaters and home audio electronics.
My email: admin@boomspeaker.com
Connect on Pinterest and Linkedin