SVS is a renowned rival of Klipsch, with both of these iconic audio companies fighting to take more market share in the audio industry. This article is a complete SVS vs Klipsch comparison that evaluates what makes each of these brands unique and compares some of their outstanding speaker lines.
This way, you'll be able to choose the option that best suits your needs. So, which brand is better? SVS or Klipsch?
Klipsch offers excellent reference speakers and some great lower-budget options. However, some Klipsch audio devices can be ordinary or below average. Klipsch's sound quality is generally powerful and harsh. SVS on the other hand offers superior subwoofers and center channel speaker options that offer fuller, softer, and mellower sound.
SVS vs Klipsch Comparison Table
| Criteria | SVS | Klipsch |
| --- | --- | --- |
| Brand Reputation | Specialists in Subwoofers and Speakers | Well-Established Audio Brand |
| Sound Quality | Deep Bass, High-Fidelity Sound | Clear and Powerful Sound Signature |
| Build Quality/Design | Rugged Build, Modern Designs | Durable Build, Iconic Design Elements |
| Product Range | Subwoofers, Speakers, Audio Accessories | Speakers, Subwoofers, Home Theater Systems |
| Pricing | Moderate to High | Moderate to High |
| Features | High-Performance Subwoofers, Advanced Technologies | Tractrix Horn Technology, Wireless Options |
You can also check out the following comparisons:
SVS Company Review
Founded in 1998, SVS got into the production of audio devices with a mission to challenge the status quo of underperforming, over-priced "high-end" speakers and subwoofers. The aim was to expand access to convincing and immersive sound.
The company is headquartered in Youngstown, Ohio, and focuses on the production of world-class subwoofers, speakers, and audio accessories with high-end audio performance and affordable pricing.
SVS keeps a close relationship with its community of owners and listeners by engaging them via email, social media, over the phone, chats, and live events among other ways preferred by audio fans.
They engage in meaningful discussions and listen to feedback to develop consumer-centered products. Besides, they host exciting and fun events with retail partners to share the SVS experience with them.
SVS, therefore, offers a full ownership experience supported by prompt and valuable benefits making it fun and rewarding to own SVS audio. The products are also manufactured with audio fans of different ages and interests in mind. Besides, the prices ensure that every audiophile gets a product that fits their budget.
Klipsch Company Review
Klipsch is a 75-year-old audio manufacturing company started by Paul W. Klipsch in Arkansas in 1946. Klipsch continues to excel in speakers manufacturing and assembly with employees producing Klipsch Heritage Series, THX Ultra2, Select Reference II, Professional, Palladium, and many more cinema speakers by hand in Hope, Arkansas.
The speaker's assembly takes between 40 minutes to 12 hours, and employees consider it a lifelong commitment to brand excellence without involving robotics in the process.
Are SVS Speakers Good?
SVS products are designed with high-end expert engineering and technology, real-world testing, and exhaustive anechoic. The SVS team also works hard to ensure consistent audio excellence in the production of subwoofers, speakers, and every other audio accessory.
The SVS Prime Tower for instance is a great-sounding speaker with a well-built design. The 3.5-way design gives you more sound detail with deep bass. They also work well in home theater contexts.
On the other hand, SVS Prime Towers produces sound with highly detailed character and may lack warmth. Also, the rear panel's twin bass ports require at least a foot or more clearance from the wall for better bass performance.
While SVSs are not too harsh for the ear, they may sometimes lack intimacy, especially with vocals. If you prefer "warmer" vocals with more "fun", then B&W 685 S2 bookshelves or Klipsch RF-62 II towers will be better alternatives.
Are Klipsch Speakers Good?
Founded just after the Second World War, Klipsch speakers are older and among the most prestigious brands of speakers in the market. Although they are a little bit more expensive, the prices are a good match for the quality you get from Klipsch.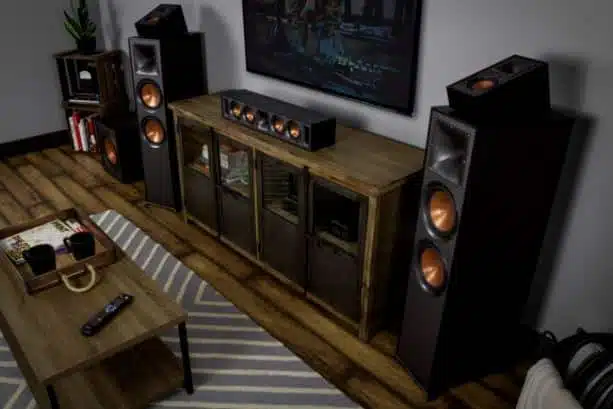 Let's look at some of the pros and cons you are likely to encounter with Klipsch speakers.
Pros
Good quality
Great for high frequencies
Wide range of products
Cons
High-priced
Need to buy all Klipsch to stick to the signature design throughout your living room
Not for everyone as the speakers seem to sound quite different from others to some people
SVS vs Klipsch Comparison: Which One Offers the Better Experience?
1.

Sound Quality
SVS Sound Quality
SVS pays special attention to its devices' sound quality. In their own words, their speakers balance audiophile refinement with high-impact home theatre dynamics, revealing the full depth and emotion of audio content.
SVS speakers tend to be warm, mellow, and smooth. For people who like this type of mellow sound, SVS is the way to go.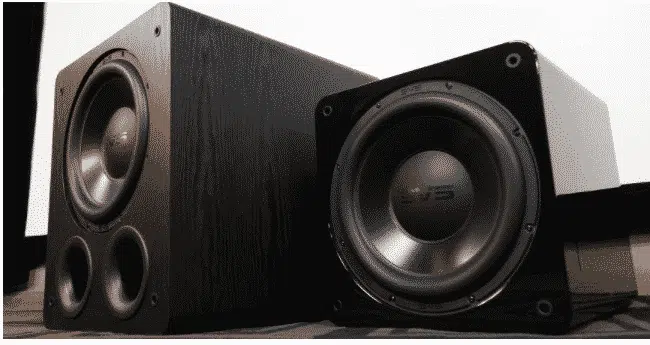 The company's speaker design process involves sophisticated prototyping, real-work testing, extensive acoustic simulations, and the use of premium cabinets, crossovers, and driver materials.
Therefore, these speakers can deliver a jaw-dropping immersive audio experience.
Klipsch Sound Quality
Klipsch is well known for its high-end, high-fidelity loudspeakers that produce powerful, accurate, and bright sounds – some people say they are harsh.
The company embraced the horn-loading concept. Basically, the design ensures that the sound is loud and clear.
Today, Klipsch is trying more and more to design speakers with a wide dynamic range to reduce or eliminate harshness and distortion.
2.

Pricing
SVS Pricing
Many audiophiles also agree that SVS speakers offer unmatched performance for their price. However, they don't have a lot of budget options.
For example, the SVS Prime Tower Speaker will go for around 50k. similar Klipsch speakers actually do go for a similar price.
Klipsch Pricing
The company says its speakers deliver amazing acoustics, and you can get them at an amazing price.
This is somewhat true. Klipsch does have a number of budget options. However, their speakers which are comparable to SvS speakers cost just about the same.
Klipsch also offers free shipping on many of its orders, especially online orders, within the United States. This reduces the overall cost of its products to many users.
3.

Tweeter Technology
SVS Tweeter Technology
SVS speakers typically feature hard-dome tweeters. These tweeters are made of aluminum which gives them the ability to dissipate heat and minimize changes in power impedance.
These domes, therefore, minimize sound distortion.
Klipsch Tweeter Technology
Klipsch speakers also typically come with hard-dome tweeters as well, which means they minimize sound distortion as the SVS does.
Dome tweeters with horns are more efficient than their standard counterparts.
4.

Build Quality and Durability
SVS Build Quality and Durability
Due to the strength of the dome construction material, SVS speakers tend to be quite durable. This explains why the speakers are commonly used in auditoriums, theatres, and large public meetings.
Nevertheless, SVS speakers may tend to ring because of the hardness of the dome. Due to this, some people think that the tweeters are a little too harsh. The company is currently using advanced audio technology to lower this risk.
Klipsch Build Quality and Durability
Due to the quality of the tweeter technology, Klipsch speakers are incredibly durable. Moreover, the horn technology reduces their chances of ringing.
Nonetheless, like everything else, Klipsch speakers still have a few setbacks. In some instances, they tend to lose the subtle nuances of various media.
5.

Performance
SVS Speaker Performance
SVS speakers typically produce deep bass. This is why they are particularly well known for their subwoofers. They are designed to perform best in home theater environments.
Klipsch Speaker Performance
Klipsch is widely regarded as a high-fidelity audio pioneer. They use their highly efficient horn technology to produce loudspeakers that deliver distortion-free sound. That is why Klipsch speakers are commonly used in large public spaces.
6.

Speaker Lines
SVS Speaker Lines
SVS features the Prime and Ultra Series. Klipsch has also designed a series of noteworthy speakers, including the following:
The Palladium line
The three Icon Series
The Synergy line
The Reference
The Reference Premiere Series
THX Ultra II series
The Klipschorn
Klipsch Speaker Lines
Klipsch offers a wide variety of audio devices within quite a few categories:
Home Theater Systems
Floorstanding Speakers
Bookshelf Speakers
Sound Bars
Center Channel
Surround Speakers
Subwoofers
On-Wall
In terms of their popular speaker lines, the following are well-known and well-loved:
R Line
RP Line
RF Line
THX Line
7.

Features
Of course, when you want to buy any of these speakers, you need to compare devices within the same category from these brands. These are the main features that you should compare:
Enclosure
Video shield
Tweeter type
Tweeter size
Subwoofer composition
Power range
Impedance
Frequency response
Connector type
Bi-amp inputs
Generic features are essential for helping you make the best initial decision on the quality you want. However, you need to go beyond that to make the best choice.
SVS and Klipsch uphold different principles and use different technologies, which you can see by comparing their respective products' general features. These features determine the overall quality of their products.
Let's consider the general features of SVS and Klipsch speakers. After that, we shall compare two specific SVS and Klipsch speakers to help you have a better understanding of what we are talking about.
Main Features of SVS Speakers
Whenever you want to buy a speaker, here are the main SVS features that you need to consider before spending your money:
Audio Excellence: The speakers reflect a fusion of the latest technology, exhaustive testing, and expert engineering. The styling is elegant and uncompromising.
Low-Frequency Extension: The frequency extension is dynamic and effortless
Refined Performance: The sound quality is accurate, and the overall performance is immersive and convincingly soundstage
Main Features of Klipsch
High Efficiency: The brand's horn technology is highly efficient and provides accurate sound with limited distortion. Klipsch makes efficiently inversely proportional to distortion.
Controlled Directivity: The horn technology efficiently directs sound in the desired direction
Wide Dynamic Range: The loudest sounds are produced without harshness. The softest ones are delivered with outstanding clarity.
Flat Frequency Response: The speakers deliver clear audio without any frequency bias.
8.

Ease of Use
Klipsch Ease Of Use
Klipsch devices are very easy to set up and use. With a wide range of ports for easy connectivity, such as the HDMI Arc port, setting up is as easy as plugging in and playing. Remote control support and iOS and Android apps also make it much easier to use your Klipsch devices.
SVS Ease Of Use
SVS added physical controls directly to its active speakers to make it easier to control the volume, choose the inputs to use, or pause playback directly. The speakers are also easy to mount.
9.

Cost
Klipsch Cost
Because of the materials used in Klipsch speakers, they tend to have premium prices, such as the RP-8000F floor-standing speaker, which costs from $800 to $1000 apiece. But they deliver much more than what you pay for. If you really care about the quality of the sound and the durability of your speaker, it is easy to overlook the cost.
There are also a few Klipsch product lines that do not cost as much (the Klipsch Reference RSB-3 home cinema speaker costs from $150 to $300, while a Klipsch Reference On-Ear headphone costs from $99 to $200), but sometimes this results in lesser than premium sound quality.
SVS Cost
Here's a range of prices for SVS speakers and subwoofers:
10.

Space Requirements
Klipsch Space Requirements
Klipsch speakers have a wide range of sizes and therefore require different amounts of space for effective operation. For example, there are portable PC speakers that can be easily placed on a desk while there are large cinematic models that require much more space.
SVS Space Requirements
The speakers are built into compact cabinets that are easy to mount anywhere. The subwoofers are also decently built with smooth edges and small cabinets that take very little floor space.
11.

Remote Controls
Klipsch Remote Controls
Klipsch supports some universal remote controllers as well as custom-made Klipsch remotes. This brings additional functionality to your devices.
Klipsch also has apps for both iOS and Android that can be used to control your Klipsch sound system remotely. The apps also allow for the use of voice assistants like Google Assistant, Spotify Connect, and Amazon Alexa, which respond to simple voice commands. Klips Stream allows you to stream directly from music platforms such as Spotify and Amazon Music.
SVS Remote Controls
SVS remote controls help you seamlessly control speakers and subwoofers without changing your sitting position. Moreover, you can now control the SVS subwoofers with a wireless SVS app. This app works in a similar way as wired remote controls.
Comparison of Klipsch Reference Premiere RP-160 and SVS Prime Bookshelf Speakers
Tweeter Type
SVS Prime -160 speakers have hard-dome speakers. These are durable speakers who are highly efficient, but they can be harder on listeners.
Klipsch Reference Premiere speakers have hard-dome speakers with horns. Other than being durable and distortion-free, these speakers are 'softer' to the ear.
Power Range
The SVS speakers have a power range of between 25 and 150 watts. The Klipsch's power range, on the other hand, is 100 watts.
This means you can use an amp with an incredibly low or high power range with this SVS speaker and still get nominal performance.
For the Klipsch speaker, you need an amplifier with a 100-power range.
Klipsch speakers consume much less power compared to other speakers of the same performance range. This is largely due to the horn tweeter that is used in their speakers, which reduces the need for a high-powered amplifier to boost the sound produced. 1 Watt RMS produces a 105 decibel at 1 meter sound pressure level (SPL), which is about 14–20 decibels higher than ordinary speakers.
The power range is different for each of the various Klipsch devices, so it is advisable to check the information included in the user manual.
SVS speakers deliver a wide range of power with output as high as 720 watts. The subwoofers feature all-new 12-inch SVS drivers delivering up to 550 W RMS and over 1,500-watt peak power amplifiers.
Sensitivity
SVS Prime Bookshelf Speakers is 87 dB, and Klipsch Reference Premiere RP-160'ssensitivity is 95 dB. This means a Klipsch speaker will play louder with a given amount of amplifier power.
Enclosure
Klipsch Reference Premiere RP-160 and SVS Prime Bookshelf Speakers have bass reflex enclosures. This means they have tuned ports that increase the overall sound efficiency.
Comparison of SVS Prime Towers VS Klipsch RP-260f
In this example comparison, we will be comparing two popular SVS and Klipsch speakers – the SVS Prime Towers and Klipsch RP-260f.
Firstly, here are the specs on both:
Klipsch RP-260f Specs and Features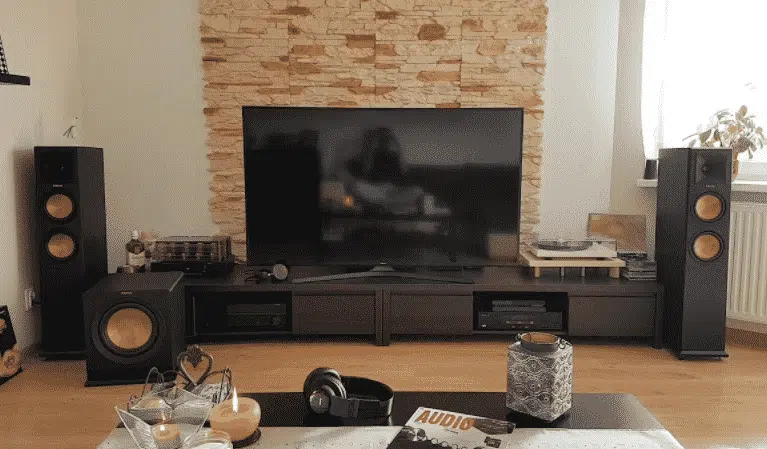 First, out of the box, the Klipsch is a bit taller, but this doesn't really mean much as far as audio performance is concerned. Here are the specs and features:
1″ Linear Travel Suspension Titanium Tweeter
Dual 6.5″ Spun Copper Cerametallic Cone Woofers
90×90 Hybrid Tractrix Horn. This is what Klipsch is well known for
MDF Cabinet with Brushed Polymer Veneer Baffle Finish
Removable Grille
Dimensions: 39.6" x 9.01" x 17.65"
The frequency response is 34Hz to 25kHz
Sensitivity is 97 dB
Power handling 125 W, peaks at 500W
8-ohm impedance
The crossover frequency is 1800Hz
SVS Prime Towers Specs and Features
20 to 250W Recommended Amplifier Power
3.5-Way Speaker Design
2x 6.5″ Polypropylene Cone Woofers
4.5″ Polypropylene Cone Midrange Driver
1″ Aluminum Dome Tweeter
30 Hz to 25 kHz Frequency Range
(SVS is well known for their 3-way crossover)
MDF dual-Ported Cabinet
The frequency response is 30Hz to 25kHz
Sensitivity is 87 dB
Amplification recommended – 20 to 250W
Klipsch RP-260f Sound Quality
As with most Klipsch speakers, the Klipsch RP-260f is rather bright, although not as harsh as many Klipsch options.
In any case, it is a good option for a reference speaker if you are seeking to clean up your recordings for example.
For regular use, many people will find them smooth enough while some highly sensitive listeners may think that the speaker sounds cold and overwhelming.
SVS Prime Towers Sound Quality
The prime tower is a speaker that offers detail. Not too bright and not too dull either. It's a great option for music or just a regular home theater option, especially if you enjoy special sound effects!
Which One Sounds Better–SVS or Klipsch?
This is a common question, but it has no straight answer. You are likely the most suitable person to answer it, given that SVS and Klipsch speakers have unique features that can either impress or annoy you depending on your personal taste.
If you want a speaker designed to reveal the full depth, high-frequency detail, and emotion of your audio content, you will get an unmatched jaw-dropping immersive audio experience if you go for SVS.
Nonetheless, if you are looking for a powerful performance and brighter detail, Klipsch speakers are designed to address your needs.
So, when considering these brands, consider your needs before making a choice.
Klipsch Speaker Features
Some of the best Klipsch audio speakers are discussed below.
These are new Klipsch speaker models with digital, analog (Phono and Turntable), Bluetooth, and HDMI. They are powerful, beautifully crafted, and can be easily hooked up to any other device such as a television, smartphone, computer, or even a turntable.
As a modern model with endless connectivity including HDMI-ARC, these speakers deliver a much better listening experience compared to any traditional soundbar with a similar easy plug-and-play setup.
The Fives has a state-of-the-art DSP, award-winning acoustics, and tuning. They also have both left and right channels, removable magnetic grilles, and multiple finish options with a subwoofer output. You can therefore add a powered subwoofer to the system at any time for an enhanced listening experience.
The speaker is constructed with luxury materials such as tactile switches, real wood veneers, and tactile knobs. Also, the Fives powered monitors have built-in amplifiers that help them to deliver high-quality room-filling sound without taking up much space.
Besides, the Klipsch acoustics delivered by the Fives is highly optimized by the 1" titanium tweeters placed on Tractrix horns. In addition, each powered monitor is ported and features a 4.5" long-throw woofer for enhanced bass.
Key features include:
Virtual connection features offer the ultimate convenience
Class-leading amplified speakers
Powerful sound from small speakers
HDMI-ARC for seamless connection to TVs
Bass EQ for enhanced bass performance
Built-in premium moving-magnet phono for connecting turntables
USB input allows music playback from a PC or laptop
High-quality Bluetooth streaming
2. C-130ASWi
The new C-series model has a front-firing Cerametallic active woofer that is powered by a BASH digital hybrid amplifier. It utilizes side-firing passive radiators that help with optimizing sound output while reducing the box size.
Klipsch LowControl App
The speaker has a free app built for iOS and Android. This ensures you have full control of what the speaker does from tuning to customization right from the palm of your hand.
The app gives you access to a 5-band parametric EQ, input selection controls, volume, and phase. In addition, the Klisch LowControl app features automatic room correction software and a microphone that helps you to gain easy and quick room correction.
IP Control
The speakers have built-in RJ-45 connectors that allow full integration into Crestron, RTI control systems, and Control4. The subwoofer can therefore easily change input, gain, EQ, and even phase settings automatically when a new source is selected in the control system.
Wireless Compatibility
The C-130ASWi has an optional WA transmitter that enables it to receive high-definition signals via a 2.4gHz high-definition transition from anywhere within the room. Besides, the receiver chip is in-built and placed within the amplifier circuitry making the speaker simple and easy to move.
Some of the key features you will notice with this speaker from Klipsch are:
Hand polished Piano Gloss Finish
10" Front-Firing Cerametallic Driver
Line-level Dual RCA, 2.4gHz Wireless inputs, Balanced line-level XLR
Ultra Bass Response from Small Cabinet
Automatic room correction
Klipsch LowControl App-enabled
400W Continuous Power/800W peak
Is SVS Better Than Klipsch?
With 75 years in the audio industry, Klipsch is much older compared to SVS. However, both companies have advanced in technology and continue to utilize the expertise of audio experts in the manufacture and production of their sound systems.
As a result, there is continued improvement in the speakers and subwoofers the two companies produce and send to the market.
Besides, the speakers from the two companies come with varied features and one may appear superior to the other depending on what the listeners are looking for.
Is Klipsch Considered High-End?
In terms of cost and gadget quality, Klipsch gear is actually quite fairly priced. While they may be considered quite expensive to the inexperienced audiophile, Klipsch is often thought of more as a high-end affordable speaker.
As a result, the majority of their goods are in the premium budget bracket, and while they do produce and sell more expensive speakers as well, this is their focal market.
Is Klipsch A Good Brand?
Klipsch is one of the earlier, more renowned American, sound-gear producing brands, who although considered slightly more expensive than other brands, will give you considerable value for your money.
They are a consumer favorite for quality sound reproduction and generation regardless of price. They have a reputation for producing beautifully designed, high-functioning, and carefully developed sound speakers that are extremely durable and will last for a very long time.
Is Klipsch German?
Klipsch is not a German company, Klipsch is an American company with headquarters in Indianapolis, Indiana. Klipsch speakers were originally manufactured in Hope, Arkansas where the company was first founded and some of their Heritage series speakers are currently still manufactured there.
As is the trend amongst audio companies (and manufacturing companies in general) these days, most of their production is done in China. Klipsch is owned by VOXX International Corporation.
Conclusion
We hope you have determined which of these two brands is better for you at this particular time.
If you want strong audio performance but don't mind some harshness, you can go for Klipsch speakers.
However, if you want to experience the full depth, frequency detail, and emotion of your audio content, SVS is ideal.