Soundbars are great if you need better sound than your TV speakers provide. However, in such a case, a subwoofer is a necessity.
A good subwoofer attached to a soundbar adds thrilling, immersive bass impact and power you can hear and feel. This also allows soundbars to focus on the mid and high frequencies.
With a good soundbar and subwoofer, the result will be a noticeable improvement to the soundstage and overall audio experience. If your soundbar has a pre-out connection, it is intended to attach a coax RCA cable to a powered subwoofer.
Please note that it will not work with a passive (unpowered) subwoofer. So, looking for a soundbar with subwoofer pre-out? So, let's take a deeper look at soundbars with subwoofer pre-out.
The Yamaha YAS series is popular for having subwoofer pre-outs or built-in subwoofers. Check out the options below:
SALE!!
YAMAHA YAS-108 Sound Bar with Built-in Subwoofers...
Built in subwoofers for deep bass in 1 slim sound bar
Clear voice for enhanced dialogue clarity. Bluetooth maximum communication Range 33 feet; (without...
DTS Virtual: X Virtual 3D surround sound; Standby Power Consumption 0.4W (HDMI CEC standby off), 1.2W (HDMI...
No products found.
Best Soundbar With Subwoofer Pre-Out Examples
The Yamaha YAS-107 or Yamaha ATS-1070 both have sub pre-out ports. These devices have voice enhancement.
Yamaha YAS-107 Soundbar With Subwoofer Pre Out:
Yamaha ATS-1070 Soundbar With Subwoofer Pre Out
What Is A Subwoofer Pre-Out?
The subwoofer pre-out is an RCA jack generally located on the back of the subwoofer or receiver.
The pre-out outputs signals only, not actual power. You will also see red/black speaker jacks for connecting speakers to it.
Generally, the pre-out will have high frequencies but pass the bass signal. Please note that the Sub Preout is for connecting to only a Powered Subwoofer.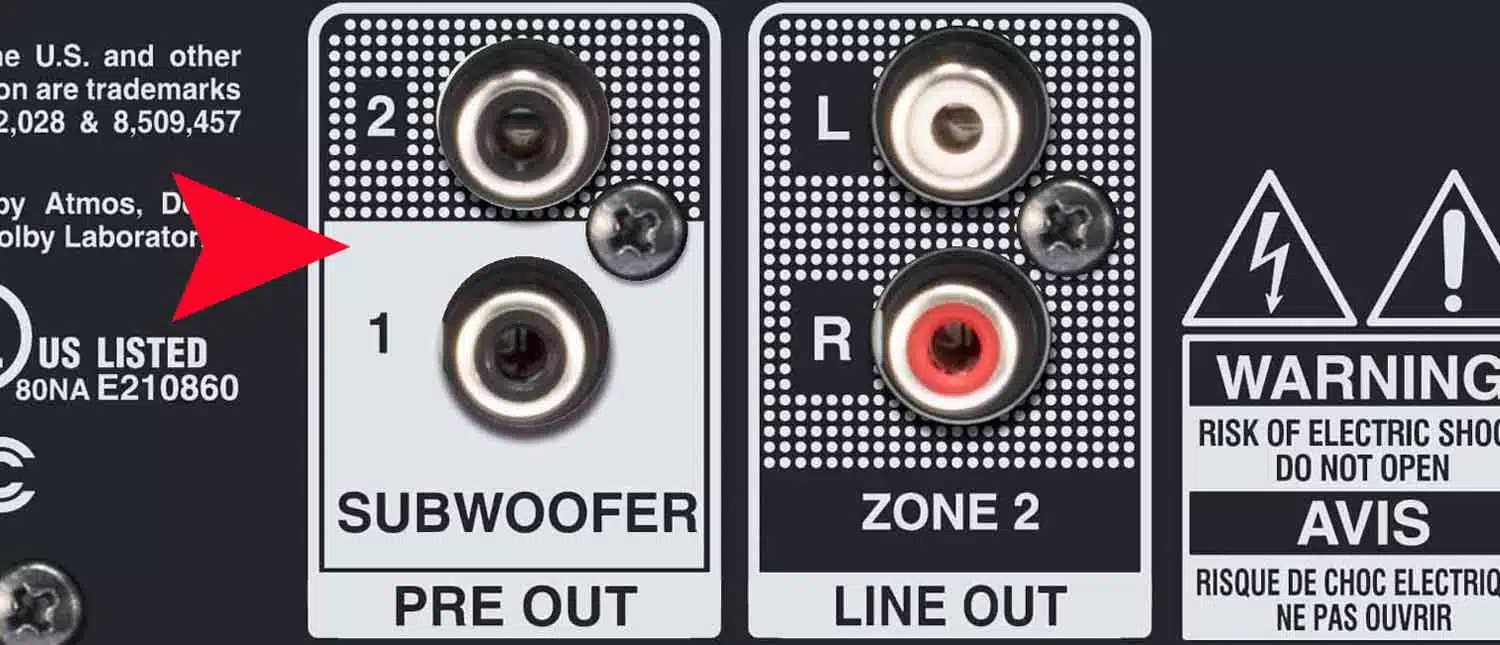 It will not work with a passive (unpowered) subwoofer. Note also that the Sub Pre-out and the Surr Back Pre-outs are the same.
Additionally, the surround pre-outs are for connecting to another amplifier. This way, more powerful speakers/amplifiers can power the Surround channels.
However, you don't need an amplifier for the surround speakers since it's already built into the receiver.
Looking For Surround Sound?
If you are looking for an authentic surround sound experience, then a soundbar may not be your best bet because it won't give you the stereo effect. After all, the speakers in a soundbar are close together.
But, no standalone soundbar can produce surround sound, and systems with surround speakers.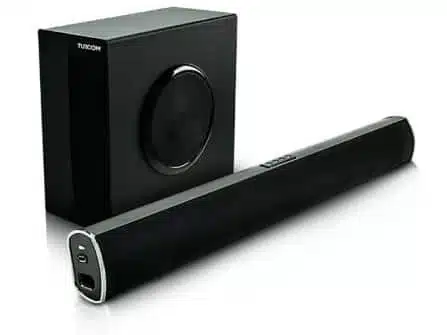 A nice pair of Active monitors with a subwoofer is an excellent option that will do better than any soundbar in terms of sound quality.
Most TVs will have an analog output connecting with any Active monitors/speakers if you need your TV connected.
The great thing about this is that you can control the volume with the TV remote or cable if your TV codes are correctly set up.
Tips For Pairing Your Subwoofer With Your Soundbar
Soundbars are often good choices for TV audio. However, they should be paired with a powerful subwoofer to deliver the sound effect expected from a good audio system.
The best subwoofers deliver massive output and hit the deepest bass notes. A good soundbar/subwoofer combination sees each base note blending seamlessly with your soundbar.

When choosing the best subwoofer for your soundbar, you should consider five key things.
Soundbar Connections
This article is all about soundbars with subwoofer pre-out. However, soundbars will always have many other connections.
Some soundbars have proprietary outputs that make connecting to a powered soundbar impossible. You need to consider this carefully.
Cabinet Size
Soundbars are popular because they are compact, you can easily place them beside your TV, and they will fit right in.
If you are all about home decor, then a minimal soundbar with slender proportions and discrete connections is a good choice.
Also, remember that a sealed cabinet subwoofer is often a great choice because they have much smaller cabinet dimensions and smaller footprints than its ported subwoofer counterparts.
Playback Levels
A simple soundbar may not be enough for action movies and other shows requiring high volume levels.
If you enjoy these types of entertainment, then a more powerful subwoofer may be right.
Room Size
Room size is very important when you think about a soundbar and how it will fill the room. Let's say you have a massive open-concept room or a large basement. In such cases, a soundbar alone will not suffice.
Larger spaces require a large subwoofer such as the Power Sound Audio or SVS SB-1000.
Finally, a subwoofer needs a powerful motor and amplifier to reproduce bass and clean high frequencies properly, and it requires a rigid yet lightweight driver and an acoustically inert cabinet. All these features combine to make an efficient and powerful subwoofer.
Better Alternatives To A Soundbar With Subwoofer Pre Out
Many soundbars can connect subwoofers wirelessly. In such cases, you won't need wires. A good example is the YAS-207BL.
Powered Speakers
You may want to consider several things if you haven't purchased the soundbar.
A soundbar won't be sufficient if you are seeking powerful sound. In such a case, you could get a set of powered speakers instead of a soundbar. You can find our list of powered speakers here.
Why Does A Soundbar Need A Subwoofer?
Most soundbars will include subwoofers built in. However, these tiny subs are little more than one-note bass boxes. They offer meager power output that is little more than a distraction, and it's often muddy and laced with distortion.
We all want the ability to energize the space with chest-thumping, seat-rumbling bass. However, the fact is that natural soundbars can't match the output of larger audio systems. For example, a soundbar won't fit a 5.1 home theater surround sound speaker system.
A soundbar won't even match a pair of full-range stereo speakers. In most cases, you will need a proper subwoofer to improve bass output and produce the type of powerful sound you want. So, we completely understand why you may be looking for a soundbar with a subwoofer pre-out.
Notably, many soundbars with pre-out tend to be more powerful for larger TVs. For example, many soundbars for 65-inch TVs have subwoofer pre-outs.
FAQs
Yes, most of the soundbars have a subwoofer output, which helps to enhance the sound produced and adds bass to it.
2. What is the best place to keep a soundbar?
Place the soundbar away from direct heat sources, metal cabinets, and other audio and video equipment. Keep the soundbar's rear side at least 1 cm away from different surfaces. A blockage of the backports will degrade audio quality.
3. Which soundbar has the best bass in the list?
YAMAHA YAS-108 Sound Bar has built-in sub-woofers and offers deep bass, best suitable for music, games, and movies.
4. What should I opt for: a soundbar or a speaker set?
We suggest connecting a soundbar to your TV if you want to watch movies and shows. For music and dancing, get a speaker set with good bass.