As an Amazon Associate, we earn from qualifying purchases made on our website.
Sonos and UE Boom are two renowned and well respected brands in the audio industry that produces high quality speakers, headphones, soundbars, and subwoofers..
In this article, we will cover a general overview of both brands, looking specifically at sound quality, durability, price and so on. Of course, each brand has different devices at different price points, however we will compare them as closely as we can.
Sonos is known for its high-quality wireless home audio systems, while UE Boom is a well-regarded brand in the audio industry known for its high-quality portable Bluetooth speakers.
Pros and Cons of Sonos:
Pros: Sonos is known for producing high-quality, easy-to-use wireless audio systems that can be easily integrated into a home network. Many of their products have good sound quality and are easy to set up.
Cons: Over the years, many users have complained about Sonos as it relates to connectivity and in some cases, even reliability. In addition, their products can be relatively expensive.
Pros and Cons of UE Boom:
Pros: Offers a range of high-quality portable Bluetooth speakers with a rugged, waterproof design. Known for producing products with good sound quality and durability.

Cons:

Some products may be on the expensive side.
Quick History
Sonos Quick History
Sonos, Inc. is an American company that specializes in the development and manufacture of audio devices. They are best known for their quality multi-room audio products. The company was co-founded in 2002 by John MacFarlane, Craig Shelburne, Tom Cullen, and Trung Mai.

The company displayed its first prototype at an industry event in 2004 and started shipping in early 2005. The company is always expanding its services internationally, for example to the UK in 2005 and Japan in 2018.
In January 2015, Sonos was rebranded by Bruce Mau Design, with a new visual identity and improved logotype.
UE Boom Quick History
Ultimate Ears, founded by Mindy and Jerry Harvey in 1995, is a custom in-ear monitor (IEM), earphone and speaker manufacturer based in Irvine and Newark, California, United States.
Their UE Boom portables are popular party speakers, and their IEMs are currently used by customers including Coldplay, Rita Ora, and Sam Smith. The company was acquired by Logitech in 2008.
Sound Quality
Sonos Sound Quality
One of the most distinctive features of all Sonos speakers is their superb audio quality. The sound output is rich and clean, with deep bass and clear mid-tones.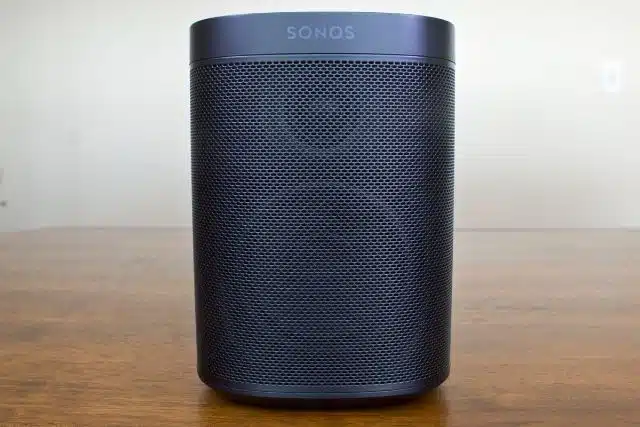 Sonos has a team of seasoned musicians such as Grammy-winning music producer Giles Martin that assist in fine-tuning their speakers to ensure a natural and superior sound. Each Sonos speaker sounds really great on its own but you can connect two or more speakers together for a really immersive experience.
UE Boom Sound Quality
UE devices deliver quite decent audio output, with unmuffled but shallow bass, accurate mid-tones and colorful highs. The sound quality is much improved in the in-ear-monitors, but that reflects markedly in the cost.
The Ultimate Sound™ technology carefully balances audio at all volume levels and preserves the dynamic range. Coupled with the DSP technology, you get a clean and detailed audio output.
Features
Sonos Features
Sonos is very popular for the suite of features that are incorporated into their products to ensure that you get the best out of your gadget. Most of the features ensure versatility in the speakers, which allows you to use them throughout the house, or outside.
Here are some features you can expect from your Sonos device:
Sonos App: The Sonos app is available for both iOS and Android to bring additional functionality to all your Sonos devices. Apart from functioning as a remote control for your speakers, it has a lot of other features such as the Calm app that plays relaxing music if you're going to sleep, or you can set your alarm so that you wake up to your favorite music. It also has a sound equalizer feature to tweak the sound of your speaker to your taste.
Sonos Trueplay: To produce the best sound effect wherever you are, Sonos has a tuning feature known as Trueplay. Trueplay optimizes the sound of the speaker based on the acoustics of the room they are placed in.
Support For Multiple Music Platforms: Sonos has partnered with over 100 music service companies around the world such as Spotify, Pandora, Tidal, and Amazon Music to ensure that you can listen to your favorite music, podcasts, or TV shows regardless of the platform you use.
Surround Sound: Sonos speakers can be connected to each other for a truly immersive stereo or surround sound experience.
Support for Bluetooth, WiFi, Airplay 2 streaming
Voice control support for Amazon's Alexa, Google Assistant, Apple Siri, and in-house Snips SAS
Multiple input and output ports such as HDMI and optical audio input for TVs and type C to charge the battery-powered
UE Boom Features
Some unique features of UE devices are shown below:
Ultimate Sound technology for balanced and detailed sound
Extreme ruggedness
User-centric and personalized design on all their devices.
360° immersive sound technology.
Streaming from services like Pandora, Deezer, and Spotify
Build Quality
Sonos Build Quality
Sonos uses sturdy materials like polycarbonate for the grille and a mixture of ABS and 10% glass fiber for the chassis to ensure a solid build, though this makes their speakers bulky. But if you prefer durability to portability, Sonos is the way to go.
Some of their speakers have IP ratings, which means they are water-resistant and dust-resistant, therefore allowing for outdoor use.
UE Boom Build Quality
The claim that their products are 'virtually indestructible' might be strongly worded, but UE devices are seriously rugged. They are dust and water-resistant (up to IP67) and shockproof while still managing to look fashionable.
They are constructed of military-grade fabric covering, neodymium magnet drivers, photopolymer gel moldable ear tips, and lightweight plastic and aluminum frames.
Ease of Use
Sonos Ease Of Use
Sonos products have a minimalistic design and a clean look without a clutter of buttons, which makes the products easy to operate.
Older Sonos speakers have a pause/play button that can mute if you press and hold or skip a track if you double click. Newer speakers have a touch-sensitive button that skips to the next or previous track if you slide from left-to-right or right-to-left, respectively.
Multiple speaker connectivity is easy to set up across different rooms using WiFi, Bluetooth, or connection to a single router.
UE Boom Ease Of Use
UE devices have features like voice and one-touch control that make manipulation extremely easy. Their earphones and speakers can also be customized for individuals. The intuitive UE Boom and UE Roll apps are fully featured with customizable EQs, musical alarm and connection to several speakers.
Cost
Sonos Cost
Sonos products are quite expensive, but they are known to always deliver quality regardless of their price tag.
Sonos products are known for always delivering excellent performance, build quality, and strong connections compared to other brands in the same price range. In short, Sonos makes products that give great value for money.
Here is a price range for some Sonos products:
Soundbars: $150 – $850
Smart speakers: $150 – $500
Premium speakers: $200 – $900
Amplifier: From $600
Subwoofer: From $700
UE Boom Cost
UE devices are quite affordable (except the IEMs), as seen from the following list:
Portable Speakers: $100 – $450
In-ear Monitors: $500 – $2200
Earbuds: from $170
Space Requirements
Sonos Space Requirements
Sonos speakers tend to be bulky, so they require ample space to use. Though this doesn't mean that it cannot be used on your desk or placed on a bookshelf.
Some Sonos speakers, like the Sonos Roam and Sonos Move, focus on portability. Therefore, they produce the excellent audio output that Sonos is well-known for at a reduced weight and size.
UE Boom Space Requirements
UE speakers are portable enough to be easily carried about or stuffed into a backpack. The MegaBoom 3 measures 8.7×22.5cm and weighs just 925g the slightly smaller Boom 3 is 7.3×18.4cm, weighing just 608g.
Remote Controls
Sonos Remote Controls
There are several universal remote controls supported by Sonos products. There are some custom-made Sonos remote controls for easy operation of your devices. Sonos devices can also be remotely controlled with the Sonos app which allows you to control each device connected to the network individually.
Sonos gadgets also have Snips SAS, Sono's custom AI technology for connected devices with the purpose of bringing a music-specific voice assistant to all its devices.
UE Boom Remote Controls
There are a variety of custom apps available, which are the major remote control options for UE devices.
Connectivity Options
Sonos Connectivity Options
Multiple Sonos gadgets in a single household can be connected to each other wirelessly, through a wired Ethernet network, or a mixture of both. Wireless connectivity includes Bluetooth, WiFi, and LAN network for Internet connectivity.
Wired connections include HDMI for connecting to TVs and Ethernet connection to connect to multiple devices. Sonos devices can also be connected using Alexa, Siri, Google Assistant, or Snips SAS.
Sonos gadgets can be connected to any device with Bluetooth or WiFi connection such as your smartphones, digital TVs, and other Sonos devices over the same network.
UE Boom Connectivity Options
The connection options for UE devices are scanty. They can be connected via Bluetooth 5.0 supporting AptX, AAC and SBC codecs; USB and audio jack. The available options can easily be extended using the required adaptors.
Power Range
Sonos Power Range
Sonos devices have different power ranges depending on the device's performance. An average Sonos speaker consumes from 55 Watts to 125 Watts per channel.
Most Sonos devices do not have power buttons but have an idle/standby mode, consuming from 4-8 Watts in this standby mode.
All the information on the power range of a device is included in the product manual, so you can get information on the power range for your particular device.
UE Boom Power Range
UE devices have enough power to be used at outdoor parties but are not overpowered since they run on batteries and lack amplifiers.
Frequency Response
Sonos Frequency Response
Sonos speakers have pleasing frequency ranges to suit the various types of usage scenarios. The Sonos five, for example, has a -3 dB bass response frequency of 88 hertz, which is excellent for a speaker of its size.
UE Boom Frequency Response
The frequency response ranges for UE devices are adequate but not much above adequate, except for the professional IEMs. For example, the UE Fits earbuds range from 20Hz to 20KHz, which is the average range of human hearing. The UE 7 CSX IEM, on the other hand, starts at 5Hz and ends at 22KHz. The lower and upper-frequency ranges for UE devices are 5Hz and 40KHz respectively.
Conclusion
Sonos is a company that's dedicated to manufacturing products with premium quality for a decent price. Their products have a wide range of features to suit each person's needs. As said above, Sonos is a company that produces devices that give good value for money.
UE devices deliver a clean and pure representation of music whether it is in-ear monitoring for professionals or loud, amplified sound for parties,. The less-costly Booms and UE Fits are adequate for daily use, but you might want to spend more on the IEMs if you want audiophile-grade sound.
Related Articles
Sonos Vs Klipsch
Sonos Vs Sony
Sonos Vs Bose
Sonos Vs Yamaha
Bose Vs Ue Boom
Norvan Martin is the founder of BoomSpeaker.com. He is a professional Electronics Engineer and is passionate about home theater systems and AV electronics. BoomSpeaker was created as an online hub to share his knowledge and experiences as it relates to home theaters and home audio electronics.
My email: admin@boomspeaker.com
Connect on Pinterest and Linkedin