As an Amazon Associate, we earn from qualifying purchases made on our website.
Sonos and B&W are two renowned and well respected brands in the audio industry that produces high quality speakers, headphones, soundbars, and subwoofers.
In this article, we will cover a general overview of both brands, looking specifically at sound quality, durability, price and so on. Of course, each brand has different devices at different price points, however we will compare them as closely as we can.
Quick History
Sonos Quick History
Sonos, Inc. is an American company that specializes in the development and manufacture of audio devices. They are best known for their quality multi-room audio products. The company was co-founded in 2002 by John MacFarlane, Craig Shelburne, Tom Cullen, and Trung Mai.
The company displayed its first prototype at an industry event in 2004 and started shipping in early 2005. The company is always expanding its services internationally, for example to the UK in 2005 and Japan in 2018.
In January 2015, Sonos was rebranded by Bruce Mau Design, with a new visual identity and improved logotype.
B&W Quick History
Bowers & Wilkins, best known as B&W, is a British manufacturer of consumer and professional loudspeakers and headphones. B&W was founded in 1966 by John Bowers in Worthing, West Sussex, England. They currently have many award-winning loudspeaker designs to their name.
Sound Quality
Sonos Sound Quality
One of the most distinctive features of all Sonos speakers is their superb audio quality. The sound output is rich and clean, with deep bass and clear mid-tones.
Sonos has a team of seasoned musicians such as Grammy-winning music producer Giles Martin that assist in fine-tuning their speakers to ensure a natural and superior sound. Each Sonos speaker sounds really great on its own but you can connect two or more speakers together for a really immersive experience.
B&W Sound Quality
B&W puts a lot of money into research and development. This has allowed them to make many audio breakthroughs over the years. B&W devices are noted for delivering pure, natural and detailed sound reproduction. There's chest-thumping bass and clear mids and highs.
One feature of some B&W speakers is a tweeter separated from the main cabinet, this allows the tweeter to produce an accurate sound that's unaffected by the subwoofer.
Features
Sonos Features
Sonos is very popular for the suite of features that are incorporated into their products to ensure that you get the best out of your gadget. Most of the features ensure versatility in the speakers, which allows you to use them throughout the house, or outside.
Here are some features you can expect from your Sonos device:
Sonos App: The Sonos app is available for both iOS and Android to bring additional functionality to all your Sonos devices. Apart from functioning as a remote control for your speakers, it has a lot of other features such as the Calm app that plays relaxing music if you're going to sleep, or you can set your alarm so that you wake up to your favorite music. It also has a sound equalizer feature to tweak the sound of your speaker to your taste.
Sonos Trueplay: To produce the best sound effect wherever you are, Sonos has a tuning feature known as Trueplay. Trueplay optimizes the sound of the speaker based on the acoustics of the room they are placed in.
Support For Multiple Music Platforms: Sonos has partnered with over 100 music service companies around the world such as Spotify, Pandora, Tidal, and Amazon Music to ensure that you can listen to your favorite music, podcasts, or TV shows regardless of the platform you use.
Surround Sound: Sonos speakers can be connected to each other for a truly immersive stereo or surround sound experience.
Support for Bluetooth, WiFi, Airplay 2 streaming
Voice control support for Amazon's Alexa, Google Assistant, Apple Siri, and in-house Snips SAS
Multiple input and output ports such as HDMI and optical audio input for TVs and type C to charge the battery-powered
B&W Features
Even though B&W is an older brand, they are still competing with best-in-class modern devices with modern features, like:
Wireless connectivity includes Bluetooth, WiFi
Wired connectivity includes USB, HDMI, optical audio
AirPlay 2, Spotify Connect and aptX Adaptive Bluetooth support
Bowers & Wilkins Music App, which supports music streaming services including Tidal, Deezer, Qobuz, Soundcloud and TuneIn
Amazon Alexa voice control for hands-free operation
Build Quality
Sonos Build Quality
Sonos uses sturdy materials like polycarbonate for the grille and a mixture of ABS and 10% glass fiber for the chassis to ensure a solid build, though this makes their speakers bulky. But if you prefer durability to portability, Sonos is the way to go.
Some of their speakers have IP ratings, which means they are water-resistant and dust-resistant, therefore allowing for outdoor use.
B&W Build Quality
B&W has always been at the forefront in pioneering new techniques that improve the acoustics and durability of their devices. Their devices are enclosed in aluminum or sturdy plastic for a durable and attractive finish.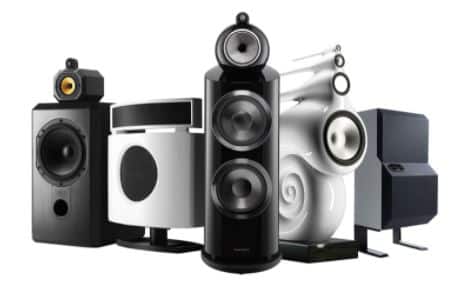 B&W patented the use of Kevlar fibers, impregnated with a stiffening resin to provide controlled rigidity and internal damping; and minimize distortion. They currently use their own material, Continuum, for their speaker cones.
Ease of Use
Sonos Ease Of Use
Sonos products have a minimalistic design and a clean look without a clutter of buttons, which makes the products easy to operate.
Older Sonos speakers have a pause/play button that can mute if you press and hold or skip a track if you double click. Newer speakers have a touch-sensitive button that skips to the next or previous track if you slide from left-to-right or right-to-left, respectively.
Multiple speaker connectivity is easy to set up across different rooms using WiFi, Bluetooth, or connection to a single router.
B&W Ease Of Use
B&W devices are very easy to install and operate. This is made even easier by the company's support for voice assistants, such as Alexa. The B&W music app allows you to use streaming services on your devices and finetune the sound output to your taste.
Cost
Sonos Cost
Sonos products are quite expensive, but they are known to always deliver quality regardless of their price tag.
Sonos products are known for always delivering excellent performance, build quality, and strong connections compared to other brands in the same price range. In short, Sonos makes products that give great value for money.
Here is a price range for some Sonos products:
Soundbars: $150 – $850
Smart speakers: $150 – $500
Premium speakers: $200 – $900
Amplifier: From $600
Subwoofer: From $700
B&W Cost
B&W devices usually have midrange prices, though some devices are well into the high-end price range. Their price ranges are given below.
Subwoofers: $900 – $3200
Earbuds/headphones: $320 – $550
Speakers: $500 – $8400
Space Requirements
Sonos Space Requirements
Sonos speakers tend to be bulky, so they require ample space to use. Though this doesn't mean that it cannot be used on your desk or placed on a bookshelf.
Some Sonos speakers, like the Sonos Roam and Sonos Move, focus on portability. Therefore, they produce the excellent audio output that Sonos is well-known for at a reduced weight and size.
B&W Space Requirements
B&W floorstanders require quite some space in which to operate and are better suited to spacious rooms.
The bookshelf speakers are more versatile and can either be mounted on a stand, fixed to a wall using brackets or placed on a desktop or shelf space. Keep in mind that they all require some free space around them for ventilation.
Remote Controls
Sonos Remote Controls
There are several universal remote controls supported by Sonos products. There are some custom-made Sonos remote controls for easy operation of your devices. Sonos devices can also be remotely controlled with the Sonos app which allows you to control each device connected to the network individually.
Sonos gadgets also have Snips SAS, Sono's custom AI technology for connected devices with the purpose of bringing a music-specific voice assistant to all its devices.
B&W Remote Controls
Some B&W devices have their own in-house remote controls but they also support the use of third-party remote controllers. The B&W music app and Alexa allow you to control your speaker from any device on the same WiFi network.
Connectivity Options
Sonos Connectivity Options
Multiple Sonos gadgets in a single household can be connected to each other wirelessly, through a wired Ethernet network, or a mixture of both. Wireless connectivity includes Bluetooth, WiFi, and LAN network for Internet connectivity.
Wired connections include HDMI for connecting to TVs and Ethernet connection to connect to multiple devices. Sonos devices can also be connected using Alexa, Siri, Google Assistant, or Snips SAS.
Sonos gadgets can be connected to any device with Bluetooth or WiFi connection such as your smartphones, digital TVs, and other Sonos devices over the same network.
B&W Connectivity Options
B&W devices can be connected to each other and to other devices using wired or wireless options. These include Bluetooth, HDMI, WiFi, USB, aux input and a whole range of other options.
Power Range
Sonos Power Range
Sonos devices have different power ranges depending on the device's performance. An average Sonos speaker consumes from 55 Watts to 125 Watts per channel.
Most Sonos devices do not have power buttons but have an idle/standby mode, consuming from 4-8 Watts in this standby mode.
All the information on the power range of a device is included in the product manual, so you can get information on the power range for your particular device.
B&W Power Range
The power range for B&W devices varies for different devices, though they all give quite powerful performance, even without the use of amplifiers.
The B&W 607 S2 bookshelf speaker is rated at 100 Watts, while the B&W Zeppelin peaks at 240Watts.
Frequency Response
Sonos Frequency Response
Sonos speakers have pleasing frequency ranges to suit the various types of usage scenarios. The Sonos five, for example, has a -3 dB bass response frequency of 88 hertz, which is excellent for a speaker of its size.
B&W Frequency Response
The B&W 606 Speaker has a frequency response range of 52Hz on the low end and 28KHz on the high end, which is simply amazing for a bookshelf speaker. The B&W 804 D4 floorstanding loudspeaker has a vast 20Hz to 35KHz frequency response range.
Conclusion
Sonos is a company that's dedicated to manufacturing products with premium quality for a decent price. Their products have a wide range of features to suit each person's needs. As said above, Sonos is a company that produces devices that give good value for money.
B&W devices deliver excellent performance at reasonable prices. Though they can be quite costly, you should expect nothing but the best from them.