Sennheiser and Epos are two renowned and well-respected brands in the audio industry that produce high-quality speakers, headphones, soundbars, subwoofers, and amplifiers.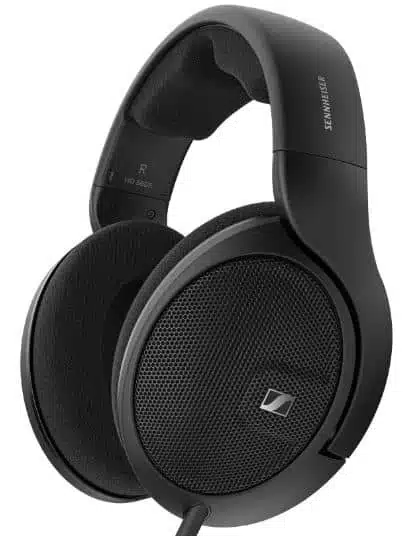 In this article, we will cover a general overview of both brands, looking specifically at the sound quality, durability, price, and so on. Of course, each brand has different devices at different price points. However, we will compare them as closely as we can.
Sennheiser products are known for their excellent sound quality and wide range of products, while Epos products are known for their excellent sound quality and wide range of products.
Sennheiser vs Epos Comparison Table
| Criteria | Sennheiser | Epos |
| --- | --- | --- |
| Brand Reputation | Highly Respected | Emerging Reputation |
| Sound Quality | Clear and Balanced | High-Fidelity Audio |
| Build Quality/Design | Durable and Sleek | Stylish and Functional |
| Product Range | Wide Selection | Diverse Options |
| Pricing | Moderate to High | Moderate |
| Features | Advanced Technologies | Unique Design Elements |
Before we continue, you can check out similar comparisons in the series:
Pros and Cons of Sennheiser:
Sennheiser is a well-respected brand in the audio industry, known for producing high-quality headphones, microphones, and other audio products. Here are some pros and cons of Sennheiser products:
Pros:
Known for producing high-quality audio products with excellent sound quality and build quality.
Strong reputation in the audio industry.
Offers a wide range of products to choose from.
Cons:
Some products may be on the expensive side.
May not have as wide of a product range as some other brands.
Pros and Cons of Epos:
Pros: Offers a range of headphones and speakers for both personal and professional use. Known for producing products with good sound quality and build quality.
Cons: May not have as strong of a reputation as some other brands in the audio industry.
Quick History
Sennheiser Quick History
Sennheiser was founded in 1945 in a laboratory called Laboratorium Wennebostel (Lab W) by Fritz Sennheiser and seven other engineers of the University of Hannover. Lab W started producing microphones in 1946 with DM1 and in 1947 with DM2.
The company produced many different products, including the Noise-Compensated microphone (DM4) and miniature magnetic headphones, before it was transformed into a limited partnership (KG) in 1973.
In 1982, Sennheiser started producing modern wireless microphones and won the 59th Academy Awards for its MKH 816 shotgun microphone.
Sennheiser is headquartered near Hannover, in the municipality of Wedemard, Germany. Today, Sennheiser is well known for producing professional-grade headphones and microphones.
Epos Quick History
Epos Audio is a high-end audio manufacturer for business, gaming, and professional audio use. It began as Sennheiser Communications in 2003, a joint venture between Sennheiser and Demant, and changed its name to Epos in 2020.
They manufacture amplifiers, soundcards, headphones, and streaming microphones.
Sound Quality
Sennheisser Sound Quality
Sennheiser produces robust headphones with versatile performance built with an ANC system (active noise-canceling technology).
ANC blocks out the low rumble of plane engines and vehicles together with ambient chatter. With aptX and aptX-LL codecs, these headphones deliver incredible sound quality with lower latency.
The bass is heavy and decently adds extra thump, rumble, and boom to mixes. This makes Sennheiser headphones more suited for genres like EDM and hip-hop.
In addition, the infrared transmission technology and the multi-channel RF wireless transmission technology contribute to the popular Sennheiser sound signature.
Epos Sound Quality
Epos devices perform excellently well irrespective of what you use them for and they have a satisfying audio quality.
Their devices produce precise sound and they also have an immersive soundstage effect with full frequency range (this is good for gaming). Most Epos devices have distinct mi,dtones, warm highs and very powerful bass for a pleasurable gaming experience.
Features
Sennheiser Features
The following features are characteristic of all Sennheiser headphones:
Modular construction that makes it easy to repair or replace parts
Snug fit
Excellent cup padding
Air Traffic Control
Professionally inspired
Total harmonic distortion <0.08% (1kHz, 94 dB)
Resonator chamber to remove masking resonance
Para-aramid reinforced cables
German-made 7mmXWB transducer – for naturally balanced sound
Intuitive controls
Lightweight (around 140 grams)
Supra-aural design
Epos Features
Epos devices have several features, ranging from hardware to software and artificial intelligence, that provide maximum performance and comfort for users. Some of the features are shown below:
EPOS BrainAdapt™ psychoacoustic technology which uses algorithms and acoustics to relax the brain for better performance by users
Earphone jack and integrated audio controls on the microphone
Up to 96KHz sampling rate
Customizable 7.1 surround sound and 2.0 stereo
Simultaneous Bluetooth® pairing allows you to connect more than one device at once
Intelligent battery management samples power usage according to user activity
Build Quality
Sennheiser Build Quality
The headphones are built with a rugged and flexible design. The durable metal hinge and sliders add an appealing style.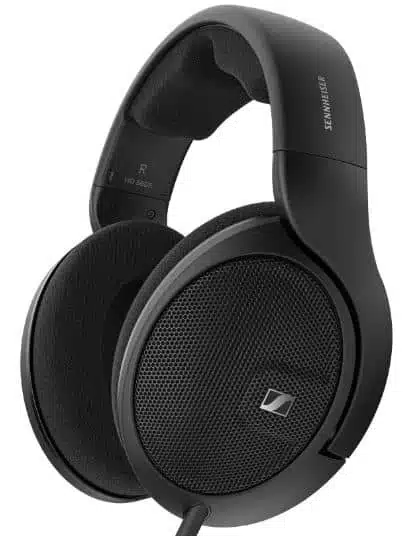 Even for long periods of use, they often remain in good condition. The latest ones are made from ZR01 amorphous zirconium, a metal used to drill the face of Mars, ensuring toughness and longevity.
Epos Build Quality
Epos designs sophisticated yet simple devices with a focus on comfort, efficiency, and durability.
They make use of lightweight aluminum and plastic frames that give their devices elegant and sleek looks.
The earpads and earplugs of their products are made of comfortable materials like leatherette and silicone.
In addition to the sturdy construction, Epos devices have superb internal components like expertly produced transducers, while some, like earbuds, are fluid-resistant and have good IP ratings.
Ease of Use
Sennheiser Ease of Use
Sennheiser headphones come with various connectivity options making them very easy to connect and use for multiple occasions.
The customizable touch controls put you in control of your listening experience, from audio and phone calls to Siri and Google Assistant.
Epos Ease Of Use
Epos devices have easily manipulable and intuitive controls. This includes the integrated audio control on the Epos B20 microphone, headphones volume control wheel, and a touch panel for switching between speaker/headset mode without stopping your activities.
They are also easy to set up, without any elaborate device driver installations. All it takes is just plug and play with various devices and platforms.
Cost
Sennheiser Cost
Headphones: $20 – $500
Microphones: $50 – $1000
Epos Cost
Epos devices come very cheaply for the performance they deliver. The price range for some devices is given below:
Earphones: $50 – $200
Headphones: $100 – $300
Microphones: from $150
Amplifiers and sound cards: $80 – $350
Space Requirements
Sennheiser Space Requirements
Sennheiser headphones are perfectly built for the ear. Whether you are buying over-ear, on-ear, or in-ear headphones, their construction is compact and easily fits the head and ear without exerting extra pressure.
Besides, the headphones are lightweight, and wearers may not feel the weight even after long use.
Epos Space Requirements
Epos devices are generally compact and lightweight for comfortable use over long-wearing periods. The foldable design and detachable cables in some headphones make them easily transportable.
The GSX 1200 Audio Amplifier measures 145 x 70 x 140 mm and weighs 410 g. The H6PRO Gaming Headset is 185 mm wide and 190 mm tall, weighing just 310g while the earphones are small enough to fit comfortably into the ears.
Remote Controls
Sennheiser Remote Control
Although Sennheiser headphones do not come with remote controls, they support wireless streaming such as Bluetooth listening.
Also, you can control some of your Sennheiser headphones with the Sennheiser Smart Control app. The app helps you access firmware updates and allows you to choose adaptive ANC and anti-wind ANC for the first noise-canceling level.
Epos Remote Controls
The Epos Connect app, available for Android and iOS, and the EPOS Gaming Suite for PCs, can be used to control and personalize your device.
Connectivity Options
Sennheiser Connectivity Options
Here are the connectivity options for Sennheiser:
Bluetooth multipoint
Fast auto-connect
SBC
aptX
aptX LL
AAC
Wired listening with a 2.5 mm cable
Epos Connectivity Options
Epos devices can be connected to various devices and platforms including Mac, PS 4/5, Xbox, and PC. The supported connection opta ions include USB, an 3.5mm au,dio jack, RCA line and several others.
Power Range
Sennheiser Power Range
Sennheiser headphones consume very little power to deliver incredible sound quality. Besides, the potable ones utilize either rechargeable or non-rechargeable AAA batteries and will deliver up to 100.45 dB/mW SPL.
Epos Power Range
Epos devices do not require high power because of the close proximity to the ear. They're usually in the milliwatt to low-watt range. The power range for various devices can be obtained from the user manuals and device specifications.
Frequency Response
Sennheiser Frequency Response
Sennheiser headphones perform well and widely exceed limits with ranges of 4 Hz to 51 kHz. The wide range helps prevent bass or treble roll-offs. Users also feel more frequencies and get a more immersive listening experience.
Epos Frequency Response
Epos devices have impressive frequency ranges that cover the full frequency spectrum. The GSX 1200 PRO amplifier covers an awesome 1Hz – 48KHz range while the GSP 670 headphone covers 10Hz – 23KHz. Epos devices generally have frequency ranges that lie within 1Hz to 48KHz.
Conclusion
Sennheiser produces high-quality headphones and microphones. The devices support numerous features and are energy efficient. They are, however, more expensive than the competition. On the other hand, The high quality of Epos devices makes them suitable for hardcore gamers, customer service, and control towers. Despite the excellent quality, some of their devices are quite inexpensive.