You can spend a great deal of time setting up your home or professional recording studio, just to have your music sounding distorted and colored. However, you can avoid this problem with reference devices such as reference amplifiers and reference speakers. So, what is a reference amplifier?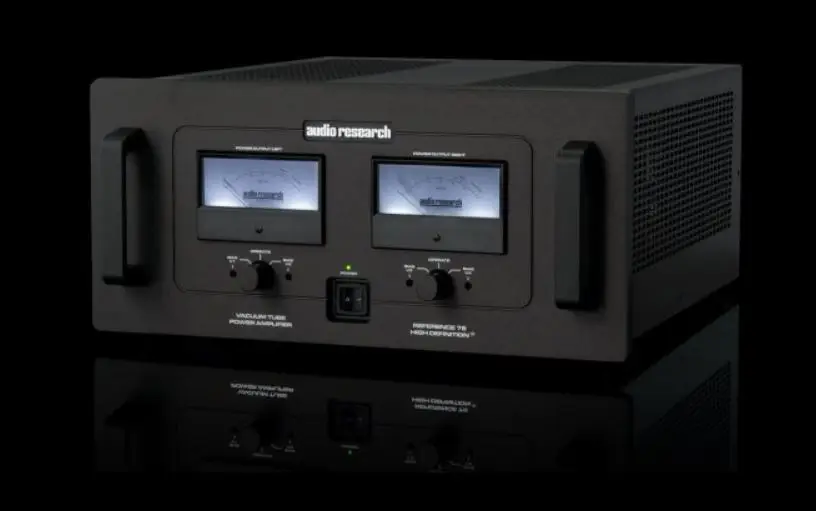 What is a Reference Amplifier?
A reference amplifier is an amp that is designed to produce an unbiased, flat-frequency response. This means they do not modify or distort the signal from the receiver in any way.
These amplifiers are normally used to drive reference speakers or studio monitors. Like reference amplifiers, reference speakers are designed to produce a flat response.
That is, they accurately reproduce the sound that comes in without distorting the music in any way.
However, these speakers cannot achieve this goal if you power them with ordinary power amplifiers. So, a reference amp is a must-have if you are serious about producing quality music.
Modern reference amplifiers are compact, rectangular devices that look like they can be mounted on a rack.
They typically take only between one-and-two rack spaces. Gone are the days of the 8-pound brick gargantuan that doubled as the studio furnace during the winter.
What Are Reference Amplifiers Used For?
Due to their low noise and low distortion, reference amplifiers are most commonly used for powering monitors in a studio (reference studio monitors).
These amplifiers are preferred for studio applications because they provide a clean, accurate reproduction of mixes.
Difference Between A Reference Amp And Regular Amp
Here are the main differences between regular amplifiers and reference amplifiers:
Music Modification: Regular amplifiers strip away the artifice of sound reproduction to "improve" the quality of music. However, reference amplifiers do not do this, instead, they do not modify music but provide a flat response.
Heat Dispersion: Reference amps have different heat

dispersion

methods so they don't need a fan to suppress noise.
Power and Frequency: Power amps focus on power amplification and not so much on unmodified frequency while reference amps focus entirely on ensuring the frequency response is flat. They are more focused on flatter responses as well without the use of an EQ, whereas power amps are more for power with less emphasis on the frequency range in response.
Important Reference Amplifier Features
When buying reference amps, you need to consider the following features:
Channels
Choose a reference monitor depending on the number of your passive reference speakers. Note that each channel represents a single speaker.
Distortion
Even though modern reference amps have significantly reduced the level of distortion, it is good practice to verify how much distortion it produces with flat response. Since reference amps should produce a flat response, you need minimum distortion.
Wattage
Underpowering your reference speakers is a major cause of poor sound quality. It can also damage the speakers. For better dynamic range and extra headroom, ensure the amplifier's power is at least 30% more than that needed by the speakers even at max volume.
Impedance
The amplifier's impedance should be right for your speaker. Do not connect a low-impedance speaker with a high-impedance reference amplifier. For example, you need to be careful when connecting amplifiers to low impedance 4 ohm speakers.
Top 3 Examples of the Best Reference Amplifiers
This reference speaker is rugged, powerful, reliable, and affordable. It features a 0.775V and 1.4V user-selectable input.
The Crown Xli1500 also has two channels, stereo/bridge/parallel mono mode, and a forced-air cooling system that prevents thermal build-up.
Key Features:
Pyle Pro reference amp has a 1000 watt power output, input gain controls, and a bridge option, making it perfect for plenty of studio applications. Its automatic cooling fans prevent overheating.
Key Features
Bluetooth compatible
Two channels (A/B)
Frequency response range between 20Hz and 20 kHz
XRL and ¼" TRS connectors
Advanced safety features
This is widely referred to as the high-performance no-compromise reference power amp. It delivers 100WRMS at below 1%THD+Noise (1 kHz) into 8 ohms per channel. It has a razor-flat response of +/-0.25dB from a range of 20Hz to 30 kHz.
Key Features
100W into 8Ω / 245W bridged into 8Ω output power
Compatible with Apple iPhone 6 Plus
Convention-cooled chassis
Stereo & bridged modes
245 W into 8 Ohms in bridged mode
XLR Inputs with link output per channel
100 W RMS output per channel
1U rack-mount design
What Is A Power Reference Amplifier?
A power reference amplifier is an amplifier that is capable of increasing the amount of power in the input signal and it also has the ability to handle large current.
Conclusion
Reference amplifiers are popular for many types of audio systems, but they are most suitable for serious music producers that use passive reference speakers.
They use these setups to accurately produce original sound recordings in professional audio studios.
If you buy the best one that suits your budget, you'll create high-quality music with much ease.