QSC and EV are two renowned and well respected brands in the audio industry that produces high quality speakers, headphones, soundbars, subwoofers and amplifiers.
In this article, we will cover a general overview of both brands, looking specifically at sound quality, durability, price and so on. Of course, each brand has different devices at different price points, however we will compare them as closely as we can.
QSC is a professional-grade audio brand known for its high-quality amplifiers, speakers, and digital mixers, while EV is a well-known brand in the pro audio industry known for its microphones and live sound reinforcement products.
QSC vs EV Comparison Table
| Criteria | QSC | EV (Electro-Voice) |
| --- | --- | --- |
| Brand Reputation | Highly Respected in Pro Audio | Well-Established in Professional Audio |
| Sound Quality | High-Fidelity, Clear Sound | Professional-Grade Sound Reproduction |
| Build Quality/Design | Durable Build, Pro Audio Focus | Robust Build, Innovative Design |
| Product Range | Pro Audio Solutions | Professional Audio Systems, Speakers |
| Pricing | Moderate to High | Moderate to High |
| Features | Advanced DSP, Amplification | Innovative Technologies, Amplification |
Before we continue, you can check out similar comparisons in the series:
Pros and Cons of QSC:
Pros: Known for producing high-quality professional audio products, including amplifiers, speakers, and digital mixers. Many of their products are well-regarded for their sound quality and build quality.

Cons:

Some of their products can be expensive and may not be suitable for casual home use.
Pros and Cons of Electro-Voice (EV):
Electro-Voice (EV) is a well-respected brand in the professional audio industry, known for producing high-quality microphones, speakers, and other audio products. Here are some pros and cons of EV products:
Pros:
Known for producing high-quality professional audio products with good sound quality and build quality.
Strong reputation in the professional audio industry.
Offers a wide range of products for a variety of applications.
Cons:
May not be as well-known for consumer audio products.
Some products may be on the expensive side.
Quick History
QSC Quick History
QSC is a globally recognized company in the design, engineering, and manufacturing of award-winning, high-performance loudspeakers, digital mixers, power amplifiers, audio processors, digital cinema solutions, video, and control platforms.
They offer reliable, scalable, and flexible solutions for entertainment and commercial AV applications.
QSC was founded by Patrick Quilter in 1968. In 2011, Pat remembered his passion for designing and building guitar amplifiers and founded Quilter Labs where he designs and builds amps for some of today's biggest artists in music.
EV Quick History
Since February 1998, Electro-Voice has been a branch of Telex Communications Inc. selling out their products to retailers.
Sound Quality
QSC Sound Quality
In general, they offer very crisp highs and clear mid-ranges with regard to their speakers and similar products.
No matter how loud the music gets, the bass is never affected. DJs often love to use QSC devices because of this feature. They are also great for both indoor and outdoor use as their sound quality is not compromised in either setting.
EV Sound Quality
EV devices have crisp and well-balanced sound production. However, they fall short on the low end.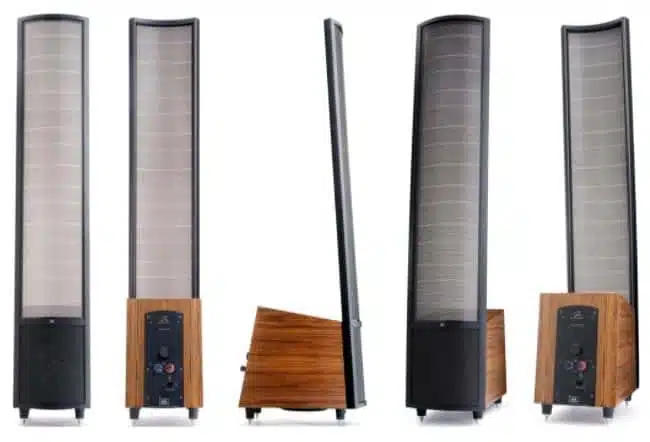 Vocal sound production is also clear and precise which makes them a very good idea for singers. The only downside is that their bass is not as tight as the mid and high response.
Features
QSC Features
QSC Company has a lot of beneficial features that make their product so easy for users to operate. These features include:
Driverless USB 2.0 Connection
Jack auxiliary port
Channels of Total Analog Audio
Configurable Flex Channels.
GPIO Logic Ports.
Single POTS Telephone line.
Higher resolution with significantly improved screen transitions.
EV Features
JBL manufactures futuristic speakers to ensure users can easily fit them into their modern home systems. Bluetooth speakers and subwoofers from JBL, for instance, come with the following features:
Polypropylene or cellulose-fiber cones
Rubber surround
Frequency response depends on specific speakers
Sensitivity of about 2.83V at 1 meter
Power handling up to 250W RMS
Build Quality
QSC Build Quality
QSC has managed to develop a durable and long-lasting speaker while still keeping the weight down.
QSC products are solid and well-protected. An example is the QSC K12, built with an impact-resistant ABS core that helps to protect the speaker with a front grille cloth lining for additional protection. QSC devices have high-quality aluminum handles.
EV Build Quality
Electro-voice products are made of rigid and hard plastic which gives them the strength to withstand unintentional knockdown.
The chassis of most of their products are constructed of sturdy and lightweight plastic and metals such as aluminum and polypropylene.
Ease of Use
QSC Ease Of Use
QSC devices are quite easy to use and install. The Q-SYS mobile app by QSC company is downloadable on both the Google Play Store for Android users and the Apple Store for iOS users, which makes it easy to use for every user.
There's also a guide booklet to put users through how to use and install their QSC devices.
EV Ease Of Use
EV devices have control buttons located at the back of their speakers and can be quite difficult to reach. They both have a downloadable mobile application on both the Google Play Store and the Apple Store, which makes controlling them quite straightforward.
Cost
QSC Cost
QSC devices are a little bit expensive compared to other manufacturing brands, below are different price ranges for QSC devices:
EV Cost
Considering the quality and kind of devices produced by EVs, their products are not expensive. Some of the price ranges for their devices are listed below:
Subwoofers: $ 300 – $1500
Loudspeakers: $300 – $1500
Amplifiers: $500 – $2000
Microphones: $100 – $500
Space Requirements
QSC Space Requirements
There are different kinds of QSC devices of various sizes and shapes. You have to put your available space into consideration before getting any devices. Most QSC devices have a stand or hanger that can be used to place the devices at any convenient place.
Remote Controls
QSC Remote Controls
Most QSC products do not come with remote control, but with the help of the Q-SYS mobile app, users can take absolute control of all the settings with the use of their mobile phones.
EV Remote Controls
Some EV products come with a remote control that works for numerous devices at a range of 15 meters.
Connectivity Options
QSC Connectivity Options
Here are the main connectivity options compatible with most QSC speakers:
Power Range
QSC Power Range
QSC devices consume more than some other audio brand devices. On average, the QSC devices have a power range of 100 watts to 2000 watts. Their amplifier has a peak power output of about 1600 W (for a typical 4, 8 ohm load).
EV Power Range
The speakers have a high power handling capacity. For instance, the 840 Cinema Surround Speaker can handle 350 watts of continuous play, while the JBL Stage 1210 12" woofer can handle up to 250 watts RMS and 1000 watt peak power.
Subwoofers: 50W to 1600W rated power
Speakers: 50W to 250W rated power
Amplifiers: 50W to 800W per channel
Frequency Response
QSC Frequency Response
The frequency response of QSC devices ranges from 50Hz to 20KHz. This also varies depending on the kind of device. The QSC CP8 has a frequency of 53 Hz to 20 kHz, and the QSC HPR122i has a frequency of 16 Hz to 18 kHz.
EV Frequency Response
Electro-voice devices have a frequency response of 50 Hz to 20 kHz.
Conclusion
QSC has been a leading audio device manufacturing company for years offering amazing features and the quality their devices possess. Though their products might be costly, if top-notch sound is your priority, then you should consider getting a QSC product. QSC and EV are both at the top of the range when it comes to professional portable sound systems. Deciding on which system is best for you depends on a few factors and the event you want to use it for. EVs are good for indoor events. It is worth noting that both brands are affordable.