Klipsch and Origin Acoustic speakers are two premium speaker manufacturing brands. They are high-quality speaker brands that boast the best quality and innovative features. But since these two are that good, how do you know which one will be best for your needs?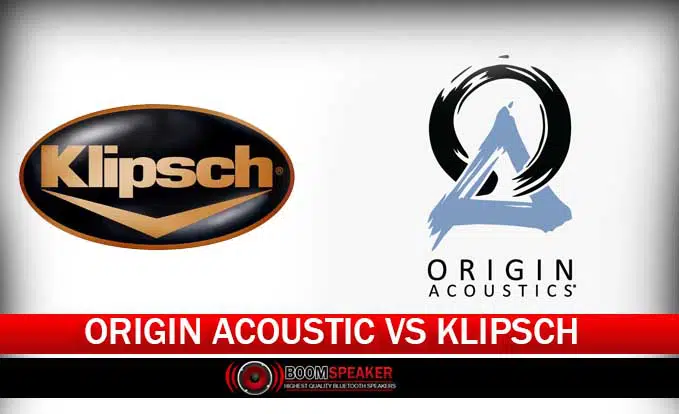 Klipsch speakers are more of an everyday speaker collection. Many people say they sound "bright" which means the high end is pronounced. On the other hand, Origin Acoustic offers better designs. Also, even though Klipsch is more popular and many people assume it's more expensive, Origin Acoustic speakers are actually way more expensive.
Features
Below are the main features offered by Origin Acoustic:
Origin Acoustic
Patented multi-motion pivot technology for superior sound.
Dual plane stabilized tweeter diaphragm that prevents distortion.
Tri-linear in-ceiling loudspeaker application for lifelike sound delivery from above.
Comes with an efficient in-wall mounting option.
Klipsch
Below are the main features offered by Klipsch:
Comes with a 3-inch full-range driver and 2 bass radiator
The wireless speakers come with up to 8-hours of battery life.
Has a highly durable build material.
Design/Portability
Origin Acoustic
The Origin Acoustic speakers are mostly portable and they come with their specialized installation set-up.
For example, the in-ceiling speakers (designed to be inside the roof) and the garden speakers are designed with a great deal of portability.
Klipsch
Klipsch speakers have a unique design that makes you easily recognize one when you see it – no matter how big or small.
This uniqueness is in the more realistic effect of their sound which they achieve from the horn tweeter designed into all of them. This is why Klipsch speakers sound better on higher frequencies audio output, e.g. movies and high-frequency music.
Klipsch also has portable speakers. An example of a highly portable Klipsch speaker is the Klipsch Groove outdoor speaker.
It has a dimension of 4.56 x 5.51 x 2.65 which is just about smaller than an average novel. It can be easily transported and used anywhere -both indoors and outdoors- with no extra stress.
Pricing and Budget
Origin Acoustic
Origin Acoustic is considerably expensive to get. They come with high-fidelity sound, a great aesthetic, and amazing acoustic delivery.
Klipsch
Klipsch speakers are known to be a bit more expensive than most average speakers. Although that's only on average because when compared to some more popular speaker brands, they are still moderately priced.
Plus, they offer excellent features for their price, which makes them reasonably priced for their quality.
Sound quality
Origin Acoustic
Origin Acoustic speakers have features such as the multi-motion pivot, dual-plane stabilized diaphragm, X-wave surrounds, and other features which help them achieve high-quality sound.
Klipsch
Klipsch speakers are considered a premium selection because of their high-quality sound delivery.
They have an extremely good sound output that is loud and crystal clear. The speaker easily rivals most of the top brands and sounds a lot better than most other speakers in the price range.
Space Considerations
Origin Acoustic
Most Origin Acoustic speakers do not take up much space. They are smaller and have a small enclosed specialized fitting port for installing the speakers. This saves space, cost, and stress.
Klipsch
Klipsch speakers are worthy of all the hype they receive. They have a speaker collection you can select from for almost any space. Lucky you, a good number of the Klipsch speakers can also be carried around easily.
Pros/Cons
Pros of Origin Acoustic
A focused center tweeter that makes the in-ceiling speaker deliver an immersive sound.
Easy to set up and easy to use.
One size fits all in-ceiling installation setup.
Low distortion range with the X-wave woofer surround.
Cons of Origin Acoustic
The sound depth of in-ceiling speakers does not reach the floor properly.
The speakers are quite expensive.
Might need professional help to install most of the speakers.
Pros of Klipsch
They offer premium quality speakers that range from in-wall speakers to the very smallest wireless speaker.
They deliver the best audio quality and are amazingly ideal for high-frequency sound output.
Most Klipsch speakers are highly durable, which makes them a long-term sound system without losing quality.
Cons of Klipsch
Old and outdated design of some speakers
Most Klipsch speakers are a bit expensive
Origin Acoustic Vs Klipsch: How Do They Differ?
Klipsch has a lot of speaker collections that cut through different categories. This includes mini Bluetooth speakers, in-wall speakers, and almost all kinds of speakers.
Whereas, Origin Acoustic speakers are more focused on architectural speakers. The Origin Acoustic speakers are professional in-wall, in-ceiling, and a range of outdoor speakers.
Another area these two brands differ is in their price. Origin Acoustic speakers are a lot more expensive than the average Klipsch speaker.
Which Is Better (Origin Acoustic or Klipsch)
This is a bit controversial and might be looked at from two perspectives; price and usability. In terms of price, Klipsch speakers are less expensive compared to the Origin Acoustic speakers which makes them the better option here.
They offer quality that meets all the sound requirements satisfactorily at a reasonable price.
However, when rugged speakers such as in-ceiling use or architectural outdoor speaker are considered, Origin Acoustic is unarguably the better choice. They have features that make them deliver an unrivaled results.
Is Origin Acoustic a Good Brand?
Origin Acoustic is a high-technology and pretty advanced speaker system. They have a range of innovative speaker systems that are professionally divided into collections for in-wall, in-ceiling, and landscape use.
Although these speakers can be pretty expensive, they sure offer some of the best features you can ever get in a speaker.
Is the Klipsch Brand Good?
Klipsch brand is one of those brands that effectively match their price with equal quality. If you ask two to three audiophiles if the Klipsch is good, you might have one that says it's not good.
But, oftentimes these are just those people who feel paying extra bucks for a product makes it bad. The quality of Klipsch speakers comfortably outperforms most other speakers that are even sold at an equal amount.
Conclusion
Whether you are going for a more professional speaker set-up or just a portable outdoor speaker, both Klipsch and origin have a fine collection you can choose from. However, the price might be a major challenge when choosing Origin Acoustic speakers. But for the quality they offer, neither of these two speakers is a bad selection.
Before you go, you can also check out the following comparisons: