Let's say you have a speaker that has a USB input that you want to connect to your TV. You may be thinking that a good solution is to connect the digital optical out (S/PDIF Toslink) on the TV to the USB input on the speaker.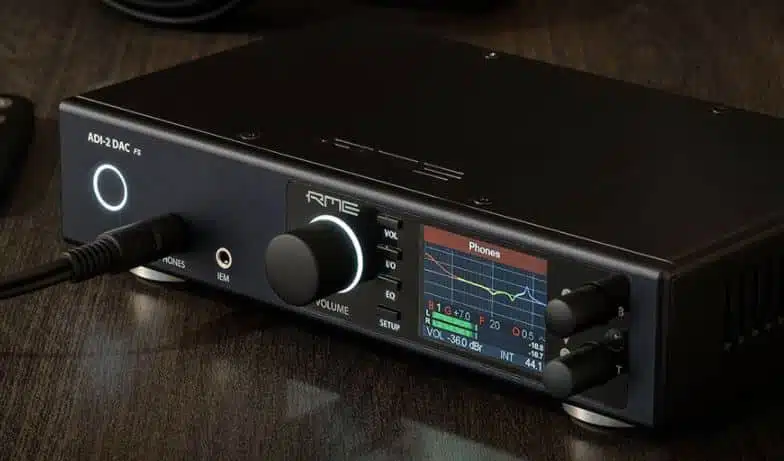 Maybe you have an Xbox or some other console with optical output and you want to connect it to a DAC with USB so that you can connect a headphone to the DAC. How do you get USB audio?
Will this type of setup work? Can you convert digital optical out to a USB input? In other words, can you go from Toslink to USB? Before we get into it, you may want to check out our guide on Optical vs USB.
While you can convert optical digital out to a USB input, keep in mind that most USB connections are limited in what they can do. Moreover, direct digital out to USB converters is hard to find. In most cases, you will need a DAC with USB input or you can use a receiver, external soundcard for PC, or even a Raspberry Pi.
We explain in more detail below.
How to Convert Optical Digital Out to a USB Input
1. Use A DAC with Toslink In
Let's say you want to convert digital out from your TV to a speaker. The speaker will have multiple connections such as USB and analog audio.
In this case, you can simply use a DAC with Toslink in. You could also get a DAC which has a USB audio interface. If necessary, it should come with a headphone amplifier as well.
With the DAC, you have two choices:
Toslink To RCA DCA: You can definitely get Toslink to RCA analog audio using a simple DAC like the C2G 28727 Toslink to RCA Analog Audio Converter and go from that to USB. In this case, it is done in two steps, but with an A/D and D/A in the middle.
Go directly from Toslink to DAC: This is a Toslink to DAC and then to an analog connection (in this case, you would bypass the USB). By this, we mean you go from digital out to DAC and then use the analog out on the DAC for your speaker.
Here is the process for connecting your Toslink digital out to your DAC:
Connect the DAC with the source: Use an optical cable to connect the DAC and the source e.g your TV.
Use the USB input Connection: Use the DAC's USB port as the USB input connection.
Connect the output: Connect the output device to the DAC, e.g a speaker.
But you may be wondering what's the point of a DAC conversion. Won't that butcher the signal?
In some cases, you may have latency issues, so you need to ensure that you get a proper DAC such as the P1 Bluetooth Vacuum Tube Preamplifier USB DAC APTX. This DAC is a great way to provide digital to analog conversion and output sound for your headphones.
If you want to connect to a DAC with USB in, you will need a Toslink to USB converter as we explain below.
2. TOSLINK to USB Audio Converter
Let's say for example that you have a PS4 Video game console that only has an optical output.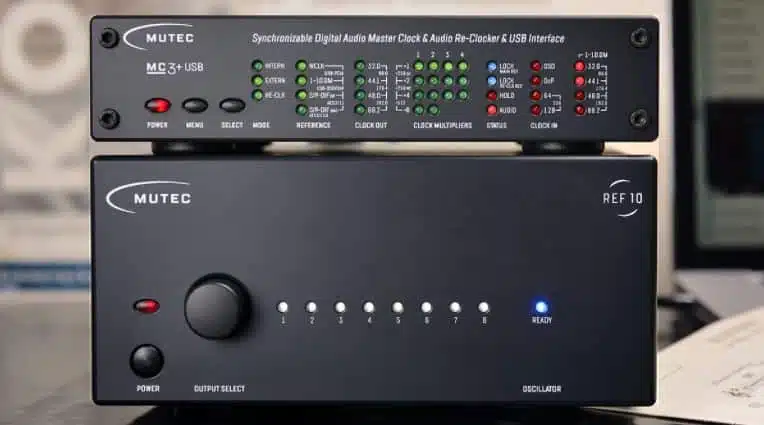 Let's say you also have a DAC but it only has USB in. How do you get sound to your headphones? A digital optical to USB and then DAC and then to your headphone is an easy way to do it.
However, it will be incredibly difficult to find a stand-alone TOSLINK to USB audio converter. Moreover, if you find one, it likely won't provide the same type of audio output that you would get from a DAC.
The fact is, there isn't enough audio gear around which is designed to accept USB audio input but lacks an optical digital audio input for this to be largely viable.
At the point of wiring this article, you can find a few such Toslink to USB bi-directional converters on this page.
This includes the following devices:
Examples of Bi-directional USB & Digital Audio Interface
Mutec MC: This device functions as a USB to SPDIF converter. Any S/PDIF or optical input can be sent over the USB.
HiFimeDIY UX1: A basic USB DAC and USB to SPDIF converter. This device is normally used with PCs and works well on Mac, Windows, and Linux OS. It accepts 32, 44, 48. 88 and 96 kHz sample rates and 16/24 bit.
These devices can be helpful especially when you want to connect to a DAC with a USB in. Many DACs only have a USB connection for digital audio input which allows the DAC to accept audio from a computer or some mobile device.
3. Use A Phono Preamp with a USB
Phono preamps are low-cost interface devices that you can use for transferring any analog or digital audio source.
You can even use them for transferring signals from a turntable to a computer via a standard USB connection.
Remember we mentioned the situation where you have a console with digital optical out that you want to get a USB connection from? You can use a phono preamp like the ART USB Phono Plus. This device is commonly used to record digital signals and send them over the USB to your PC.
The only issue that you will face here is that the USB output can only be sent to a PC and not to a DAC.
4. Use an External Soundcard
If you are connecting to a PC, a simple solution may be to use a soundcard. In this case, you don't even need USB because many soundcards will have Toslink in (capture).
It's an easy way to run Toslink audio through a laptop and out to the DAC or to take Toslink out to USB input to a PC.
You can also use them to take a Toslink signal and permit it to be captured via a USB interface of some sort by PC. In this case, there is no DAC required.
5. Use An AV Receiver
If all you want to do is to go from optical audio from say your TV to a playback device like speakers or headphones, you can simply use your home theater receiver.
There are many good receivers on the market and you likely have one already. Just search and try to find the best receiver you can because receivers are like the nervous system of your home audio setup
6. Use A Raspberry Pi
If you want to go a bit more technical and DIY, you can use a USB host device (computer) to run the client device (DAC).
Remember, USB isn't an audio interface, it's a data interface with a host/client architecture.
In this case, you can setup a Raspberry Pi to run headless and complete the redirecting form there. However, a raspberry pi uses low-power processors and so you will likely face latency issues.
Optical Digital Connection vs USB Connection
Now that you have seen the ways you can go about converting Toslink digital optical to USB, let's evaluate the key differences and similarities between optical digital output connections and USB input connections to see if you are making the correct choice.
Optical Digital Connection
Digital optical audio, also called TOSLINK, is a type of connection that uses light and digitally encoded electrical pulses. You can use it to transfer audio data to compatible playback devices.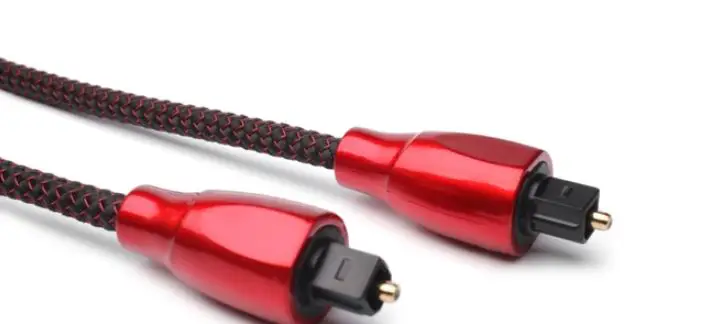 Most of the cabling you use for your audio-visual equipment, personal computers, and home theatres uses electrical signals sent as electrical impulses over conductive wires.
A LED light bulb converts the audio data to light from the digitally encoded electrical pulses. The light is again converted to electrical impulses that contain the audio information once it arrives at its destination.
The compatible destination, such as a home theatre, then converts the impulses to analog signals and makes them audible.
Like everything else, however, optical digital has its unique pros and cons.
Pros
Not subject to radio or electrical interference
Supports as high as 5.1 channels
Longer cable than USB
Cons
Signal disruption may occur due to over-bending the cable
Treated as the same source as the onboard audio
USB Input Connection
USB electrical signals are transmitted using differential signaling. The system transmits data as packets. Initially, it sends the packets from the host through the root hub.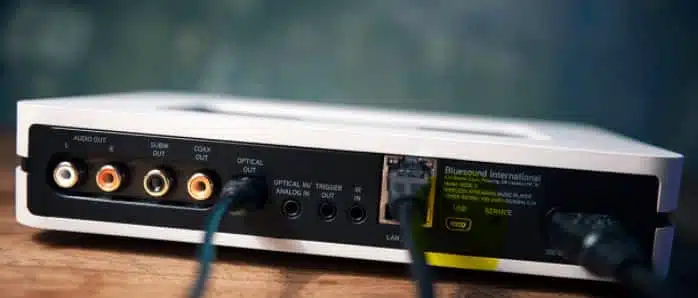 The out connector is a type A connector, and the input is a type B connector. The data sent from the computer is digital but not S/PDIF.
Pros
Treated as a separate source from the onboard audio, so it delivers better sound quality
Very common, most personal computers, laptops, and DACs have the USB option
Cons
Radio and electrical interference can affect
Shorter max length than optical digital
Should You Convert Optical Digital Out to USB Input?
The answer to this question largely depends on your needs. So, the only person who can answer it best is you.
Creating Better Sound Quality
Some discerning users say that USB inputs produce better sound quality than optical digital out connections.
They are particularly concerned that when using their soundcard's optical output, the audio system sends the audio stream via the onboard audio chip.
This is a technical process that typically involves resampling of the audio stream. So, that is highly likely to reduce the quality of sound that you get.
On the other hand, USB audio is designed to ensure the audio data from the media player application reaches the DAC in its original form. So, the need for quality may drive you to convert your optical digital out to USB input.
Keeping Your Older Audio Gear in Service
HDMI has mostly replaced optical audio. Considering the latest technological advancements, why should we even care about the uses of optical audio?
The fact that HDMI has made optical audio more or less obsolete does not mean we can afford to forget about it.
It can still carry up to 7.1 channels of high-resolution audio. Digital optical audio is an advanced form of the original optical audio produced in 1983 for the first time, meaning modern TOSLINK and HDMI cables deliver almost the same quality.
Some of the modern devices that have digital optical connections are:
DVD players
DRVs
CD players
Home theatre receivers
Blu-ray Disc players
Ultra HD Blu-ray players
Media streamers
TVs
Soundbars
Vehicle stereo receivers
Cable/satellite boxes
Game consoles
Our point is not to convince you to switch to either TOSLINK or HDMI cables but to show that optical digital audio is still incredibly popular, and your device most likely has an optical digital out connection.
In other words, if you have a high-quality older media player with digital optical out and would want to use it with your modern USB devices, you need to convert the ports.
Isolating Audio
Suppose you have a reason to isolate the audio signal from any of your digital sources. In that case, you have nothing to worry about, especially if your system has an optical digital-out connection. It is easier to isolate the audio via Toslink cables.
For example, let's say you desire to use a Blu-ray player as a CD player but have no time to turn on the TV to listen.
All you can do is confirm whether the player has a Toslink port. If it does, you can pipe out the music through the port with ease to your receiver and speakers.
Contrary to popular opinion, you will be able to do this with ease if the speakers and receivers have USB ports.
Is Digital Out the Same as Optical Out?
Yes, digital out and optical output are essentially the same. This is because a digital optical connection is a specific type of TOSLINK (optical) output for transmitting audio data to an external device.
The only real difference between the two connections is that there are more devices compatible with digital out than those compatible with optical out, including sound cards and receivers.
Can You Connect Optical to HDMI?
Connecting optical to HDMI is possible. However, it's not as simple as it sounds.
There may be some things you need to consider before making this connection. First off, what exactly does an optical cable do?
If you have a TV with digital audio out—via HDMI or otherwise—an optical cable can send that audio to an amp or receiver.
This connection is typically used for surround-sound setups. It's the best way to get digital signals from your TV into a home theater system, whether you're using cables or sending everything over Wi-Fi.
USB to Optical Audio Converter
A USB to Optical Audio Converter (up to 192kHz)is a basic but efficient device that takes its power from the USB port.
The USB to Optical Audio Converter connects to a USB port on your PC/laptop and connects to an audio amplifier through optical fiber via a S/PDIF input.
USB to Optical SPDIF
In the past, SPDIF (coax or optical) was used to transmit digital audio. PCs usually don't have these protocols due to the lack of USB support. To bridge the gap, you'll need a USB to SPDIF protocol converter.
Many DACs' USB inputs don't support resolutions higher than 16-bit/48kHz. A USB to SPDIF converter connects your computer's USB port to your DAC's coax or optical SPDIF input, allowing you to upgrade your USB DAC quickly and easily.
Conclusion
We have seen that you can go from optical digital output to a USB input connection by using a digital-to-analog converter DAC with a USB audio interface.
Alternatively, you can use a Toslink to USB audio converter, a phono preamp with USB or an external soundcard.
You can follow the simple instructions to create the kind of experience you want without breaking the bank or spending a lot of time.