As an Amazon Associate, we earn from qualifying purchases made on our website.
When we talk about old-school DJs, we are talking about DJs who were active and top of their game typically in the 1970s, 1980s, and 1990s. These DJs played a crucial role in the shaping and advancement of the DJ culture. Of course, they also laid the foundation for modern DJs in terms of techniques, styles and overall skills.
These guys were real masters of the art. They could manually mix tracks using turntables and DJ mixers with old school vinyl records! Beyond that, they had a keen ear for music, precise timing, and a deep understanding of the music.
Before we continue, if you are also looking for the best DJs today, check out our article on the best DJs in the world.
Without further ado, introducing the infamous old school DJs:
#1. Grandmaster Flash
Known as the father of hip-hop DJing, Grandmaster Flash transformed the genre with his outstanding methods. Grandmaster Flash is one of the few names that has gained much international recognition among music fans.
His innovative use of the turntables makes him the first DJ to play the turntables as a musical instrument, elevating the status of the DJ to a masterful, artistic position.
He is not only a global musical cultural phenomenon, but he is also one of the founders of the musical genre known as Hip-Hop.
He made back spinning, chopping, and scratching popular and expanded the capabilities of turntables. His expertise in record blending and manipulation created the groundwork for contemporary DJing.
In 2007, Grandmaster Flash and the Furious Five (his musical group) became the first hip-hop group to ever be acknowledged into the Rock and Roll Hall of Fame, and as a result, the Rock n' Roll Hall of Fame gave Flash an honor that no other DJ has ever gotten.
#2. Larry Levan
Larry Levan was a significant figure in the disco and house music scenes of the 1970s and 1980s and he's known for his works at Paradise Garage, New York City.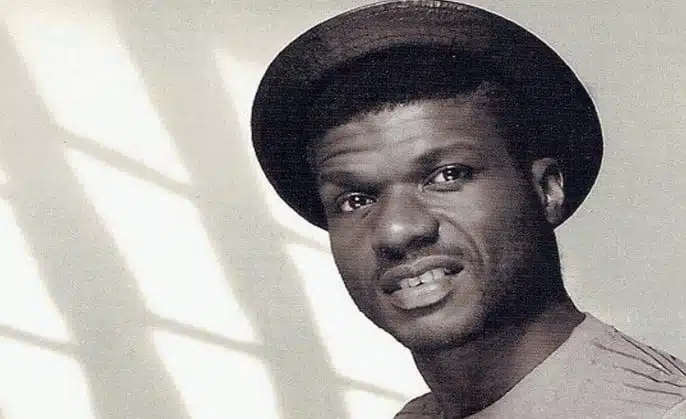 He became a legend thanks to his lengthy sets and music-mixing abilities, and he is recognized for having influenced the growth of house music and club culture.
He cemented his place in club history with daring DJ sets that included minimal underground disco, funky rock, dub, and synth-pop, which helped usher in the house music revolution. Many refer to him as the 'First Celebrity DJ.'
Larry Levan died in 1992 at age 38 due to heart failure caused by endocarditis.
#3. DJ Kool Herc
Herc (real name Clive Campbell, Jamaican) gained recognition when he started hosting dance parties in the recreation room of his family's South Bronx apartment, which at the time was a run-down, violent neighborhood.
The DJing style of Herc was immediately imitated and made popular by people like Afrika Bambaataa and Grandmaster Flash. Herc never achieved commercial success, despite being widely recognized as Hip Hop's father (Grandmaster Flash called him "a hero").
He stopped performing after being stabbed at one of his own parties, and by the time Rap became a major commercial force, he was working in a record shop. Since then, he has made other appearances, including in a film and on albums by the Chemical Brothers and Terminator X.
He is credited with developing breakbeat DJing, which involves focusing on and reiterating musical breaks for the purpose of extending the groove. His DJing innovations and block parties established the foundation for hip-hop music and culture.
#4. Frankie Knuckles
Often referred to as the "Godfather of House Music," Frankie Knuckles was essential to the growth of the subgenre. Nobody can agree on who invented the blues or rock & roll, but Frankie Knuckles is without a doubt the father of house music.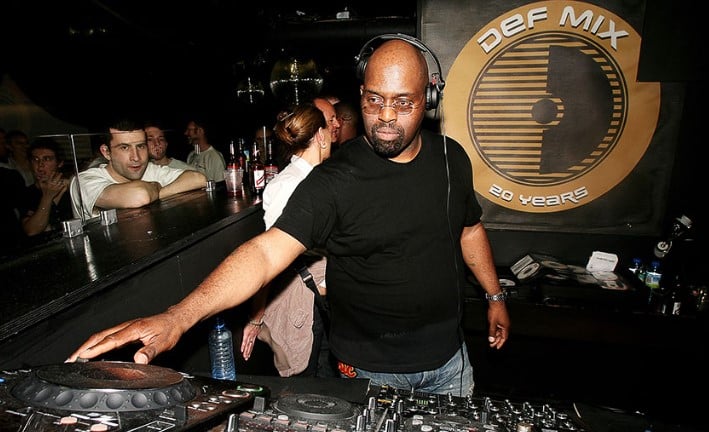 He helped spread the word about house music and its upbeat, soulful vibe as the main DJ at the Warehouse in Chicago.
Knuckle's first-ever DJing gig came from Tee Scott whom he often refers to as a legend and a major influence of his own style. Knuckles and Larry KLevan are childhood friends and they worked together for some time in 1972 at the New York City club, The Gallery.
His blending of disco, soul, and electronic music affected many DJs and producers throughout the years and helped determine the future of dance music. He died in March 2014 (age 59) due to complications from Diabetes.
#5. DJ Premier
As part of the renowned hip-hop production team Gang Starr, DJ Premier's producing abilities and DJing expertise have irrevocably shaped the genre.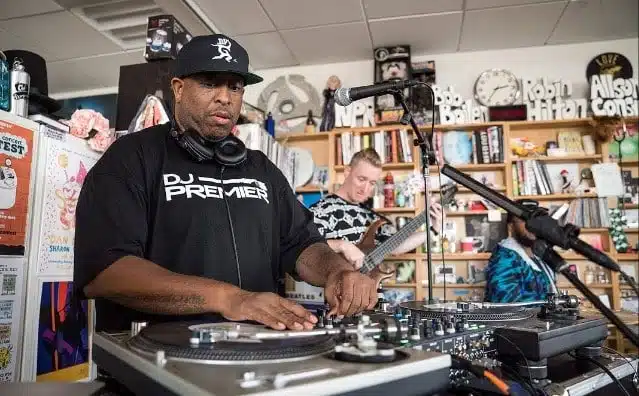 He has earned a reputation as one of the most prestigious old school DJs in hip-hop thanks to his sample-based beats, deft scratching, and creative production methods.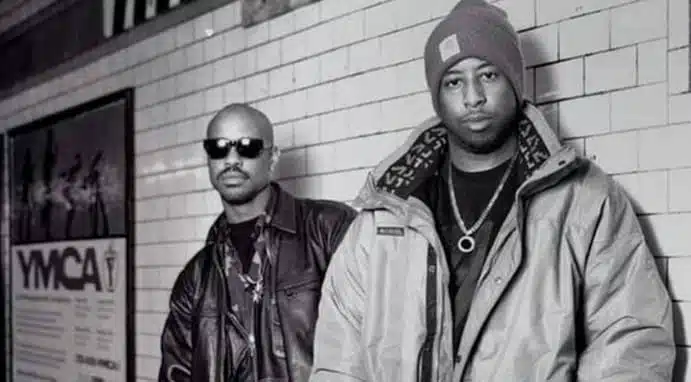 His collaborations with musicians like Nas, Jay-Z, and Biggie Smalls are well-known.
DJ Premier is also called Preemo by hip-hop fans and rappers.
Who Were The Old School DJs?
Old school DJs were crucial to the creation and advancement of DJ culture. The information given below gives a broad overview of some essential elements of old school DJing.
Old school DJs were innovators in the field of DJing, laying the groundwork for current DJ practices and fashions. Old-school DJs mostly listened to music on vinyl records. They'd spend hours sifting through records in record shops just to find the perfect song collection for their set.

Old school DJs were instrumental in establishing club culture. They were renowned for being able to read the crowd and choosing songs that kept the dance floor busy and the mood upbeat. Not only were they skilled music curators, but they were also entertaining performers.

Old school DJs are pioneers of certain musical genres. They significantly contributed to the acceptance of genres including hip-hop, disco, house, techno, and funk. They were at the forefront of pushing the limits of what was deemed mainstream and introducing new sounds to their audiences.
Old school DJs influenced many aspiring DJs and helped to create the DJ culture we know today. Their commitment to their work, mastery of their profession, and love of music continue to have an impact. Many Old DJs still work today and are well-known names in the business.
It's challenging to choose just five of the many influential old school DJs that have existed throughout history. Here are five classic DJs who made significant contributions to the development of DJ culture: These five DJs represent a wide spectrum of aesthetic preferences and cultural contributions.
Old School DJ Vs Modern DJ
Old school DJs are in a way different from the DJs of this era otherwise called the new school DJs. Below are some of the fact or point that makes some DJ old school while some new school
Technology

: the old school DJs make use of vinyl records, turntables, and mixers as the main pieces of equipment. On the other hand, modern DJs use digital technologies. They use DJ software, controllers, and digital media players together with digital music formats like MP3s. This change has improved music accessibility and given DJ performances more versatility.

Production and Remixing

: Modern DJs frequently create original music or remix tunes that already exist. The development of music production software and technology has made it simpler for DJs to produce original tracks, mashups, and remixes. Due to the blending of DJing and production, DJs can now play songs by other artists in addition to showcasing their own music.

Blending genres

: Unlike new school DJs, who frequently embrace a wider variety of genres, old school DJs frequently specialized in particular genres. They are more likely to mix various musical genres together within a single performance, erasing the distinctions between them and giving the listener a unique and varied experience.

Access to Music

: Vinyl collectors from the old school DJ era spend a lot of time crate-digging. Modern DJs have access to huge digital music collections, online music shops, and streaming services, giving them an almost infinite number of song options. As a result, DJing has become somewhat more accessible, making it simpler for aspiring DJs to explore their musical interests.
Conclusion
Both old and modern DJs have irrevocably shaped the DJ profession. Old school DJs are still admired and revered for their technical skill, sensitivity to the crowd, and commitment to their job. The reach and creative potential of DJing have been increased by the creativity, accessibility, and new viewpoint brought by modern DJs.
The change from old to modern DJs is evidence of the dynamic nature of music, technology, and creative expression. It serves as a reminder that although the fundamental purpose of DJing is still to bring people together via music, the techniques and equipment used will continue to evolve along with the times, influencing DJ culture in the years to come.
Norvan Martin is the founder of BoomSpeaker.com. He is a professional Electronics Engineer and is passionate about home theater systems and AV electronics. BoomSpeaker was created as an online hub to share his knowledge and experiences as it relates to home theaters and home audio electronics.
My email: admin@boomspeaker.com
Connect on Pinterest and Linkedin