For many audiophiles, noise-canceling headphones (Active noise canceling (ACN) headphones) have become a must-have feature much as wireless headphones have replaced wired headphones in recent years. As a result, it may be quite difficult to find good quality non-noise canceling headphones if you prefer them.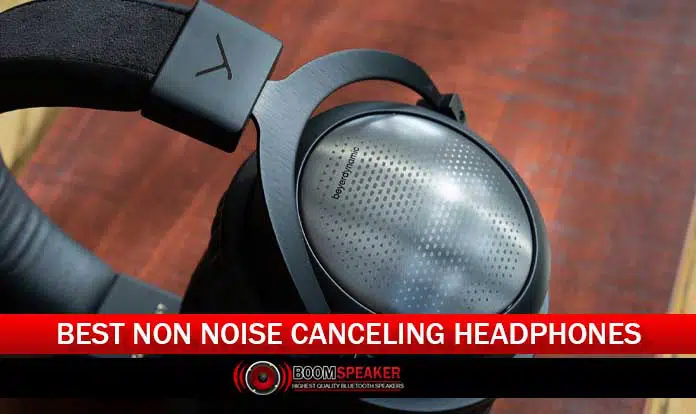 Non-noise canceling headphones allow you to listen to or hear what's going on around you, even while listening to music with your headphones.
Some of the best quality non-noise canceling headphones you will get are listed below.
Top 2 Best Non-Noise Canceling Headphones
This headphone is especially good for recording sessions and audio production purposes. It meets all the checklist for a good audio production headphone such as close and accurate sound production even during a recording process. These characteristics make them ideal for professional audio production.
This product has a high excursion proprietary technology that produces a linear frequency response and open, crisp, high-resolution sound, making error identification easier and mixing/mastering more enjoyable.
This product features metal hinges to allow for optimal durability and stability. It has the best-in-class comfort with soft memory foam earpads and excellent ventilation to keep you comfortable even during long listening sessions. It comes with detachable cables that can be easily replaced if misplaced.
Pros
Premium build quality
Good sound production
Detachable, replaceable lead
Cons
This is a pair of open high-end stereo headphones for listening to music at home or anywhere. It comes with Tesla drivers that are tilted and produce precise and spatial sound characteristics.
It is covered with fabric-covered and comes with a double-sided detachable connecting cable constructed of ultra-high-purity OCC7N copper. It has velour ear pads with memory foam that are breathable and replaceable.
Pros
Large, round earcups
Well padded
Comfortable to use
Voices are crisp and clear
Cons
Bass can be too much sometimes.
Top 2 Best Over-Ear Non-Noise Canceling Headphones
Over-ear headphones are available in a variety of forms these days, including wired with closed- or open-back designs for home usage, wireless for on-the-go listening and voice calls, and noise-canceling headphones for use in very noisy locations.
Here are the best 2 over-ear non-noise canceling headphones
This is a classic design that has become the industry standard and has proven it worth over and over again for the last 30 years. This open-back headphone produces a surprisingly punchy mid-bass and noticeably deep sub-bass.
The AKG K240 Studio Headphones have a timeless style that has become an industry standard. When used with portable studios, keyboards, drum machines, and other project studio gear, this updated, lower impedance, 55-ohm version produces noticeably higher volume levels.
It has a professional level of performance when used in a home studio. It has a semi-open-air design with a highly accurate dynamic transducer for naturally open sound quality.
Pros
Good value for money
Fit snuggly and is comfortable
Clean mids and highs production
Cons
Durability is poor
Bass is a bit quiet
This particular OneOdio headphones provide great sound and comfort. It comes with a large, 50-millimeter speaker unit driver with neodymium magnets that produce a stereo sound with powerful bass, clear vocals, and crisp high tones.
Its 90° swiveling ear cups allow for single-ear monitoring at any moment. It also comes with a self-adjustable and flexible headband that ensures a fatigue-free listening experience for up to 4 hours, making it ideal for mastering and mixing.
It also comes with an impressive 50 hours of battery life. Some important factors that make this headphone a good pick are its high-quality audio jack, its impressive sound quality, durability, and comfort.
If you need non-noise canceling wired headphones, this is probably the pair of headphones you've been searching for.
Pros
Comfortable fit
Long battery life
Crisp Highs and Deep Bass
Studio-quality audio
Cons
Lightweight Build/questionable build quality
Top 2 Best Non-Noise Canceling Wireless Headphones
Sennheiser's HD 250BT offers a good audio listening experience with its strong bass and cutting-edge Bluetooth connectivity.
It has a good build quality that makes it long-lasting. Using an easy equalization, the Sennheiser Smart Control App allows you to customize your audio experience.
The black HD 250BT headphones have an understated elegance about them in terms of aesthetics. Sennheiser likes to keep things basic and functional, and the outcome is rather appealing.
The cushioning of the supra-aural (on-ear) cups helps to ensure a secure fit. The HD 250BT boasts a built-in microphone for taking calls and listening to music, and its amazing 25-hour battery allows you to keep up with your audio streaming even on the busiest days.
Pros
Good sound quality
Has some EQ adjustments
Light and comfortable
Cons
Quiet Bass
Unpadded headband
This product has an adjustable headband and flexible earmuffs that can easily fit any head shape without putting pressure on the ear.
KVIDIO upgraded Bluetooth headphones with dual 40mm drivers and noise isolation technology, provides high-quality sound reproduction for listeners, audiophiles, and home audio enthusiasts.
Many users especially commended the fact that this product offers good value for money.
All devices that accept Bluetooth or 3.5 mm plug cords can use KVIDIO wireless headsets. You can make hands-free conversations or video meetings while working at home thanks to the built-in microphone, and the rechargeable 500mAh battery can be charged in 2.5 hours and lasts up to 55 hours.
Pros
Easy to use
Offers good value for money
Excellent build quality
Cons
The battery doesn't last long as advertised.
Top 2 Best Non Noise Canceling Headphones For Gaming
1. Best For PS4: [easyazon_link identifier="B07CLD57D5" locale="US" tag="boom_speaker-20"]PlayStation Platinum Wireless Headset 7.1 Surround Sound
This Wireless Headphone transforms premium gaming audio by providing a very good sound and capturing everything in your game from the whisper of ghosts to the thunder of firearms.
Just like the name of the product says, it actually sounds like a 7,1 home theatre system. This mode may not be supported by every game, but when you find one that supports it, you will appreciate your purchase.
Its advanced, built-in twin mics capture your speech and eliminate distractions, while an extended-life battery allows you to play for longer periods of time.
A light, comfy design focuses your attention on the task at hand. With this headphone, you get exclusive audio modes that take your favorite games to new heights. This is how video games are supposed to sound.
Pros
Crisp, balanced sound
Comfortable
Great PS4 integration
Cons
Some users complain that surround sound isn't so great
Mic picks up background noise
This Turtle Beach Stealth 700 Gen 2 is the successor to the best-selling premium wireless gaming headset for PS5, PS4, and PS4 Pro, with a secure wireless connection through a mini-USB transmitter. It has also been tested with PC and it works just great for PC use. The Bluetooth technology of this device allows you to take phone calls or listen to your own music while gaming.
Its re-shaped Aerofit cooling gel-infused memory foam ear cushions give exceptional comfort, and an all-new metal-reinforced headband and enhanced hinge design give it considerable durability improvements.
Its enhanced rechargeable battery allows for up to 20 hours of wireless gaming experience. While 50mm Nanoclear speakers provide clean, accurate sound for the greatest gaming experience, a bigger, high-sensitivity mic improves chat clarity and hides in the housing when muted. The Sony 3D Audio-ready Stealth 700 Gen 2 is also compatible with the PlayStation 5.
Pros
Works well with PC
Bluetooth compatible
Health battery life
Cons
Sony Non-Noise Canceling Headphone
Do you want to get a Sony-made non-noise canceling headphones? Sony now produces some of the greatest headphones on the market.
Whether you're looking for in-ear, on-ear, wireless, wired, or non-noise-canceling headphones, Sony has you covered.
The radiofrequency technology on this Sony product allows you to move freely up to 150 feet away and even through walls while still getting a strong connection signal. It has a ceiling battery life of up to 20 hours per charge. IT also comes with soft Adjustable Over-Ear Pads that provide a secure yet lightweight fit for watching movies, binging TV, playing video games, and other activities.
This Sony technology product produces high fidelity sound, booming bass auto-tune, and comes with voice mode volume control.
Pros
comfortable to use
sync perfectly with pictures
Cons
Some users complain of poor sound quality
This Sony device fully supports 3D audio in select PS4 games, allowing you to hear and feel an incredibly rich audio experience with surround sound emanating from all directions, even above and below you.
It also connects wirelessly to your PS4 and personal computer. It comes with a 3.5mm audio cable that can connect to a PlayStation VR headset or a mobile device.
Download the PlayStation Store companion software to customize your headset with audio settings provided by developers to bring out ad enjoy that subtle additional feature o this gadget.
Pros
Comfortable to use
Crisp, balanced sound
Great PS4 integration
Cons
Some users complain that surround sound isn't so great
Mic picks up background noise.
Best Budget Over-Ear Headphone
If you enjoy over-ear headphones for their comfort, convenience of use, and sound quality, you know how difficult it can be to get the best value for your buck.
There are several products out there but they may be a bit overpriced. However, the best over-ear headphones under $100 (few) are listed here.
The Anker Soundcore Life Q30 Wireless are the best over-ear headphones with a wireless design under $100.
They provide over 44 hours of continuous playback time and have an auto-off timer to save battery life when not in use. They're also light, comfy, and well-made, making them ideal for long days on the run.
These wireless over-ears provide a lot of functionality, so they're a good choice for professional use, office use, or when you are on the move.
Pros
Highly customizable sound
Excellent battery life
Cons
Lack aesthetic appeal.
Overly bassy default sound profile
The SteelSeries Arctis 1 Wireless is one of the best over-ear gaming headphones under $100. These headphones come with a wireless dongle that connects to PCs, Android phones, and PlayStation consoles.
It adds a little extra punch and boom to sound effects in action-packed games, which ay make sound production fuller and more realistic.
Reviewers often say they would buy this gadget for twice its price. This is to show the quality and value you get for your money.
Pros
Great sound
Comfortable fit
Excellent wireless connectivity
Cons
No real battery indicator
No surround sound
No iOS compatibility
FAQs
1. Does ANC in noise-canceling headphones drain the battery?
Enabling ANC on your headphones can drain your battery faster. So, if you don't mind noise on a long trip, you may disable ANC to preserve battery life.
2. What's the difference between noise cancellation and transparency?
Outside noise is blocked using noise cancellation. When you turn it on, you will hear a single chime. On the other hand, transparency means that the headphones allow sound to enter so you can hear what's going on around you.
3. Which type of noise cancellation is best?
In our opinion, passive noise-canceling headphones are ideal for isolating high-frequency and irregular noises.
4. How much DB noise cancellation is good?
Noise reduction of 20-40dB is relatively typical, reducing the background noise level you hear to one-quarter to one-sixteenth of its original level- a substantial quantity. Headphones that completely encircle the ears will filter out far more noise than ear pads that rest on the ears.
5. How many dB will damage hearing?
Noise levels exceeding 70 decibels (dB) for an extended length of time may begin to harm your hearing. Loud noises exceeding 120 decibels (dB) can cause instant damage to your ears.
So, it is best not to play music at full volume for a prolonged time. Keep the exposure less to loud music to avoid ear damage.
Conclusion
If noise cancellation is a priority for you, invest in a nice pair of noise-canceling headphones for sitting at your computer or couch. You can get another set without ANC–for going outside. However, if you are someone who loves Headphones with no noise-canceling feature, you will find a good product here that packs a good punch.
This article shows some of the best non-noise canceling headphones, whether wired, wireless, over-ear, in-ear, or gaming headphones, and analyzed each of them to determine which one is the best buy.