As an Amazon Associate, we earn from qualifying purchases made on our website.
NAD and Yamaha are two renowned and well-respected brands in the audio industry and produce high-quality speakers, soundbars, headphones, and subwoofers.
In this article, we will cover a general overview of both brands, looking specifically at the sound quality, durability, price, and so on.
Of course, each brand has different devices at different price points. However, we will compare them as closely as we can.
Generally speaking, Yamaha speakers tend to be bright, but highly detailed. On the other hand, NAD speakers and receivers are more 'warm' sounding. NAD also offers better sound quality and build quality but is often more expensive.
Before we do that, here are some other comparisons in this series:
Read on to learn more.
Quick History
NAD Quick History
New Acoustic Dimension (NAD) is an electronics firm founded by Dr. Martin L. Borish in London, England, in 1972. Dr. Borish was an electrical engineer with a Ph.D. in physics. NAD 3020 is the most famous product manufactured by the brand in the 1970s.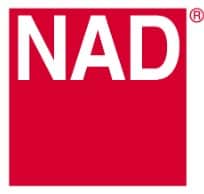 The company was acquired in 1991 by AudioNord, a Danish firm, and later sold to the Lenbrook Group of Pickering, Ontario, Canada, in 1999. Today, NAD produces affordable AV receivers, amplifiers, and speakers.
Yamaha Quick History
Yamaha is a Japanese brand that was established by Torakusu Yamaha in the year 1887. It produced the first Yamaha piano in the 1900s, which eventually laid a solid foundation for the many products that followed.
Yamaha is one of the largest audio product manufacturers with a reputation that sees their products used in international competitions and by renowned musical maestros. The Yamaha brand has a wide range of products that cut across professional audio equipment, digital and acoustic musical instruments, home audio products, and many others.
Sound Quality
NAD Sound Quality
Over the years, NAD has gained a strong name as a high-fidelity audio brand by producing breakthrough amplifier designs that are yet reasonably priced.
Indeed, NAD is a high-fidelity audio brand committed to simplicity, innovation, value, and performance. Some people argue that their devices are 'neutral' sounding.
As an example, the DirectDigital technology reduces domain conversions in the signal path and contributes to a pure and vivid sound. HybridDigital technology, on the other hand, blends analog and digital sources to create a platform for smooth, harmonious delivery of quality sound.
Yamaha Sound Quality
Yamaha audio equipment is known for producing clear and rich bass delivery and overall exceptional quality sound.
Yamaha speakers have multiple sound modes with an incredible ability to deliver soft but loud sound delivery.
This is because of their high dynamic range, which includes a great deep bass and an extended high.
Features
NAD Features
The key features of NAD products include:
Low harmonic and intermodulation distortion
Modular Design Construction (MDC) helps prevent untimely obsolescence
"Simple is better" design philosophy
NAD PowerDrive technology
Yamaha Features
Yamaha has one of the most diverse selections of audio products with diverse features, which might make the feature hard to generalize. However, here are some across their audio devices.
Wireless connectivity including Bluetooth, Wi-Fi, and Music Cast (for multi-room connection).
Voice command features such as Google Assistant and Amazon Alexa
HDR10+, HDMI, 8K/60Hz, and 4K120Hz
Online streaming support for Spotify, Apple AirPlay, etc
Virtual surround
Build Quality
NAD Build Quality
NAD receivers are built with elegant all-alloy casework. The internal construction is intricate with rigid panels and magnetic iso-point feet offering rock-circuit for the multi-layer circuit boards.
In addition, the Modular Design Construction chassis is "future-proof" and allows for easy and affordable upgrades.
NAD speakers are built to last, while the amps tend to have poor build quality and tend to have common faults.
Yamaha Build Quality
Yamaha products use modern groundbreaking technology to deliver high-end audio products. Their products are known for delivering premium performance and last a pretty long time.
Yamaha products come with impressive aesthetic delivery and long-lasting function. This is because they pay attention to the use of high-quality materials in the production of their devices.
Ease Of Use
NAD Ease Of Use
NAD products are built with simplicity in mind, making them very easy to set up and operate. They easily connect to Wi-Fi from the Google Home app, and they come with headphone jacks and USB ports for easy connection to external devices. They also connect to BluOS.
Yamaha Ease Of Use
Yamaha offers an array of easy-to-use audio equipment. This includes wireless-enabled streaming speakers such as the Yamaha MusicCast WX-030. Yamaha products include devices with buttons that are easy to operate and remote control for use across the room.
Cost
NAD Cost
Receivers: $20 – $5000
Amplifiers: $50 – $3000
Speakers: $100 – $1500
Yamaha Cost
Yamaha has an array of products that are more affordable than most other brands. For example, the Yamaha R-S202BL Stereo receiver is a high-quality receiver that costs around $200 to $300 but offers more features than other products in the price range.
The price tag you will get for most Yamaha products is listed below.
High-quality receivers from $200 to $1500
Speakers:
Centre channel speakers – $70 and upwards
Indoor/outdoor speaker – $100 and upwards
Ceiling speakers start at $130, and
Bookshelf speakers from $120
Space Requirements
NAD Space Requirements
Speakers, amps, and receivers are built with a compact design. They require very little space for pavement and will not crowd your living room or basement.
Yamaha Space Requirements
Most Yamaha products, particularly soundbars and Bluetooth speakers, are a great fit for ‌any room. The portable size and sleek design of most of these devices make them fit easily into small spaces without demanding too much space.
Remote Controls
NAD Remote Controls
Although NAD now makes some receivers with touchscreen displays to make them easier to control, they still make remote controls to make this reality more practical. The remote controls come with receivers, amps, and subwoofers but can still be purchased separately if you lose your factory remote or when it is ruined. Remotes cost between 20 dollars and 50 dollars.
Yamaha Remote Controls
Most Yamaha audio devices come with a handheld remote control for simple control of the device. But, beyond the physical remotes, Yamaha designed a virtual remote for almost all the audio products from the brand. This includes headphone control, multimedia music control, MusicCast Controller, and AV Controller.
This virtual remote can be downloaded from the app store for Android, iPhone/iPad, and PC use.
Connectivity Options
NAD Connectivity Options
Speakers
Single-ended RCA
12 V trigger input
USB
RCA
Bluetooth
Receivers
Bluetooth
RCA
USB
Wi-Fi
Balanced XLR auto-sensing inputs
Amps
Yamaha Connectivity Options
You can connect to your Yamaha devices with one of the several available connectivity options. Wireless connections include Wifi and Bluetooth for most of their devices.
Power Range
NAD Power Range
Receivers: up to 1000-watt peak
Speakers: up to 250 watts RMS
Amps: up to 1000 watts continuous mono
Yamaha Power Range
The power range for an average floor-standing Yamaha speaker is around 100 watts to 200 watts. However, a Yamaha bookshelf speaker has a power range of 200-600 watts.
Frequency Response
NAD Frequency Response
Speakers: 20 Hz and 20,000 Hz
Receivers: 20 Hz to 20kHz
Amps: 20 Hz to 20 kHz
Yamaha Frequency Response
Yamaha audio equipment has a general frequency range of about 28 Hz-25kHz.
Conclusion
NAD is committed to simplicity, innovation, performance, and value. With highly-flexible outputs, NAD offers a balanced connection to powered speakers and amplifiers. Besides, it produces high-fidelity audio at very affordable prices. On the other hand, Yamaha is one of the oldest audio companies in the world today, but they have only grown better over the years. They have a range of diversified products, including musical instruments and professional and personal audio products.
Norvan Martin is the founder of BoomSpeaker.com. He is a professional Electronics Engineer and is passionate about home theater systems and AV electronics. BoomSpeaker was created as an online hub to share his knowledge and experiences as it relates to home theaters and home audio electronics.
My email: admin@boomspeaker.com
Connect on Pinterest and Linkedin