Marantz and Sansui are two renowned and well-respected brands in the audio industry and produce high-quality speakers, soundbars, headphones, and subwoofers.
In this article, we will cover a general overview of both brands, looking specifically at the sound quality, durability, price, and so on.
Of course, each brand has different devices at different price points. However, we will compare them as closely as we can.
Marantz and Sansui Comparison Table
| Criteria | Marantz | Sansui |
| --- | --- | --- |
| Brand Reputation | Renowned for high-end audio components, especially amplifiers and AV receivers. | Historically known for producing high-quality audio equipment, particularly in the vintage era. |
| Sound Quality | Emphasizes high-fidelity audio reproduction, often with warm and detailed sound. | Known for delivering warm and rich sound, with a vintage character that appeals to audiophiles. |
| Build Quality/Design | Builds premium and robust components with a focus on craftsmanship and elegant design. | Historically known for sturdy construction and distinctive vintage designs. |
| Product Range | Specializes in high-end audio components, AV receivers, and processors. | Historically known for amplifiers, receivers, and audio equipment, especially during the vintage era. |
| Pricing | Falls in the mid to high-end price range, reflecting the premium audio quality and features. | Varies depending on vintage or modern models, historically known for offering good value for money. |
| Features | Focuses on advanced audio processing technologies and features for audiophiles and home theater enthusiasts. | Historically known for quality components and simplicity, with a focus on pure audio performance. |
Before we continue, you can check out similar comparisons in the series: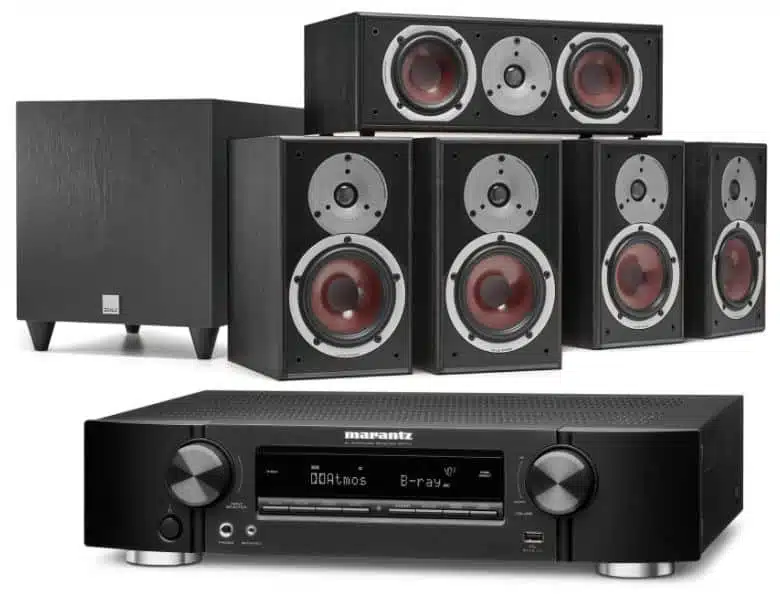 Quick History
Marantz Quick History
Saul Marantz started Marantz in 1953 and since then Marantz receivers have evolved from the 'Consolette" pre-amp of 1953 to the modern receivers produced under Sound United.
In 2000, Marantz Japan Inc. brought together all the subsidiaries and assembled the SR Series Home Theater Receiver with improved sound quality, Hyper Dynamic Amplifier Module, and AirPlay connectivity. Today, Marantz is well known for its Av receivers, Av separates, amplifiers, and hi-fi components.
Sansui Quick History
Sansui Electric Co., Ltd. is a manufacturer of audio and video equipment as well as home electronics like washing machines. It was founded by Sansui Kosaku Kikuchi in Tokyo, Japan on June 3, 1947. The headquarters is still in Tokyo. Sansui devices have changed considerably from the early days. Today, Sansui has a division that manufactures car audio devices such as speakers, amplifiers, subwoofers, and digital signal processors.
Sound Quality
Marantz Sound Quality
Many listeners generally describe Marantz as having a "warm" sound. Yet, they are "soft", softer than Denon, for example. In general, the sound is high quality and accurate. One highlight is the balanced bass, but you may find less dynamism than some other brands.
In fact, Marantz has a unique audiophile-quality sound that passionate music lovers appreciate.
In addition, the Marantz receivers built back in the 70s characterize the apex of the solid-state hi-fi era. Marantz 2245, for instance, hits a real sweet spot, as many users say, both in terms of power and price. The Marantz 2270 and Marantz 2245 are good examples as well.
Sansui Sound Quality
Sansui devices are prized by audiophiles for their warm, clear, and pristine sound quality without any feedback or distortion. Their devices produce a perfectly natural sound with powerful bass, vivid midtones, and pleasantly warm highs.
Features
Marantz Features
Marantz products are built for the future. Let's look at some of the features of the Marantz 4K UHD AV Receiver SR5014 – 7.2 Channel as an example:
Advanced object-based audio formats
Versatile HDMI eARC connectivity
High-performance, high-resolution audio playback
HDAM circuit boards for detailed and dynamic sound
HEOS built-in technology allows multi-room audio, digital music streaming, voice control, and comfortable HEOS App operation
Sansui Features
Some features of Sansui devices are given below:
Plug and play from USB devices or SD cards
Full Remote Control
Guitar input, mic input, and recording functions
Plays MP3, WMA, and WAV audio formats
BT and FM Radio mode
LED lights and display for monitoring your device
Echo and MIC Sensitivity Control
Build Quality
Marantz Build Quality
Marantz receivers are stylish and offer luxurious feels with illuminated displays. Therefore, to say that the build of Marantz receivers is perfect is not an overstatement.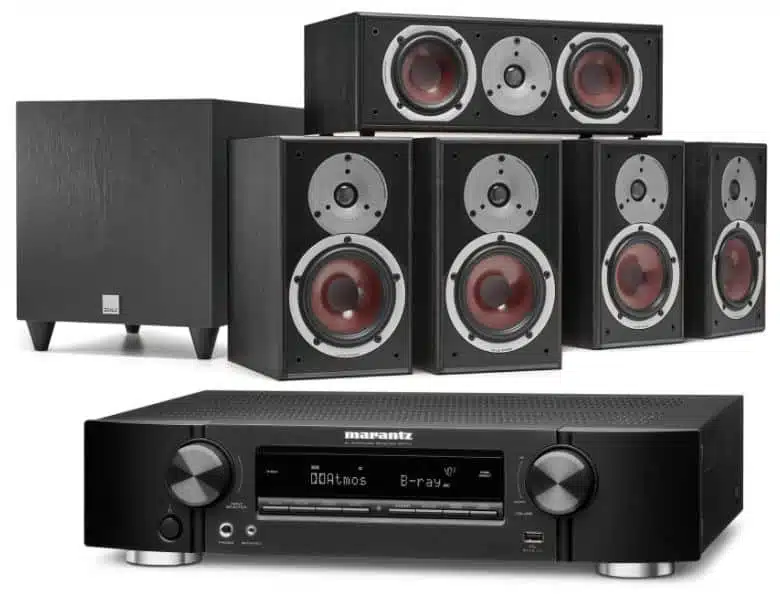 For instance, you can find 11 speaker terminals on Marantz SR7015 with gold-plated RCA terminals that make it look quite appealing.
The design is high-end, with stunning finishes and top-of-the-line components embedded throughout the body construction. Marantz's designs will surely win you over at first impression.
Sansui Build Quality
Sansui devices are made from durable materials and have great acoustics. These include Teflon anti-resonance lining, copperplated chassis, aluminum or wooden cabinets that eliminate enclosure vibrations, and gold-plated connectors.
The internal components are of the best available technologies. There has been a shift from legacy components in the low-end models such as the use of integrated circuits instead of discrete ones, replacement of tubes, and toroidal transformers with more contemporary and cost-effective alternatives.
Ease Of Use
Marantz Ease Of Use
Most people describe Marantz receivers as user-friendly products that are very easy to set up. Besides, their sound is excellent, and every user will quickly set them up in their home or office without requiring any skills.
Sansui Ease Of Use
Sansui tends to focus on the features and raw performance of their devices rather than intuitive controls.
The devices require some basic HiFi knowledge before the operation, but there are instructional manuals included, and the controls are well-labelled, with several LED lights to know which modes or functions are active.
Cost
Marantz Cost
Speakers: $50 – $2000
Tweeters: $20 – $100
Amplifiers: $200 – $3000
Sansui Cost
The price ranges for Sansui devices are shown below:
Amplifiers: $500 – $2500
Speakers: $300 – $2000
Microphones: $100 – $400
Receivers: $80 – $900
Space Requirements
Marantz Space Requirements
Most of the receivers from Marantz are compact and require very little space. Whether you want to place them closer to your TV or together with your home theater, they will always find a space to fit in without looking cumbersome.
Sansui Space Requirements
Sansui devices are mostly large and bulky. For example, the WaveBlast 2 speaker measures 17.5x31x80cm (LWH) and weighs 19 kg. Compare that to the Sansui SS1-05 portable speaker, which measures 260×11.5x17cm (LDH) and weighs 2.55 kg.
Whatever model you get, keep in mind that they require ample ventilation space since some of the high-powered devices tend to become hot.
Remote Controls
Marantz Remote Controls
Marantz receivers come with factory remote controls that make navigation easier. Also, new Marantz receivers now come with a Marantz AVR remote app that you can use with iPhone and Android devices. This allows you to control the device with your smartphone seamlessly.
Sansui Remote Controls
Sansui devices support the use of custom-made and universal remotes for various functions. There's no official control app platform, but there are some third-party apps that work with their devices.
Connectivity Options
Marantz Connectivity Options
Built-in Wi-Fi
HDMI
RCA
Optical
Bluetooth
Speaker level inputs
Sansui Connectivity Options
Sansui devices have a lot of available ports and wireless connectivity options. These include multiple USB ports, multiple audio jacks, WiFi, HDMI, RCA, XLR, and Bluetooth.
Power Range
Marantz Power Range
Speakers: Up to 150 watts
Receivers: Up to 300 watts per channel
Amps: 150 watts per channel into 8 ohms and 180 watts per channel into 6 ohms
Sansui Power Range
Some Sansui devices deliver massive power, which makes them suitable for the outdoors. The WaveBlast 2 speaker has a maximum power output of 4200W.
The Sansui AU-D33 amplifier is rated at 50W per channel. Sansui devices generally produce power within the range of 40W to 8KW.
Frequency Response
Marantz Frequency Response
Major products range from 10 Hz to 20 kHz. For instance, the audio section of the SR6014 is 10 Hz – 100 kHz. The Tuner, however, has a smaller reception frequency range of 87.5 MHz – 108.0 MHz.
Sansui Frequency Response
Sansui devices produce sound over a wide range of audible frequencies, thanks to masterfully engineered drivers.
The WaveBlast 2 speaker covers the frequency spectrum from 30Hz to 20kHz. The Sansui AU-D33 ranges a little wider, from 20Hz to 20KHz, which is also the general frequency range for Sansui devices.
Conclusion
Marantz produces averagely priced audiophile-quality sound systems and is well known for its AV receivers. Also, their build quality is good, and the devices are futuristic and easy to use. Sansui devices perform great no matter where you use them. The great thing about their devices is that the low-cost devices do not compromise audio quality.They rather come with fewer features compared to high-end devices.