As an Amazon Associate, we earn from qualifying purchases made on our website.
Marantz and Emotiva are two well-known brands in the audio industry. Marantz in particular is synonymous with well-built receivers, preamps and amplifiers. Emotiva has also built out a niche for itself as an American company that produces quality audio equipment.
This article compares these two audio equipment makers according to their components, performance, and user review.
Before we do that, here are some other comparisons in this series:
Marantz vs Yamaha
Marantz vs Anthem
Marantz vs Denon
Nad vs Marantz
Emotiva vs Outlaw
Marantz History
Saul B. Marantz, a businessman and music enthusiast, created the Marantz company in 1953. Among the many motivating factors for him was Saul's insistence on including musical instruments as part of the living room's furniture set.

The varied equalizers that were employed by music producers were the problem that Marantz noticed in the music industry in the early years.
This differing equalizer utilized by music producers results in a changing discrepancy between the equalization curves, which in turn produces different sound quality as a result of the different EQ settings employed by each producer.
A preamplifier with a large number of equalization curves was developed by Marantz to address this problem.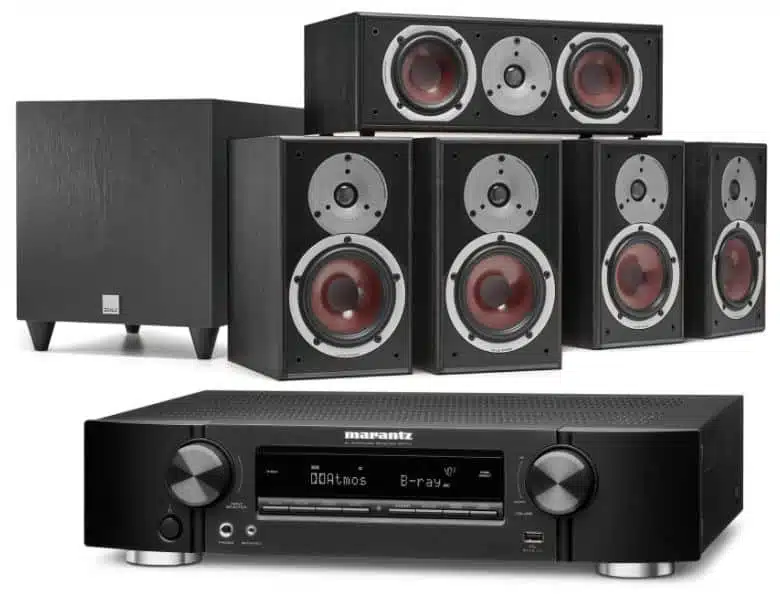 The first set of preamplifiers was created in 1952, but it wasn't until 1953, when the firm was officially constituted, that the company was able to begin mass production on a larger scale.
In 1953 the company hired its first head engineer (Sidney Smith), and in 1954 it led to the first significant upgrade to the preamplifier. The preamplifier was remodeled and manufactured as Model 1.
Emotiva History
The Emotiva company was officially founded in the year 2003 by Dan Laufman. Emotiva is an Italian word meaning "emotional".
The brand was borne out of the founder's passion for anything related to audio. Dan Laufman started his career path as an engineer building audio gears for different firms, particularly the infinity system.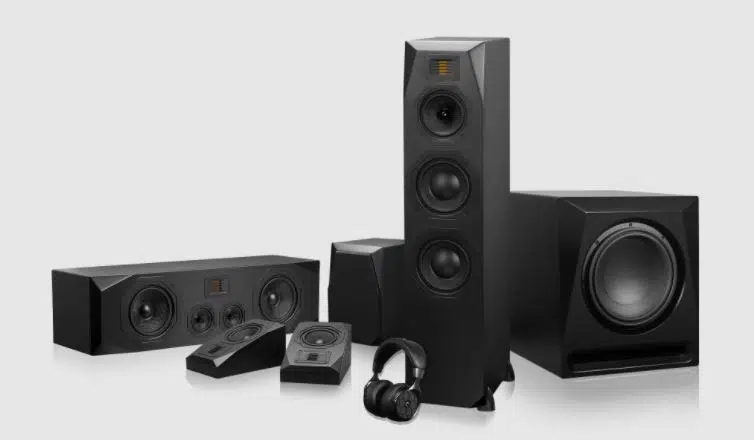 Emotiva started at a critical point of peak competition, but it was able to make headway as a result of the killer product design.
It pioneered the online sale of audio equipment as early as 2003, at a time when the other manufacturers were still doubtful. The first major production was the DMC-1 (preamplifier) produced in 2005.
Differences Between Marantz and Emotiva
There are some major observable differences between Marantz and Emotiva, some of which are:
Emotiva have evolved into having more channel than Marantz
Most Marantz receivers are designed with sleek and slim body designs that are more mobile than Emotiva.
Although they both are pretty much affordable, Emotiva products have more affordability.
Marantz Receivers – Features, Design, and Performance
Features, Design, and performance that makes the Marantz receiver stand out include the following:
A sleek body design.
Attractive lighting display.
Multi-channel receiver systems.
Strong power boosts more than 100w current flow.
Active surround sound support.
Strong design with heavy gauge steel chassis to keep the different parts in place and isolated from vibrations.
Emotiva Receivers – Features, Design, and Performance
Emotiva, according to the literal translation, puts emotion into every aspect of the receiver design.
It is almost impossible to have problems with the use of the Emotiva receiver because of its well-detailed labeling system.
Almost all features and performance information have been clearly stated on the body of the receiver. However, some important features you might need to know before buying an Emotiva receiver include:
An auto-sensing power voltage that actively blinks on the receiver's rear.
Many port receiver channels up to 16
The input and output ports are clearly labeled.
It supports input from CD, USB, Bluetooth, Aux, and many others.
Pros and Cons of Marantz Receivers
Pros
Generalizing the pros of Marantz receiver:
Multi face channel
High sound delivery
Ease of use
Dolby-supported surround sound
Video input
Easy configuration for use with multiple devices
Cons
The cons of using the Marantz receiver include:
Incomplete sound fidelity
Mixing up channel
No video input allowed on the stereo receiver
Regular trouble setting up the home theater receivers
Pros and Cons of Emotiva Receivers
Emotiva receiver systems are largely what you could call the twenty-first-century receiver system. However, as much as the receiver tackles a lot of the new age problems there are some cons to it as well.
Pros
The pros include:
Professional surround audio supported
Comes with a multichannel amplifier
An inbuilt digital-to-analog converter
Cons
The cons of the Emotiva receiver include:
Lower mid-fi sound
Poor preamplifier
Marantz Mm8077 Vs Emotiva
Since production, the Marantz MM8077 is the biggest amplifier with multichannel. This amplifier comes with a 7-channel with a power of 150 watts. It comes with a sleek design that gives it an attractive outlook.
The Marantz MM8077 comes with a built-in Wilson current mirror that gives it a quality sound delivery that cancels out distortion.
However, the 11+ channel support of Emotiva is a feature that makes it better. But this does not mean that the Marantz Mm8077 does not have some features too that make it better, an example of this is the Wilson current mirror. The Wilson current mirror is a unique feature that makes it stand out.
Best Marantz Receivers on Amazon
This is a list of the 7 best Marantz receivers on Amazon. This is a list compiled based on the receiver performance, component, affordability, and other users' review. You can get all of the Marantz receivers on Amazon.
Marantz NR1510 UHD AV Receiver (2019 Model)
Marantz 8K Ultra HD AV Receiver SR5015 (2020 Model)
Marantz 4K UHD AV Receiver SR5014 (2019 Model)
Marantz AV Receiver SR7013
Marantz SR6015
Marantz Vs Emotiva Pre-amps
Marantz pre-amps generally have a faster response to control than Emotiva. For example, you press a button on Marantz and you see the corresponding result on the actual unit almost instantaneously.
Most Emotiva Pre-amps on the other hand, usually lag for a few seconds before they respond to commands. Yes, it doesn't happen all the time but it does create hiccups along the way.
Thus, Marantz has a faster processor speed than Emotiva. The cycle through to HDMI and volume control works flawlessly on Marantz.
Apart from processing speed, Marantz has a stronger reputation in comparison to Emotiva. They have been around for a pretty long time so most users tend to choose their product by default due to their long history of providing good products. Marantz sort of serves as a status symbol.
However, one plus side to most Emotiva preamps is that they are upgradeable and expandable up to 28 channels (which is probably more than most users will make use of). Also, the HDMI board can be upgraded instead of throwing them all the way out when an upgraded version comes out.
According to popular opinion, enthusiasts would rather go for Marantz Av7706 over Emotiva XMC 2. But why is this?
While the XMC-2 is a high-quality stereo or multichannel sound system, the XMC-2 caters to music lovers who don't require all of the RMC-1's advanced features and performance, but at a significantly lesser price.
However, one problem with Emotiva is the difficulty with video delivery. Many have complained about the XMC-2 UI and that there is no precise adjustment of volume control.
The Marantz on the other hand is a more affordable selection at around two thousand dollars. The Marantz Av7706 has a dynamic HDR of HDR10+ and quick media switching.
A major factor to note about the Emotiva XMC-2 is the fact that it is not as heavy as you would expect from its look.
Generally, Marantz Av7706 is significantly more stable and mature from a software perspective than Emotiva XMC-2.
The Emotiva XMC-2 D processor gives practically all of the RMC-1's amazing audiovisual performance except for some of the extremely advanced and optional supplementary functionalities that provide major cost savings to the user.
A greater percentage of Hi-Fi music and home theater enthusiasts will benefit from the XMC-2's revolutionary audio and video performance.
The XMC-2, like the RMC-1, is a cutting-edge AV processor that serves as the command center for a modern home theater or surrounds sound system.
The flawless 18Gbps bit video switching gives the best image quality of the latest HDR and Dolby Vision 4k UHD discs, while the powerful audio decoding engine and hardware deliver audiophile sound.
Features
True audiophile sound quality
Supports single/double rate stereo DSD via USB
Digitally controlled ALN volume control
Supports both stereo and surround sound
However, XMC-2 was put on the market too early and they are considered to be not as stable as RMC -1. Many users have complained of several bugs and UI issues.
We're going to compare Marantz SR8015 with Marantz SR7015 to see what their common advantages and drawbacks are, as well as the differences between them, so you can make an informed decision before buying.
The Marantz SR8015 features 11 channel amplifiers, while the Marantz SR7015 has 9, with the Marantz SR8015 being more powerful.
It should also be noted that the SR8015 has more speaker terminals and more large speaker terminals than the 7015.
It also features more Analog Audio Line Inputs and more Composite Video Inputs than its counterpart, SR7015. The SR8015 is generally considered an improved version of the SR7015.
Conclusion
On a concluding note, this article has done a thorough effort to compare, giving a brief background history as well as a check into the pros and cons of the two brands. To make selection a lot easier, the article has made a list for you of the best Marantz receivers you can get on Amazon. The list is based on the performance, components, affordability of the receivers, and reviews by other users.