As an Amazon Associate, we earn from qualifying purchases made on our website.
Last Updated on January 8, 2023 by Norvan Martin
When we think of classic, popular and world-class AV receivers, the Marantz 2270 will often be one of the first considerations. The Marantz 2270 was manufactured from 1971 to 1976 and is today a well-known classic.
The 22XX series of Marantz receivers stand as Marantz's first serious foray into the receiver arena. The 2270 is a higher-end model the big brother to other Marantz receivers like the Marantz 2245 and certainly the Marantz 2230.
The device offers superior build quality and excellent sound quality. In this article, we will review the Marantz 2270.
Here is the Marantz 2270 Receiver Manual
Marantz 2270 Overview and Demonstration
Sound Quality
Many people like the fact that most Marantz receivers produce audio that is clear and uncolored.
Running the device at about a half-power bandwidth of 10 to 100,000 cycles per second will guarantee solid bass and clear highs.
We will talk more about impedance later, but keep in mind that you will get higher distortion and reduced power output with low-impedance circuits.
When combined high fidelity speakers, the sound quality you will get from your Marantz 2270 will be quite impressive!
Design and Build Quality
If you are familiar with vintage audio knows that Marantz built some of the best receivers of the time. The Marantz 2270 is no exception.
The Marantz 2270 features a beautiful wooden case. It is a WC-22 wood case. It's a classic design that really emphasizes craftsmanship. The front plate is, however, metal while eth rest of the bezel is wood.
You can also get the Marantz 2270 in a full metal design. The wooden case is optional. In either case, the metal frame is a cool-looking matte gray, modern finish.
Even though this is a classic receiver, the metal finish along with the glossy wood gives it that cool modern look and feel.
The Wheel Tuner and Dial
Marantz is well known for its blue dial light on most of its receivers. In some instances, the light may appear a bit green because it uses a type of vellum paper between the bulbs and the dial face.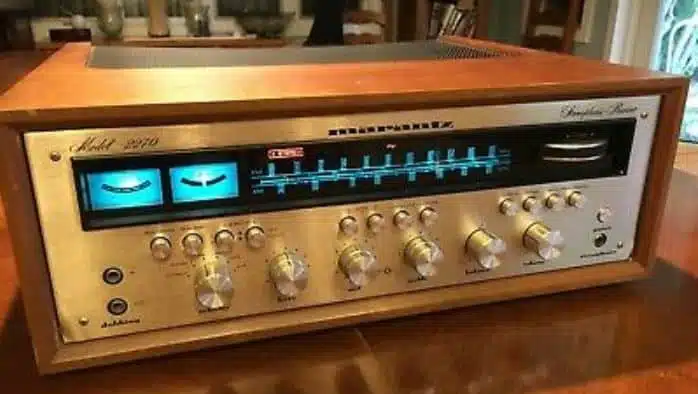 As time goes by, the vellum gets old and brittle and can break apart or turn yellow causing. This causes the blue light to turn green.
In addition, Marantz 2270 also features a horizontal wheel tuner and not the more common tuning knob.
Restoring A Marantz 2270
Some people may choose to purchase an old Marantz 2270 and restore it to its former glory.
Power and Impedance
The Marantz 2270 is rated at 70 watts RMS power per channel and 8 ohms. This is pretty good if you want to connect speakers of moderate power.
Of course, most speakers are rated at 8 ohms and so you should be good in terms of impedance matching if you have 8 ohm speakers.
In addition, these units consume about 500 watts at full power.
Dimensions and Weight
The Marantz 2270 measures approximately 17 x 14 x 5 inches and weighs about 40 pounds or 18 kg. This means it's quite heavy but that's what you get with older receivers.
Price
Prices will of course vary for the Marantz 2270 because nowadays there is no manufacturer's suggested retail price.
The device is being sold by third-party sellers, enthusiasts, and so on. As such, the price is based on demand or just someone's perceived value.
Here are typical prices you may find on eBay or your local audio store:
A Marantz 2270 in excellent condition with a wood case: Around $700.00 – $1000
Marantz refurbished 2270 with no wood case: Around $750.00 – $1500
A Fully restored 2270 in a wood case: Around $900.00
In good working condition, not restored: $500 – $700
So where can I find a Marantz 2270 for sale? You can try eBay, Craigslist, your local audio electronics store or collectors and dealers in your area.
Marantz 2270 Restoration Cost
You should be able to get the Marantz 2270 restored in terms of design and functionality. In most cases, you may still end up with a few scratches. In addition, the famous power button may need to be hard-wired along with other little inconveniences like that.
So, is it worth it to restore it? Well, remember, a well-restored one is worth $1500 on the market. Ask an electrician how much they would charge to change the power supply, main filter caps, and amp on board.
You should change or upgrade the main power supply capacitors, regulated power supply (P800 board), main amplifiers ( 2x P750 board), the preamplifier stage (P400 board), and tone control stage (P450 board)
A good electrical can restore a 2270 in a day or two. Typical rates for these technicians are about $90-$120/ hr. Keep in mind that the parts aren't cheap either.
Restoring a 2270 should however be like any other restoration job. It should be like restoring classic cars. Invest in it for the fun and the experience, not as an investment because they seldom are. If your goal is to have it restored, flip it and make money, we do not recommend that. You are going to be disappointed.
Marantz 2270 Specifications
Tuning range: FM, MW
Power output: 70 watts per channel into 8Ω (stereo)
Frequency response: 7Hz to 50kHz
Total harmonic distortion: 0.3%
Damping factor: 45
Input sensitivity: 1.8mV (MM), 180mV (line)
Signal-to-noise ratio: 80dB (line)
Channel separation: 35dB (line)
Speaker load impedance: 4Ω to 16Ω
Dimensions: 17-21/64 x 5-25/64 x 14 inches
Weight: 38.5lbs
RMS Power Per Channel: 70 Watts
Equalization: Bass, Mid, Treble, High Filter, Low Filter
Wood Case: Model WC-22
Estimated Production: 1971 – 1975
Marantz 2270 Receiver Manual
Here is the Marantz 2270 Receiver Manual
Marantz 2270 Reviews
Here are some reviews from users online:
You can learn more by checking out our comparison of Marantz and other receivers:
Marantz vs Yamaha
Marantz vs Anthem
Marantz vs Denon
Pioneer SX-750 AM/FM Stereo Receiver Review
Norvan Martin is the founder of BoomSpeaker.com. He is a professional Electronics Engineer and is passionate about home theater systems and AV electronics. BoomSpeaker was created as an online hub to share his knowledge and experiences as it relates to home theaters and home audio electronics.
My email: admin@boomspeaker.com
Connect on Pinterest and Linkedin