One of the first features we look for in Bluetooth speakers is sound quality. However, many speakers sound pretty good but aren't extremely loud.
If you're using the speaker for outdoor events, you need a speaker to deliver good audio performance. In this article, we cover the loudest portable Bluetooth speakers out there.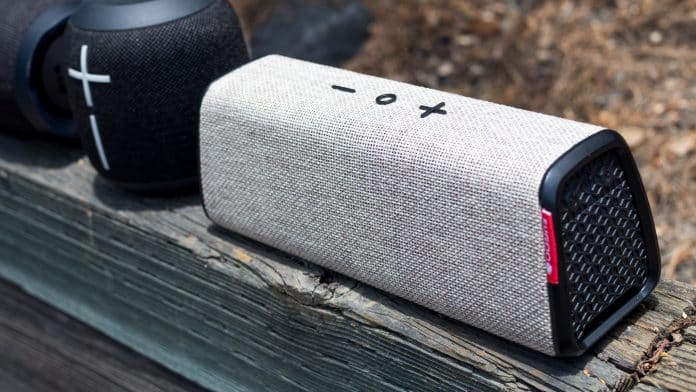 Top Picks
---
1. Loudest and Most Powerful Bluetooth Speakers For Parties: The SOUNDBOKS (Gen.3)
The SOUNDBOKS 3 is one of the most powerful Bluetooth speakers available. Firstly, this speaker is a significant upgrade over the previous version.
It will deliver a massive punch with up to 126 dB of sound, as loud as fireworks or an airplane when taking off! In addition, it can deliver up to 40 hours of playtime.
Check out our dB level charts to learn more.
While it's not the smallest speaker, it is excellent for the outdoors because it is splashproof and durable. It also connects to smartphones via Bluetooth or aux / XLR inputs if required.
This speaker is one of the best in features, sound quality, and loudness.
Marshall Woburn II is a powerful wireless speaker with two 5.25-inch subwoofers and 1-inch tweeters.
It also features advanced Bluetooth connectivity and aptX technology that allows you to stream audio from various mobile devices up to approximately 30 feet away.
Important Specs
Main Features: Bluetooth 5.0 and aptX technology, 3.5mm jack input, RCA input, and 2-way speaker system.
RMS Output Power: 130 W
Power: Plugin
Weight Approximate: 15.85 85lbs
Dimensions: 15.75 x 12.20 x 7.87 Inches
Pros
Immersive Vibrant audio
Customized sound
Stream audio from mobile devices.
Cons
The Bluetooth range could be better.
Verdict: Marshall Woburn II Wireless Bluetooth Speaker is perfect for people who enjoy immersing themselves in vibrant audio. It reproduces a wide range of sounds accurately.
Sony SRS-XB33 comes with dual passive radiators that work together with full-range speakers.
With its rugged design, this speaker gives you the freedom to party whenever and wherever you like.
Important Specs
Main Features: IP67 rated and shockproof, full-range, USB A input and output terminals (only for DC OUT), two passive radiators, rugged design, Hands-Free Function, and 20 Hz to 20,000 Hz frequency transmission range.
RMS Output Power: 16 W
Battery Life: Approximately 24 hours
Weight Approximate: 11 kg
Dimensions: Approx. 24.6 cm x 9.7 cm x 10.6 cm
Pros
Powerful bass
Waterproof, dustproof, and shockproof
Hands-free calling
Durable
Cons
The appearance could be improved
Battery life is shorter than 24 hours at times
Verdict: Sony SRS-XB33 may look too simple, but it's a great addition to any party. It's designed to deliver excellent audio.
The rugged S1 Pro weighs 15.7 lbs and lets you bring quality sound to the outdoor get-together, tailgate, or party whenever you want.
Its Auto EQ adjusts the tone automatically. Moreover, the Bosse Connect app lets you bring much more to the event.
Important Specs
Main Features: rugged design, built-in sensors, multiple aiming positions, lithium-ion battery, wireless Bluetooth pairing and inputs for musical instruments like mics, and two combos XLR Bluetooth input.
RMS Output Power: 160 W
Battery Life: Approximately 11 hours
Weight Approximate: 15.7 lbs (7.0 kg)
Dimensions: Approx. 11.1 x 9.4 x 13.1 inches
Pros
Adapt to almost any situation
Sound power is approximately 160 watts
Great portability
Cons
Fairly difficult to operate
Verdict: The Bose S1 Pro Portable Bluetooth Speaker System is ideal for people interested in a powerful wireless speaker. It uses the latest updated technology.
4. Best Indoor and Outdoor Bluetooth Speakers: DOSS SoundBox Touch
SoundBox Touch is a sleek and affordable speaker with the ability to play for 12 hours straight.
DOSS has equipped it with touch controls and Bluetooth hook-up.
Main Features: Capacitive Touch Control, IPX5 waterproof, and built-in Li-Ion rechargeable
RMS Output Power: 16 W
Battery Life: Approximately 12 hours
Weight Approximate: 31.0lbs (15.7 kg)
Dimensions: Approx. 11.1 x 9.4 x 13.1 inches
RMS Output Power: 160 W
Battery Life: Approximately 11 hours
Weight Approximate: 15.7 lbs (7.0 kg)
Dimensions: Approx. 30.2 x 13.3 x 7 cm (6.6 inches x 2.9 inches x 2.7 inches)
Pros
Durable
12-hour battery
Works outdoors and indoors
Lightweight
Produces high-quality sound
Cons
The AOMAIS GO speaker is a super bass Bluetooth speaker specially designed to give a loud sound for indoor and outdoor settings.
Weighing 4.7 lb, this portable speaker has two bass radiators and dual 15W sound drivers, giving an exceptional 30W pure sound. This speaker easily earns its place among extremely loud Bluetooth speakers.
Aside from having a phenomenal sound performance, this Bluetooth speaker comes with a powerful 7200mAh battery.
This rechargeable battery can last up to 8 hours, and you can even use it to charge your phone or tablet.
Furthermore, the speaker comes in a modern, durable, and user-friendly design. The exteriors are IPX7 waterproof, and it has a rubbery texture for an extra grip.
Pros
User-friendly design
IPX7 Waterproof
Long battery life
phenomenal sound performance
Cons
Slightly bulky
Only Syncs two devices
Verdict: The AOMAIS Go Bluetooth speaker packs a great punch for the money. Its exterior casing is IPX7 water-resistant, and its entire body is built for durability. Additionally, it comes with a reliable battery and a host of other modern features.
---
With five high-tech acoustic drivers, the Aiwa Exos-9 is another super bass Bluetooth speaker and one of the loudest portable Bluetooth speakers you can buy, pushing 200 watts of continuous power.
It features a 6.5″ dual coil subwoofer and delivers an incredible stereo sound. It pumps out deep bass, crisp highs, and clear mid-level tones.
The Exos-9 comes in a classy design and strong exteriors, making it durable and appealing. It has a 57.2Wh removable Li-ion battery lasting up to 9 hours.
This portable speaker weighs about 13 pounds. So it is not light to carry around but is suitable for outdoor use if you won't be moving about too much.
However, you may find it hard to remove the battery, and the controls are a bit tricky for some people.
Pros
Massive 200Watt audio power
Crisp highs and deep bass
Doubles as a speaker and a power bank
Cons
Quite bulky
Battery life depletes fast at maximum volume levels
Verdict: The AIWA Exos-9 is among the most powerful Bluetooth speakers that deliver exceptional sound performance. You'll be impressed by the speaker's massive audio output with crisp highs, impactful bass, and affordable price.
---
7. Most Rugged/Most Durable: Fugoo Tough
Created with a tough and rugged design, the Fugoo Tough Bluetooth speaker is 100% waterproof, shockproof, snow-proof, and mud-proof.
Its battery gives you 40 hours of solid sound experience, and there is an inbuilt microphone for full speakerphone capability.
The sound output is multi-directional, all thanks to six sound drivers on all four sides.
Important Specs
Main Features: IPX67 Waterproof, Built-in Microphone, Passive Bass Radiator, Dual Tweeters & Mid Woofer Drivers
RMS Output Power: 8W
Battery Life: 40 hours
Weight Approximate: 643g
Dimensions: 7.3cm (H) x 18.7cm (W) x 5.9cm (D)
Pros
Great battery life
Well-balanced audio output
Siri and Google integration
Cons
Changing jackets can be tricky
The loud setting is only suitable for outdoor use
The Fugoo Tough is one of the most rugged Bluetooth speakers, giving you excellent durability. This waterproof speaker supports Google Assistant and Siri, with great battery life and well-balanced audio performance.
---
8. Best Connectivity: UE Boom 2
Built-in a small and compact design, the UE Boom 2 is the perfect Bluetooth speaker for anyone who wants a powerful sound in a waterproof unit.
This IPX7 waterproof speaker has Bluetooth solid connectivity, and the control buttons are large enough to give you a seamless operating experience.
It has a 15-hour battery life and a USB port for charging.
Important Specs
Main Features: IPX-7 Waterproof, Shockproof, Alarm, Passive Bass Radiator, A2DP &HFP Bluetooth Profiling, Integrated Sound Amplifier, Siri & Google Integration
RMS Output Power: 10W
Battery Life: 15 hours
Weight Approximate: 548g
Dimensions: 18cm (H) x 6.7cm (W) x 6.7cm (D)
Pros
Excellent audio quality
IPX7 waterproof
Seamless control experience
Cons
Distortions at maximum volume
Verdict: The UE Boom 2 has excellent audio clarity with a compact design, though some distortions are at maximum volume. It's IPX7 waterproof, and the Bluetooth connectivity is seamless. It's also among the loudest portable Bluetooth speakers with a great control experience.
---
With strong exteriors and an attractive design, the Fugoo Style is a great Bluetooth speaker built to give you a powerful sound.
The speaker has a 40-hour battery life and plastic and rubber exteriors to make it waterproof and dustproof. Even better, it comes with a built-in microphone for speakerphone capability.
Important Specs
Main Features: IP67 Waterproof, 3.5mm AUX Jack, AptX Bluetooth Technology, SBC Software Update, Voice-echo Cancellation
RMS Output Power: 20W
Battery Life: 40 hours
Weight Approximate: 461g
Dimensions: 7.3cm (H) x 18.7cm (W) x 5.9cm (D)
Pros
40-hour battery life
Sturdy construction
Speakerphone capability
Cons
No visuals on volume and battery life
No products found.
Verdict: When buying a portable Bluetooth speaker, battery life is crucial. Fugoo has given this speaker a solid inbuilt battery that can last up to 40 hours. It has speakerphone capabilities and sturdy construction, though you won't have visuals on the battery life or volume.
---
10. Best Long Lasting Loudest Waterproof Bluetooth Speaker: JBL Charge 3
Stamped with an IPX7 waterproofing mark, the JBL Charge 3 can survive for up to 30 minutes when submerged in a meter of water. The Charge 3 comes cylindrical and is big enough to produce a huge sound.
You get a room-filling sound experience, and it can project a great sound while setting up outside.
It's also good to know that the speaker can double as a power bank for your mobile phone.
Important Specs
Main Features: Stereo Speaker Channel, A2DP, HSP, HFP & AVRCP Bluetooth Profiles, IPX7 Waterproof Protection, Echo-Cancelling Speakerphone
RMS Output Power: 20W
Battery Life: 20 hours
Weight Approximate: 800g
Dimensions: 8.9cm (H) x 21.3cm (W) x 8.6cm (D)
Pros
Fantastic sound at a great price
Waterproof exteriors
Supports speakerphone feature
Cons
It's a little heavy for your backpack
May not survive long falls
Verdict: If you want a durable speaker with an amazing sound, look no further. The JBL Charge 3 is a waterproof speaker that delivers a room-filling audio experience with around 20 hours of battery life.
---
The JBL Pulse 2 is a high-tech Bluetooth speaker with splash-proof exteriors and delivers intense audio in a small unit.
It features an in-built battery that lasts up to 10 hours and about 5 hours when the light show effect is turned on.
This speaker gives you sensational bass, and you can pair multiple units together to enhance the sound output.
Important Specs
Main Features: Dual 3.0″ Drivers, Bluetooth 4.1 Technology, Bass Radiator, Echo Cancelling Microphone
RMS Output Power: 16W
Battery Life: 10 hours
Weight Approximate: 775 g
Dimensions: 19.4cm (W) x 8.4cm (H) x 8.4cm (D)
Pros
Splash-proof and compact construction
Strong sound for the size
Integrated light show
Cons
No carrying case
The light show drains the battery
Verdict: For those who like colorful and durable Bluetooth speakers, the JBL Pulse 2 is a worthy choice. It has a strong sound despite its small size. Its colorful light show drains its battery.
---
12. Best Floating Loud Bluetooth Speaker: UE ROLL 2
Designed for outdoor and indoor use, the UE Roll 2 has a unique and sturdy construction design. This durable Bluetooth speaker is small and features an integrated bungee cord, making it easily portable.
More importantly, it has a waterproof body and an inflatable lifesaver, making it float on water.
Important Specs
Main Features: IPX7 Waterproof, A2DP Bluetooth Connection, Two Woofer Drivers, Tweeter Sound Driver, 3.5mm AUX Port
RMS Output Power: 2W
Battery Life: 9 hours
Weight Approximate: 330g
Dimensions: 13.5cm (H) x 13.5cm (W) x 4cm (D)
Pros
Superb audio quality
Great waterproof construction
Built-in bungee cord
Nice Bluetooth rage
Cons
Lacks speakerphone capability
Verdict: Being one of the smallest Bluetooth speakers on the market, the UE Roll 2 pumps superb audio quality. It has a waterproof body with a convenient bungee cord at the top and can also float on water.
---
If you are looking for high-quality stereo sound on a tight budget, the Anker Soundcore Bluetooth speaker is the unit for you. It uses Bluetooth 4.0 technology and can connect to any device within a 66 feet range.
The audio quality is crisp, and it comes with a high-tech Li-ion battery that lasts about 24 hours while playing music.
Important Specs
Main Features: Built-in Mic, 66ft Bluetooth Range, Bluetooth 4.0 Connectivity, Dual High-Power Sound Drivers, Drop-proof Casing
RMS Output Power: 12W
Battery Life: 24 hours
Weight Approximate: 360g
Dimensions: 4.5cm (H) x 16.5cm (W) x 5.4cm (D)
Pros
66 feet Bluetooth connection range
Amazing 24-hour battery life
Loud sound without distortions
Cons
The bass will disappoint in some music genres
Soft plastic casing
Verdict: While the Anker SoundCore Bluetooth speaker may not seem cheap, it can produce a loud sound at all volume levels without distortions. However, the bass might disappoint with some types of music, but the overall user experience is superb.
---
Powered by a 10-hour Li-ion battery, the Bose SoundLink Mini II speaker delivers exceptional audio quality and robust bass.
This portable speaker has incredible highs and decent midranges for a fantastic audio experience, and you can pair it with any Bluetooth-enabled device within a 30 feet range.
The speaker has a built-in microphone for hands-free operation and doubles as a power bank using a micro USB charger.
Important Specs
Main Features: Passive Bass Radiator, Integrated Audio Amplifier, 33ft Wireless Transmission Range, 3.5mm AUX Jack
RMS Output Power: 50W
Battery Life: 10 hours
Weight Approximate: 620g
Dimensions: 5.1cm (H) x 18cm (W) x 5.8cm (D)
Pros
Loud audio output in a small unit
Strong Bluetooth connectivity
Compact aluminum enclosure
Cons
Poor stereo separation
You can't connect multiple units
Verdict: Powered by a 10-hour rechargeable battery, the Bose Soundlink Mini II delivers solid bass, incredible highs, and midrange. It has strong Bluetooth connectivity and comes in a compact and durable aluminum housing.
---
If you are a fan of compact speakers that deliver superior sound quality, the Bose Soundlink Revolve Plus is the unit for you. This speaker comes with an inbuilt handle for easy portability and water-resistant exteriors.
The battery can last about 16 hours. You can enjoy speakerphone calls using the built-in microphone.
Important Specs
Main Features: IPX4 Water-resistant, Threaded Tripod Mount, Shock Resistant, NFC Pairing Technology, Built-in Microphone, Google Assistant & Siri Integration
RMS Output Power: 50W
Battery Life: 16 hours
Weight Approximate: 660g
Dimensions: 15.2cm (H) x 8.2cm (W) x 8.2cm (D)
Pros
Great sound for its compact size
Speakerphone feature
Incredible 16hour battery life
Cons
The charging cradle is an optional accessory
Expensive
Verdict: Equipped with a convenient carrying handle at the top, the Bose Soundlink Revolve+ is worth your money. The battery life is incredible, and the sound is solid enough for its size, though it may seem costly for some users.
---
16. Best For Pool Parties: UE Wonderboom
The EU Wonderboom is one of the toughest Bluetooth speakers on the market, and they come with dual sound drivers that deliver excellent sound quality.
This Bluetooth speaker is waterproof, and its buoyant design ensures that you can easily carry it anywhere. You can pair it with other speakers, allowing you to set the alarm.
Important Specs
Main Features: Two Passive Radiators & Full-Range Sound Drivers, A2DP Bluetooth Profile, IPX7 Waterproof &Dustproof,
RMS Output Power: 20 W
Battery Life: 10 Hours
Weight Approximate: 425g
Dimensions: 10.2cm (H) x 9.3cm (W)
Pros
Ability to set alarms
Great battery life
Remarkably loud
Pretty much indestructible
Cons
Strains with the mid-range
Verdict: If you're looking for the toughest portable Bluetooth speaker that's remarkably loud, the UE Wonderboom is here for you. The speaker is indestructible and is IPX7 waterproof, making it perfect for pool parties.
---
The B&O Beoplay P2 is a splash-resistant Bluetooth speaker that looks stylish and travel-friendly. It is small, but the sound output will rival many big units on the market.
The battery life is decent and can last up to 10 hours. The inbuilt microphone allows you to enjoy voice activation and voice calling.
Important Specs
Main Features: Splashproof, Dustproof, Leather and Aluminum Body, Bluetooth 4.2 With AptX Technology, 2″ Full-Range Sound Driver, In-Built Microphone
RMS Output Power: 30W
Battery Life: 10 hours
Weight Approximate: 275g
Dimensions: 27.9cm (H) x 14cm (W) x 8cm (D)
Pros
Stylish and portable construction
Impressive audios
Splash-resistant exteriors
Cons
No physical buttons for playback
Hefty price tag
Verdict: With 30 watts of RMS power, the B & O Beoplay P2 is among the market's most stylish portable Bluetooth speakers. Its splash-resistant exteriors make it suitable for outdoor scenes, though its hefty price tag may be a limitation for some.
---
18. Best 360 Degree Sound: UE MEGABOOM
Offering a 360-degree multi-directional sound output, this Bluetooth speaker has a loud volume and an incredible bass.
The UE MegaBoom is IPX7 waterproof and comes with a rechargeable Li-ion battery that gives you a 20-hour battery life.
It also has a voice control feature, Siri, which you can use for outdoor and indoor parties.
Important Specs
Main Features: Smartphone Remote Control, Shock-proof, Waterproof, Near Field Communication (NFC) Interface, Two Passive Radiators & Full Range Sound drivers
RMS Output Power: 36 Watts
Battery Life: 20 hours
Weight Approximate: 877g
Dimensions: 22.6cm (H) x 8.38cm (d)
Pros
Reliable 20-hour battery life
No voice distortions in loud volumes
Crispy audio performance
360o multi-directional sound

Cons
The Smart Bluetooth feature drains the battery.
Verdict: Delivering 36 watts of RMS power, the UE MegaBoom offers crisp multi-directional sound and reliable battery life. However, you may want to slow down the smart Bluetooth feature as it drains your battery.
---
Do you personally go out of your way to find the most remote outdoor areas so you can play your music loud?
If you want a Bluetooth speaker that can bring the volume, Outdoor Tech's Big Turtle Shell is your best option.
While its contemporary design may suggest a lack of durability, Outdoor Tech designed its product to be not only easily recognizable but also built tough.
With a stable foundation and a grill to protect from dust and water splashes, The Big Turtle Shell can stand with the best of them.
However, its true highlight is performance. The design allows it to pump out optimal sound quality at 110 decibels, making it easily the loudest outdoor boomer on the market.
The turtle shell design also comes in a smaller, less loud size for easy transport. However, The Big Turtle Shell does have handles for easier transportation.
Pros
Powerful Li-ion battery
Tough, rugged build
IPX5 water-resistant
Integrated microphone
Cons
Not fully waterproof
Verdict: Though we've put it last on our list, the Big Turtle Shell should be among your top choices when looking for the loudest portable Bluetooth speakers on the market. Its tough and rugged build makes it ready for outdoor life, though it may feel heavy.
---
The DIY man or woman loves their workshop. You'll find them surrounded by tools for hours, in the garage, or tinkering in the basement.
You need great sound for hours, but durability is a must. The DeWalt Worksite DCR010 worksite radio is one of the coolest systems you can find.
Here's why we chose it for the DIY lover:
This system was specifically created for use on construction worksites
The 2 amp charger charges a 20V battery pack for easy work
Enjoy a built-in woofer and amplifier on the job
You'll know the DeWalt brand immediately when he sees it, and what better way to add it to your tool collection!
Loudest Cheap Bluetooth Speaker
JBL CHARGE 5 is the loudest cheap Bluetooth Speaker. Due to the new racetrack-shaped driver and 10W tweeter, the Charge 5 is the loudest for its price. The speaker also boasts of a wider soundstage than its predecessors.
The main features are a 30W + 10W tweeter, waterproof, power bank, Bluetooth v5.1, voice assistant integration, and USB-C/USB-A connections.
The JBL Charge 5 is durable and offers much better sound quality than its rivals, like the four Charges that came before it. This makes it the best for people on a tight budget who need high-quality sound.
Why Load Portable Speakers?
You need specific loud, portable speakers to enjoy the complete, loud music experience. However, you may not want a loud, heavy boombox that's hard to carry around.
This is why we have rounded up a list of the loudest portable speakers that deliver truly impressive audio performance.
These speakers will allow you to hear the soaring highs and deep lows of all your favorite tracks. This includes the most powerful Bluetooth speaker ever created, the 1200 Watts Devialet Phantom. Enjoy!
Best Party Bluetooth Speakers
Whether it's a poolside get-together, sweet-16 birthday bash, or dance party in the dorm, good music makes good parties!
Throw ya hands up! The UE Boom 2 is in da house! The Logitech UE Boom 2 speaker is the best-party Bluetooth speaker. Firstly, this speaker features a "360-degree" sound and has 15-hour long battery life.
In UE's own words, Boom 2 was designed to live. To see the world. To get wet, muddy, covered in snow, and beat up – but to always be awesome.'
It is small, sleek, durable, and waterproof, so you can easily carry it around in your backpack, even if you are at the pool. However, beyond the excellent design and great sound, the one feature that makes the UE Boom 2 GREAT for parties is that with the UE Boom 2 App, you can wirelessly connect 150 (even more) UE Boom 2 speakers together.
So, no matter how large your party gets, the UE BOOM2 is there to the rescue. You can connect the UE Boom 2 with the UE Boom and the UE MEGABOOM speakers.
A Block Party feature allows you and your friends to play music through UE BOOM 2. All they need to do is to join the app and start playing!
#PartyUp
Loudest Bluetooth Speakers Comparison Chart
The term "Bluetooth" gets thrown around a lot these days. Bluetooth has been around for a while now, with the time first being adopted in 1998.
However, after reading a few reviews, articles, or tech sites, you'll soon learn that not everyone knows what Bluetooth can do (or does). The good thing about Bluetooth is that it is one of the more reliable and less frustrating wireless technologies.
Below this handy Bluetooth speaker infographic, you'll find an excellent buying chart with links to your and customer reviews!
There are other wireless and streaming technologies out there, but Bluetooth is the only one that doesn't require you to download an app or install anything special on your device to connect.
Bluetooth, in most people's lives, is there. Any Bluetooth device can connect to any Bluetooth speaker. Whether you have a phone, tablet, computer, or whatever…it will still connect to any Bluetooth home speaker, portable speaker, or set of headphones.
Why These Are The Loudest Bluetooth Speakers
Powerful Drivers
Built with some of the most powerful audio drivers ever designed and engineered, these are the loudest portable speakers that deliver thumping bass and extraordinary volumes with low distortion.
Powerful Bass and High End
These speakers boast powerful bass that is heavy-hitting and dominating. Additionally, they also boast powerful height, which is piercing and direct.
Good Connectivity
We like their term "pair and blare"! You can connect multiple devices to one Bluetooth speaker, meaning many people in a house can play music from their devices whenever they want to listen to it.
And it also means more people can share their favorite tunes with others around them. Multiple phones can connect to one car's Bluetooth receiver for music and hands-free phone calls. As we said, Bluetooth is simply there.
Loudest Bluetooth Speaker Comparisons
They come in all shapes and sizes, and "best" is always relative. That's why we like to look at the loudest speakers.
This isn't just about refuting a certain decibel or wattage. That is measurable; the best is determined by other factors, as we have pointed out.
So, that's the way it is.
Small, Loud Bluetooth Speakers
This is the review for you if you want to find a set of the loudest Bluetooth speakers on the market.
The search for the loudest speakers has been narrowed down to a few different portable types, including larger varieties, ultra-portable, and traditional portable speakers. It's important to mention that the loudness of a speaker is determined by the decibels.
If you don't understand the concept of decibels and noise levels, you can check out this noise level chart.

Bose speakers have always been a powerhouse in the sound market, and the company prides itself on the best quality speakers.
The Soundlink III is one of the newest devices they have on the market in their lineup. This Bluetooth-compatible speaker has a ton of power in a tiny, portable decibel, and it offers over 14 hours of battery life with a 90-decibel sound volume.
---

A little bigger than most portable speakers, the Jambox uses twin 2.2-inch drivers to report over 100 decibels of sound volume.
It also gives you ten hours of playback, which is excellent, considering how large it is. Bluetooth compatibility is one of the best features of this product, and these are considered one of the loudest Bluetooth speakers on the market.
---

This tiny little device generates over 80 decibels of sound volume at a 1.75-inch design.
These excellent Bluetooth speakers offer you superior sound quality in such a tiny size.
With six hours of playback, you can enjoy the sound for quite some time. For the pricing, this is one of the most affordable loudest Bluetooth speakers.
Loudest Bluetooth Speakers for Parties
If you're looking for the best Bluetooth party speakers, powered speaker systems are the way to go.
They ensure your audio system has enough power for the sound to be loud enough for large outside gatherings or indoor parties in a large room. Fortunately, many loud, heavy-duty Bluetooth speakers will give you the large sound you desire.
Here are the top three picks:
The ION Audio Road Warrior is among the best party speakers with bass, packing 500 watts of audio power.
Its two-way 10-inch speakers cannot only pump out massive amounts of bass but also makes the lyrics crystal clear, unlike most of its competitors.
Though it's an AC/DC powered unit, the Road Warrior also features a robust inbuilt rechargeable battery that lasts up to 12 hours.
However, its price is a bit high, though ION Audio has it in a small and more affordable version known as the ION Audio Road Rider, which packs 120 watts of audio power.
---
As a premium professional PA Speaker, the Bose S1 Pro is one of the best party speaker systems for home DJs.
You can mount it on a stand for indoor and outdoor parties, and you're free to hook up a microphone to make important announcements.
The S1 Pro comes in a compact housing and is light enough to carry around easily. That makes it convenient for partying while on the road, as it can get pretty loud.
Even better, it has a reliable built-in battery that lasts 11 hours. You can also use its quick charge feature when you're in a hurry.
---
If you're looking for the best Bluetooth party speakers with lights and enough bass, the JBL Party 300 is your answer.
This party speaker features JBL's Signature Sound, which delivers unprecedented performance and unrivaled audio experiences that are worth remembering.
The speaker's full panel light effect gives your party a captivating look, giving your guests a lasting visual experience.
It also features guitar and mic inputs, and you won't have to stop partying when the lights go off, all thanks to its built-in rechargeable battery.
Depending on your sound needs when it comes to finding the loudest Bluetooth speakers, you will want to do your research ahead of time to find the set of speakers that suit your needs the best.
The decision may be difficult to make with such superior sound quality in such tiny devices. But with the right information, you can find just the right Bluetooth speakers to suit your listening and music needs.
---
Important Features of The Loudest Portable Speakers
Technology has evolved over the years, and every invention improved our lives. There are a lot of things that we have taken advantage of the latest technologies nowadays.
Some of them were able to help a business grow faster, and most importantly, a lot of these technologies assisted people's day-to-day living much more conveniently.
In today's time, music is not just a form of entertainment. For most people, it has been their buddy through thick and thin. Musicians tell their stories in the form of lyrics that a lot of people can relate to.
Some people use music as an instrument to escape reality's bitterness for a brief moment, inspire them, or share a moment.
Millions of music can now be merged into people's gadgets and be played whenever and wherever they like, and headphones made this even better because they could listen to the song themselves.
Many people choose the loudest Bluetooth speakers to focus on the song, especially if they don't want to hear other things.
Aside fromloudest Bluetooth speakers, wired headphones are also one of the gadgets that are essential that gives them both the privacy to listen to music alone.
But if you're planning to buy an earphone that will accompany you during workouts, most people choose the loudest Bluetooth speakers. Here are the reasons why:
No Cables – Loudest Bluetooth speakers don't have any cables or wires, and you don't have to worry about tangles, and the weight is much less. If you're going to use it while working out, you certainly won't like to have disturbance when you need to make great movements.
Sound – When Bluetooth earphones first came onto the market, the sound was awful, but as the inventions improved during the days, inventors were able to come up with a very nice high-definition sound from the loudest Bluetooth speakers.
Trendy – With the fast-changing technology nowadays, there is no place to be old-fashioned. The Loudest Bluetooth speakers are merely the trend nowadays, and you don't choose to have one because everybody does. You need to buy one simply because everybody prefers to take advantage of it, especially if the main purpose is to work out.
Cost – When you sum up all the advantages of having the loudest Bluetooth speakers, you will be surprised by how much you can save up when you choose to have this rather than the wired one.
Loud Speaker Wattage?
How loud are these speakers? Speaker loudness is measured by wattage. For a speaker to be considered loud, we normally go with anything at least 50 watts. Sometimes, a lower wattage can be very loud for various reasons, but 50 watts is a good baseline. To learn more, check out our article where we answer the question – how loud is a 50-watt speaker?
FAQs
1. Do Bluetooth speakers work without Wi-Fi?
Yes, Bluetooth speakers can work both ways: Wi-Fi and without one. It does not affect the connection. So you can connect devices in offline mode too. Your Bluetooth speaker does not necessarily need a Wi-Fi connection to function.
2. What to keep in mind while buying Bluetooth speakers?
Keep these things in mind when buying Bluetooth speakers:
Quality of the sound (most important).
If the speakers are water-resistance or waterproof. Check for the waterproof IP rating.
Battery Life. Good battery life ensures longer music time.
Bluetooth Version: It should be the latest one, i.e., 5.0 and above.
Connection Type (option for wired).
Weight: portable speakers must not be very heavy. They should be light and easy to carry.
Size: Check if they can easily fit in backpacks and luggage.
3. What is better in sound quality, Bose or JBL? Which ones are bigger in size?
The JBL speakers are bigger than the Bose speakers and have radiators with higher vibration levels to produce bass tones with more depth. Also, JBL is best for hip-hop, rock, and pop music. Bose speakers don't have as much of a bass effect as JBL speakers, which come with subwoofers.
4. What options are available other than portable Bluetooth speakers?
Other than Bluetooth speakers, there are Wi-Fi speakers available in the market. You need to connect to Wi-Fi for it to work. Bluetooth compresses the data more than Wi-Fi speakers. Also, there are wired speakers that do not require Bluetooth for connection.
Recap
The Bluetooth speakers listed offer endless listening enjoyment with a high-quality volume range.
We explored very loud Bluetooth speakers to the loudest Bluetooth speaker. There is no winner in these devices, as they all have many features that make each one of the best in their categories.
There you have it, the loudest portable Bluetooth speakers available. We mean, these are extremely loud Bluetooth speakers!
Some of these speakers are large and probably not suitable for bringing around too much, while others are smaller but not as powerful. It's a matter of your preference, but all these speakers are great for outdoor use and can be carried about easily. Choose wisely!