Klipsch and Sony are two renowned and well-respected brands in the audio industry that produces high-quality speakers, headphones, soundbars, subwoofers and amplifiers.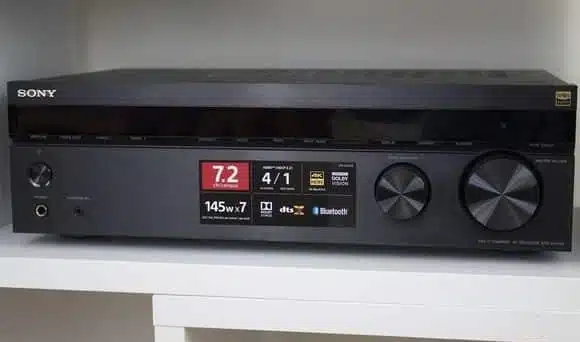 In this article, we will cover a general overview of both brands, looking specifically at sound quality, durability, price and so on. Of course, each brand has different devices at different price points, however, we will compare them as closely as we can.
Klipsch is one of the leading high-end speaker companies that produce high-quality audio devices for home theaters. They are known for their durability and "bright" sound.
Known for its production quality, Sony was able to charge above-market prices for its consumer electronics and resisted lowering prices. In 1971, Masaru Ibuka handed the position of president over to his co-founder Akio Morita.
Klipsch is one of the leading high-end speaker companies that produce high-quality audio devices for home theaters. They are known for their durability and "bright" sound. On the other hand, Sony is a long-standing and popular brand that was once known for offering premium products.; however today, most Sony products are simply ordinary at above-market prices.
Before we continue, you can check out similar comparisons in the series:
Read on to learn more.
Klipsch vs Sony Comparison Table
| Criteria | Klipsch | Sony |
| --- | --- | --- |
| Brand Reputation | Klipsch is well-known for its high-performance audio products and iconic horn-loaded speakers. | Sony is a globally recognized brand with a diverse range of electronic products and a strong presence in audio. |
| Sound Quality | Klipsch emphasizes dynamic sound with a signature horn-loaded speaker technology. | Sony is known for delivering high-quality audio experiences across various product lines. |
| Build Quality/Design | Klipsch products feature robust build quality and often showcase distinctive, classic designs. | Sony products combine durable build quality with stylish and innovative designs. |
| Product Range | Klipsch offers a wide range of speakers, including home theater systems and headphones. | Sony provides an extensive lineup of audio products, home entertainment systems, and more. |
| Pricing | Klipsch products cover a variety of price points, offering options for different budgets. | Sony products span different price ranges, providing options for a wide consumer base. |
| Features | Klipsch products often integrate advanced technologies for powerful and immersive audio experiences. | Sony integrates cutting-edge technologies, offering advanced features and innovations. |
Pros and Cons of Klipsch:
Pros: Known for producing high-quality speakers and headphones with excellent sound quality and strong bass response. Many of their products are designed to be aesthetically pleasing and can be a good fit for a home theater setup.
Cons: Some of their products can be expensive, and some users have reported issues with durability.
Pros and Cons of Sony:
Pros: Known for producing a wide range of audio and video products, including speakers, headphones, and home theater systems. Many of their products are well-regarded for their sound quality and value for money.
Cons: Some users have reported issues with durability and reliability of some of their products.
Quick History
Klipsch Quick History
Klipsch Audio Technologies (also known as Klipsch Speakers or Klipsch Group, Inc.) is an American loudspeaker manufacturing company based in Indianapolis, Indiana.
The company was founded in Hope, Arkansas, in 1946 by Paul W. Klipsch. Klipsch Audio also makes loudspeaker drivers and enclosures, as well as complete loudspeakers for high-end, high-fidelity sound systems, public address systems, and personal computers.
It has expanded a lot and has undergone a lot of changes since its establishment. Klipsch Audio still manufactures some legacy speakers that have been around since the days when the genius of P.W. Klipsch made his first speakers.
Sony Quick History
Sony Corporation is a Japanese manufacturer of consumer electronics products incorporated in 1946 by Ibuka Masaru and Morita Akio as Tokyo Telecommunications Engineering Corporation.
Before this, Ibuka had used his Japanese Precision Instruments Company to supply electronic devices during World War II. He met Morita while they worked for the Imperial Japanese Army as engineers designing heat-seeking missiles during World War II.
In 1952, Ibuka made efforts to license the transistor from Bell Laboratories in the US before Morita signed a deal with Western Electric there the following year. The agreement led to the production of the Totsuko's transistor radios, the Sony's TR-63, in 1955. In 1958, Sony became the official company name.
The name was derived from the Latin word Sonus which stands for "sound." Its pocket radios were the company's most significant success and led to its international brand recognition.
In 1960, Sony Corporation of America was created with headquarters in New York City. Sony then introduced the MD-5, the first all-transistor desktop calculator, in 1964 during the New York World's Fair, followed by the historic shipping of its first Trinitron color television in 1968.
Sony currently focuses on research and development (R&D), planning, designing, manufacturing, and marketing of electronic products for the consumer and professional markets.
Sound Quality
Klipsch Sound Quality
Klipsch speakers are well-known for the high quality, stunningly precise sound they produce, which can be matched by only a few select brands.
The speakers produce crisp highs, powerful bass, and full, encompassing sound with low distortion. However, many people don't like the Klipsch sound because it can tend to sound 'bright' or harsh.
Klipsch speakers use a horn tweeter (Klipschorn), which is what makes horns and brass instruments sound more realistic.
They are ideal for higher frequencies, which is why Klipsch speakers are often recommended when dealing with high-frequency sounds (like movies and certain music genres). This is also why high-efficiency design is a core Klipsch design principle.
Klipschorn design, patented by the founder, Paul W. Klipsch himself, is a fully horn-loaded three-way speaker, which means that it houses three separate speaker units, each with their own diaphragm and horn in three frequency ranges: high, mid and low.
Separating the frequencies in this way ensures less frequency modulation distortion. The Klipschorn design is still used in many Klipsch speakers, which explains their quality audio and energy efficiency.
Sony Sound Quality
Sony products generally sound good. Compared to other competitors, Sony is a premium brand that takes a lot of time to research and develop its sound systems, making it one of the best-sounding audio products.
The soundbars are feature loaded, have great surround sound performance, and most of them support Dolby Atmos content. Sony is at the forefront of technology innovation, its sound-loving engineers work tirelessly to maintain the standard of its high-quality Hi-Fi speakers.
Features
Klipsch Features
Klipsch devices are best known for the premium sound they produce, but they also have a host of features to ensure a wholesome experience for users.
Below are some common features that Klipsch speakers are known for:
HDMI-eARC connectivity: Single Cable, Single Remote
Dolby Atmos Decoding for immersive surround sound, stereo multiple channel systems
8K Video Pass-Through
Dialogue enhancement mode for crystal clear voices
Bluetooth, NFC, WiFi, HDMI, USB Audio, and Analog/AUX and optical audio input connectivity
Built-in universal wifi for existing Smart Home ecosystems- featuring Amazon Alexa, Google Assistant, and Spotify Connect
Klipsch Connect and Klipsch stream are two apps that can be used with your speakers. There are a lot of features included in the apps apart from controlling your Klipsch sound system. They are available for both iOS and Android.
Efficiency and low power consumption: Due to the company's use of horn-loaded speakers, they are able to manufacture speakers with high sensitivity (efficiency). It also makes the speakers consume less power compared to similarly performing speakers.
Sony Features
Sony is known to manufacture high-quality products. Some of the key features of Sony speakers include:
Bluetooth speakers with prolonged battery life
Compact designs that make them easily fit in every home or office space
High-quality sound
Key features of Sony TVs include:
Good picture quality
New frame tweeter technology with sound-from-picture reality
Two-position stand
New Ambient Optimization
Hands-free capabilities such as remote control systems for easy management of TV programs
Easy connectivity
Compatibility with 4K 120fps
Build Quality
Klipsch Build Quality
High-efficiency design is a core Klipsch design principle, and this is evident in all their products. Klipsch devices are very popular for the quality and sturdy materials that are used in their construction. This gives their products excellent performance and remarkable durability.
The materials used in construction, such as wood, cerametallic material or plastic, are carefully selected for their acoustic, aesthetic and durability properties.
Sony Build Quality
Sony was initially known for good-quality products. In fact, Sony originally maintained a high market price to compensate for the high build quality despite many customers saying they charged so high.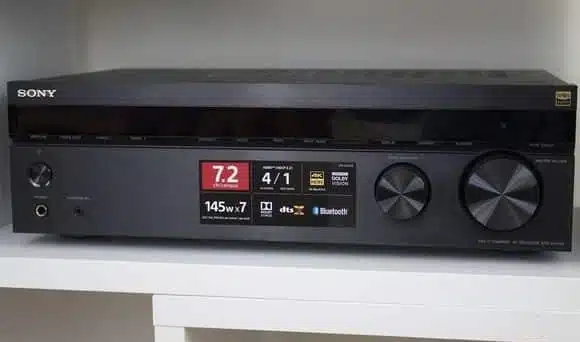 Most people say that Sony manufactures premium audio products with fantastic sound quality and build.
No company can handle a wide array of products like Sony while maintaining high quality. Sony leads in manufacturing cameras, audio, and mobile phones, among many other products. Besides, they offer a fantastic after-sales service.
However, some people note that the build quality they get from Sony is generally bad. This is mainly from customers who buy the Sony cameras who say they have had a problem or two with their Sony cameras, and even after Sony fixed them, the situation became worse.
Therefore, whether Sony products are of good build or not remains an opinion whose outcome mainly depends on the type of product and the experience of individual users.
Ease of Use
Klipsch Ease Of Use
Klipsch devices are very easy to set up and use. With a wide range of ports for easy connectivity, such as the HDMI Arc port, setting up is as easy as plugging in and playing. Remote control support and iOS and Android apps also make it much easier to use your Klipsch devices.
Sony Ease Of Use
Some Sony products are not easy to use. For instance, getting Sony KDL-32EX650 to work is not very easy. Besides, setting up a wireless network takes a long time.
Also, setting up the Bravia KDL-40WD650 (Bravia is a Sony brand) is more complicated despite Sony 43XG7005 being the most intuitive and easy-to-use Sony TV with a quick and responsive menu.
The speakers are however easy to use with the Bluetooth ones easily connecting to your devices to provide on-the-go entertainment.
Cost
Klipsch Cost
Because of the materials used in Klipsch speakers, they tend to have premium prices, such as the RP-8000F floorstanding speaker, which costs from $800 to $1000 apiece. But they deliver much more than what you pay for. If you really care about the quality of the sound and the durability of your speaker, it is easy to overlook the cost.
There are also a few Klipsch product lines that do not cost as much (the Klipsch Reference RSB-3 home cinema speaker costs from $150 to $300, while a Klipsch Reference On-Ear headphone costs from $99 to $200), but sometimes this results in lesser than premium sound quality.
Sony Cost
The cost of some Sony products are listed below:
Speakers: $40 – $4000
Receivers: $20 – $1000
Amplifier: $30 – $500
Space Requirements
Klipsch Space Requirements
Klipsch speakers have a wide range of sizes, and therefore require different amounts of space for effective operation. For example, there are portable PC speakers that can be easily placed on a desk while there are large cinematic models that require much more space.
Sony Space Requirements
Every person wants to maximize their small spaces. This is why every audio manufacturer puts more effort into researching to use versatile drivers that can deliver high efficiency while reducing the volume of materials used.
Sony products are generally constructed with a compact design and build. They take smaller spaces than other products and will perfectly fit into your small spaces whether you buy a smart TV or home theater system.
Remote Controls
Klipsch Remote Controls
Klipsch supports some universal remote controllers as well as custom-made Klipsch remotes. This brings additional functionality to your devices.
Klipsch also has apps for both iOS and Android that can be used to control your Klipsch sound system remotely. The apps also allow for the use of voice assistants like Google Assistant, Spotify Connect, and Amazon Alexa, which respond to simple voice commands. Klips stream allows you to stream directly from music platforms such as Spotify and Amazon Music.
Sony Remote Controls
Some people report that remotes for Sony KD-55XD8005 TVs, KD49X8309C, KD49XD8077 and KD-55X8508C, among other brands, have occasional problems. The issues are mainly that the remote controls become unresponsive occasionally and have to be troubleshot to continue working.
Sony remote controls are, however, generally excellent and responsive. However, where the remotes show problems, Sony offers quick customer support to ensure you continue using your remote control perfectly to enjoy your TV programs.
Connectivity Options
Klipsch Connectivity Options
Klipsch devices have several connectivity options including both wired and wireless choices. These include Bluetooth, NFC, WiFi, HDMI, USB Audio and Analog/AUX, and so on.
This allows you to connect your Klipsch speaker to a lot of different devices such as phones, personal computer, TV or used as part of a system of other speakers. The support for voice assistants also allows quick WiFi connection for several different speakers.
Sony Connectivity Options
When it comes to connectivity options, Sony is one of the most evolving brands in the market today. For instance, Sony Bravia (Bravia is a Sony brand) comes with a wide range of connectivity options, from USB to wireless connectivity channels.
Some of the connectivity options supported by different Sony products include:
RCA for older products
USB ports
HDMI ports for digital connectivity
Bluetooth
Composite video inputs
Wi-Fi for wireless connectivity
Power Range
Klipsch Power Range
Klipsch speakers consume much less power compared to other speakers of the same performance range. This is largely due to the horn tweeter that is used in their speakers, which reduces the need for a high-powered amplifier to boost the sound produced. 1 Watt RMS produces a 105 decibel at 1 meter sound pressure level (SPL), which is about 14–20 decibels higher than ordinary speakers.
The power range is different for each of the various Klipsch devices, so it is advisable to check the information included in the user manual.
Sony Power Range
Like many audio products in the market, Sony products work perfectly well with the conventional power range of 110 V – 240 V.
They have a shallow standby power consumption, and the TVs are built with a power-saving mode backlight on and off control to help minimize power consumption.
Frequency Response
Klipsch Frequency Response
Klipsch speakers have very pleasing and natural frequency responses. The speakers all have frequency ranges that all lie within the recommended frequencies to produce full and natural sound.
Due to the diversity of devices produced by Klipsch, there is a wide range of frequencies ranging from about 30Hz to 15KHz. The information about the frequency response of a particular device can be obtained from the user manual.
Sony Frequency Response
Most Sony audio products deliver within the frequency range of 20 Hz to 20,000 Hz. This frequency range effectively supports a good delivery of audio outputs for both Sony speakers, subwoofers, and even Sony TVs.
Conclusion
Klipsch has been in the speaker component manufacturing business for over seventy years and they have the experience to make great sounding speakers as shown in their array of quality devices.
If premium quality sound is what you want, Klipsch speakers are great options to try out. Sony is good for playing jazz sound. The brand is versatile with numerous connectivity options and good build quality. Besides, there are products for all price ranges.