Marshalls and Klipsch both have a solid reputation for making well-crafted speakers.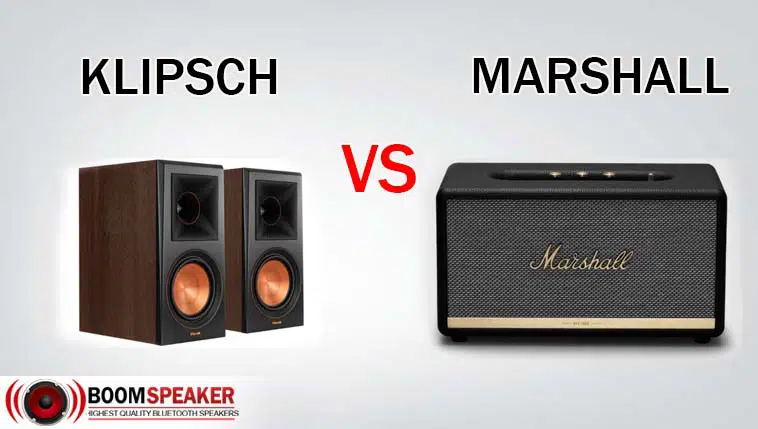 Klipsch speakers offer good sound quality but generally sound bright to most people and can also sound tinny. Klipsch is known for offering high-end reference speakers. Marshall on the other hand is known for its high-end speakers and amplifiers. They also offer good sound quality but aren't full-fledged wireless speakers.
Klipsch vs Marshall Speakers Comparison Table
Example Comparison:

Klipsch The One vs Marshall Kilburn Soundcheck
Klipsch vs Marshall: History
Klipsch History
In 1946, Paul W. Klipsch's lifelong dream came to fruition when the company he founded introduced the world's first horn-loaded loudspeaker. The name says it all: Klipsch and horns go together like peanut butter and jelly.

The company has been a leader in both home and professional audio ever since. In fact, until recently, many of Klipsch's pro speakers were used in high-profile MLB stadiums such as Busch Stadium in St. Louis and Kauffman Stadium in Kansas City.
They've also been seen on hundreds of stages across this great nation playing music for everyone from George Jones to Lady Gaga.

While Klipsch originally manufactured just one speaker model in 1946, the company has grown to offer a full line of high-performance loudspeakers and systems for home, car, theater, and outdoor applications.
Marshall History
Marshall started in 1965 and has been a dominant name in the world of guitar amps ever since.
Marshall has had a long history with rock bands and guitar players since they were established in 1962. The most notable name that comes to mind is Jim Marshall, who was mainly responsible for designing their line of amplifiers.

Their most popular guitar amps are the JCM800s used by everyone from Ozzy Osbourne to Metallica.
They recently released a new set of guitar amps called the DSL100H and HT Club 40. The two were designed under the guidance of Slash of Guns 'N Roses/Velvet Revolver fame. They also produce guitar effects such as overdrive pedals and distortion pedals.
Among their amplifiers, they make great use of speakers to create unique-sounding equipment that can respond well to the changing styles of music (namely hard rock) throughout different decades.

The amplifiers Marshall produces aren't like most other amps though, they're not mass-produced in an assembly line that can't keep up with demand.
Instead, each amp is manually put together by a small team in England and shipped all over the world to musicians who love what it can do for their sound.
Many modern bands swear by these amps and use them in the studio and on stage. As such guitarists often look for used Marshall amps for sale to get a piece of music history.
Differences Between Klipsch and Marshall
Klipsch is based around providing only the best possible audio quality for people who are willing to pay a lot of money for it while Marshall has a much more affordable range and caters to anyone.
Response Frequency
Klipsch has a better response in frequency range than Marshall's, giving them that crisp feeling when listening to songs.
In addition, Marshall uses boost frequencies that could add extra noise into the background. This reduces the overall quality whereas Klipsch will use other technologies such as horn technology to give crisper sounds.
Power Handling
Klipsch can do 100 watts on their higher quality models whereas Marshall's top range only goes up to 60 watts. This means that Klipsch speakers will be able to handle more power (if it ever gets too loud, turn down the volume).
But, you must keep in mind that this is not always true abKlipsch's of Klipsch products as they have many different types of speakers with different wattages.
Therefore, compare them before buying. One major downside is that Klipsch needs a separate amp which might cost some extra money.
Quality
Marshall as a general rule will always have less noise than Klipsch. This is because Marshall does not emphasize sound quality as much as they do on appearance and other features.
Klipsch however, stands behind its products and promises better sound to anyone who buys the product.
The downside is that if a Klipsch breaks or stops working then it would be a very expensive process trying to get it fixed whereas Marshalls are generally easier to fix and maintain/repair at lower costs
Size
Klipsch speakers are generally smaller in size due to them being horn speakers. In addition, they can be moved around pretty easily without too much hassle.
However, in most cases with Marshalls, they will take up a lot more space which might be a problem for some people when looking for speakers with a certain style or size preference.
Klipsch Features
Design: The Klipsch speakers look sharp and sleek and come with a removable grille and proprietary Tractrix horn technology for maximum sound output without distortion.
This classic take on speaker design will enhance any room you put it in, making it the perfect addition to your entertainment space

Performance: These speakers pack a punch that takes your music listening experience to another level as it offers balanced acoustics as well as life-like tones from every instrument.
Built with power handling for different genres of music like jazz, classical, or rock. These speakers can handle anything you throw at them.
Marshall Features
Design: Marshall has 5 decades of experience in designing some of the most iconic speakers on the market.
Being one of the first to make a guitar amp, Marshall understands how sound is created and reproduced for musicians.
Marshall builds their powerful amplifiers into their cabinets for maximum sound quality while remaining compact enough to stow away after use.
This creates an excellent-sounding speaker that was built with high-quality components at heart by people who truly understand what musicians want/need from their equipment.

Performance: Marshall's speakers are some of the loudest around which makes them perfect for gigging musicians or individuals who are looking to get more out of their practice sessions without breaking down their door with noise complaints.
The Rocktile Pro series is a testament to Marshall's ability to build sound systems that can survive the vibrations of a live show and continue to function as though nothing happened.
The Punch Level Control knob on these speakers allows you to turn up the volume without compromising the quality of your sound. Essentially it gives you maximum power at the twist of a pinkie finger.
Pros of Marshall
Easy To Work With
Amazing Sound Quality
Perfect For Any Studio
Lightweight And Portable
Wide Dynamic Range
They have a wide range of products
They have outstanding customer service
Their amplifier designs are known worldwide
It is easily available
They have several different models of amps
The price is affordable
Cons of Marshall
The bass cabs have no tweeter
They don't EQ very well
Frail low end
A bit harsh midrange
Lack of adequate tweeter
Pros of Klipsch
Bass that is deep and rich
They make up for their size with volume
Comfortable volume levels
High-resolution audio
Good, solid construction
Cons of Klipsch
Not appropriate with low-wattage amplifiers
Limited upgradability
Pros of Wharfedale
It has a clear mid-range
They are easy to work with on a budget
The bass and treble response is surprisingly good
They will make bad recordings sound better
You will appreciate having a decent pair of speakers once you upgrade
Cons of Wharfedale
Noisy tweeters (relatively whiny) even after adding dampeners or silencers
Poor soundstage for a bookshelf/satellite system
Marshall Woburn 2
Klipsch The Three
Marshall Woburn II: The most powerful compact home theater system ever made by Marshall, this soundbar speaker system is packed with six full-range drivers each with its dedicated amplifier.
What does that mean? It means you get massive power (subwoofer included) in an impossibly thin package for movies or music at high volume levels without distortion.
With its Bluetooth capability and streaming Spotify, it makes for a high-end multi-purpose sound system for all types of rooms.

Klipsch the three: Designed in collaboration with Iron Man 3 's Oscar-winning sound designer, Ben Burtt, this Bluetooth speaker features innovative horizontal Focused Image Geometry (F.I.G.) technology that provides broad immersive stereo sound while maintaining pinpoint accuracy.
A single woofer delivers rich bass while remaining impressively small enough to fit on any bookshelf or entertainment center.
The Three also blasts loud and clear using dual 2″ mid/high range drivers for HiFi quality playback at 88Hz to 20kHz along with a passive radiator for deeper lows than its compact size would suggest.
Klipsch Heritage Groove
The Marshall Stanmore II Bluetooth is a wireless speaker system that features two 2.5″ drivers and one 4″ bass driver for an MSRP of $399.99.
The Klipsch Heritage Wireless Groove features twin bass ports, a 3 ⅝" woofer, and a pair of horns in a bi-amplified design.

The Stanmore II Bluetooth can operate wirelessly from up to 33 feet away or use the included RCA cable to play music directly from a TV or other source.
It also has a subwoofer output with an adjustable crossover knob as well as AUX in/out jacks on the back panel along with rubberized feet for stability.
The Klipsch Heritage Wireless Groove has an AM/FM radio, Bluetooth connectivity, and four input options including USB, RCA line-in, 3.5mm auxiliary in for portable devices, and the included digital optical cable.
Both systems have some audio processing features to help tailor the sound to your room or taste.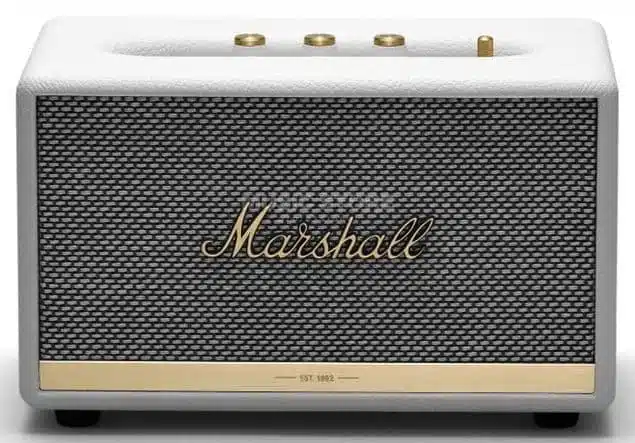 Marshall Actoa n II has slightly better sound than The One II does.

Marshall Acton II has a significantly longer battery life than the Klipsch The One II does. It also takes less time to charge up.

The debuildand built quality of both devices are about equal. Both devices have amazing reviews on Amazon, with almost all reviews giving them 4 or 5 stars out of 5.

Marshall's speaker allows you to add a bass boost option, which is not available on the Klipsch speaker. In addition, The One II uses an old version of Bluetooth, whereas Acton II has the latest version.
Klipsch Heritage The One II vs Marshall Stanmore II
The Klipsch Heritage The One II and the Marshall Stanmore II are two stylish vintage speakers that normally come up in discussions about Klipsch and Marhsall.
These speakers are generally great for music and movies as well as may even be used with computers.
By comparison, the Marshall Stanmore II can be seen as the better choice of the two and is better compared with the Klipsch Heritage The Three.
Conclusion
To sum it up, Klipsch is just better for rock music. They can handle high frequencies and they have a great definition at high volumes.
However, if you want to invest in good speakers for your guitar amplifier you might as well go with a set of Marshall's.
Before you, if you enjoyed this comparison, you can also check out the following similar comparisons: