Klipsch and KEF are well-known brands of speakers loved for decades the world over. The question around Klipsch vs KEF bookshelf speakers has been a common one for ages. For example, Klipsch RP 600m vs KEF 300 and Klipsch RP 600m vs KEF LS50 have been common comparisons.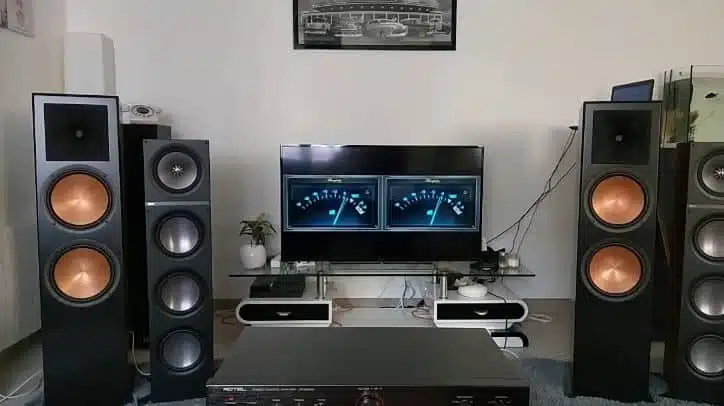 In fact, audiophiles have always compared the KEF Q series vs the Klipsch RP series. So today, we will jump into a detailed comparison of Klipsch and KEK speakers.
Klipsch vs KEF Speakers Comparison Table
| Criteria | Klipsch | KEF |
| --- | --- | --- |
| Brand Reputation | Well-known for high-performance audio systems. | Renowned for innovative speaker technology. |
| Sound Quality | Signature dynamic and powerful sound. | Precise and clear audio reproduction. |
| Build Quality/Design | Sturdy construction with iconic designs. | High-quality build with modern aesthetics. |
| Product Range | Diverse range including home theater systems. | Extensive lineup from bookshelf to floorstanding speakers. |
| Pricing | Varies, but generally competitive for the quality. | Typically positioned in the premium price range. |
| Features | Focus on delivering powerful, immersive experiences. | Innovative technologies for accurate sound reproduction. |
You can also check out the following comparisons:
Klipsch vs KEF Speakers History
Klipsch History
Klipsch speakers first came into existence back in 1931 to 1933 when Paul W. Klipsch designed a corner horn speaker.
Since then, Klipsch has evolved in many ways and today is still a quality speaker with widespread users across the globe.
KEF History
KEF speakers date back to 1961 when it was founded in Tovil, Maidstone, Kent, by electrical engineer Raymond Cooke.
Has its name from Kent Engineering & Foundry, which shared the same site. Today, KEF is owned by GP Acoustics, a member of Hong Kong-based Gold Peak Group.
The company was the first to adopt a computer for the design and testing of loudspeakers in the early 1970s.
By then, the company introduced a very sophisticated technology known as pair matching. In those years, KEF and other three speaker-producing companies pioneered the use of innovative materials and techniques in audio.
Differences Between Klipsch and KEF: Klipsch vs KEF
Klipsch Speakers – Features, Design and Performance
Klipsch is one of the bestselling speakers of all time and is famous for quality sound, as well. The big question is whether Klipsch is still the best speaker brand, or whether are there others that do well on the market.
When you ask individual users, you may get varied answers that are not accurate. In fact, maybe audiophiles who are inclined toward Klipsch's sound quality may give you raving reviews about its harshness.
However, let's dig deeper to see what it is people love about Klipsch.
Many people consider Klipsch speakers for their quality design and sound. However, their price is way higher than an average speaker that you find on the market, but if you secure a Klipsch speaker, it is a deal you will never regret.
The surprising thing is other brands have emerged after Klipsch, but they cannot compete with Klipsch's quality.
Klipsch speakers have been around quite a long time, immediately after the Second World War. So, they are one of the most prestigious brands in the market.
Since they were founded, they all resemble the same design and no wonder it's something that has set them apart from other speaker companies over the years. Klipsch speakers are designed to use tweeter horns, which makes brass and horn instruments sound more realistic.
They are a good fit for high frequencies, and that is why you will find Klipsch speakers preferred in some music genres and films for high-frequency sound.
Those trying Klipsch speakers for the first time find them expensive, but after comparison with another version on the market, finally, they see value in them.
All Klipsch products are in the premium budget range, and their focus is providing customers with quality sound.
Also, when you compare other brands selling in the same range, Klipsch does better in terms of sound clarity.
Over the years, Klipsch has come up with various products, and almost all of them produce a clear sound. When you test the competitors ranging at the same range as Klipsch, you may struggle to tell the sound difference.
It is prudent, though to spend more time scrutinizing further to avoid ending up with speakers you will come to regret later.
KEF Speakers – Features, Design and Performance
KEF is known as a loudspeaker-producing company of very high-quality speakers. In the 1980s, the company was leading in the UK market and the USA, though approaching the 1990s trouble in distribution gave other players a leeway to dominate the market e.g., Canada's Paradigm and Britain's B&W.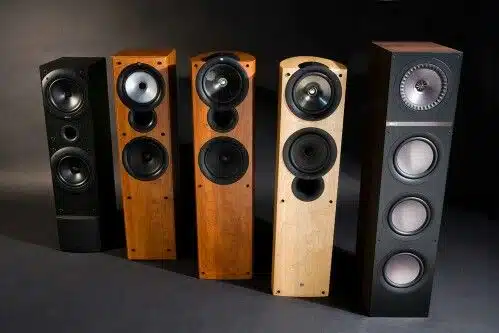 That is past now as today; KEF is more solid with its Muon flagship speakers with the help of Russ Lovegrove design and wireless speakers, which are doing very well on the market. Some of the top-selling KEF products are:
Home Audio: HiFi Home Theatre: R-Series, Muon, Blade, The Reference, LS50, Q Series
Home Theatre Solutions: E Series, T Series, SubWoofers, Wireless Speakers, Wireless System, LS50 wireless, LSX
Others are headphones and more powerful KEF brands that work well if you want floor-standing, in-wall, on-wall, and whatever KEP speaker that suits your needs to be ready to empower your home with great music.
KEF speakers have impeccably stellar audio performance, which can be attributed to quality designs. The company has innovative transducers and woofers that give exceptional sound results.
The LS50 design does well with high deep tones. You can use them with a sub though not all of them require one.
Another aspect KEF has added to make their speakers awesome is Tweeter technology in the middle of bass speakers.
The success of KEF speakers was mostly aided by computer-aided design (CAD).
KEF speaker designs can be divided into different disciplines – one is how the drivers will perform acoustically, and the second is the actual design of the drivers themselves.
The third discipline is mechanical engineering, which determines the shape of the KEF cabinet, internal bracing, and driver's attachment.
Pros and Cons of Klipsch Speakers
If you are planning to buy Klipsch speakers or you already have, it's good to check the positive and negative aspects they may have.
Pros
Wide Range of Products – Klipsch Company has a wide array of products to choose from, and every speaker is designed uniquely; therefore, you have to look for the one that satisfies your sound needs.
Quality Speakers – No doubt, Klipsch Company has the best quality speakers on the market the majority claiming to offer quality sound speakers. If you want ceiling speakers or in-wall speakers, Klipsch has every type you think can turn your house into a music powerhouse. Not many brands you can find operating at premium range while still providing you with affordable products.
High-Frequency Sound – Klipsch speakers are the only uniquely designed speakers to produce a high-frequency sound that is smooth and clear.

Cons
May not fit everyone – Before you purchase Klipsch speakers, you have to decide if they are the right sound for you. They do not produce sound like a standard speaker you find on the market. The horn tweeter present in Klipsch speakers may sound different to some and may not be ideal for their sound requirements.
They are Expensive – Depending on your sound needs and how badly you want to have quality sound; the price may not be an issue for you. However, some prefer brands that are near to Klipsch quality when the cost is unbearable. Despite the cost, almost everyone would love to own a Klipsch speaker for excellent sound quality.
Pros and Cons of KEF Speakers
Pros
Most Speakers feature KEF's innovative Uni-Q-driver
KEF speakers have the tweeter set at the middle of the midrange driver something that separates the company from the likes of Klipsch.
KEF speakers have great clarity
The Bass and dynamics are impressive
Cons
Some designs are not suited for low volumes
They are costly
The most significant transformation for KEF speakers is that the KEF Company embraces modern wireless speakers to use digital signal processing.
However, they have not deserted the old models yet, but just adding more power to the new versions, which have digital aspects, and to enhance sound flow.
Klipsch vs KEF Room Space
KEF speakers bring out a balanced sound but maybe rowdy if the speakers are robbed of enough space to give out their best.
Both KEF and Klipsch require enough space for you to get quality sound. Klipsch is a loudspeaker that can sound awkward if put in a small room.
You can hate the speakers for nothing, and the problem is in the small space to function correctly.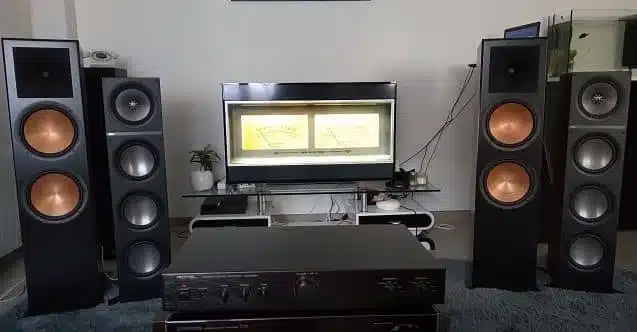 KEF requires a generous space from where you place them; by that means, giving them a 3-meter distance from the wall is ideal space.
They are finicky about rooms as you will feel they lack the delivery part as you like. That's why you should buy both speakers with the plan of using them in a spacious room.
When using KEF, you need to consider a spacious room and need more power than Klipsch. The other thing is to know the best music that augurs well with the speakers.
KEFs would do well on Mids and Highs. The vocals are excellent, while for bass, it depends on the model audition.
Klipsch vs KEF When Using An AV Reciever
The two prestigious brands offer great quality sound, but it all boils down to the customer's preference.
For instance, some prefer Klipsch as a great choice when it comes to heavy metal kind of music, and they are not fussy with Amps, so you can use any type.
Also, if you are using an AV receiver, Klipsch would be the right choice for high volumes and heavy metal lovers.
On the other hand, KEF speakers, especially monitor type, can put you off if not looking for clinical performance.
KEF does well with a good Amp to muscle the sound behind them, and that way, you are guaranteed to receive quality sound with the intended power.
Example: KEF Q950 vs Klipsch Reference Premiere RP-8000F
| Feature | KEF Q950 | Klipsch Reference Premiere RP-8000F |
| --- | --- | --- |
| Finish | MDF/Vinyl-wrapped | MDF/Wood-grain vinyl |
| Enclosure | Bass Reflex | Passive Radiator |
| Tweeter | Hard-Dome size 15 | Tractrix Horn size 1 |
| Midrange Size (inches) | 8.0 | N/A |
| Woofer Size (inches) | 8.0 | 8.0 |
| Woofer Composition | Aluminum | Cerametallic |
| Bi-amp Inputs | No | Yes |
| Power Range | 15-200 | up to 150 |
| Frequency Response | 44-28k Hz | 32-25k Hz |
| Sensitivity | 91 dB | 98 dB |
| Weight | 45.5 lbs | 60 lbs |
Best Klipsch and KEF Speakers on Amazon
Best Klipsch Speakers on Amazon
Best KEF Speakers on Amazon
---
Are Kef Speakers Good For Movies?
As for the low-frequency energy necessary for movie sound effects, a superior subwoofer stipulates movies.
KEF subwoofers use an inventive equalizer that pays off for room placement by adjusting the low-frequency output based on location near the wall, in a corner, or even in a cabinet.
Are KEF Speakers Neutral?
The midrange and treble on the R3s are perfect. Cellos and pianos have suitable resonance. Vocals sound natural, with slight seeming coloration or accent.
However, they are perhaps a little laid back in the exhibition, pushing voices back in the mix ever so slightly; the R3 may not be the best choice for those who like upfront vocals. But it is a mainly composed sound that's tough to fault.
The treble is even- swinging only to sharpness or flatness if present in the recording. It is a speaker you can listen to for hours without exhaustion, but all the while still having the accurate; resolution you anticipate from a high-end speaker.
Is KEF Speaker Considered High End
Klipsch speakers are one of the older and more respected speaker brands around. They were set up just after the Second World War.
Klipsch is considered good, and they are a little bit more exclusive than other speakers. But for the quality, you are getting a handsome deal. KEF speakers are around the mid-range when it comes to both worth and quality.
They are ideal for higher frequencies, so KEF speakers are often suggested for dealing with higher-frequency sounds like films and specific genres of music.
Conclusion
Both speakers are a pretty decent choice though you will have to consider the price aspect which put both speakers on par.
Secondly, if you want something soothing to calm your mind after a long day, pick KEF speakers. Klipsch speaker's loud sound is an excellent choice to wake up your neighbors.
To get great results with your preferred sound, do a lot of testing before you purchase so you can end up with a speaker you will love.
However, for both of them, you need to invest in a good AMP to avoid ending up with crappy sound.
By the way, you can also check out our Klipsch vs Polk comparison if you are also interested in Polk speakers.