Klipsch and Elac are both vintage brands in audioengineering. If you enjoy good music, then you understand some of the critical factors in choosing the best musical device for commercial or home use. In this article, we shall review Klipsch and Elac speakers.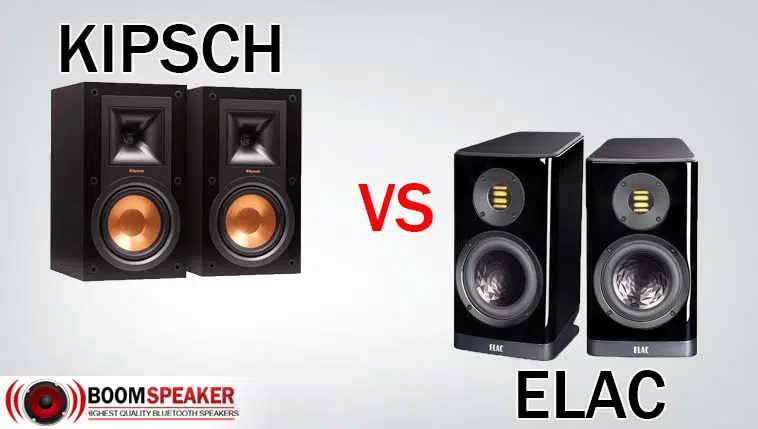 Klipsch vs Elac Comaprarison Table
Klipsch vs Elac History
Klipsch History
Klipsch speakers can be dated back to the years between 1931 and 1933. Paul W.
Klipsch designed a corner horn speaker during this time, which became a turning point for the big name today.
Elac History
Elac, a German loudspeaker manufacturer, was founded in 1926 as "Electroacoustic GmbH".
In 1984, Elac teamed up with AXIOm Electroacoustic Speaker Specialists and built and started designing and building loudspeakers. One year later, they made a 4Pi omnidirectional tweeter.
Before we go further, you can also check out the following comparisons:
Difference Between Klipsch And Elac: Klipsch Vs Elac
Klipsch Features – Features, Design, and Performance
Over many years, Klipsch has been well-known for quality sound. Although there have been many market entrants over time, we will soon know whether Klipsch still stands out.
According to the many customer reviews, it is true that many music lovers still rank Klipsch speakers highly in terms of design and sound quality. Also, they are very pricy but will give you high quality and value for money.
In addition, their brand still stands out even after many years in the market. Designed with tweeter horns, Klipsch speakers are good for high-frequency sounds. However, many people find horn tweeters fatiguing.
Elac Features – Features, Design, and Performance
Elac started with the PW1 turntable. However, they have significantly increased the number of products in their production list over the years.
They have produced several entry-level and high-end loudspeakers and developed self-defining speaker technologies, including the JET folded-ribbon tweeter and 4Pi omnidirectional tweeter.
Elac is also known to have delivered a great selection of attractively priced, well-performing speakers that favorably compete with some of the best in class.
Whether you are looking for cheap speakers to satisfy your budget or high-end premium speakers, you can get them from Elac.
Also, depending on your use scenarios, you may choose to go with floorstanders or stand-mounter speakers from Elac. Therefore, the manufacturers in this company put more effort into delivering at least something for everyone.
Pros And Cons Of Klipsch Speakers
If you are planning for your next mega purchase or already have Klipsch speakers, here are some of the pros and cons you need to know.
Pros
Wide range of products
High-quality speakers
High-frequency sound speakers
Cons
It may not be the best choice for everyone
Pros and cons of Elac speakers
Pros
The silk dome tweeter offers great sound clarity
More definitive bass
Highs are smooth, not harsh
Cons
They need good clean power for the best performance
They don't sound as great at low volumes
Klipsch vs Elac Room Space
For long-term satisfaction, you should choose speakers that will fit your taste and budget as much as they fit your room.
Both Klipsch and Elac will need some space to deliver quality sound. Remember, Klipsch can sound awkward if placed in a small room due to its natural loudness.
Many Klipsch setups include all speakers in the surround sound effect including the center speaker. For example, the Klipsch R-52C is an excellent center speaker from Klipsch. On the other hand, Elac sounds much smoother and will fit well in a small room.
Therefore, it is advisable that you carry out proper matching of the available space before buying Klipsch or Elac. This will save you the disappointment or temptation to tag a bad name to a speaker that will sound much better in a much bigger room than yours.
Klipsch vs. Elac When Using An AV Receiver
Listening conditions will vary from one listener to the other. However, Elac speakers deliver a more crisp sound with smooth and more definitive bass than Klipsch, even without an amplifier.
Still, some people prefer to listen to heavy metal music and will find the high-frequency sounding speakers from Klipsch a much better choice.
However, since Elac speakers sound really low at low volumes, adding a receiver to the circuitry will do you more good. But if you prefer to play your music at high volumes, both Elac and Klipsch will do really well to give you the sound you want. Just remember, if you are looking for more bass, Elac has it!
Example: Klipsch R-51M vs. Elac DEBUT 2.0 B6.2
| | | |
| --- | --- | --- |
| Feature | Klipsch R-51M | Elac DEBUT 2.0 B6.2 |
| Finish | MDF | MDF |
| Impedance | 8.0 ohms | 6.0 ohms |
| RMS rated power | 85.0 W | 120.0 W |
| Speaker type | N/A | 2-way |
| Woofer size (inches) | 5.25 | 6.5 |
| Speaker placement | Wall-mountable | Tabletop/bookshelf |
| Sensitivity | 93.0 dB | 87.0 dB |
| Weight | 16.31 lb | 11.02 lb |
Best Klipsch Speakers On Amazon
These speakers come in pairs and perform perfectly as left, center, right, or surround.
Featuring a rear-firing port that is a perfect match to the cabinet and drivers, this Klipsch speaker has a high sensitivity up to 94 dB at 2.83 volts per minute.
Pros
Small but mighty
Very efficient
Cons
These speakers are designed and built for the harsh exterior environment.
The speakers have a true two-way design and are fitted with dual polymer dome tweeters and a dual voice coil polymer woofer for powerful sound performance.
Pros
High efficiency
Superior acoustic package
Built to last
Cons
This speaker will help you bring dynamic acoustic performance to your home or commercial environment at an affordable price.
Best for moisture-prone areas, the R-1650-C has a coaxially mounted 1-inch polymer-dome tweeter that distributes smooth, clear highs to make your kitchens, bathrooms, or saunas lovable.
Pros
Affordable
Reliable
The aluminum grille makes it rust-free
Best Elac Speakers On Amazon
These speakers use a larger 16.5cm version of mid/bass units and deliver reduced sound distortions.
The speaker's construction is solid and produces a punchy sound. They have a wide frequency response range – 44Hz – 35000 Hz.
Pros
High sensitivity
Transparent sound
Cons
An improvement from the original Elac B5, the B5.2 has a narrower, taller, and deeper cabinet, giving it a more modern and less obstructive appearance. There's a new 5.25cm mid/bass unit with a new tweeter design.
These speakers are not just upgraded to look good. They will make a massive difference to your whole musical performance and will last longer too.
Pros
Solidly built
Unfussy
Detailed sound performance
This is a significant improvement from the original Debut with larger cabinets with improved stiffness and strength.
The trio of rear-firing bass reflex ports helps this Debut 2.0 F5.2 sound robust. The sound is transparent with tremendous textural insight and a lot of detail.
Pros
Precise bass
Transparent sound
Great timing
Cons
Are Elac Speakers Good For Movies?
These speakers sound excellent and are made to deliver really punchy bass. That is precisely what you need for your movies to catch the actual sound effects.
Whether you choose the front-ported or rear-ported Elac speakers, this speaker will exceed your expectations.
Are Elac Speakers Neutral
Elac speakers are very musical and will outperform most speakers out there. Besides, they are really neutral. There's a striking balance between mid and bass, giving you the real sound effects you deserve.
Are Elac Speakers Considered High-End?
Elac delivers high-end speakers with a striking balance between mid-range and low-frequency sounds compared with Klipsch speakers. Klipsch is, however, a high-frequency speaker. Elias concentrates on providing good sound quality and high-value products.
Conclusion
Choosing between Klipsch and Elac is highly dependent on your listening needs and budget. If you play high-frequency music so often, Klipsch will give you outstanding performance. Otherwise, Elac is an excellent choice for mid-range and bass soundtracks.