Klipsch and Bose are two renowned and well-respected brands in the audio industry that produce high-quality speakers, headphones, soundbars, and subwoofers.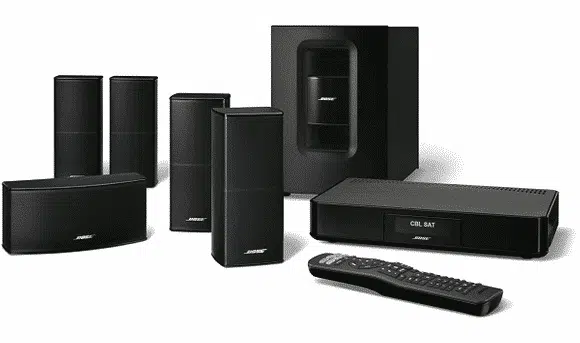 In this article, we will cover a general overview of both brands, looking specifically at sound quality, durability, price, and so on. Of course, each brand has different devices at different price points, however, we will compare them as closely as we can.
Bose speakers are known to offer good build quality, controls, and sound quality for most regular listeners. However, Bose is highly criticized by the audiophile community for having poor 'highs' and 'lows' (i.e. high frequencies and bass). Klipsch offers better sound quality than Bose, however, they are known for their "bright" sound.
Read on to learn more.
Klipsch and Bose Comparison Table
| Criteria | Klipsch | Bose |
| --- | --- | --- |
| Brand Reputation | Respected for high-performance audio speakers and home theater systems. | Global brand recognized for innovative audio solutions and consumer electronics. |
| Sound Quality | Known for powerful and dynamic sound, often with an emphasis on the cinematic experience. | Produces balanced sound with a focus on wide appeal and often emphasizes noise-canceling technology. |
| Build Quality/Design | Builds robust speakers with a classic and distinctive design, often featuring wood veneer finishes. | Emphasizes sleek and modern designs with a focus on compactness and user-friendly interfaces. |
| Product Range | Specializes in a variety of audio products, including speakers, headphones, and home theater systems. | Offers a wide range of audio products, including speakers, headphones, and audio sunglasses. |
| Pricing | Offers products across different price points, catering to both budget-conscious and high-end consumers. | Varied pricing, with options available for different budgets, including premium audio products. |
| Features | Emphasizes powerful audio performance with features like horn-loaded tweeters and immersive surround sound. | Known for innovative features and technologies, such as noise-canceling headphones and compact speaker systems. |
Pros and Cons of Klipsch:
Pros: Known for producing high-quality speakers and headphones with excellent sound quality and strong bass response. Many of their products are designed to be aesthetically pleasing and can be a good fit for a home theater setup.
Cons: Some of their products can be expensive, and some users have reported issues with durability.
Pros and Cons of Bose:
Pros: Known for producing high-quality audio products with excellent sound quality and build quality. Many of their products, including headphones and home theater systems, are well-regarded by consumers.
Cons: Some of their products can be expensive, and some users have reported issues with durability.
Quick History
Klipsch Quick History
Klipsch Audio Technologies (also known as Klipsch Speakers or Klipsch Group, Inc.) is an American loudspeaker manufacturing company based in Indianapolis, Indiana. The company was founded in Hope, Arkansas, in 1946 by Paul W. Klipsch. Klipsch Audio also makes loudspeaker drivers and enclosures, as well as complete loudspeakers for high-end, high-fidelity sound systems, public address systems, and personal computers.
It has expanded a lot and has undergone a lot of changes since its establishment. Klipsch Audio still manufactures some legacy speakers that have been around since the days when the genius of P.W. Klipsch made his first speakers.
Bose Quick History
Bose is an American audio equipment company established by Amar Bose in early 1964. It is well-known for making high-end speakers, headphones, car sound systems, and other professional audio equipment.
Amar Bose started Bose because he was unhappy with the sound quality of a stereo he had bought. He did this to try to make sound systems better than they were at the time. Amar had taken the time to find out how important sound reverberation was to the sound system‌.
As a graduate of the Massachusetts Institute of Technology, Amar Bose knew how important research was to make excellent products. Therefore, he had made this the driving force for the company's growth over the past few decades.
Sound Quality
Klipsch Sound Quality
Klipsch speakers are well-known for the high quality, stunningly precise sound they produce, which can be matched by only a few select brands.
The speakers produce crisp highs, powerful bass, and full, encompassing sound with low distortion. However, many people don't like the Klipsch sound because it can tend to sound 'bright' or harsh.
Klipsch speakers use a horn tweeter (Klipschorn), which is what makes horns and brass instruments sound more realistic. They are ideal for higher frequencies, which is why Klipsch speakers are often recommended when dealing with high-frequency sounds (like movies and certain music genres). This is also why high-efficiency design is a core Klipsch design principle.
Klipschorn design, patented by the founder, Paul W. Klipsch himself, is a fully horn-loaded three-way speaker, which means that it houses three separate speaker units, each with its own diaphragm and horn in three frequency ranges: high, mid and low.
Separating the frequencies in this way ensures less frequency modulation distortion. The Klipschorn design is still used in many Klipsch speakers, which explains their quality audio and energy efficiency.
Bose Sound Quality
There is a lot of criticism about Bose speakers as it relates to sound quality. Many people believe Bose is an overhyped company that focuses too much on marketing and not enough on R&D to improve the quality of their speakers.
Many audiophiles for example lament the fact that Bose speakers tend to not have clearly defined highs and lows (bass). This is where the phrase – no highs, no lows, must be Bose came from.
While the above may be true, to Bose's credit, some psychoacoustics has been a primary focus in the development of Bose audio equipment. This focuses on the effect of the reflected sound arriving at the listener's head and thus tries to mimic a live performance with all their speakers.
This psychoacoustic design began with the Bose model 901, which was manufactured in 1968, and as a result of its success, it is still in production to this day.
But because Bose's psychoacoustic approach is unusual and most audiophiles criticize it, that doesn't make it sound any less impressive. The sound fills the room, making it seem like a live performance without losing any of the high, mid, or low frequencies.
Features
Klipsch Features
Klipsch devices are best known for the premium sound they produce, but they also have a host of features to ensure a wholesome experience for users.
Below are some common features that Klipsch speakers are known for:
HDMI-eARC connectivity: Single Cable, Single Remote
Dolby Atmos Decoding for immersive surround sound, stereo multiple channel systems
8K Video Pass-Through
Dialogue enhancement mode for crystal clear voices
Bluetooth, NFC, WiFi, HDMI, USB Audio, and Analog/AUX and optical audio input connectivity
Built-in universal wifi for existing Smart Home ecosystems- featuring Amazon Alexa, Google Assistant, and Spotify Connect
Klipsch Connect and Klipsch Stream are two apps that can be used with your speakers. There are a lot of features included in the apps apart from controlling your Klipsch sound system. They are available for both iOS and Android.
Efficiency and low power consumption: Due to the company's use of horn-loaded speakers, they are able to manufacture speakers with high sensitivity (efficiency). It also makes the speakers consume less power compared to similarly performing speakers.
Bose Features
Bose has features for expressive audio, intuitive controls, and modern components for better use. It is pretty easy to identify a Bose product when you see one. Some of the most common features of Bose devices are patented and device-specific.
Most Bose speakers support all audio formats, like Flac and Wav. They also have voice support, like Amazon Alexa, built-in music streaming platforms, like Deezer and Spotify, and seamless wireless connectivity for listening to music in multiple rooms through the Sonos setup and SoundTouch.
You can also expect to find a micro USB port and a 3.5mm headphone jack/aux cable on a typical Bose device.
Most Bose headphones also have a background noise canceling feature that blocks out all the surrounding noise and allows you to focus on the sound from the headset. Because of this feature, Bose headsets are a great choice for professional uses like conference calls.
Build Quality
Klipsch Build Quality
High-efficiency design is a core Klipsch design principle, and this is evident in all their products. Klipsch devices are very popular for the quality and sturdy materials that are used in their construction. This gives their products excellent performance and remarkable durability.
The materials used in construction, such as wood, cerametallic material, or plastic, are carefully selected for their acoustic, aesthetic, and durability properties.
Bose Build Quality
Bose products are not something you can rely entirely on when it comes to build quality. The build quality can be divided into the internal build and the external structure.
However, for a brand that has been a big player in the audio equipment industry, Bose seems to focus more on the internal build quality at the expense of the structural delivery. Therefore, this leads to a great-sounding device that has a poor structure.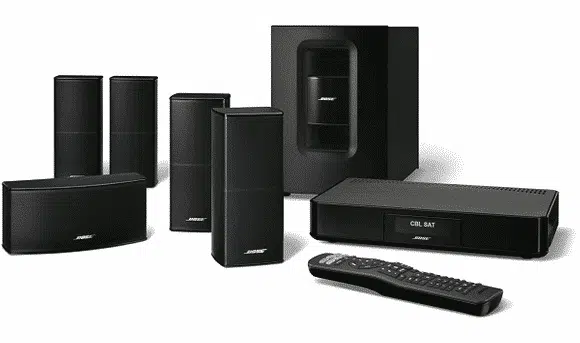 Although, another factor that might be worthy of note is the fact that the build quality varies from device to device. While some Bose products fall short of expectations, others are extremely durable.
For example, while most Bose speakers are usually reviewed to be of below-standard build quality, the headphones have enjoyed excellent reviews. An example of this is the Bose QuietComfort 35 II headphones, which most users have reported to have one of the best build quality.
Ease of Use
Klipsch Ease Of Use
Klipsch devices are very easy to set up and use. With a wide range of ports for easy connectivity, such as the HDMI Arc port, setting up is as easy as plugging in and playing. Remote control support and iOS and Android apps also make it much easier to use your Klipsch devices.
Bose Ease Of Use
A great number of Bose products are easy to use. This means that even without technical know-how, you can operate them without stress.
For example, the QuietComfort 35 II headphone has a design that can be turned 360 degrees, adjusted to an angle, and can be folded easily.
The Soundlink Micro is another Bose portable Bluetooth speaker that is designed with a freestanding mount which makes it ideal for use anywhere including the bedside, bookshelf, and other places. This includes poolside too since the Bose Soundlink Micro is waterproof and can stand easily.
Cost
Klipsch Cost
Because of the materials used in Klipsch speakers, they tend to have premium prices, such as the RP-8000F floorstanding speaker, which costs from $800 to $1000 apiece. But they deliver much more than what you pay for. If you really care about the quality of the sound and the durability of your speaker, it is easy to overlook the cost.
There are also a few Klipsch product lines that do not cost as much (the Klipsch Reference RSB-3 home cinema speaker costs from $150 to $300, while a Klipsch Reference On-Ear headphone costs from $99 to $200), but sometimes this results in lesser than premium sound quality.
Bose Cost
One of the most important pieces of information you need to understand before choosing a Bose product is the fact that they are quite expensive. However, most people will unconsciously prefer to buy Bose products. This is basically for two reasons:
Bose has a brilliant marketing strategy which makes them one of the most popular brands in the world.
Bose speakers have a sound that makes your brain mimic the feeling of being in a live show. This is because of the tremendous investment by Bose in research and development.
Unfortunately, there are so many brands in the audio equipment industry with less prestige than Bose but which offer similar quality products at a lower price.
Check out the price tags for their most common products:
Bose earbuds: $180 – $450
Bose headphones: $100 – $550
Bose bass module speakers: $400 – $850
Bose Soundbar: $300 – $850
Space Requirements
Klipsch Space Requirements
Klipsch speakers have a wide range of sizes and therefore require different amounts of space for effective operation. For example, there are portable PC speakers that can be easily placed on a desk while there are large cinematic models that require much more space.
Bose Space Requirements
Most Bose products, including the home theater, AV receiver, and speakers, do not require too much space as they aren't normally large and bulk. They include shelf speakers, minimal home theaters, and AV receivers with pretty sleek designs.
Bose speakers such as SoundLink Color Bluetooth speakers can be used on the bookshelf without disturbing the arrangement of books.
Remote Controls
Klipsch Remote Controls
Klipsch supports some universal remote controllers as well as custom-made Klipsch remotes. This brings additional functionality to your devices.
Klipsch also has apps for both iOS and Android that can be used to control your Klipsch sound system remotely. The apps also allow for the use of voice assistants like Google Assistant, Spotify Connect, and Amazon Alexa, which respond to simple voice commands. Klips Stream allows you to stream directly from music platforms such as Spotify and Amazon Music.
Bose Remote Controls
Bose has invested a great deal in ensuring that its users get the best audio experience. The Bose remote control is a sleek gadget that allows you to control your home entertainment without stress. They add this remote to almost all Bose products except for the headphones.
A pretty interesting factor to admire about the Bose remote control is the fewer buttons. The remote control adds usability to its delicate design. It allows you to perform all the desired tasks with a few clicks of the buttons.
Connectivity Options
Klipsch Connectivity Options
Klipsch devices have several connectivity options including both wired and wireless choices. These include Bluetooth, NFC, WiFi, HDMI, USB Audio Analog/AUX, and so on.
This allows you to connect your Klipsch speaker to a lot of different devices such as phones, personal computers, TV, or used as part of a system of other speakers. The support for voice assistants also allows quick WiFi connection for several different speakers.
Bose Connectivity Options
Here are the main connectivity options compatible with most KEF speakers:
Power Range
Klipsch Power Range
Klipsch speakers consume much less power compared to other speakers of the same performance range. This is largely due to the horn tweeter that is used in their speakers, which reduces the need for a high-powered amplifier to boost the sound produced. 1 Watt RMS produces a 105 decibel at 1 meter sound pressure level (SPL), which is about 14–20 decibels higher than ordinary speakers.
The power range is different for each of the various Klipsch devices, so it is advisable to check the information included in the user manual.
Bose Power Range
The power rating of Bose devices is not shown on most of their devices. But, according to different reviews from their users, the power range depends on the kind of device.
For example, the power range of an average mini home speaker like the Bose SoundLink Mini 2 is around 30 to 50 watts. The wattage of a larger speaker, such as the Bose Soundbar 300, is around 65 watts.
Frequency Response
Klipsch Frequency Response
Klipsch speakers have very pleasing and natural frequency responses. The speakers all have frequency ranges that all lie within the recommended frequencies to produce full and natural sound.
Due to the diversity of devices produced by Klipsch, there is a wide range of frequencies ranging from about 30Hz to 15KHz. The information about the frequency response of a particular device can be obtained from the user manual.
Bose Frequency Response
Most Bose speakers have a frequency response of around 25Hz to 20kHz. However, for most Bose headphones, the frequency range is between 100 Hz and 10 kHz.
Conclusion
Klipsch has been in the speaker component manufacturing business for over seventy years and they have the experience to make great-sounding speakers as shown in their array of quality devices. If premium quality sound is what you want, Klipsch speakers are great options to try out. For those looking for a sound system that can simulate a live performance, Bose product is a good option. However, most audiophiles feel this is not a natural sound and it is hence heavily criticized amongst audiophiles.