As an Amazon Associate, we earn from qualifying purchases made on our website.
Last Updated on January 8, 2023 by Norvan Martin
How do the Logitech Z623 and the Klipsch Promedia 2.1 compare their sound quality?

The short answer is that it varies from person to person. It comes down to personal preference, so if you're curious about which speaker set is best for you, then continue reading.
Before we look at the Logitech Z623, please note that there has been an upgrade called the Logitech Z625. You can check out our article on Logitech Z623 vs Z625 to learn more.
1. Design
The Logitech Z623 speakers are the best floor-standing speaker for PC gamers who want a unique design to match their gaming theme. These speakers have a modern and stylish look 2 powerful satellite speakers and an active subwoofer make them stand out from other speakers.
2. Portability
If you are looking for a speaker that can go anywhere or be used in different places, the Logitech Z623 would be ideal. This is because of its compact size and small weight, making it easy to carry around to other locations.
It comes with a 3-year limited hardware warranty that offers assistance if any problem arises regarding your computer or laptop. Hence, you don't have to worry about being stuck in one place due to technical mishaps while continuing your gaming.
3. Pricing and Budget
The Logitech Z623 speakers are affordable. The quality of sound it produces is unbeatable for a speaker of this price range, making them an excellent option to consider when going out to get new speakers for PC gaming.
Logitech Z623 400 Watt Home Speaker System, 2.1...
THX-certified 2.1 speaker system brings your music, movies and games to life in immersive studio-quality...
RCA and 3.5 millimeter inputs make it easy to plug in up to 3 audio devices - your computer, iPod, game...
2 satellite speakers and a powerful subwoofer deliver sound big enough to fill even large entertainment...
4. Sound Quality
This speaker has a total output power of 40 watts RMS, making these speakers perfect for small rooms. If you want to use them in a larger space, they still perform well since you won't need all that power from these speakers due to their size. Also, another factor to help with the size of these speakers is how powerful they are.
5. Connectivity
The Logitech Z623 has a 3.5mm jack, so you can easily connect your speakers to any device that has a headphone jack, whether it be an MP3 player, mobile device, or computer.
It also comes with a 6ft cable for the subwoofer and 2ft cables for the satellite speakers. They are long enough to cover most areas of computer setup in case you don't have wires long enough already.


6. Space Considerations
The Logitech Z623 is designed to not take up much space on your desk or table since they are compact because of its small satellites. This makes them ideal PC gaming speakers for people who have very little space at their computer desks.
Overall, if you are looking for outstanding performance in speakers while utilizing all possible space, this speaker should be considered because of its size and price.
1. Design
Modern looking but not too flashy

Many gamers think that speaker design doesn't matter until they hear their first set of good-sounding computer speakers. The Klipsch ProMedia 2.1 are no exception to this principle as they are reasonably good-looking even though they are by no means flashy.
The two satellite speakers are magnetically shielded, and both have a volume control on the right side. There's also a bass knob and headphone jack on the front face of the subwoofer, which has rubber feet that prevent it from moving around and keep it steady even at high volumes.

2. Portability
Can be moved with little effort
Most people would think that these speakers aren't portable because they're larger than most other multimedia speakers (though some may argue about "portable").
However, if you purchase stands for them (such as these recommended ones), this speaker system is highly portable as it can easily fit into your backpack or laptop bag without taking up much space.
Moreover, each satellite speaker weighs about 1 lb., which is a lot lighter than most other speakers in this size and price range.
3. Pricing and Budget
Well worth the value for the price

Many people have been saying that the Klipsch ProMedia 2.1 is perfect for those who don't have a big budget but still want good-quality sound from their computer speakers.
Klipsch ProMedia 2.1 THX Certified Computer...
LEGENDARY SOUND EXPERIENCE FROM KLIPSCH AND THX - The Klipsch ProMedia 2.1 THX Certified Speaker System pairs...
KLIPSCH MICROTRACTRIX HORN TECHNOLOGY makes a major contribution to the ProMedia's amazing clarity. Their...
POWER & ATTITUDE - The two-way satellites' 3" midrange drivers blend perfectly with the ProMedia THX...
In fact, according to many buyers on Amazon, they're probably some of the best low-priced multimedia speakers out there.
This is when it comes to delivering high amounts of clarity in music and dialogue in movies/TV shows with little distortion at high volumes (which is another common flaw among low-cost computer speakers).
4. Sound Quality
Amazing clarity, bass that packs a punch

If you listen to music or watch movies with the Klipsch ProMedia 2.1, you will be astounded by how good they sound for their price.
While most multimedia speakers in this price range suffer from muddy low frequencies and tinny high frequencies, the Klipsch ProMedia 2.1 excels at both making songs sound warm and filling out dialogue soundtracks so you can hear what they're saying better than ever before.
Moreover, the subwoofer vibrates with such significant power that it almost sounds like surround sound (if your ears are sensitive enough). This is surprising considering that this speaker system is one of the few that do not claim to be surround sound capable.


5. Connectivity
Dual auxiliary inputs, headphone jack
The Klipsch ProMedia 2.1 features dual auxiliary inputs on the front face as well as a headphone jack (great for those late-night gaming sessions without bothering family members or roommates).
While it doesn't feature USB power or Bluetooth compatibility like those more expensive models mentioned earlier, it does have all the necessary connections you need if you're setting up a simple desktop computer experience.
However, those who want wireless connectivity will probably want to go with one of those high-end models mentioned above.
6. Space Considerations
Sits right on your desk
Since most multimedia speakers require a little bit of space to sit on top of your desk, many people do not have room for them.
However, this is not the case with the Klipsch ProMedia 2.1, as it can easily rest within arm's reach and doesn't take up too much real estate. This is even if you put your computer tower underneath it since one satellite speaker sits on each side of your monitor.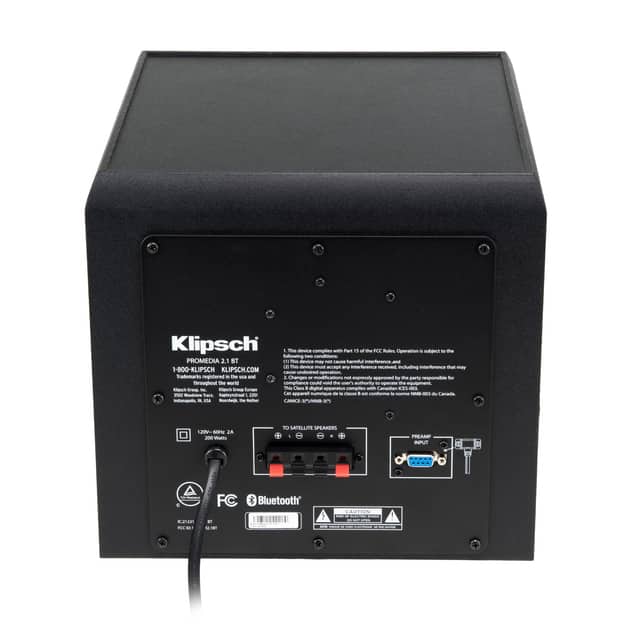 Those who want a more discreet audio solution may prefer those premium models mentioned above, though.
Pros of Logitech Z623
The power of the speakers makes them suitable for both PCs and TVs
Room-filling sound quality from these beasts
AUX-in port has three input ports
Easy controls for volume and bass via the subwoofer
RCA cable lets you play TV audio wirelessly through these speakers
Control pod and power switch for easy access
Cons of Logitech Z623
Sound leakage, primarily through the subwoofer, can be easily heard by people around you if you even turn down the volume or have music playing softly
A slight buzzing sound, has been reported by a few users yet is not as severe as the problem of sound leakage.
Pros of Klipsch ProMedia 2.1
The speakers provide excellent sound for the price you pay for them.
They are very lightweight and easy to set up without help from others.
Their size is convenient for desktop use, but they can also be used on the go due to their portability options.
You can use more than one pair of these speakers at a time because there is no interference going on between each speaker set when you do this.
The price is affordable for most budgets.
Cons of Klipsch ProMedia 2.1
The frequency range of these speakers is too limited for music with many different instruments or complex rhythms.
These speakers are not recommended for classical or acoustic music genres.
Klipsch ProMedia 2.1 vs Logitech Z623 – Which Is Better?
What makes the 2.1 different: The Klipsch ProMedia v2.1's most impressive feature is its dedicated subwoofer.

This allows the system to deliver better sound than you would expect from a speaker this size and deeper bass than what other compact designs can manage without such an addition.
There isn't much in the way of unique features to speak of, but then again, that's not what you're looking for when it comes to computer speakers anyway.

The two satellite speakers each have a 3″ driver and their amps (15 watts per channel). They both have 3.5mm inputs so you can hook your computer directly up to them, or even an MP3 player if you choose.
There is also a 1/8″ headphone jack for private listening sessions, which is convenient if you don't have anywhere to stash it while not in use.
Conclusion
After research and hands-on testing of both systems, it is clear that the Klipsch ProMedia 2.1 speakers are the superior choice in every way except for the price. Let's look at why:

The Klipsch Promedia 2.1 system wins for sound quality because of its tight bass, crisp mids & highs, and incredible volume output capability.
The subwoofer has an adjustable crossover, allowing you to choose the frequency that transitions from your main speakers to your subwoofer, depending on how much bass you want or don't want in your mix (50Hz by default).

The Logitech Z623 is a more expensive speaker system with many great features but falls short compared to the Promedia 2.1 system. The Z623 has a remote control and an auxiliary input, which is excellent if you want to plug your phone or another audio source into the speaker system.
It also features Dolby Digital decoding and comes with a decoder to playback uncompressed PCM and DTS audio files. Unfortunately, it doesn't deliver as well on bass & volume as the Promedia 2.1 speakers do due to its lower wattage.
Norvan Martin is the founder of BoomSpeaker.com. He is a professional Electronics Engineer and is passionate about home theater systems and AV electronics. BoomSpeaker was created as an online hub to share his knowledge and experiences as it relates to home theaters and home audio electronics.
My email: admin@boomspeaker.com
Connect on Pinterest and Linkedin