KEF and Elac are two renowned and well-respected brands in the audio industry that produce high-quality speakers, headphones, soundbars, and subwoofers
In this article, we will cover a general overview of both brands, looking specifically at the sound quality, durability, price, and so on. Of course, each brand has different devices at different price points. However, we will compare them as closely as we can.
KEF is a well-respected brand in the audio industry for its innovative speaker design, while ELAC is a well-regarded brand known for its high-quality speakers and home theater systems.
KEF vs Elac Comparison Table
| Criteria | KEF | Elac |
| --- | --- | --- |
| Brand Reputation | High-End Audio Specialist | Respected in Hi-Fi Audio |
| Sound Quality | Reference-Grade Sound | Clear and Detailed Sound |
| Build Quality/Design | Premium Build, Modern Design | Quality Build, Elegant Design |
| Product Range | High-End Speakers, Audio Systems | Speakers, Subwoofers, Audio Systems |
| Pricing | Moderate to High | Moderate to High |
| Features | Uni-Q Driver Technology, Advanced Features | Concentric Driver Technology, Innovative Features |
Before we continue, you can check out similar comparisons in the series:
Pros and Cons of KEF:
Pros: Known for producing high-quality speakers with excellent sound quality and strong bass response. Many of their products are designed to be aesthetically pleasing and can be a good fit for a home theater setup.

Cons:

Some of their products can be expensive, and some users have reported issues with durability.
Pros and Cons of ELAC:
Pros: Known for producing high-quality speakers with excellent sound quality and strong bass response. Many of their products are designed to be aesthetically pleasing and can be a good fit for a home theater setup.

Cons:

Some of their products can be expensive, and some users have reported issues with durability.
Quick History
KEF Quick History
KEF has a long and distinguished history. The company was founded in 1961 in Maidstone, Kent, by Raymond Cook OBE, a BBC engineer. The British company specializes in designing and producing high-end audio products, including speakers, subwoofers, and headphones.
KEF introduced Uni-Q, the world's first coincident source speaker driver, in 1988, and it still remains a landmark feature in nearly all its speakers today.
The first KEF speaker, the three-way K1, was built from synthetic materials. In 1973, the company became the first loudspeaker manufacturer to implement the use of computers in loudspeaker design and measurement in the whole world.
It continued to develop the use of acoustical, mechanical, and magnetic modeling techniques in speaker design, including the Finite Element Analysis in the 2000s and revealed the Acoustic Compliance Enhancement (ACE) in 2005. In the 2010s, KEF launched the BLADE, EGG wireless speakers, and MUO portable speakers, among other brands.
Elac Quick History
Elac was founded in 1926, which was just a few years before the Second World War. It became prominent during the war with the production of electroacoustic devices and a range of other nautical applications for the Kriegsmarine.
After the World War, the brand expanded into the production of consumer audio products, including loudspeakers, subwoofers, and sound monitors.
Sound Quality
KEF Sound Quality
KEF engineers classy, superb-sounding speakers and is one of the finest manufacturers of British hi-fi audio equipment. This is why audiophiles around the world revered KEF for its innovative, high-performance audio systems.
KEF's company's ethos is based on R&D, engineering, design, and development found in their trademark technology, including:
Their Uni-Q driver array and Metamaterial Absorption Technology ensure that KEF speakers produce high-quality natural surround sound.
The Metamaterial Absorption Technology is a complex maze-like structure that helps the speaker absorb up to 99% of unwanted sound resulting in less distortion and pure, natural sound.
The Single Apparent Source technology helps to eliminate interference and contributes to clear, accurate, authentic, and immersive sound.
Elac Sound Quality
The sound quality of most Elac speakers is out of the box, and with an impressive delivery of audio clarity.
For example, the ELAC Debut 2.0 bookshelf speakers offer crisp sound, outstanding detail, and thunderous bass.
Elac subwoofers produce a bass effect that is soft and warm, which makes them a lot more comfortable to listen to. For example, an Elac B6 loudspeaker delivers a 3-dimensional sound effect that instantly fills the room.
Features
KEF Features
Here are the main features of KEF products:
Uni-Q drivers for the elimination of "sweet spots" and enhancement of surround sound
Tweeters mounted into the center of the mid
Metamaterial Absorption Technology for eliminating distortion and enhancing the production of pure, natural sound
Flexible Port Technology
Single Apparent Source Technology
Elac Features
Some key features found in some Elac speakers include a cloth dome tweeter, woven aramid-fiber cone woofer, and a front-firing flared port (in a few others).
Most Elac subwoofers come with high excursion doped paper woofers with a Bridged Amplifier Switching Hybrid (BASH) tracking amplification.
Build Quality
KEF Build Quality
KEF speakers are designed to look acoustically exceptional and attractive. Besides, they are precisely built to the outstanding standards of KEF.
The Reference cabinets are built using finite element analysis to precisely determine bracing geometry and shape and reduce secondary radiation.
The Constrained Layer Damping applied to the finish helps turn any little vibrations into heat that is quickly dissipated.
Elac Build Quality
Elac loudspeakers have great durability, an impressive finish, and a solid build. An example is the Elac 2.0 B6.2 bookshelf speaker that has a brace built into it to reduce the overall vibration of the speaker and ultimately improve its durability.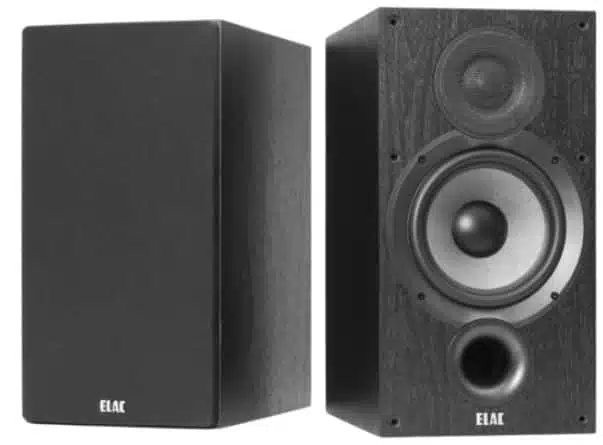 Most Elac audio products are built with either a wood or vinyl body and have a nice finish that ensures they don't wear out easily.
Ease of Use
KEF Ease Of Use
The Reference speakers are clearly undemanding in terms of positioning and space as they are sleek and compact. The REF5 and REF107 are good examples.
They are easy to fine-tune to conform to your listening area using the Flexible Port Technology. Also, the speakers and subwoofers come with remote control systems that make them easier to navigate without changing your sitting position.
Elac Ease Of Use
Although Elac products are produced for consumer use, most of them require a bit of technical knowledge to operate.
For example, while the Elac Debut 2.0 B6.2 speaker is said to be designed for bookshelf and wall mounting, the speaker does not come with wall mount hardware which might make it hard to mount on walls without the technical knowledge of a professional.
Cost
KEF Cost
Speakers: $50 to $5,000
Subwoofers: $40 – $2000
Headphones: $50 – $500
Elac Cost
Elac products are quite expensive. The brand believes paying more for a product is a way to appreciate the quality and engineering of that product.
Elac bookshelf speakers have a price range of $180 to $3000, with the Elac Vela BS 403 (a bookshelf speaker) being sold for around $3000.
Also, most Elac portable subwoofers are in the price range of $150 and upward. The floor-standing speakers have a price range of $400 to $3800.
Space Requirements
KEF Space Requirements
Vintage KEF speakers do tend to be large and bulky, but this generally applies to all vintage speakers.
KEF considers placement while designing its speakers to make it easier to enjoy listening to surround, even in small spaces. They are therefore small and easy to install. The speakers are also designed with smooth edges to make it easier to place them anywhere in the room.
Elac Space Requirements
However, some of the Elac speakers and subwoofers have a nice internal brace, which makes it easy to arrange them closer to the wall without affecting the sound and creating enough space around them.
Elac speakers can be arranged closer to the sitting area without causing discomfort since they do not vibrate while in use.
Remote Controls
KEF Remote Controls
KEF speakers come with remote controls. However, KEF also sells replacement remote control systems separately to make life easier for their product users.
The replacement remote controls are classified into HiFi, standard V1, or Luxury V2. They sell at different prices and come with different features, with the Luxury V2 remote system having the most variety of features.
Elac Remote Controls
Very few Elac products come with a remote control. One of the few that come with a remote are Elac amplifiers and Elac Hi-Fi Stereo system.
Connectivity Options
KEF Connectivity Options
Here are the main connectivity options compatible with most KEF speakers:
Elac Connectivity Options
Here are the main connectivity options compatible with most Elac speakers:
Power Range
KEF Power Range
KEF speakers can rock up to 1000 watts of power and work perfectly well with amplifiers of between 15W and 300W.
The headphones can deliver up to 5mW maximum power output. On the other hand, the subwoofers consume up to 1000W peak power with up to 300W RMS recommended amplifier power.
Elac Power Range
Elac bookshelf speakers have a power range that is around 40-140 watts. The power range in the Elac subwoofer goes from 100 watts in the Elac Debut 2.0 S10.2 subwoofer to 1000 watts in the Elac Debut 2.0 Sub3030.
Frequency Response
KEF Frequency Response
KEF specifies a frequency range of up to 47 kHz. The low end of this range depends on the bass extension setting used. However, a wide range of KEF speakers responds well between 64 Hz to 28 kHz.
Elac Frequency Response
The frequency range for most Elac subwoofers is around 28-150Hz. In a 2-way center speaker such as the Debut 2.0 C5.2, the frequency range is about 55Hz to 35kHz. Also, Elac bookshelf speakers have frequency ranges from 44Hz to 35kHz.
Conclusion
For over 50 years, Kef remains a reputable hi-fi brand. The sound quality is superb and the speakers are easy to install. The vintage speakers are however bulky and will require large spaces for placement. On the other hand, Elac devices have great deliverability with the build quality and overall sound quality. However, when getting an Elac product, you need to understand that they have a design that requires enough space because of the boxy design.