KEF and B&W are two of the most recognized names in the audio industry today. These brands have produced iconic audio equipment over many decades so it is understandable why many people have a hard time choosing between the two.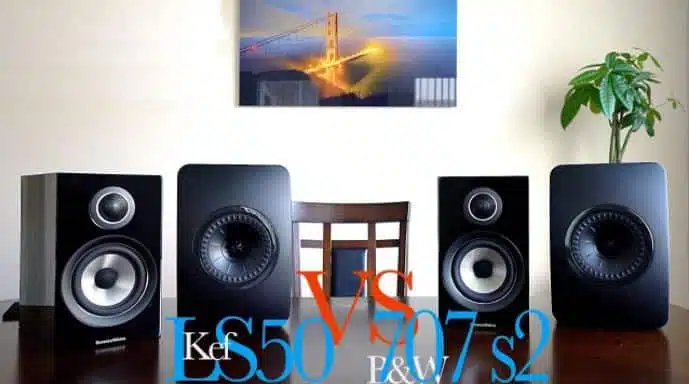 In this article, we will be comparing KEV vs Bowers and Wilkins (KEF vs B&W) to help you to make the best choice in choosing your audio equipment.
Quick Comparison: KEF and B&W both produce excellent speakers. Both are great for music with KEF being strong in the midrange and B&W having better bass. In most cases, you will be better off going for a KEF because they are more modern, better designed, and often cheaper.
For this comparison, we will be comparing the KEF LS5 and the B&W 706-S2 as examples. These are two of the best speaker systems from both companies.
KEF vs Bowers and Wilkins (B&W) Comparison Table
| Criteria | KEF | Bowers & Wilkins |
| --- | --- | --- |
| Brand Reputation | Known for innovative speaker technology. | Renowned for high-end audio products. |
| Sound Quality | Precise and clear audio reproduction. | Exceptional sound quality with attention to detail. |
| Build Quality/Design | High-quality build with modern aesthetics. | Crafted with premium materials and stylish design. |
| Product Range | Extensive lineup from bookshelf to floorstanding speakers. | Diverse range including high-end audio solutions. |
| Pricing | Varies, with options in different price ranges. | Tends to be positioned in the premium to luxury price range. |
| Features | Innovative technologies for accurate sound reproduction. | Advanced features for an immersive audio experience. |
History and Development KEF vs Bowers and Wilkins
KEF History
KEF is an audio equipment manufacturer founded in Britain in 1961 and is one of the finest British hi-fi companies around right now. Today, the brand is owned by GP Acoustics, a Hong Kong-based company, although R&D still happens in England.
Over the years, KEF has engineering classy, superb-sounding speakers. In fact, KEF was once considered the leader in the audio industry, not because they were the leaders in sales, but because a significant portion of their annual budget was R&D.
However, at one point in time, many people were complaining about KEF for failing pushpuh new products.
For example, after the release of its iconic Uni-Q (point source driver array in which the tweeter is instead set into the center of the mid rather than having a separately mounted tweeter and a midrange driver), the company seemed to have slowed innovation sometime after that.
Today, KEF has changed gears and is keeping pace with the latest technologies by diversifying into wireless speakers, including Bluetooth speakers and wireless all-in-one streaming systems such as their LSX Wireless Music System.
Bowers and Wilkins History
Bowers & Wilkins, or B&W is also an audio manufacturer that was founded in Britain, but in 1966, 5 years after KEF was founded.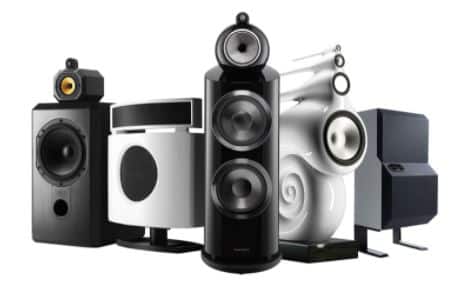 Since then, B&W has had audio distribution agreements with several audio distributors including Aura and John Bowers. Today, the company has grown to have a great influence on the global hi-fi market.
In terms of R&D, B&W's notable innovations include the Kevlar dome, the Nautilus enclosure, and now diamond tweeters. In fact, at the time, they were doing all of this while KEFR seems to have slowed down innovation.
However, that was a few years ago. Today, KEF has made a difference with its venture into wireless systems and streaming devices.
Currently, some of B&W's flagship devices are old and outdated but still considered iconic. For example, their 800 series speakers are considered among the finest speakers in the world.
Bowers & Wilkins also made an important partnership in 2017, becoming the official headphones and loudspeaker partner of Abbey Road Studios.
Device Build and Durability
KEF
KEF devices are generally considered to be fairly durable. After all, this is one of the reasons why KEF is a notable brand. For example, speakers from their Reference, Q, R, and LS series are some of the longest-lasting you will find around.
However, their higher-end devices should carry better build quality. For example, when you look at their XQ line, compared to other speakers that I have seen in the $2000 plus range, that strong build quality is lacking.
For example, the components aren't fitted perfectly, the spikes are not grooved accurately, and so on. These do seem like small problems but they play a major role in durability!
They have made a real effort to continually experiment with new materials and technologies.
This way, they have been able to create products with superior acoustic quality. As an example, KEF spearheaded the use of synthetic materials to produce diaphragms and driver surrounds.
Bowers and Wilkins
B&W is in many ways old school and that shows in their construction of very durable devices. Many of them were hand-built and have very strict specifications to ensure durability. This is why you will see many legacy B&W devices still making the cut today.
It's hard to beat KEF in terms of durability, but since B&W's models were mostly designed in a time when speaker design for durability and not aesthetics was critically important, B&W does stand out in this area.
⭐️ Winner: B&W ⭐️
Design Quality
KEF
KEF has designed some good speakers over the years, with particular attention to simplicity and durability.
Today, they emphasize stunning designs with compact packages that are ideal for your interior space.
Take, for example, the unique design of the LS50. Just look at the detail in the single rose-color driver sporting radial fins, and how the cabinet is the swept-back front baffle.
Simply beautiful. Yet, it's quite minimal but impressive and creatively designed.
Bowers and Wilkins
In general, B&Ws are compact and beautifully built. B&W has made several innovations in the design of speaker systems.
Most notable of these is its kevlar dome and of course the Nautilus enclosure. The Nautilus was a revolutionary design concept when it was introduced and is in fact, still a marvel today.
Many of B&W's design choices are considered strange. They do tend to stand out, with tweeters mounted on top and other unique design choices.
However, B&W falls back a little when it comes to modern styles and modern design concepts that fit modern interiors. Many of their designs are basic and not as intricate as KEF. In terms of minimal and clean designs, KEF has certainly made the cut above B&W.
⭐️ Winner: KEF ⭐️
Price
In general, both KEF and B&W have affordable speaker models. However, they do sell a lot of expensive, high-end devices as well.
For their more traditional devices, however, you'll find that B&W's aren't as popular and so may cost more.
For example, in comparing the KEF LS50 to the B&W 706-S2, you will find that the B&W 706-S2 is about $300 to $500 more expensive. In this case, you will need about $2,500 for the 706-S2 but on the other hand, you can get the KEF LS50 for just about $1,600 per pair.
You can actually find the B&W 706-S2 for a similar price from some retailers, but you may need to search quite a bit.
⭐️ Winner: KEF ⭐️
Sound Quality
Before we get into a discussion about sound quality, it's important that we understand that sound quality is a very subjective thing.
Having said that, there are some elements of sound quality that you can definitely compare to determine which devices sound better.
But still, because sound quality is subjective, you need to listen to the speakers before you buy. Moreover, with high-end speakers such as these, you should listen in person.
In our example, we are comparing the KEF LS50 vs the B&W 705-S2 in terms of sound quality. here is what we found:
KEF
KEF tries its best to design speaker systems that can reproduce recordings as naturally as the original performance.
As far as this is concerned, LS50s are excellent speakers that can deliver a stellar performance. We are talking about strong emotion, color, and texture.
However, they aren't perfect. For example, they emphasize the midrange and they are not very not efficient. However, they pack pretty good bass for their size and sound quite balanced at the top end. In general, they are great for music.
Bowers and Wilkins
When it comes to sound quality, the 705-S2 is pretty good and excellent. We could really hear every detail of every different instrument and vocals of the tracks we chose.
Very immersive and stellar experience. We must say however, they did not have the kind of color and texture that the LD50 was able to deliver. Some would describe them as pale.
It is in fact one of the only speakers in its price range that can even rival the KEF LS50 in terms of sound quality.
However, like the LS50, it is not very efficient. The audio imaging can also be a bit unstable sometimes. Also, while they are rather bright, they tend to be quite harsh on the top end.
Don't Buy These Brands Before Listening To The Speakers
We already pointed out the importance of actually listening to these speakers before buying.
The example above is a great way to illustrate this. One speaker is balanced at the top end while the other is a bit harsh.
However, some people may fancy the harshness rather than a neutral sound. They will tell you the highs are more pronounced for example.
It all depends on personal taste, as a good speaker for one person will be a bad one for another. Listen to both and decide for yourselves. You are your best judge.
Therefore, the only way to be safe is by listening to the speakers you're considering at home, with your own setup. If you can't get them at home, then go to a store and have the attendant play some songs on the speakers before choosing.
Room Acoustics and Sound Quality
The acoustics of your room are another important consideration when it comes to sound quality. The same speakers can sound great in one room and crap in another. This is simply because each room is different and so affects sound differently.
For example, if your room's walls are very thin, they may pass along a lot of bass to the outside or to adjacent rooms. You need to consider that before deciding how bad-heavy you want your speakers to be.
So remember, what sounds good to you will depend on the types of music you enjoy, the rest of your home theater system, and the room it's in.
⭐️ Winner: Both sound great, sound quality is subjective! ⭐️
Example Devices and Models
Below we have listed some of the best and most popular KEF and B&W devices ever made:
KEF
Here are our picks of top KEF speakers of all time:
KEF LSX
KEF Q350
KEF R3
KEF LS50 Wireless
KEF R5
B&W
B&W DM110
B&W Matrix 805V
B&W CDM1
B&W Signature 30
B&W Nautilus 801
KEF LS50 vs B&W 707 S2
We have used the KEF LS50 Vs. B&W 707 S2 is an example comparison for this article comparing KEF vs B&W.
Below we will compare these specific speakers directly to help you to see how two equivalent KEF and B&W speakers compare.
B&W 707 S2
Pros: Accurate Sound, Great Midrange, Great Bass Performance.
Cons: Can Get Bright With Some Music.
Build Quality: ⭐️ ⭐️⭐️ ⭐️
Highs: ⭐️ ⭐️ ⭐️⭐️
Midrange: ⭐️ ⭐️ ⭐️⭐️⭐️
Bass: ⭐️ ⭐️⭐️⭐️
Sound Stage: ⭐️ ⭐️ ⭐️
Price: ⭐️ ⭐️ ⭐️
KEF LS50
Pros: Good Bass Performance, Best Midrange Under $5k.
Cons: None At This Price.
Build Quality: ⭐️ ⭐️⭐️ ⭐️
Highs: ⭐️ ⭐️ ⭐️ ⭐️⭐️
Mid-Range: ⭐️ ⭐️ ⭐️ ⭐️
Bass: ⭐️ ⭐️ ⭐️ ⭐️ ⭐️
Sound Stage: ⭐️ ⭐️ ⭐️ ⭐️ ⭐️
Price: ⭐️ ⭐️ ⭐️ ⭐️⭐️
Pros and Cons
KEF Pros and Cons
Pros
Great bass
Excellent, modern design
Emotion, color, and texture
Cons
Build quality is not the best for expensive models
Bowers and Wilkins Pros and Cons
Pros
Excellent bass
Great tridimensional soundstage and great detail
Audio elements are colorful and vivid
Cons
Older designs that may be a bit strange for some people
Lack of emotion, color, and texture in some devices
Summary – KEF vs B&W
KEF is a well-known audio manufacturer that has produced some of the best Bookshelf speakers, studio monitors, Bluetooth speakers, and other devices on the market. They are well known for their sound quality, unique designs, and compactness. B&W on the other hand is also a well-known audio manufacturer which has produced some well-known headphones and loudspeakers. The company is well known for its well-designed and durable audio devices.
Are KEF Speakers Good For Movies?
When watching a movie, a lot of sound effects go into creating the required ambiance needed to set the tone for each scene. Low-frequency audio signals are used to create the effect which can only be picked up by high-quality speakers.
KEF speakers possess equalization technology, which helps to adjust your listening experience for optimal audio quality.
Are B&W Speakers Any Good?
Just like other high-end speaker brands on the market, the B & W speakers perform better with careful positioning, high-quality speaker cables, and a great amplifier.
The B&W speakers are a unique brand of speakers (more commonly known for their bookshelf variants) that produce top-notch sound, as good as you could ever expect from any speaker design.
Does KEF Q350 Need A Subwoofer?
The KEF Q350 series is characterized by its warm and neutral audio signal quality. Due to these features, the KEF Q350 is complimented nicely by any high-quality subwoofer or amplifier with designated woofer output.
Are Bowers And Wilkins Worth The Money?
The Bowers and Wilkins range of speakers is an expensive brand even among other high-end designs. This is due to their unique sound production quality.
Audiophiles and sound enthusiasts around the world are in agreement on this; the Bower and Wilkins speaker series is worth the money.
What Are The Bowers And Wilkins Sounds?
The Bowers & Wilkins brand was created to produce the most interactive sound experience possible. The speakers are designed to make sure all listeners can hear distinct sounds, no matter the seating arrangement.
Conclusion
The fact of the matter is that you won't go wrong with either KEF or B&W, especially at the higher price point.
That said, they do sound different. So it is important that you buy what you can hear, and what you like. So, it's best to listen before you buy!
Remember, speakers are personal and so what you may like another person may not like so much. In any case, if you are buying online, make sure the merchant's return policies, including shipping costs are simple and cheap.