Today we're going to look at the Audioengine vs. Kanto-powered speakers and ultimately decide which of them is better suited to provide a home theater listening experience for TV shows/movies/music, etc.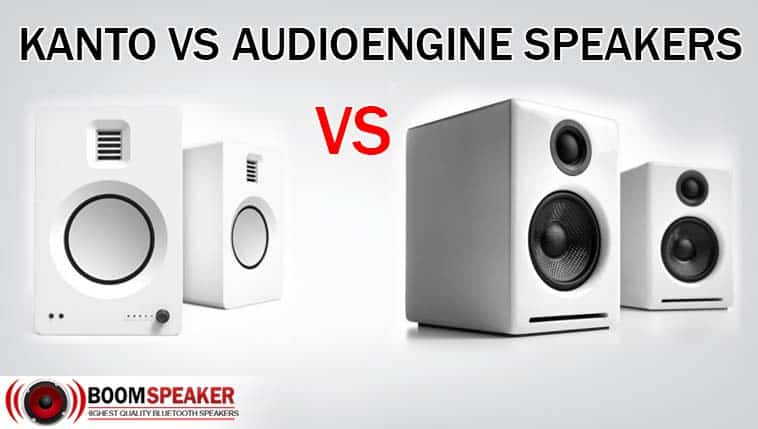 Kanto vs Audioengine Speakers Comparison Table
| Criteria | Kanto | Audioengine |
| --- | --- | --- |
| Brand Reputation | Emerging | Established |
| Sound Quality | Clear and Balanced | High-fidelity |
| Build Quality/Design | Modern and Sleek | Stylish and Robust |
| Product Range | Varied Selection | Diverse Options |
| Pricing | Affordable to Moderate | Moderate to High |
| Features | Bluetooth Connectivity | Advanced Connectivity Options |
Audioengine Features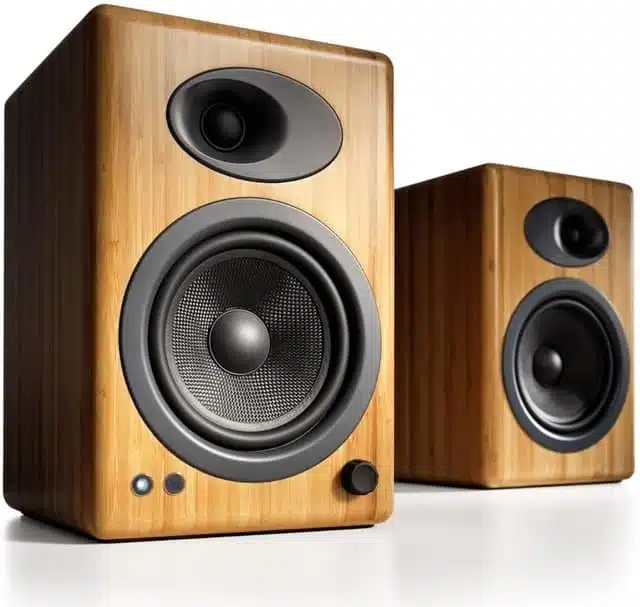 1. Design and Portability
Audioengine speakers are designed to look sleek and compact. They can be easily transported and set up in any position, even mounted on walls or ceilings for various purposes.
These speakers come with a USB cord and 3.5mm aux cable that helps them play music from your computer or mobile device. This is without requiring any external equipment such as an amplifier or sound system. This is often the case with conventional coffee table speakers. It has a Bluetooth range of 30 feet (9 meters).
The A2+ model has a built-in power adapter. In contrast, the A5+ models have both wired options and batteries for wireless playback. This adds mobility to these speakers, making them perfect for outdoor use, picnics, camping, hiking, and more.
2. Pricing and Budget
Audioengine speakers are available at a reasonable price. This makes them an excellent option for consumers looking to buy affordable yet quality speakers for their multi-purpose use at home or in the office.
Prices range from $199 to $599, depending on the model of your choice. You can choose from Audioengine A5+, Audioengine P4, Audioengine HD3, etc. In addition to this, you have a wide variety of colors to choose from – Black Walnut, Rosenut, Natural Maple, and Piano Blue.
This is to make it blend with your existing decor while enhancing its overall appeal. This is an essential criterion often overlooked by many buyers while buying speakers.
3. Sound Quality
One of the best features of Audioengine speakers is that they come equipped with high-quality Kevlar woofers and silk dome tweeters.
They both are large drivers that enable these speakers to provide excellent sound dispersion without causing any distortions. With a frequency response of 55Hz-22kHz, these speakers can playback even the lowest frequencies.
4. Connectivity
Connectivity is one of the most important factors when choosing a speaker, especially when it comes to home/office use. Audioengine A5+ and A2+ models offer various connectivity options, including USB, RCA, and Bluetooth.
Therefore, you can connect them to your computer or mobile device without any hassles making them great for music playback.
The integrated audio inputs on these models make it easier than ever before to play songs directly from your phone, tablet, or laptop using aptX technology rather than waiting for files to transfer via Bluetooth connection. This often takes several minutes with conventional speakers.
5. Space Considerations
Another essential aspect to consider while purchasing speakers is the space you plan to place them. Audioengine A2+ and A5+ are compact enough that you can place them on your shelf or desktop without any trouble using their built-in wire stands.
These speakers are ideal for small apartments, dorm rooms, offices, etc., making them perfect for small spaces where space is at a premium.
You can also mount these speakers on your wall, making your room look tidy and clutter-free. This is because wires will be hidden behind the walls instead of lying around, creating an eyesore.
Kanto Features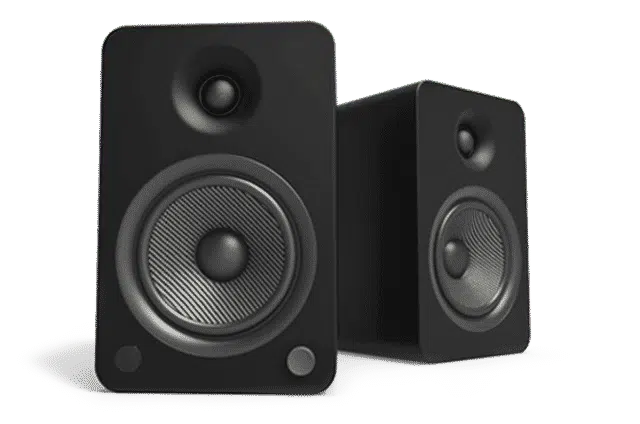 1. Design and Portability
Design is an essential part of Kanto speakers because it ensures that they are portable. There are many styles available, so making sure that the one you choose is easy for you to carry around will help you get what you need out of the product.
Furthermore, Kanto has a wide range of colors available. Hence, if the color fits into your plan for whatever adventure you are going through, your speaker should be able to fit seamlessly into this process.
2. Pricing and Budget
Kanto speakers are all at different prices for different needs. The more features being added, the higher the price, but these are still within reason to cover costs for materials and labor, and Kanto is constantly running promotions on their speakers.
If you decide that you would like to go with a lower-end model, it is offered at an even lower price point than normal, making it an easy choice when looking for affordability options.
3. Sound Quality
Kanto Speakers all offer high-quality sound without taking up too much space in your home or wherever you choose to use them.
It has been shown that speakers of this caliber can produce the same amount of bass as bigger models while still maintaining a small footprint and lightweight design. Therefore, moving them from room to room or house to house will not be a problem.
4. Connectivity
Kanto speakers are designed to make their use of them easy, from multiple sources of accessibility, including Bluetooth or USB connectivity. Whichever you choose to use with your speaker, it is within easy reach and simple to set up on any device.
This allows you to have a user-friendly experience when playing music. This can also help if you need a small sound system for a party or just at-home listening experiences where noise levels would typically pose problems for setting up something larger.
5. Space Considerations
All Kanto speakers take up less space than other competing products. Therefore, they allow users the chance to enjoy their high-quality sound without having too much concern about whether they can fit in their room or not.
Whether you are looking for a portable speaker that can fit in your bag or something you can set up on your desk at work, they are all available in small sizes to ensure the best experience is maintained each time a user uses them.
Pros of Audioengine
Great Sound (High Fidelity)
Compact & Portable
Good Quality Digital Audio Output, USB Power
Wide Connectivity Options
Minimalist Design
Cons of Audioengine
The lack of control knobs
The lack of variation
Pros of Kanto
Efficient low-frequency response
Intuitive remote control
Excellent build quality
Ultra-modern look
Great warranty term
Cons of Kanto
Cheap construction materials to save costs
Lackluster bass
Kanto vs Audioengine – Which Is Better?
The Kanto YU6 powered speakers are better options. For $100 more than the Audioengine's, you get class-leading build quality that rivals speakers 3 times the price, excellent audio clarity and accuracy across all frequencies (especially noticeable in vocals), and deep bass that reaches below 40hz (unlike the Audioengine's).
My only complaint was how tinny they sounded when not paired with their dedicated subwoofer. However, pairing them with an aftermarket subwoofer or even positioning them close to a wall will fix this issue for anyone looking to upgrade.
At the same time, The Audio Engine A5+ stands out as a great choice, too. Check out below.
If you crave the crisp sound of a classic album and don't want to compromise on sound, then this is a good option. It is for those persons who want to hear music in its original format, unaltered by digital devices and software.
With a turntable, many modern speakers are unsuitable, but the Audio Engine A5+ is the perfect set of speakers for the record-collector.
The elegant design includes Kevlar woofers
These speakers quickly fill the whole room with great sound
You'll enjoy top-notch sound at every frequency
If you like the Audio Engine A5+, we also have a complete list of other excellent budget speakers for turntables.
Conclusion
Overall, if you're looking for a bang for your buck in computer speakers, I can confidently say you should look no further than the Kanto YU6 speakers. They offer a well-rounded package of excellent sound quality, excellent build quality, and design, all while staying under $300.
While at the same time outperforming speakers twice their price in nearly every respect. If you're looking for premium computer speakers that truly deliver on all fronts, look no further than the Kanto YU6s.