As an Amazon Associate, we earn from qualifying purchases made on our website.
JBL and Sonos are two renowned and well respected brands in the audio industry and produce high quality speakers, soundbars, headphones and subwoofers.
Sonus speakers are often designed for home theater use and so tend to offer powerful surround sound and voice assistance. On the other hand, JBL speakers offer portability, good bass performance, good connectivity (pairing options), treble sliders, and overall loudness.


In this article, we will cover a general overview of both brands, looking specifically at sound quality, durability, price and so on.
Of course, each brand has different devices at different price points, however we will compare them as closely as we can.
Read on to learn more.
Before we get into it, here are some similar comparisons that you may be interested in:
Quick History
JBL Quick History
JBL was founded in 1946 by James Bullough Lansing just after World War II. It is headquartered in Los Angeles, California, USA. The company manufactures amplifiers, loudspeakers, and headphones with the JBL Professional LSR10S being one of its best-selling subs with a class D amp, among other features.
It is currently owned by Harman International after its Vice president Bill Thomas sold it in 1969.
In the 1970s, JBL entered the studio industry and launched its new technologies academy of motion pictures' first full-line portable system in the 1980s. Also, the company was the first to introduce titanium in high-frequency diaphragms.
Sonos Quick History
Sonos, Inc. is an American company that specializes in the development and manufacture of audio devices.
They are best known for their quality multi-room audio products. The company was co-founded in 2002 by John MacFarlane, Craig Shelburne, Tom Cullen, and Trung Mai.

The company displayed its first prototype at an industry event in 2004 and started shipping in early 2005. The company is always expanding its services internationally, for example to the UK in 2005 and Japan in 2018.
In January 2015, Sonos was rebranded by Bruce Mau Design, with a new visual identity and improved logotype.
Sound Quality
JBL Sound Quality
JBL speakers tend to depict a neutral, balanced sound profile. Their bass-heavy audio profile makes them ideal for party and personal use, especially for those looking for deep bass to listen to modern pop and hip hop music. The speakers are also loud with rich sound.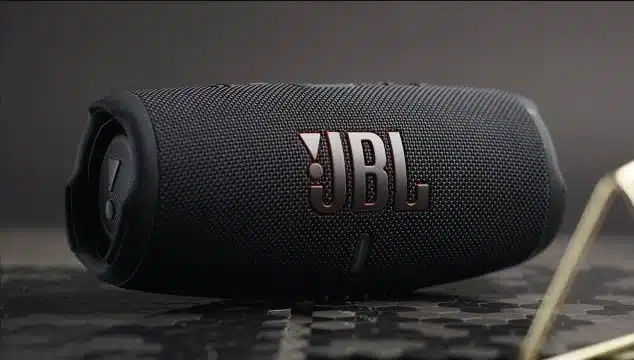 The speakers perform well in both high and low volumes. Built for DJs and other professionals, the speakers are tough and reliable. The Bluetooth speakers have long battery life lasting 24 hours or more.
On the other hand, JBL headphones are packed with features that help them deliver a well-balanced sound that closely follows the Harman curve.
However, the design and fit of these headphones are not very comfortable. A top-of-the-range JBL could sound unique with the depth, power, and accuracy every listener appreciates!
Sonos Sound Quality
One of the most distinctive features of all Sonos speakers is their superb audio quality. The sound output is rich and clean, with deep bass and clear mid-tones.
Sonos is well known for its home theater speakers and other audio systems.
Below are reviews and comparisons of various Sonos home theater systems:
Sonos has a team of seasoned musicians such as Grammy-winning music producer Giles Martin that assist in fine-tuning their speakers to ensure a natural and superior sound.
Each Sonos speaker sounds really great on its own but you can connect two or more speakers together for a really immersive experience.
Features
JBL Features
JBL manufactures futuristic speakers to ensure users can easily fit them into their modern home systems. Bluetooth speakers and subwoofers from JBL, for instance, come with the following features:
Polypropylene or cellulose-fiber cones
Rubber surround
Frequency response depends on specific speakers
Sensitivity of about 2.83V at 1 meter
Power handling up to 250W RMS
Sonos Features
Sonos is very popular for the suite of features that are incorporated into their products to ensure that you get the best out of your gadget. Most of the features ensure versatility in the speakers, which allows you to use them throughout the house, or outside.
Here are some features you can expect from your Sonos device:
Sonos App: The Sonos app is available for both iOS and Android to bring additional functionality to all your Sonos devices. Apart from functioning as a remote control for your speakers, it has a lot of other features such as the Calm app that plays relaxing music if you're going to sleep, or you can set your alarm so that you wake up to your favorite music. It also has a sound equalizer feature to tweak the sound of your speaker to your taste.
Sonos Trueplay: To produce the best sound effect wherever you are, Sonos has a tuning feature known as Trueplay. Trueplay optimizes the sound of the speaker based on the acoustics of the room they are placed in.
Support For Multiple Music Platforms: Sonos has partnered with over 100 music service companies around the world such as Spotify, Pandora, Tidal, and Amazon Music to ensure that you can listen to your favorite music, podcasts, or TV shows regardless of the platform you use.
Surround Sound: Sonos speakers can be connected to each other for a truly immersive stereo or surround sound experience.
Support for Bluetooth, WiFi, Airplay 2 streaming
Voice control support for Amazon's Alexa, Google Assistant, Apple Siri, and in-house Snips SAS
Multiple input and output ports such as HDMI and optical audio input for TVs and type C to charge the battery-powered
Build Quality
JBL Build Quality
JBL speakers are well built with Aluminum, Nickel, and Cobalt which is a strong high-power permanent alloy.
Also, the wireless speakers are high quality and built with solid features. The performance is reliable and they are waterproof which makes them all weather.
The headphones however have a plasticky build that makes them look average despite the well-balanced sound.
Sonos Build Quality
Sonos uses sturdy materials like polycarbonate for the grille and a mixture of ABS and 10% glass fiber for the chassis to ensure a solid build, though this makes their speakers bulky. But if you prefer durability to portability, Sonos is the way to go.
Some of their speakers have IP ratings, which means they are water-resistant and dust-resistant, therefore allowing for outdoor use.
Ease Of Use
JBL Ease Of Use
Setting up JBL speakers may not be easy if you are not ready to handle the process. However, if your speakers are within the Bluetooth range, JBL speakers will easily pair with nearby devices.
The subwoofers may not be very easy to set depending on your car, but they are easy to use. The wireless headphones are easy to use, whether you want to talk or just listen.
Sonos Ease Of Use
Sonos products have a minimalistic design and a clean look without a clutter of buttons, which makes the products easy to operate.
Older Sonos speakers have a pause/play button that can mute if you press and hold or skip a track if you double-click. Newer speakers have a touch-sensitive button that skips to the next or previous track if you slide from left-to-right or right-to-left.
Multiple speaker connectivity is easy to set up across different rooms using WiFi, Bluetooth, or connection to a single router.
Cost
JBL Cost
Bluetooth JBL speakers are available at a range of prices. You can, however, get them between 40 dollars and 400 dollars.
However, the GBL Go is still ranked the most affordable Bluetooth speaker owing to the added value of sound quality and portability. The cost is generally high due to the high cost of engineering, high cost of quality materials, and the cost of advertising.
Headphones: $10 – $200
Amplifiers: $50 – $5000
Sonos Cost
Sonos products are quite expensive, but they are known to always deliver quality regardless of their price tag.
Sonos products are known for always delivering excellent performance, build quality, and strong connections compared to other brands in the same price range. In short, Sonos makes products that give great value for money.
Here is a price range for some Sonos products:
Soundbars: $150 – $850
Smart speakers: $150 – $500
Premium speakers: $200 – $900
Amplifier: From $600
Subwoofer: From $700
Space Requirements
JBL Space Requirements
JBL speakers are built to fit in many room sizes. The Bluetooth speakers are tiny in size and easily portable. Therefore, you can easily place them anywhere in your room or carry them for an outdoor listening experience.
Sonos Space Requirements
Sonos speakers tend to be bulky, so they require ample space to use. Though this doesn't mean that it cannot be used on your desk or placed on a bookshelf.
Some Sonos speakers, like the Sonos Roam and Sonos Move, focus on portability. Therefore, they produce the excellent audio output that Sonos is well-known for at a reduced weight and size.
Remote Controls
JBL Remote Controls
JBL builds remote controls to help with easy and safe control of music together with other call functions on other devices such as smartphones.
JBL Click, for instance, is a mountable Bluetooth controller that makes it easier to control your music and call functions on any smartphone. However, JBL Boombox and JBL Partybox 310 do not have remote controls.
Sonos Remote Control
There are several universal remote controls supported by Sonos products. There are some custom-made Sonos remote controls for easy operation of your devices. Sonos devices can also be remotely controlled with the Sonos app which allows you to control each device connected to the network individually.
Sonos gadgets also have Snips SAS, Sono's custom AI technology for connected devices with the purpose of bringing a music-specific voice assistant to all its devices.
Connectivity Options
JBL Connectivity Options
JBL speakers, especially the Bluetooth-enabled ones, connect easily via Bluetooth. In fact, JBL makes them so that you can easily wirelessly connect up to 100 JBL speakers via Bluetooth.
Sonos Connectivity Options
Multiple Sonos gadgets in a single household can be connected to each other wirelessly, through a wired Ethernet network, or a mixture of both. Wireless connectivity includes Bluetooth, WiFi, and LAN network for Internet connectivity.
Wired connections include HDMI for connecting to TVs and an Ethernet connection to connect to multiple devices. Sonos devices can also be connected using Alexa, Siri, Google Assistant, or Snips SAS.
Sonos gadgets can be connected to any device with Bluetooth or WiFi connection such as your smartphones, digital TVs, and other Sonos devices over the same network.
Power Range
JBL Power Range
The speakers have a high power handling capacity. For instance, the 840 Cinema Surround Speaker can handle 350 watts of continuous play, while the JBL Stage 1210 12" woofer can handle up to 250 watts RMS and 1000-watt peak power.
Subwoofers: 50W to 1600W rated power
Speakers: 50W to 250W rated power
Amplifiers: 50W to 800W per channel
Sonos Power Range
Sonos devices have different power ranges depending on the device's performance. An average Sonos speaker consumes from 55 Watts to 125 Watts per channel.
Most Sonos devices do not have power buttons but have an idle/standby mode, consuming from 4-8 Watts in this standby mode.
All the information on the power range of a device is included in the product manual, so you can get information on the power range for your particular device.
Frequency Response
JBL Frequency Response
JBL speakers work well under various frequency ranges. For instance, the JBL ES Series speaker systems, such as the ES 20, operate between 65 HZ – 40 kHz.
The 840 Very High Power Cinema Surround Speaker for digital surround sound immersion application performs within the 60 Hz to 19 kHz frequency range.
Sonos Frequency Response
Sonos speakers have pleasing frequency ranges to suit the various types of usage scenarios. The Sonos five, for example, has a -3 dB bass response frequency of 88 hertz, which is excellent for a speaker of its size.
Example Comparison
JBL Charge 5

vs

Sonos Roam

JBL CHARGE 5 - Portable Bluetooth Speaker with...
JBL CHARGE 5 - Portable Bluetooth Speaker with...
The Sonos Roam and the JBL Charge 5 are excellent speakers for the purpose of comparison since they are similar in terms of use case, size, and price. However, considering that, these speakers do have their own strengths and weaknesses.
The first difference is the fact that the Sonos Roam has excellent voice assistant performance which is a signature of Sonos.On the other hand, the JBL Charge 5 is a louder speaker and has better detail at maximum volume.
One major advantage of the JBL Charge 5 is that it can be paired to two devices at once via Bluetooth. This is a signature of JBL speakers, you are often able to connect multiple JBL speakers.
JBL Charge 5 Pros and Cons
+Pros
Powerful, rich bass
Bright sound signature and balanced sound quality
Gets loud for its relatively compact size
Fully waterproof design
Wider soundstage
Updated dustproofing
Fantastic battery life.
Balanced mid-range.
Gets extremely loud
Long battery life
Full vocals
Durable design
Long battery life and acts as power bank (USB-A port)
Dustproof and dustproof
Easy to use
Wireless charging
-Cons
Basic app that lacks EQ – cannot adjust EQ
No speakerphone
No graphic EQ.
Compression details at maximum volume
No voice assistant access
65Hz to 20kHz instead of 20Hz to 20kHz frequencies supported
Basic design
No auxiliary input
PartyBoost cannot pair with some older models
Sonos Roam Pros and Cons
+Pros
A truly portable Sonos speaker
Supports AirPlay 2, Spotify Connect, Alexa, and Google Assistant
Rugged design that can endure the elements and outdoors
Wireless charging
Attractive, compact and light design
Impressive sound for its small size
Automatically switches between your Sonos home Wi-Fi network and Bluetooth
IPX67 dust- and waterproof
Powerful audio performance
Excellent connectivity
Lightweight, portable design
Auto TruePlay works outdoors
Extensive connectivity features
Trueplay
Sleek design
Easy to pair at home with the Sonos ecosystem
Lightweight and very portable
-Cons
A little pricey
No accompanying case
Not the best battery life (10 hours) and takes a long time to charge
Wireless charging pad not included
Bass is limited by form factor
No stereo pairing over Bluetooth
Sonos app can be buggy on Wi-Fi networks that aren't yours
Pricey compared to many mini Bluetooth speakers
No power adapter included only USB-C
Bass can be overwhelming (bright)
Not very detailed or clear
Average timing and dynamics
Doesn't support multiple Bluetooth sources at once
Overall, if you simply want a Bluetooth speaker without the additional flair of features like voice assistance, go with the JBL Charge 5. If you want the benefits of Sono's home entertainment, go with the Sonos Roam.
Conclusion
JBL offers a wide range of speakers for all use cases. Although most of them do not have EQs for customized sound, they have a pretty neutral sound profile. Besides, they have an excellent build quality that ensures that the portable JBL sound systems last longer.
On the other hand, Sonos is a company that's dedicated to manufacturing products with premium quality for a decent price. Their products have a wide range of features to suit each person's needs. As said above, Sonos is a company that produces devices that give good value for money.
Norvan Martin is the founder of BoomSpeaker.com. He is a professional Electronics Engineer and is passionate about home theater systems and AV electronics. BoomSpeaker was created as an online hub to share his knowledge and experiences as it relates to home theaters and home audio electronics.
My email: admin@boomspeaker.com
Connect on Pinterest and Linkedin