As an Amazon Associate, we earn from qualifying purchases made on our website.
JBL and Sennheiser are two renowned and well respected brands in the audio industry and produce high quality speakers, soundbars, headphones and subwoofers.
In this article, we will cover a general overview of both brands, looking specifically at sound quality, durability, price and so on.
Of course, each brand has different devices at different price points, however we will compare them as closely as we can.
Quick History
JBL Quick History
JBL was founded in 1946 by James Bullough Lansing just after World War II. It is headquartered in Los Angeles, California, USA. The company manufactures amplifiers, loudspeakers, and headphones with the JBL Professional LSR10S being one of its best-selling subs with a class D amp, among other features. It is currently owned by Harman International after its Vice president Bill Thomas sold it in 1969.
In the 1970s, JBL entered the studio industry and launched its new technologies academy of motion pictures' first full-line portable system in the 1980s. Also, the company was the first to introduce titanium in high-frequency diaphragms.
Sennheiser Quick History
Sennheiser was founded in 1945 in a laboratory called Laboratorium Wennebostel (Lab W) by Fritz Sennheiser and seven other engineers of the University of Hannover. Lab W started producing microphones in 1946 with DM1 and in 1947 with DM2.
The company produced many different products, including the Noise-Compensated microphone (DM4) and miniature magnetic headphones, before it was transformed into a limited partnership (KG) in 1973.
In 1982, Sennheiser started producing modern wireless microphones and won the 59th Academy Awards for its MKH 816 shotgun microphone.
Sennheiser is headquartered near Hannover, in the municipality of Wedemard, Germany. Today, Sennheiser is well known for producing professional-grade headphones and microphones.
Sound Quality
JBL Sound Quality
JBL speakers tend to depict a neutral, balanced sound profile. Their bass-heavy audio profile makes them ideal for party and personal use, especially for those looking for deep bass to listen to modern pop and hip hop music. The speakers are also loud with rich sound.
The speakers perform well in both high and low volumes. Built for DJs and other professionals, the speakers are tough and reliable. The Bluetooth speakers have long battery life lasting 24 hours or more.
On the other hand, JBL headphones are packed with features that help them deliver a well-balanced sound that closely follows the Harman curve.
However, the design and fit of these headphones are not very comfortable. A top-of-the-range JBL could sound unique with the depth, power, and accuracy every listener appreciates!
Sennheisser Sound Quality
Sennheiser produces robust headphones with versatile performance built with an ANC system (active noise-canceling technology).
ANC blocks out the low rumble of plane engines and vehicles together with ambient chatter. With aptX and aptX-LL codecs, these headphones deliver incredible sound quality with lower latency.
The bass is heavy and decently adds extra thump, rumble, and boom to mixes. This makes Sennheiser headphones more suited for genres like EDM and hip-hop.
In addition, the infrared transmission technology and the multi-channel RF wireless transmission technology contribute to the popular Sennheiser sound signature.
Features
JBL Features
JBL manufactures futuristic speakers to ensure users can easily fit them into their modern home systems. Bluetooth speakers and subwoofers from JBL, for instance, come with the following features:
Polypropylene or cellulose-fiber cones
Rubber surround
Frequency response depends on specific speakers
Sensitivity of about 2.83V at 1 meter
Power handling up to 250W RMS
Sennheiser Features
The following features are characteristic of all Sennheiser headphones:
Modular construction that makes it easy to repair or replace parts
Snug fit
Excellent cup padding
Air Traffic Control
Professionally inspired
Total harmonic distortion <0.08% (1kHz, 94 dB)
Resonator chamber to remove masking resonance
Para-aramid reinforced cables
German-made 7mmXWB transducer – for naturally balanced sound
Intuitive controls
Lightweight (around 140 grams)
Supra-aural design
Build Quality
JBL Build Quality
JBL speakers are well built with Aluminum, Nickel, and Cobalt which is a strong high-power permanent alloy.
Also, the wireless speakers are high quality and built with solid features. The performance is reliable and they are waterproof which makes them all weather.
The headphones however have a plasticky build that makes them look average despite the well-balanced sound.
Sennheiser Build Quality
The headphones are built with a rugged and flexible design. The durable metal hinge and sliders add appealing style.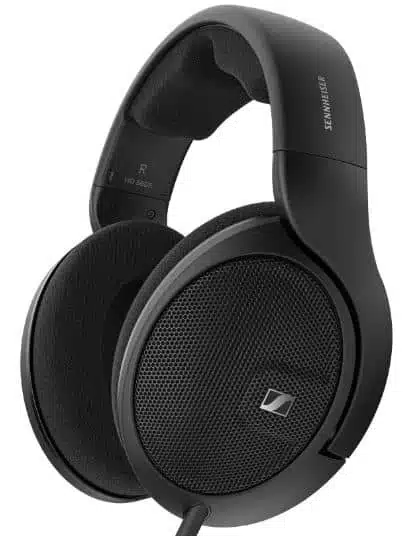 Even for long periods of use, they often remain in good condition. The latest ones are made from ZR01 amorphous zirconium, a metal used to drill the face of Mars, ensuring toughness and longevity.
Ease Of Use
JBL Ease Of Use
Setting up JBL speakers may not be easy if you are not ready to handle the process. However, if your speakers are within the Bluetooth range, JBL speakers will easily pair with nearby devices.
The subwoofers may not be very easy to set depending on your car, but they are easy to use. The wireless headphones are easy to use, whether you want to talk or just listen.
Sennheiser Ease of Use
Sennheiser headphones come with various connectivity options making them very easy to connect and use for multiple occasions.
The customizable touch controls put you in control of your listening experience, from audio and phone calls to Siri and Google Assistant.
Cost
JBL Cost
Bluetooth JBL speakers are available at a range of prices. You can, however, get them between 40 dollars and 400 dollars.
However, the GBL Go is still ranked the most affordable Bluetooth speaker owing to the added value of sound quality and portability. The cost is generally high due to the high cost of engineering, high cost of quality materials, and the cost of advertising.
Headphones: $10 – $200
Amplifiers: $50 – $5000
Sennheiser Cost
Headphones: $20 – $500
Microphones: $50 – $1000
Space Requirements
JBL Space Requirements
JBL speakers are built to fit in many room sizes. The Bluetooth speakers are tiny in size and easily portable. Therefore, you can easily place them anywhere in your room or carry them for an outdoor listening experience.
Sennheiser Space Requirements
Sennheiser headphones are perfectly built for the ear. Whether you are buying over-ear, on-ear, or in-ear headphones, their construction is compact and easily fits the head and ear without exerting extra pressure.
Besides, the headphones are lightweight, and wearers may not feel the weight even after longtime use.
Remote Controls
JBL Remote Controls
JBL builds remote controls to help with easy and safe control of music together with other call functions on other devices such as smartphones.
JBL Click, for instance, is a mountable Bluetooth controller that makes it easier to control your music and call functions on any smartphone. However, JBL Boombox and JBL Partybox 310 do not have remote controls.
Sennheiser Remote Control
Although Sennheiser headphones do not come with remote controls, they support wireless streaming such as Bluetooth listening.
Also, you can control some of your Sennheiser headphones with the Sennheiser Smart Control app. The app helps you access firmware updates and allows you to choose adaptive ANC and anti-wind ANC for the first noise-canceling level.
Connectivity Options
JBL Connectivity Options
JBL speakers, especially the Bluetooth-enabled ones, connect easily via Bluetooth. In fact, JBL makes them so that you can easily wirelessly connect up to 100 JBL speakers via Bluetooth.
Sennheiser Connectivity Options
Here are the connectivity options for Sennheiser:
Bluetooth multipoint
Fast auto-connect
SBC
aptX
aptX LL
AAC
Wired listening with a 2.5 mm cable
Power Range
JBL Power Range
The speakers have a high power handling capacity. For instance, the 840 Cinema Surround Speaker can handle 350 watts of continuous play, while the JBL Stage 1210 12" woofer can handle up to 250 watts RMS and 1000 watt peak power.
Subwoofers: 50W to 1600W rated power
Speakers: 50W to 250W rated power
Amplifiers: 50W to 800W per channel
Sennheiser Power Range
Sennheiser headphones consume very little power to deliver incredible sound quality. Besides, the potable ones utilize either rechargeable or non-rechargeable AAA batteries and will deliver up to 100.45 dB/mW SPL.
Frequency Response
JBL Frequency Response
JBL speakers work well under various frequency ranges. For instance, the JBL ES Series speaker systems, such as the ES 20, operate between 65 HZ – 40 kHz.
The 840 Very High Power Cinema Surround Speaker for digital surround sound immersion application performs within the 60 Hz to 19 kHz frequency range.
Sennheiser Frequency Response
Sennheiser headphones perform well and widely exceed limits with ranges of 4 Hz to 51 kHz. The wide range helps prevent bass or treble roll-offs. Users also feel more frequencies and get a more immersive listening experience.
Conclusion
JBL offers a wide range of speakers for all use cases. Although most of them do not have EQs for customized sound, they have a pretty neutral sound profile. Besides, they have an excellent build quality that ensures that the portable JBL sound systems last longer. Sennheiser produces high-quality headphones and microphones. The devices support numerous features and are energy efficient. They are however more expensive than the competition.
Related Articles
Sennheiser Vs Akg
Sennheiser Vs Beyerdynamic
Sennheiser Vs Audeze
Sennheiser Vs Epos
Sennheiser Vs Plantronics