JBL and KRK are two renowned and well respected brands in the audio industry that produces speakers, soundbars, headphones, subwoofers and amplifiers. JBL focuses on the hifi market and targets audiophiles while krk focuses on the budget customer.
In this article, we will cover a general overview of both brands, looking specifically at sound quality, durability, price and so on. Of course, each brand has different devices at different price points, however we will compare them as closely as we can.
JBL is known for its high-quality speakers and headphones, while KRK is a well-regarded brand in the audio industry known for its high-quality studio monitors and headphones.
JBL vs KRK Comparison Table
| Criteria | JBL | KRK |
| --- | --- | --- |
| Brand Reputation | JBL is well-known for its wide range of audio products, including speakers, headphones, and professional audio solutions. | KRK is recognized for its studio monitors and speakers, particularly popular among music producers and recording professionals. |
| Sound Quality | JBL products are known for delivering powerful and dynamic sound, suitable for both consumer and professional applications. | KRK studio monitors are acclaimed for their accurate and transparent sound reproduction, crucial for studio environments. |
| Build Quality/Design | JBL products often feature durable build quality and practical designs, with a focus on portability in their consumer audio lineup. | KRK studio monitors showcase robust build quality, typically designed for near-field monitoring in professional studio settings. |
| Product Range | JBL offers a diverse range of audio products, including speakers, headphones, soundbars, and professional audio solutions. | KRK specializes in studio monitors and speakers tailored for accurate audio monitoring in recording and mixing environments. |
| Pricing | JBL products cover various price points, providing options for both entry-level and high-end audio consumers. | KRK studio monitors are often positioned in the mid to high price range, reflecting their focus on professional audio monitoring. |
| Features | JBL products include features such as Bluetooth connectivity, waterproof designs, and advanced audio technologies. | KRK studio monitors may feature advanced driver technology, room calibration options, and inputs suitable for studio setups. |
Before we continue, you can check out similar comparisons in the series:
Pros and Cons of JBL:
Pros: Known for producing a wide range of audio products, including speakers, headphones, and home theater systems. Many of their products are well-regarded for their sound quality and value for money.

Cons:

Some users have reported issues with their devices' audio cutting out, being muffled, or experiencing other issues.
Pros and Cons of KRK:
Pros: Known for producing high-quality studio monitors and headphones with a balanced, accurate sound. Strong reputation in the audio industry.

Cons:

Some products may be on the expensive side.
Quick History
JBL Quick History
JBL was founded in 1946 by James Bullough Lansing just after World War II. It is headquartered in Los Angeles, California, USA. The company manufactures amplifiers, loudspeakers, and headphones with the JBL Professional LSR10S being one of its best-selling subs with a class D amp, among other features. It is currently owned by Harman International after its Vice president Bill Thomas sold it in 1969.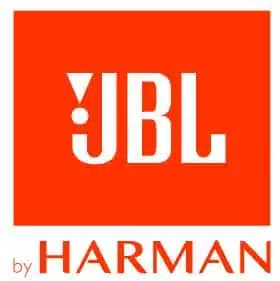 In the 1970s, JBL entered the studio industry and launched its new technologies academy of motion pictures' first full-line portable system in the 1980s. Also, the company was the first to introduce titanium in high-frequency diaphragms.
KRK Quick History
KRK is an audio company that deals with the production of monitor speakers, headphones, and subwoofers.
The company was founded in 1986 by Keith R. Klawitter who was frustrated by the fact that he couldn't find a monitor that gave him the clarity and accuracy he needed while working on movie production. He began building his own monitors ever since. The company's headquarters is based in Chatsworth, California.
Sound Quality
JBL Sound Quality
JBL speakers tend to depict a neutral, balanced sound profile. Their bass-heavy audio profile makes them ideal for party and personal use, especially for those looking for deep bass to listen to modern pop and hip hop music. The speakers are also loud with rich sound.
The speakers perform well in both high and low volumes. Built for DJs and other professionals, the speakers are tough and reliable. The Bluetooth speakers have long battery life lasting 24 hours or more.
On the other hand, JBL headphones are packed with features that help them deliver a well-balanced sound that closely follows the Harman curve.
However, the design and fit of these headphones are not very comfortable. A top-of-the-range JBL could sound unique with the depth, power, and accuracy every listener appreciates!
KRK Sound Quality
KRK devices have fairly good sound quality but are not perfect because they suffer from an exaggerated low and top end frequency.
Their products are great for general listening, but not always ideal for studio use and professional sound production. They however do have satisfying mids. KRK devices sound warm and pleasant, which is great for minimizing ear fatigue.
Features
JBL Features
JBL manufactures futuristic speakers to ensure users can easily fit them into their modern home systems. Bluetooth speakers and subwoofers from JBL, for instance, come with the following features:
Polypropylene or cellulose-fiber cones
Rubber surround
Frequency response depends on specific speakers
Sensitivity of about 2.83V at 1 meter
Power handling up to 250W RMS
KRK Features
KRK's products come with a number of interesting features. Some are listed below.
Built-in efficient Class D power amp
Balanced TRS / XLR Combo Jack Inputs
LED Indicators for Power On/Off
LCD Display for EQ and Setup Parameters
Mobile app for easy control on both the Apple Store and Google Play Store.
Build Quality
JBL Build Quality
JBL speakers are well built with Aluminum, Nickel, and Cobalt which is a strong high-power permanent alloy.
Also, the wireless speakers are high quality and built with solid features. The performance is reliable and they are waterproof which makes them all weather.
The headphones however have a plasticky build that makes them look average despite the well-balanced sound.
Build Quality
KRK devices are well-made and durable. The case is designed with low sound resonance in mind.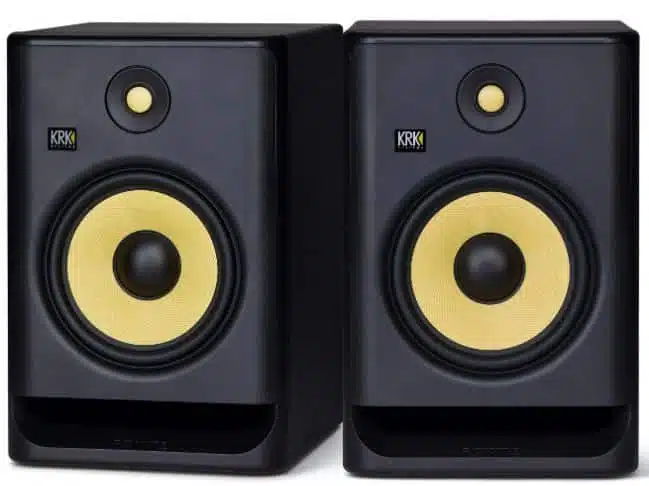 This keeps the low-end sound smooth and punchy. KRK devices have a built-in custom Class D amp that works efficiently even at high temperatures. The parts used to make KRK drivers have a high tensile strength-to-weight ratio for high-end sound reproduction.
Ease of Use
JBL Ease Of Use
Setting up JBL speakers may not be easy if you are not ready to handle the process. However, if your speakers are within the Bluetooth range, JBL speakers will easily pair with nearby devices.
The subwoofers may not be very easy to set depending on your car, but they are easy to use. The wireless headphones are easy to use, whether you want to talk or just listen.
KRK Ease Of Use
KRK devices are easy to use and set up. Customizing settings and playing with features is made easy with the help of the KRK mobile app, available on both the Google Play and App Store.
Most of their products also come with a guidebook you can refer to in case you encounter any difficulty while setting and installing the device.
Cost
JBL Cost
Bluetooth JBL speakers are available at a range of prices. You can, however, get them between 40 dollars and 400 dollars.
However, the GBL Go is still ranked the most affordable Bluetooth speaker owing to the added value of sound quality and portability. The cost is generally high due to the high cost of engineering, high cost of quality materials, and the cost of advertising.
Headphones: $10 – $200
Amplifiers: $50 – $5000
KRK Cost
KRK devices are very cheap and affordable. Several manufacturers sell similar products for a higher price than KRK. Below is the price range of different products from KRK Company:
Monitor speakers: $150 – $1000
Subwoofers are sold for around $300
Headphones: $100 – $300
Space Requirements
JBL Space Requirements
JBL speakers are built to fit in many room sizes. The Bluetooth speakers are tiny in size and easily portable. Therefore, you can easily place them anywhere in your room or carry them for an outdoor listening experience.
KRK Space Requirements
KRK devices, just like many other manufacturers, have a variety of product sizes and shapes. KRK has some portable devices which will not consume much of your space and vice versa.
You must definitely put into consideration the available space in your room before getting any audio products for yourself.
Remote Controls
JBL Remote Controls
JBL builds remote controls to help with easy and safe control of music together with other call functions on other devices such as smartphones.
JBL Click, for instance, is a mountable Bluetooth controller that makes it easier to control your music and call functions on any smartphone. However, JBL Boombox and JBL Partybox 310 do not have remote controls.
KRK Remote Controls
KRK Company produces remote controls that can work perfectly with their devices and some other devices as well. Their remote has the power to work within a range of 25 ft.
Connectivity Options
JBL Connectivity Options
JBL speakers, especially the Bluetooth-enabled ones, connect easily via Bluetooth. In fact, JBL makes them so that you can easily wirelessly connect up to 100 JBL speakers via Bluetooth.
KRK Connectivity Options
Some of the available connectivity options you will get on KRK device are:
Bluetooth
USB
RCA cables
HDMI cables
Power Range
JBL Power Range
The speakers have a high power handling capacity. For instance, the 840 Cinema Surround Speaker can handle 350 watts of continuous play, while the JBL Stage 1210 12" woofer can handle up to 250 watts RMS and 1000 watt peak power.
Subwoofers: 50W to 1600W rated power
Speakers: 50W to 250W rated power
Amplifiers: 50W to 800W per channel
KRK Power Range
KRK device power range varies from device to device, but on average, KRK devices do not consume too much power. They have a power range of 50 W to 200 W capacity.
Frequency Response
JBL Frequency Response
JBL speakers work well under various frequency ranges. For instance, the JBL ES Series speaker systems, such as the ES 20, operate between 65 HZ – 40 kHz.
The 840 Very High Power Cinema Surround Speaker for digital surround sound immersion application performs within the 60 Hz to 19 kHz frequency range.
KRK Frequency Response
KRK produces different devices which makes the frequency response vary from device to device as well.
An example is the KNS 6402 headphone, with a frequency response of 10 Hz–22 kHz, and the KRK ROKIT 8 G4 monitor speaker, with a 32 Hz–40 kHz frequency response. Generally, for their speakers and headphones, you will get a frequency range of 10 Hz–40 kHz.
Conclusion
JBL offers a wide range of speakers for all use cases. Although most of them do not have EQs for customized sound, they have a pretty neutral sound profile. Besides, they have an excellent build quality that ensures that the portable JBL sound systems last longer.
KRK is one of the best choices out there when it comes to durable monitor speakers. They have excellent designs and features, and they are quite affordable and up to the task. KRK device gives you great sound, is well built and user-friendly.