JBL TR225 is one of the time-tested high-standing studio speakers, which is still a good catch for those in love with vintage speakers. Although not the best you will expect to get according to today's standards, for a low-budget speaker of its type, it sure delivers good sound.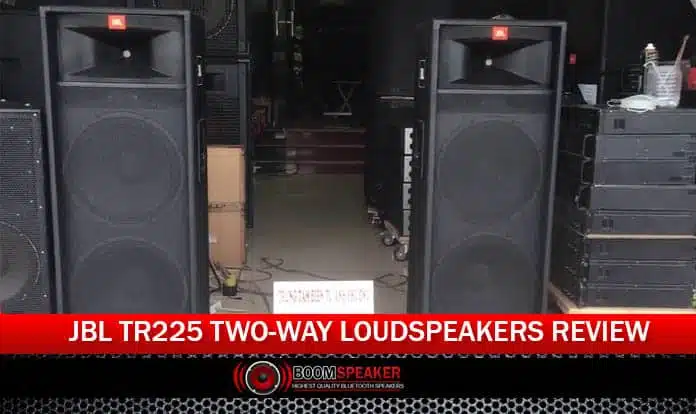 This article is a review of the JBL TR225 speaker which will help you decide if you really want a JBL TR225 speaker and things to expect when you finally do.
Specs
Type: 2-way, 3-driver loudspeaker system
Frequency Response: 50Hz-16kHz
Power Handling: 450 Watts
Crossover Frequency: 750-1300Hz
Impedance: 4 ohms
Sensitivity: 102dB
Bass: 2 x 380mm cone
Tweeter: 1 x 25.4mm pure titanium compression
Dimensions: 1145 x 460 x 370mm
Weight: 42.7kg
Features
Has a professional-looking matching grille
Includes a SonicGuard™ protection system in the full crossover network
It is a two-way loudspeaker
Comes with a 15″ transducer that is supported by a two-and-a-half Edgewood voice coil
Comes with a pure titanium diaphragm compression driver which is fixed to a large constant directivity horn
Two 15-inches low-frequency drivers and a patented JBL compressor driver.
Power
The speaker has a power capacity of about 450 watts and 135 dB max SPL.
Crossover
It has a full crossover network of about 730-1300Hz. Their full crossover networks often include SonicGuard non-intrusive speaker protection.
Price
The JBL tr225 can still be acquired for a price ranging from $300 to $450 depending on where you are getting it and the condition of the speaker.
Durability
The JBL TR255 are rugged roadworthy speakers because of their sturdy cabinet construction. These cabinets often include textured Tolex covering over reinforced metal.
Part Lists
If you are an entry-level engineer/intern, or just someone interested, we have included some of the basic parts that will help to get familiar with the speaker.
A tweeter speaker
Faceplate for the tweeter
Two foam ports on either side of the faceplate
The U-channel
Grille
Screw
The main speaker
Handle
Handle back
Feet
Cabinet
T-Nut
Corner protectors
Network
Handle dampener
Grille support
A detachable JBL logo
Service Manual
The JBL TR255 Device cones with a user service manual that guides you on how to use it to ensure optimum performance and long-lasting use. The service manual is essentially similar to most speaker systems manuals in the JBL T series.
You can also easily download this manual online if you have misplaced the one that came with your device. To download a pdf version, check here.
Is JBL TR225 any good?
JBL devices are known for their amazing delivery and the JBL TR225 is no exception. It has a transducer which makes it one of the best options for use in the studio.
This is particularly because of the two compression drivers (including a pure titanium diaphragm mounted to a large horn), and the powerful two 15″ Low-frequency transducers.
An important piece of information that you may also need to know is the fact that this is a 2-way speaker. It also has an impressively smooth crossover that is facilitated by the low pass filter in the woofer.
Conclusion
One important point to note about the JBL TR225 is that it is a vintage speaker, and as such might not be the best-sounding speaker for you. However, the speaker still delivers a considerably good sound at a budget-friendly price. Therefore, this might be a last-minute backup speaker studio, concert, or other public address use case.