Last Updated on December 31, 2022 by Norvan Martin
Bose and JBL are two of the most popular designers and manufacturers in the audio industry. Because of their popularity, it can be hard to decide between speakers from each brand. While both brands are awesome, you will certainly miss out on some features and advantages depending on which brand you choose.
In this article, we will be doing an analysis of JBL vs Bose to determine which brand is better. Below is a complete comparison between JBL and Bose.
Is JBL Better Than Bose?
JBL is better than Bose in some ways and Bose is better than JBL in other ways:
How Is JBL Better Than Bose?
JBL is better than Bose in terms of power, battery life, and the fact that many of its speakers are dustproof and water-resistant. Many JBL speakers also offer a detachable cable for easy portability.
How Is Bose Better Than JBL?
Bose is better than JBL in terms of its sophisticated features such as voice assistants, the Bose app, mute function and WiFi support. They also generally weigh less.
JBL Boombox 2 vs Bose Soundlink Revolve
For the purpose of this article, we will be doing a comparison of two flagship speakers from both brands – the JBL Boombox 2 and the Bose Soundlink Revolve. But first, let's learn more about these pioneering audio manufacturers.
About Bose and JBL
About JBL
JBL is a popular audio manufacturer that was founded by James Bullough Lansing (1902–1949). Lansing was an American audio engineer and loudspeaker designer who is best known for founding two major audio companies that are named after him – Altec Lansing and of course JBL. Today, JBL speakers are made all over the world and JBL speakers are some of the best.
The company started out by producing drivers for radios. Later on, they started offering larger audio systems.
n 1969, Thomas sold JBL to the Jervis Corporation (later renamed "Harman International"), headed by Sidney Harman. As such, today JBL is a company under Harman International Industries, which is a branch of Samsung Electronics.
JBL Divisions
Today, JBL has two divisions. There is the JBL Consumer which produces headphones and speakers and the Professional division which produces audio equipment for studios and DJs.
The headphones and the speakers are produced by the JBL Consumer division. They have another division, the Professional division that creates equipment for professional audio studios and DJs. These two departments make it challenging to compare the Bose and JBL brands.
About Bose
Bose is a very popular name in the consumer audio industry. It is an American manufacturing audio company that was started in 1964 by Amar Bose.
Since then, the company has been known for designing a wide array of audio electronics including home audio systems, general-use speakers, noise-canceling headphones, professional audio products and car sound systems.
Bose is also well known for its surround sound systems
Today, Bose is owned by the Massachusetts Institute of Technology, MIT. In 2011, Amar Bose donated the majority of the company's non-voting shares to MIT, his former employer and alma mater and most of the proceeds from the company go towards research.
Design and Build Quality
Look and Feel: Bose speakers look and feel sophisticated. They are made with modern designs to fit a modern and minimal aesthetic. The emphasis is shades of black, white, and gray. JBL speakers are a bit more general with their designs. You can find JBLs with different skins to match different decors, some are very colorful for example.
Size: In general, Bose speakers are compact and smaller which means they will take up less space.
In this specific comparison, the Soundlink Revolve is up to five times smaller than the JBL Boombox 2. If you are looking for an ultra-portability speaker, Bose is a good option. You can also check out our list of small flat speakers that you can carry around in your pocket.
The fact is, Bose speakers are smaller and offer great sound quality, just they don't offer deep bass. JBL speakers are bigger and louder.
Controls: Each of the speakers are fitted with convenient controls that allow you to adjust common settings such as volume and Bluetooth.
Dustproof and Water Resistant: All in all, JBL speakers are better for outdoor adventure. The JBL Boombox 2 is a rugged outdoor speaker. Its a boombox yes, but its also one of the best and loudest outdoor portable speakers. In addition, the device includes a detachable cable, unlike the Soundlink which has a fixed cable.
Sound Quality
JBL and Bose are both known for producing speakers that offer amazing audio quality. These are top-notch audio manufacturers and so they put a lot of effort into ensuring their speakers produce quality sound.
In fact, you will like these speakers even if you are an audiophile, as long as you understand the clear limitations of chargeable speakers.
Bass: JBL speakers shine when it comes to bass because many of their smaller speakers are designed with multiple drivers. For example, the Boombox 2 includes a bass driver for dedicated bass instead of a full-range speaker.
Bose on the other hand uses transducers and considers the listener's perception to create the best quality audio. This is based on MIT technology and research. The aim is to offer clear and uncolored audio that most people will enjoy.
The fact is, both speakers do well with bass. However, if you want to pack a real punch at the lower frequencies, JBL is the better option. This is because the JBL bass radiators are larger and more powerful.
Features
In terms of features, Bose speakers definitely win out over JBL. Bose speakers are more modern and offer a wider range of sophisticated features.
Here are some of the advanced features offered by Bose speakers:
Voice Commands: Bose speakers can connect to WiFi and as such offer voice commands similar to Alexa. You can even access Siri or Google Assistant. You can use this to get answers from Google and so on.
Controls: This specific Bose speaker, the Soundliunk offers a special multifunction button that you can use to access Siri or Google Assistant.
App and Streaming: Bose in its true sophistication offers an app that you can use to control your speaker. You can even use the app to troubleshoot issues with your speaker. With the app, you can stream music from services such as Spotify and Pandora and even access online radio.
In terms of features offered by JBL, JBL offers voice prompts that prompt you when the speaker is running low on battery for example. However, Bose does the same.
Power and Battery Life
When considering battery life, its important to consider where you will be using the speaker. For example, the Bose Soundlink is really an indoor speaker, but it is portable enough to use it for outings.
For example, spending time by the pool or a picnic. On the other hand, the JBL Boombox 2 is a rugged outdoor speaker that can be used for hiking and other adventures. This means the JBL should last for longer periods.
In this specific case, the JBL Boombox lasts twice as long as the Bose Soundlink. The Boombox can last up to 24 hours while the Soundlink will last around 12 hours.
Of course, this also means that the JBL will take longer to charge. However, it doesn't take twice as long. It takes just about four hours to charge a Bose speaker to full capacity and about 6.5 hours to charge a JBL speaker.
Wireless Charging: Neither of the speakers we are looking t offer wireless charging. However, their batteries are removable, so you can always use two interchangeably.
Power: JBL speakers tend to be powerful because they are outdoor speakers. You can even connect up multiple JBL speakers for more power. The JBL Boombox can push out 2 x 40 Watt because it has 2 drivers. On the other hand, the Bose Soundlink is just 17 Watts.
Connectivity Options
Bose and JBL are modern speaker brands and so you should expect them to offer modern ports and options for connectivity to the latest audio devices and systems.
Bluetooth: Of course, both JBL and Bose speakers run on Bluetooth. This is Bluetooth 4.2. This is not the latest version of Bluetooth, but this version is very fast and guarantees fast connections. With this connection, you will be able to achieve longer connection ranges and a faster connection.
AUX and USB: Of course, most speakers allow you to connect via AUX. So, if you device doesn't support Bluetooth, you can always use the AUX to connect. In addition, both devices also support USB.
WiFi: Most Bose speakers support Wifi while some JBL speakers support Wifi. In this case, the Sounliink supports WiFi but the Boombox 2 doesn't. In addition, many Bose speakers offer Airplay which you can use to stream music from Apple devices with an external speaker or screen.
You will pay for JBL Boombox that you will for the Bose SoundLink Revolve and Bose Revolve+.
If you want a powerful speaker, but can't afford the JBL Boombox 2, you should just go for a cheaper JBL speaker.
Build Quality
JBL Build Quality
JBL speakers are well built with Aluminum, Nickel, and Cobalt which is a strong high-power permanent alloy.
Also, the wireless speakers are high quality and built with solid features. The performance is reliable and they are waterproof which makes them all weather.
The headphones however have a plasticky build that makes them look average despite the well-balanced sound.
Bose Build Quality
Bose products are not something you can rely entirely on when it comes to build quality. The build quality can be divided into the internal build and the external structure.
However, for a brand that has been a big player in the audio equipment industry, Bose seems to focus more on the internal build quality at the expense of the structural delivery. Therefore, this leads to a great-sounding device that has a poor structure.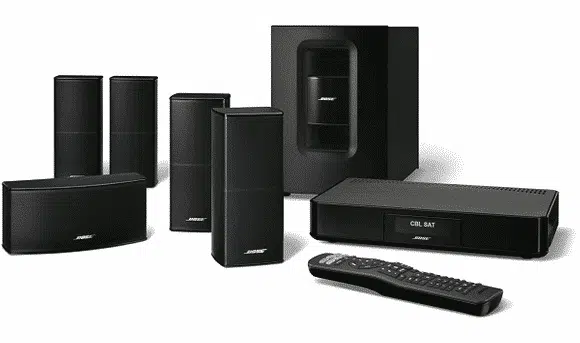 Although, another factor that might be noteworthy is the fact that the build quality varies from device to device. While some Bose products fall short of expectations, others are extremely durable.
For example, while most Bose speakers are usually reviewed to be of below-standard build quality, the headphones have enjoyed excellent reviews. An example of this is the Bose QuietComfort 35 II headphones, which most users have reported to have one of the best build quality.
Ease Of Use
JBL Ease Of Use
Setting up JBL speakers may not be easy if you are not ready to handle the process. However, if your speakers are within the Bluetooth range, JBL speakers will easily pair with nearby devices.
The subwoofers may not be very easy to set depending on your car, but they are easy to use. The wireless headphones are easy to use, whether you want to talk or just listen.
Bose Ease of Use
A great number of Bose products are easy to use. This means that even without technical know-how, you can operate them without stress.
For example, the QuietComfort 35 II headphone has a design that can be turned 360 degrees, adjusted to an angle, and can be folded easily.
The Soundlink Micro is another Bose portable Bluetooth speaker that is designed with a freestanding mount which makes it ideal for use anywhere including the bedside, bookshelf and other places. This includes poolside too since the Bose Soundlink Micro is waterproof and can stand easily.
Cost
JBL Cost
Bluetooth JBL speakers are available at a range of prices. You can, however, get them between 40 dollars and 400 dollars.
However, the GBL Go is still ranked the most affordable Bluetooth speaker owing to the added value of sound quality and portability. The cost is generally high due to the high cost of engineering, high cost of quality materials, and the cost of advertising.
Headphones: $10 – $200
Amplifiers: $50 – $5000
Bose Cost
One of the most important pieces of information you need to understand before choosing a Bose product is the fact that they are quite expensive. However, most people will unconsciously prefer to buy Bose products. This is basically for two reasons:
Bose has a brilliant marketing strategy which makes them one of the most popular brands in the world.
Bose speakers have a sound that makes your brain mimic the feeling of being in a live show. This is because of the tremendous investment by Bose in research and development.
Unfortunately, there are so many brands in the audio equipment industry with less prestige than Bose but which offer similar quality products at a lower price.
Check out the price tags for their most common products:
Bose earbuds: $180 – $450
Bose headphones: $100 – $550
Bose bass module speakers: $400 – $850
Bose Soundbar: $300 – $850
Space Requirements
JBL Space Requirements
JBL speakers are built to fit in many room sizes. The Bluetooth speakers are tiny in size and easily portable. Therefore, you can easily place them anywhere in your room or carry them for an outdoor listening experience.
Bose Space Requirements
Most Bose products, including the home theater, AV receiver, and speakers, do not require too much space as they aren't normally large and bulk. They include shelf speakers, minimal home theaters, and AV receivers with pretty sleek designs.
Bose speakers such as SoundLink Color Bluetooth speakers can be used on the bookshelf without disturbing the arrangement of books.
Remote Controls
JBL Remote Controls
JBL builds remote controls to help with easy and safe control of music together with other call functions on other devices such as smartphones.
JBL Click, for instance, is a mountable Bluetooth controller that makes it easier to control your music and call functions on any smartphone. However, JBL Boombox and JBL Partybox 310 do not have remote controls.
Bose Remote Control
Bose has invested a great deal in ensuring that its users get the best audio experience. The Bose remote control is a sleek gadget that allows you to control your home entertainment without stress. They add this remote to almost all Bose products except for the headphones.
A pretty interesting factor to admire about the Bose remote control is the fewer buttons. The remote control adds usability to its delicate design. It allows you to perform all the desired tasks with a few clicks of the buttons.
Connectivity Options
JBL Connectivity Options
JBL speakers, especially the Bluetooth-enabled ones, connect easily via Bluetooth. In fact, JBL makes them so that you can easily wirelessly connect up to 100 JBL speakers via Bluetooth.
Power Range
JBL Power Range
The speakers have a high power handling capacity. For instance, the 840 Cinema Surround Speaker can handle 350 watts of continuous play, while the JBL Stage 1210 12" woofer can handle up to 250 watts RMS and 1000-watt peak power.
Subwoofers: 50W to 1600W rated power
Speakers: 50W to 250W rated power
Amplifiers: 50W to 800W per channel
Bose Power Range
The power rating of Bose devices is not shown on most of their devices. But, according to different reviews from their users, the power range depends on the kind of device.
For example, the power range of an average mini home speaker like the Bose SoundLink Mini 2 is around 30 to 50 watts. The wattage of a larger speaker, such as the Bose Soundbar 300, is around 65 watts.
Frequency Response
JBL Frequency Response
JBL speakers work well under various frequency ranges. For instance, the JBL ES Series speaker systems, such as the ES 20, operate between 65 HZ – 40 kHz.
The 840 Very High Power Cinema Surround Speaker for digital surround sound immersion application performs within the 60 Hz to 19 kHz frequency range.
Bose Frequency Response
Most Bose speakers have a frequency response of around 25Hz to 20kHz. However, for most Bose headphones, the frequency range is between 100 Hz and 10 kHz.
JBL Car Speakers
JBL car speakers have been applauded by audiophiles and audio experts as a great speaker option. They are known for being cost-effective without any loss in sound quality. The JBL car speaker is loved for its clear pitch reproduction and clean bass audio.
FAQs
Is JBL Louder Than Bose?
The typical JBL speakers are larger and louder than other speaker brands (including Bose), they are designed to be used in large rooms or small gatherings.
Bose speakers are smaller in size, as a result, they produce great quality sound but are not quite as loud as JBL.
What's Better JBL Or Beats?
JBL speakers are designed to produce the best sound quality possible, and while they dominate the audio industry, they are not the best brand.
The "Beats" brand is built with longer-lasting batteries, they charge much faster than JBL speakers and are more effective at noise cancellation.
What Does JBL Stand For?
JBL is an acronym inspired by the initials of the company's founder, "James Bullough Lansing".
Bose Sound-Link Revolve Or JBL Pulse 4?
The Bose Sound-Link Revolve is designed with a sound profile at equilibrium. They are built to be compatible with the operating systems of most smartphones, charge faster, and possess better battery life than the JBL Pulse 4.
Is JBL Better Than Bose For Cars?
The JBL car speaker has better bass, and higher audio quality and are more cost-effective when compared to Bose car speakers.
This difference in quality is consistent regardless of the style of music being played.
Conclusion
So, which option should you go for? Bose or JBL? The fact is, it is really dependent on your budget and your needs. If you need a powerful, outdoor, rugged speaker with excellent bass, go for JBL. On the other hand, if you need a sophisticated, small, compact speaker that you can carry around with you, and that offers audiophile quality, Bose is the better option.