Integra and Onkyo are two popular brands of AV receivers. Both companies focus on high-end products with many advanced features with midrange models.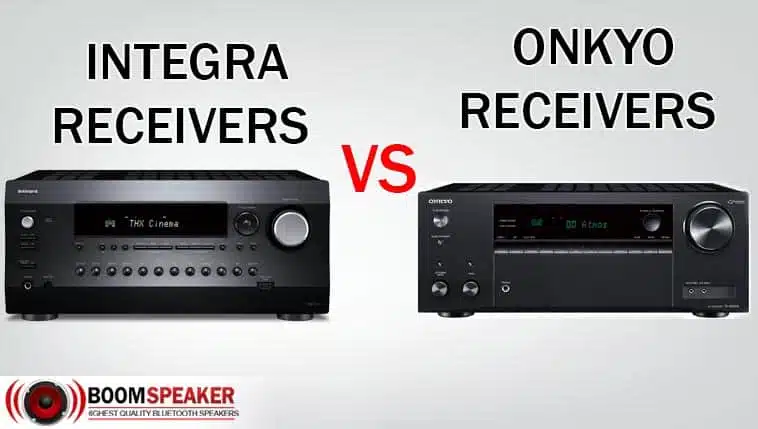 The Integra and Onkyo brands offer designs similar to receivers with slight differences in features. In some cases, Integra offers slightly better specs and internal components, but in most cases, you can find the same features in the equivalent Onkyo receiver. The main difference is that Integra receivers offer a longer warranty and have more dealers.
Integra vs. Onkyo Comparison Table
| Criteria | Integra | Onkyo |
| --- | --- | --- |
| Brand Reputation | Integra is known for producing high-end audio and home theater equipment with a focus on custom installation. | Onkyo is a well-established brand with a strong reputation for providing a wide range of audio and home theater products. |
| Sound Quality | Integra AV receivers deliver high-quality audio performance with attention to detail. | Onkyo receivers are praised for their clear and dynamic sound reproduction. |
| Build Quality/Design | Integra products feature a sturdy build and often have a design suitable for custom integration. | Onkyo receivers have a durable build with a design that balances functionality and aesthetics. |
| Product Range | Integra specializes in high-end AV receivers and audio components. | Onkyo offers a comprehensive range of AV receivers, home theater systems, and audio accessories. |
| Pricing | Integra AV receivers are positioned in the higher price range, reflecting their premium features and build. | Onkyo provides receivers with varying price points, including options for different budgets. |
| Features | Integra receivers often come with advanced features, including custom integration capabilities. | Onkyo products are feature-rich, offering technologies for enhanced audio and video experiences. |
Let's discuss this further.
Before we do that, here are some other comparisons in this series:
Equivalent Integra and Onkyo Receivers
The following are equivalent or complementary Integra and Onkyo receive that have similar features:
Integra – Onkyo
DTR-7.8 = TX-SR805
DTR-8.8 = TX-NR905
DTR-7.9 = TX-SR806
DTR-8.9 = TX-SR876
DTR-9.9 = TX-NR906
DTR-6.9 = TX-SR706
DTR-5.9 = TX-SR606
DTR-4.9 = TX-SR506
Is Integra Part of Onkyo?
Yes, Integra is a subdivision of the Japanese audio electronics manufacturer Onkyo. Integra offers a complete line of audio equipment from AV receivers to Blu-ray players.
Are Integra Receivers Good?
Integra manufactures high-quality AV receivers with excellent audio processing capabilities, including Audyssey MultEQ XT32 room correction.
Audyssey claims that using MultEQ32 can improve overall system response and lower the number of EQ filters needed to achieve excellent sound quality. Integra's receivers also include 4K up-scaling, so your standard and high-definition sources will look better on a 4K TV.
Integra receivers are outstanding, but they're expensive for non-audiophile use cases. The highest-end models like the DHC 80.3 feature 8 HDMI inputs and 3 HDMI outputs, allowing you to connect multiple 4K video sources and displays.
Are Onkyo Receivers Good?
Onkyo is a Japanese company that specializes in audio equipment. Onkyo has been making receivers for over 50 years and is one of the most recognized brands in surround sound systems in general.
Onkyo is a highly acclaimed name in the AV receiver market. They are one of the most well-known and respected brands in all home entertainment audio equipment.
Their receivers combine classic design with cutting-edge features to produce products that compete very favorably against other renowned electronics companies such as Yamaha, Pioneer, Denon & Marantz.
While Onkyo originally made its name by offering excellent performing receivers at affordable prices, they have recently stepped up its game to provide mid-range and high-end units that offer excellent value for money.
Is Onkyo Going Out Of Business?
Recently, it has been reported that Onkyo is insolvent. This means that the company cannot pay its bills However, the company has not filed for bankruptcy.
Advantages of Integra
1. Superior sound quality – They offer superior sound performance, perfect for music lovers who refuse to settle for mediocre audio equipment.
2. Beautiful design – It has developed impressive industrial strategies that look great in any home theater or music room.
3. Energy Star compliance – All of the products offered by Integra meet Energy Star guidelines which means they consume less energy than many competing brands on the market. This is without sacrificing superior sound quality or advanced features.
4. Lifetime warranty – A lifetime warranty covers every Integra product you can buy on the market. This is not usually available for electronics that cost less than $1,000 per piece.


Advantages Of Onkyo
1) High Quality – The Onkyo HT S5400 7.1-Channel Home Theater System gives you outstanding audio and video quality that will surely satisfy you.
2) Easy Set-Up – One of the best features of Onkyo surround sound speakers is how easy they are to set up – it takes only minutes before you can start watching your favorite movies with fantastic sound quality.
3) Five-Year Manufacturer's Warranty – If anything does go wrong with your Onkyo surround sound speakers within five years, worry not because Onkyo's five-year manufacturer's warranty covers you.
4) Price – If you are on a limited budget but still want high-quality surround, sound speakers, consider the Onkyo HT S5400 7.1-Channel Home Theater System. These home theater speakers come at an affordable price.
Disadvantages of Integra
1) Lacks advanced features – The lack of advanced features in an Integra system can be frustrating for people used to automated home appliances/electronics.
2) The controls are not properly labeled – Not having proper labels for the control buttons or not labeling them leads to problems in the initial stages of using an Integra system.
3) Too much bass/lackluster – The quality of high-quality sounds is often compromised with Integra systems.
4) Bluetooth connectivity range isn't so good – It's common for many Bluetooth devices to function best within 10 feet (3 meters).
Disadvantages of Onkyo
1) Not enough power – One of the biggest disappointments among users who used their Onkyos was low power. Many users say that their Onkyo simply couldn't work correctly with their speakers, which led to countless problems.
2) Unstable remote control – Most people were glad that Onkyo offers an easy remote to use and understand. However, many customers complained about its unresponsiveness, taking too long for a response, or not responding at all.
3) Faulty HDMI ports – Many people say they experienced faulty HDMI ports, so they couldn't watch any films or play games properly via consoles like PS3.
4) Overheating problems – Some people reported that their Onkyos overheated too quickly, so they had to put them in different places.


What Happened To Integra Home Theater?
Integra Home Theater, a division of the Integra group, was founded in 2003 and it quickly gained momentum. Since then they have been offering people affordable yet very good-quality components for living rooms.
But as you might know by now, even though using their news feed you can see that there hasn't been much happening over the last few years as only announcements about new members were made every now and then, Integra closed its' doors on December 31st, 2012.
As the group's website states: "Integra is closing this division after six years of amazing business experiences, we thank our dealers and customers for all their support and wish them continued success in 2013."
So what happened? Echoing the official website, there were no indications that Integra Home Theater was in trouble.
On the contrary, if you look at the products currently offered you can see that they are still very much on top of the market. And especially with prices being what they are today, home theater enthusiasts have practically cut themselves off from buying anything else than HTIBs which don't offer nearly as good quality while selling for 2-3 times more money.
24/7 Integra Tech Support
The Integra tech support number is available 24/7, making their customers' lives easier. Their expert team can solve all sorts of problems related to their products and provide a quick resolution.
There is no need to visit an Integra dealer when you have a problem with their products because they can give technical support anytime.
Onkyo TX-RZ50 Review
The Onkyo TX-RZ50 is a 7.2 channel receiver with four HDMI inputs, Bluetooth, network connectivity, and extensive audio processing capabilities, thanks to Audyssey's MultEQ XT technology.
The RZ series has been around for several years at this point, but like most AVRs, it remains relevant thanks to good feature sets and good performance.
Integra WRAT Amplifier
The Integra WRAT is a fully balanced amplifier with a power output of 100 watts per channel into 8 ohms and 200 watts into 4 ohms.
The Integra WRAT features six inputs that are selected through a rotary switch on the front panel.
The first four inputs have been configured to accept almost any type of source, including high-voltage line level, low-level stage signals from an instrument or microphone preamp, as well as phono sources. In addition to these four, two other inputs have been provided for tape playback and automatic switching between sources using the built-in A/B speaker select system.


Integra DTM 40 4 Review
The Integra DTM 40 4 is an entry-level dual-mono amplifier that uses the most up-to-date technology, including rail power supply, class d amp modules, and Bluetooth.
These features bring excellent quality sound with even more options for connecting devices.
The Bluetooth function is straightforward to use.
Just follow the instructions in the manual that come with it, which are clear to follow. The output power is 1x50w at 4ohms and 1x40w at 8ohms, so ideally suited to most bookshelf speakers, but not prominent floor speakers; this makes it suitable for people who may upgrade in the future.
Conclusion
The Onkyo is the better receiver. While it doesn't have as many inputs as the Integra, it does have an HDMI input and supports Audio Return Channel (ARC). In addition to this, it has a friendly GUI which is easy to navigate and, most of all works well.