While it is usually ideal to get a smart TV for a cheaper price, other factors may make you rethink your decision before buying it. Insignia and Hisense are some of the most affordable TVs today with high technology. We think it would be nice to compare these two.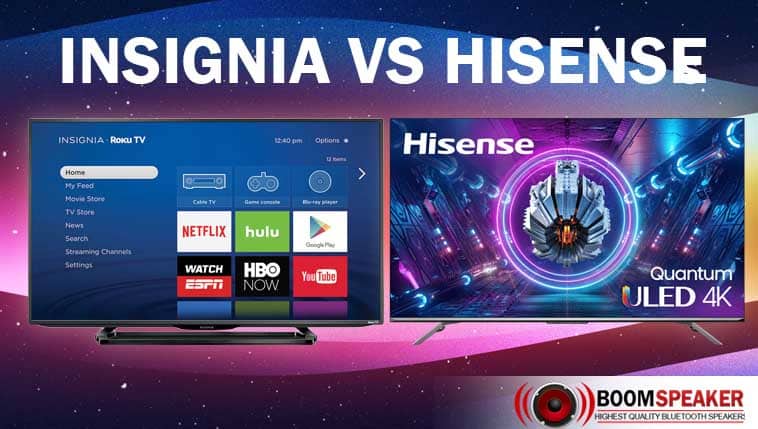 Insignia TVs are favorites when thinking of an inexpensive modern TV with the latest technology. However, they come with faults such as slow streaming speed and freezing displays. Hisense, on the other hand, offers quality features that easily rival those of larger brands. However, many people do not trust it yet because of its low popularity.
| Feature/Aspect | Hisense | Insignia |
| --- | --- | --- |
| Picture Quality | | |
| Quality Components & Processing | Uses higher quality components; better image processing | Standard quality components and processing |
| Picture Result | Sharper, more vibrant picture | Suitable for an HD viewing experience but not as vibrant as Hisense |
| Recommendation | If highest possible quality is needed, spend extra on Hisense | Good for those looking for a decent HD viewing experience |
| Pricing | Affordable but pricier than Insignia | Highly affordable compared to bigger brands |
| Sound Quality | Comparable to expensive brands | Poor compared to other brands but can be enhanced with external speakers |
| Space Considerations | | |
| Size Ranges | From small tabletop to large free-standing | 22-inches to 120-inches, with easy wall mounting options |
| Pros | - Wide model range | - Highly affordable with smart features |
| | - Size variety | - Good space utilization and portability |
| | - Affordable compared to bigger brands | - Easy mounting and stand options |
| | - Advanced smart tech features | |
| Cons | - Low brand trust | - Possibly uneconomical to repair |
| Maker | Hisense Electronic Company | Brand for Best Buy; Parent Brand - Hisense |
| Affordability | Quality at a moderate price | Delivers decent quality at a more affordable price |
| Overall Better Choice | Better in terms of advanced features and quality | Better for those prioritizing affordability |
Before we continue, you can check out the following comparisons in the same category:
Features
Features of Hisense TVs
Most Hisense TVs support the voice command feature.
They support streaming services such as Netflix, Amazon Prime Video, YouTube, and many other internet TVs.
An average Hisense TV comes with at least two HDMI inputs that are 4K compatible.
They are available in various high-tech TV formats, including 4K UHD, Laser TV, HD, Premium 4K ULED, and others.
Features of Insignia TV
Insignia TVs are available in a variety of formats, from simple LCD TV to more advanced formats, including LED HDTV, 4K UHD, and others.
Some Insignia TVs come with a wall attachment bracket for wall mounting.
The Insignia Smart TVs feature strong built-in Wi-Fi connectivity.
They support streaming from online apps like Amazon Prime Video, HBO, Netflix, YouTube, and many others.
Design/Portability
Hisense TV Design
Most Hisense TVs are known for their high-quality and modern design, equipped with high-tech features. They are available in various sizes to suit user preferences. Moreover, most Hisense TVs are lightweight, making them easy to move and transport.
Insignia TV design
Insignia TVs prioritize portability in their design. Although they are available in various sizes to cater to user preferences, there are also many smaller sizes from which users can choose. This includes the compact NS-5HTV (discontinued) designed as a tabletop TV.
Pricing and Budget
Hisense
Hisense TVs are designed to compete with bigger brands like Samsung and Sony but at a slightly lower price point. Comparing Hisense and Samsung is like comparing Samsung and Philips TVs. However, the difference might not be as apparent when comparing certain smaller products.
Insignia
While Insignia TVs also aim to rival more recognized brands like LG and Sony, they are notably more affordable. Most Insignia Smart TVs and other modern designs are significantly cheaper than similar products from rival brands.
Sound quality
Hisense
Hisense TVs offer good sound quality across all sizes. Typically, they come with various sound modes that allow users to adjust according to their preference. The sound quality is often on par with more expensive brands like Samsung and Sony.
Insignia
Insignia TVs also provide sound tuning modes. However, their sound quality is generally inferior to many other brands. However, the sound can be improved by connecting an external speaker.
Connectivity
Hisense
Hisense TVs offer several standard connectivity options, such as:
HDMI (up to 4 ports)
Bluetooth (for extended-range connectivity)
Wi-Fi
Ethernet for connecting to high-speed streaming apps.
Composite input and output.
Insignia
Insignia TVs also provide connectivity options similar to those of Hisense, albeit with some differences. Some of the available options include:
Wi-Fi connection.
Wireless connection to smart devices via Bluetooth.
Active HDMI (though this varies considerably by model).
Space Considerations
Hisense
Hisense TVs come in different sizes for surface use. These sizes range from small tabletop TVs to large free-standing ones.
Insignia
Insignia TVs are very good space-saving TV selections. They have features that allow them to be easily mounted on the wall, and a base that makes them an ideal tabletop TV. Insignia TVs also come in various sizes ranging from 22 inches to 120 inches.
Pros/Cons
Pros of Hisense TVs
They come in a wide range of models that meet your display requirements.
They come in various sizes that fit well into the available space.
They are considerably more affordable compared to other bigger TV brands.
They have several of the latest smart technology TV features.
Cons of Hisense TVs
Low brand trust due to low market recognition.
Complaints of a freezing display, and diminishing picture quality over time.
Confusing buttons on the remote control.
Pros of Insignia TVs
High affordability. It is probably the most affordable TV with smart technology features.
It offers a great number of portable-sized TVs with good space consideration for transportation.
It comes in many modern TV formats including 4K and ULED.
It can be easily mounted on the wall or placed on a surface with a regular stand.
Cons of Insignia TVs
Due to the limited distribution of the products, it might not be economical to repair.
It has recurrent cable connection issues.
Slow response for internet TV apps.
The remote is not properly labeled, which makes it hard to discern its functions.
Hisense vs Insignia: How do they differ?
One of the major differences between Insignia TVs and Hisense TVs is the maker. While Hisense is directly made by the Hisense electronic company, Insignia is a brand name for the home products of Best Buy. Most high-technology Insignia TVs are produced by Hisense at Best Buy's preference.
Insignia TV is mostly a cheap TV that strives to deliver quality to its users at affordable prices. Hisense, on the other hand, is a TV brand that produces quality TVs with modern and latest technology features that can rival other larger brands. Hence, in terms of affordability, most Insignia TVs are cheaper than Hisense TVs.
Which Is Better (Hisense vs Insignia)
Hisense TVs are a lot better than Insignia's, but this doesn't come without downsides. Hisense is known for manufacturing high-quality TVs that have advanced features contributing to their ease of use. But these come at a higher price than Insignia TVs.
However, if you are not concerned about the price of your product as long as it delivers quality, Hisense TV would be the best choice. But if you are more concerned about affordability even if it means slightly lower quality, going with Insignia TV would not be a bad choice.
FAQs
Is Hisense Made by Insignia?
No! It is the other way around. Insignia TVs range from high-standard Fire TV to lower quality smaller ones. However, the high-technology feature of Insignia Fire TV Edition is made by the Hisense electronic department.
Although the Hisense brand isn't as well-known as some others, it does have a loyal following because of its high quality, low cost, and easy accessibility. Each series serves a different purpose; some are better for streaming and viewing while others are more suitable for gaming.
Smart technology features, size options, and warranties are just a few of the fantastic features included with these TVs. If you're looking for a budget-friendly television, consider Hisense. It is renowned for offering superior technology at a fraction of the cost of its competitors.
As a result, Hisense TVs are not only wonderful for entertainment but also great for individuals on a tight budget.
Is the Insignia Brand Good?
Mid-range televisions like the Insignia series from Best Buy offer almost all the features of higher-end models at a more affordable price. With this in mind, Insignia TVs are at least worthy of consideration.
However, be aware that you won't get all the bells and whistles offered by high-end brands like Samsung, LG, and Sony.
It's worth noting that Insignia TVs are an excellent choice if you're willing to trade off some picture clarity and contrast for more affordable pricing.
The Insignia brand is not a TV manufacturing company; rather, it is a brand name for TVs. Best Buy owns the Insignia trademark.
While Best Buy owns the Insignia brand, it doesn't manufacture its TVs. Instead, the TVs are made by other companies, notably Hisense. However, they use parts from other brands, such as Samsung, Toshiba, and other major brands.
Conclusion
Comparing Insignia and Hisense, you would find that Hisense is the better choice. Although Hisense lacks the brand recognition of its rivals, its size and functionality are on par. This does not mean Insignia products are inferior in terms of quality.
Insignia products could also be a good choice for you due to their high affordability when comparing the two brands. Interestingly, some customers might find Hisense products affordable and accessible. This is due to differences in store pricing. However, compared to other, more popular brands, Hisense TVs are still considerably cheaper.