Modern receivers will come with more ports than their older counterparts. As a result, your receiver may have one or two HDMI out ports. If you are wondering whether the ports will be of any help when it comes to improving your listening experience, this article will help you understand what the HDMI ports on the receiver are used for.
HDMI output ports allow you to connect your receiver to an HDMI-enabled HDTV, speaker, computer, monitor, or some other device. You simply use an HDMI cable to connect the receiver to the device which then transmits audio and video.
Let's learn more about HDMI output ports and what they are used for.
What Does HDMI Out Mean?
HDMI out is a socket at the back of an A/V receiver that transmits or outputs both audio and video in the HDMI format.
The ports provide a connection method where other HDMI-enabled devices such as HDTVs and are wired using an HDMI cable. HDMI output ports can also be found on computers, set-top boxes, Blu-ray/DVD players, or tablets. HDMI output is therefore part of what we call HDMI pass through. Check out our article on how the HDMI pass through feature works.
What is HDMI Output Used For On A Receiver?
As we have already mentioned, HDMI output on a receiver is a port or socket that provides an easy connection method between the receiver and other HDMI-enabled devices such as TVs.
How To Connect Devices To HDMI Out On A Receiver
The HDMI port on receivers seems to have been designed to connect several audio and video devices.
If your receiver has an HDMI out port, you can connect devices with HDMI to the system. However, you may not be very sure how. Let's explain the installation process.
1. How To Connect TV To A Receiver Using HDMI Output
If you have a TV or monitor and want to transmit audio or video signals from your receiver to the TV or monitor, you need an AV cable. HDMI works perfectly as an AV cable and will help you complete the connection between a receiver and a TV.
Let's look at how to connect a TV to a receiver with HDMI:
Preparation
Make sure you bring HDMI cables. For the best video quality, HDMI cables should not be more than 5 years old.
Also, an up-to-date HDMI cable will be able to support the latest video standards. Before connecting devices to your receiver with the HDMI cable into the out port, connect the receiver to speakers. You can complete the connection of every device in less than 5 minutes.
Connecting A TV
When connecting a TV to the HDMI out port of your receiver, follow the steps below for a quick and safe connection.
Take one end of the HDMI cable and connect it to the receiver. This is done by plugging in the HDMI cable into HDMI out MAIN or the TV ARC output found on the back of the receiver. Connect the other end to the HDMI input also found on the back of your TV.
Plug the receiver on the Mains and turn it on. Then turn on the TV. Using the receiver's remote, click the MAIN/TV button followed by the menu button.
Check if the TV displays the receiver's menu. If there is no display on the TV, check if the cables are properly connected.
2. How To Connect TV Decoder To A Receiver
Step 1: Begin by connecting the HDMI cable to the receiver, and then to the TV decoder. If there are several HDMI inputs at the back of your receiver, select CBL/SAT HDMI input. Connect the decoder to the TV and turn the system on beginning with the receiver.
Step 2: Using the receiver's remote, select CBL/SAT and test if the TV works. Make sure the cables are closed for proper signal transmission.
3. How To Connect Blue Ray Layer, Media Box, And Console To A Receiver
Connect one end of the HDMI cable to the receiver and the other end to the device. For the media box, connect the HDMI cable to the HDMI STRM BOX input found on the back of the receiver.
If you are connecting a Blu-ray player, the cable should go to the HDMI BD/DVD input also found on the back of the receiver. For gaming consoles, connect the cable to the HDMI GAME input on your receiver.
Connect the devices to power and turn all of them on to test the connection. Press STRM BOX, BD/DVD, or GAME button on the remote control to turn on the system. Test if images are displayed. If there are no images, check the connection and ensure the HDMI cable is properly installed.
If you are having issues with these steps or your HDMI output is simply not working on your receiver, check out this article on how to fix HDMI output not working on my receiver. If you have a Pioneer receiver, check this article on Pioneer receiver HDMI output not working.
Can HDMI Output Be Used As Input?
No, HDMI input and HDMI output are different ports. HDMI ports are designed to either transmit signals to a receiving device such as a TV or receive signals from a source device such as a DVD player.
The input and output ports can therefore not be used interchangeably. You can therefore not use HDMI out port on receivers as input.
What is HDMI ARC out?
You may see HDMI ARC as one of your HDMI outputs. ARC stands for Audio Return Channel and it enables you to simplify your system. With ARC, you can send audio from a TV back to a receiver or a soundbar without having to attach a separate audio cable. ARC is compatible with most HDTVs, receivers, and soundbars.
Why Does A Receiver Have 2 HDMI Outputs?
Before buying a receiver or TV, it is a good idea to count the number of devices you need to connect to it and add one or two more. For instance, an HDTV with at least three ports is recommended.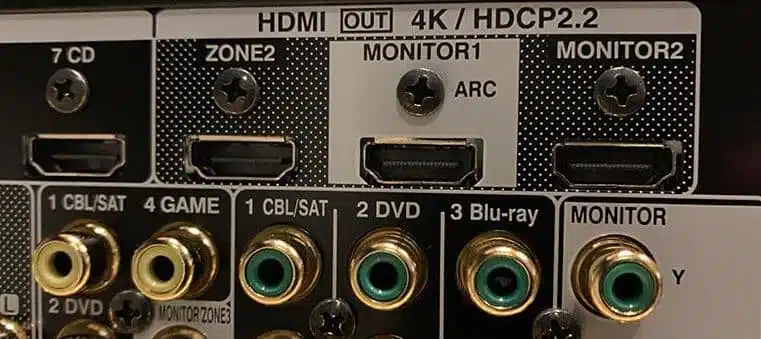 The number of HDMI inputs on your TV should therefore be enough to support the devices you intend to connect. This will help you avoid switching the devices on and off when routing to the TV.
Using dual HDMI outputs is a great way to send audio and video to another room or zone of your house. This means you can enjoy your media in another room by simply running an additional HDMI cable.
To learn more, check out our full article on receivers with dual HDMI outputs to get a better understanding of why we use receivers with 2 HDMI outputs.
Although you can use an HDMI switcher with your receiver and other devices, connecting the HDMI out of the receiver to the main HDMI input of your TV will give you the best video and audio quality.
Receivers With HDMI Output
Onkyo TX-8270 – it has one HDMI out
Denon AVR-X2700H 8K Ultra HD 7.2 Channel
Onkyo TX-NR5100 – it has 4 HDMI outputs
Receivers with 2 HDMI Output
Sony STR-ZA3100ES
Denon AVR-X4700H (2020 model)
Sony STR-ZA5000ES
Marantz SR7015 (2020 model)
Receivers With Multiple HDMI Outputs
Denon AVR-X6700H (2020 Model) – it has HDMI 2.1 audio/video switching with 8 in and 3 out
Marantz SR8015 (2020 model) – it has 8 in and 3 out
Denon AVR-X6500H Receiver – 8 HDMI in and 3 out
Receivers With HDMI Input
Onkyo TX-8270 with 4 HDMI inputs and one HDMI out
Denon DRA-800H – it has five 4K HDMI inputs
Marantz NR1200 – a hybrid receiver with five HDMI 2.0 inputs and one ARC- compatible output
Receiver With HDMI Input And Output (Stereo Receiver With HDMI)
Denon AVR-A110 (110th Anniversary Edition)
Yamaha R-S202
Sony STR-DH190
Do I Need An HDMI Output?
HDMI outputs are necessary to create a stress-free connection between receivers and display or output units.
What Is A HDMI Receiver?
A receiver's job is to connect to an output system, receive audio and video signals from the transmitter and display the received and decoded signals on the output screen. It can be connected to televisions, monitor screens, and projectors and can receive transmissions from a distance of up to 150 feet.
What Is HDMI Input For?
HDMI inputs are ports created to connect to one end of the HDMI cable to accept audio and video data transfers from the device connected to the HDMI out port at the other end of the cable. All modern gadgets use HDMI, which stands for "High-Definition Media Input."
Both video and audio are transmitted through HDMI connections on your television. Furthermore, most laptops and PCs feature HDMI ports, allowing you to connect your PC to your television via an HDMI connection.
How Many HDMI Outputs Should A Receiver Have?
Usually, just one is needed, unless you prefer to have the option of connecting multiple devices to it, in which case, fortunately, gadgets with dual HDMI outputs have become increasingly popular on the market. Home theatre receivers, for example, tend to come with at least one output that connects to a television or a projector.
Amplifiers with HDMI Output
There are a couple of amplifiers that have been made compatible with HDMI connections. These amplifiers will make multiple connections to your home theater possible with better audio production.
This is a list of some of the amplifiers with built-in HDMI input and output:
Pyle (PDA9HBU.5) multi-channel wireless Bluetooth home stereo amplifier

YAMAHA (Series R-N303BL) Stereo amplifier (Bluetooth, Wi-fi, and Phono compatible)

Denon (Series PMA-600NE) Integrated Bluetooth stereo amplifier

Pyle (PT588AB) Wireless Bluetooth power amplifier system (420W 5.1 channel home theater surround sound audio stereo receiver box)

Karaoke Bluetooth Digital Home Theater Amplifier