Last Updated on January 19, 2023 by Norvan Martin
Both Harman Kardon and JBL are vintage speaker brands with over 50 years of experience in the industry. There's no doubt they both excel in the business. However, they still deliver varied variations in design and audio quality. This article compares the two to help you decide which is better.
JBL is a popular brand that offers a wider range of audio devices including go-anywhere party speakers. Their speakers offer better soundstage performance, longer battery life, and it supports voice assistants. Harman Kardon on the other hand offers speakers that sound neutral and balanced out-of-the-box; they are great for around-the-house use.
Before you continue, you can check out the following comparisons in this series:
Is JBL Harman Kardon?
JBL and Harman Kardon as subsidiaries of the parent company Harman. As such, JBL and Harman Kardon are different companies, but they are related entities within the same group of companies, Harman.
Harman Kardon is an American speaker manufacturing company founded in 1953 by Sidney Harman and Benard Kardon.
Harman Kardon designed some of the first high-quality audio products in the 1950s and is well remembered for introducing an AM/FM compact Hi-Fi receiver, Festival D1000, in 1955.
In 1956, Benard Kardon retired and sold his interest to Sidney Harman, who later changed the company's name to Harman International. However, the tuners, amplifiers, and receivers were still sold under the Harman Kardon brand.
In 1958, Harman Kardon introduced one of the first stereo receivers for non-technical users – Festival TA230.
On the other hand, JBL is an American speaker manufacturing company founded by an American Audio engineer, James Bullough Lansing, in 1946. James is best known for establishing JBL and Altech Lansing, bearing his name. However, JBL speakers are made in more than one country.
Presently known as James B. Lansing Sound, Incorporated, the JBL was first called Lansing Sound, Incorporated. The legendary L100 Century Loudspeaker is the best and most referenced JBL speaker. An essential part of hi-fi history, the speaker, was first introduced in 1970. The brand dominated the market in the seventies.
In the 1950s, JBL introduced the first 375 high-frequency compression driver, which became the first commercially available 4″ diaphragm driver.
It was a re-invention of the Western Electric 594 driver and had a four-inch voice coil with an Altico V magnet. The company also introduced 075 UHF ring radiator drivers, known as "JBL bullets," due to their distinctive shape.
These speakers are standard and are less expensive too. Besides, they were very trendy back then. Therefore, JBL is not Harman Kardon.
Harman Kardon Vs JBL Speakers
Harman Kardon speakers are crafted in sophisticated design and deliver sublime sound. The speakers will therefore assure you of beautiful and high-fidelity sound. The company, therefore, manufactures very high-quality speakers. Besides, the design is unique to Harman Kardon.
Unfortunately, the high quality also means that users have to dig deeper into their budgets to acquire speakers from Harman Kardon.
On the other hand, JBL provides some of the most popular wireless speaker brands in the market.
The company, therefore, allows users to enjoy crisp and clear sound that remains great indoors and outdoors. The speakers integrate the latest Bluetooth technology and provide significant volume with minimal sound distortion.
Some of the exciting features that make JBL speakers excellent include:
Portability
Great sound quality
Energy efficiency
Easy installation
Power saving
Affordability
Durability
Long battery life
Therefore, the features clearly show the difference between JBL and Harman Kardon speakers. Noth the brands, therefore, deliver high-quality speakers.
However, the choice is personal, as that depends on the key features you consider more important. For instance, if you want a speaker to satisfy your outdoor adventures, JBL will be the best.
Harman Kardon Vs JBL Soundbars
We shall compare Harman Kardon SB 20 with JBL Bar 5.1 surround Soundbar for this review.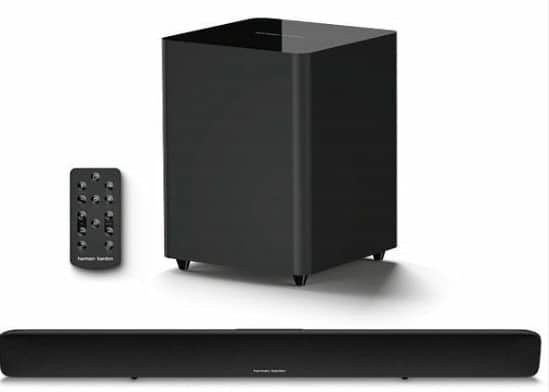 The Harman Kardon SB 20 is a two-channel soundbar that fills your living room with sound and comes with a powerful wireless subwoofer.
The Soundbar comes with extensive HDMI connectivity, and Bluetooth and quickly learns the commands of the TV remote control. The SB 20 is built with two-way, dual left, and suitable modules, each with two 3″ midrange drivers and one 1″ dome tweeter.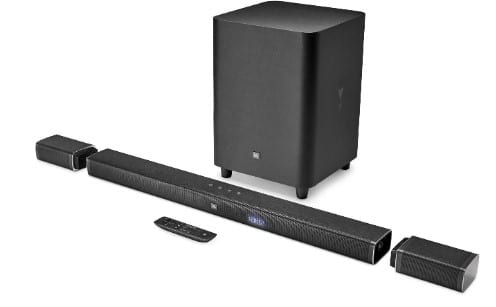 Also, the Soundbar is Dolby enabled and can encode Dolby Digital formats. It also allows direct listening from a smartphone or tablet and is compatible with the new Harman Kardon mobile app.
Pros
Dolby Atmos-enabled
Easy and quick installation
Compact
A wider range of connectivity options
Cons
On the other hand, JBL Bar 5.1 surround Soundbar is a 5.1 setup that utilizes "Multibeam" technology to improve the surround performance. Also, the soundbars deliver punchy and boomy bass that is particularly suitable for EDM music and action flicks.
The soundbars have room correction and have several wireless options that support music streaming. However, it does not support Dolby Atmos, and the EQ options are limited.
Pros
Outstanding wireless connectivity options
Room correction
Cons
No Dolby Atmos
Only two EQs present
Harman Kardon Vs. JBL Boomboxes
For this review, we compare Harman Kardon Go+Play with the JBL boombox. Harman Kardon Go+Play produces rich, mellow highs.
The bass is also incredibly warm and spacious, especially when listening at half-volume. On the other hand, the JBL boombox produces very crisp highs, and the bass is punchy. The vocals and highs sound like a live performance.
Pros
Midrange is crisp
Voice assistant is on and enabled on a smart device
Better sound
Bluetooth connectivity
Smooth bass
Clear sound
Easy to use
Cons
Harsh edge design
Only one equalizer setting
The indoor mode has no bass boost because the bass resonates from indoor objects
Pros
Clear sound
Smooth bass
Midrange is crisp
Cons
Heavy
Only one equalizer setting
So, Which Is Better?
Generally, JBL Boombox is a better choice. Here's why:
Stereo speakers
Two more drivers
Has a subwoofer
Smaller
It has a passive radiator
Weather-sealed
It has a battery level indicator
The battery is rechargeable
Harman Kardon Vs JBL Car Audio
For the best car audio experience, both Harman Kardon and JBL are good options. For instance, let's look at Harman Kardon Onyx Studio 4 and JBL Flip 4 here.
Based on user experiences, Harman Kardon Onyx Studio 4 is portable only because it comes with an inbuilt battery and can be operated without a cord. It is, however, much larger and bulkier.
On the other hand, JBL Flip 4 has more battery life, a compact design, and better sound quality. Besides, at less than $100, Flip 4 is a great option.
Pros of Onyx Studio 4
Great sound quality
Impressive volume
Cons of Onyx Studio 4
Very large and heavy
Poor battery life
Pros of Flip 4
Excellent sound quality
Good battery life
Waterproof
Cons of Flip 4
Distorts at high volumes
Limited app functionality
So, Which Is Better4?
Generally speaking, JBL Flip 4 is much better than Harman Kardon Onyx Studio 4. Here's why.
It is weather-sealed
Is 20mm bigger driver unit
It is dustproof
One more live Bluetooth connection
4 hour longer battery life
It is much lighter
Onyx Studio 6 is a Bluetooth speaker with an excellent design and high-quality sound. It is highly durable and comes with IPX7 certification for water resistance.
Pros
Excellent sound quality
Massive bass
Beautiful design
Dual sound feature
Cons
Cannot use dual sound with older speakers in the series
Not shockproof
On the other hand, JBL Boombox is a bulky, durable, and powerful Bluetooth speaker. JBL excels in producing Bluetooth speakers, and the Boombox will take your wireless listening to the next level.
Pros
Mind-blowing bass
Very durable
It can be used as a mobile charger
IPX7 waterproof
Cons
Large and heavy
The sound is not perfectly balanced
So, Which Is Better?
Considering the design, specifications, connectivity, and sound quality, the JBL Boombox is a much better choice than Onyx Studio 6.
Harman Kardon Onyx Studio 6 Vs. Citation One
Generally, Studio 6 is more expensive than Citation one. Also, Studio 6 comes with an inbuilt rechargeable battery and a battery level indicator that makes it much easier to use.
So, Which Is Better?
Based on the component, design, connectivity, and usability, Onyx Studio 6 is considered a much better option than Citation One. Here are more reasons.
One more driver
Passive radiator
Weather-sealed
Rechargeable battery level indicator
In-built radio
31mm bigger driver unit
Power Range Comparison
JBL Power Range
The speakers have a high power handling capacity. For instance, the 840 Cinema Surround Speaker can handle 350 watts of continuous play, while the JBL Stage 1210 12" woofer can handle up to 250 watts RMS and 1000 watt peak power.
Subwoofers: 50W to 1600W rated power
Speakers: 50W to 250W rated power
Amplifiers: 50W to 800W per channel
Harman Kardon Power Range
The power range of most Harman Kardon speakers varies from portable devices to much larger ones. A device such as the Harman Kardon Automotive Mini, with 12 high-performing speakers, has a power range of around 360 watts.
However, in a much smaller device like the Harman Kardon HKTS 15, the power range in the 5.1 speaker system is around 100 watts.
Frequency Response Comparison
JBL Frequency Response
JBL speakers work well under various frequency ranges. For instance, the JBL ES Series speaker systems, such as the ES 20, operate between 65 HZ – 40 kHz.
The 840 Very High Power Cinema Surround Speaker for digital surround sound immersion application performs within the 60 Hz to 19 kHz frequency range.
Harman Kardon Frequency Response
In a Harman Kardon receiver (using the AVR 1610 specs as an example), the frequency range is around 87 MHz to 108 MHz. Interestingly, in another device, such as the portable Onyx Studio 4 speaker, the frequency range is just about 50Hz to 20kHz.
When you need to get a Harman Kardon product, you can request the spec of the particular device to know the frequency response.
Cost Comparison
JBL Cost
Bluetooth JBL speakers are available at a range of prices. You can, however, get them between 40 dollars and 400 dollars.
However, the GBL Go is still ranked the most affordable Bluetooth speaker owing to the added value of sound quality and portability. The cost is generally high due to the high cost of engineering, the high cost of quality materials, and the cost of advertising.
Headphones: $10 – $200
Amplifiers: $50 – $5000
Harman Kardon Cost
An average Harman Kardon JBL Portable Bluetooth speaker has a price range of around 40-400 dollars. However, here is a more concise idea of the Harman Kardon products:
Headphones from $44 to around $500
Earbuds from $40 to $120
Soundbar from $150 to $1000
Home theaters and surround speakers from about $150 to $1700 (full sound system)
However, there might be a slight difference in this price when getting any of the products. This price difference can be noticed across different regions and dealers.
Although most people buy them because of the delightful sound and quality, some people still feel the Harman Kardon devices are too expensive regardless of what they offer.
Conclusion
JBL and Harman Kardon are well-known audio manufacturers, with JBL being more popular. JBL is well known for its party speakers and offers better soundstage performance and longer battery life. It is also easier to connect multiple JBL speakers together. Harman Kardon on the other hand offers speakers that sound neutral and balanced out-of-the-box; they are great for around-the-house use.
Related Articles
Jbl Vs Focal
Jbl Vs Sonos
Jbl Vs Pioneer
Jbl Vs Sony
Harman Kardon Vs Sony
Harman Kardon Vs Bose
Harman Kardon Vs Onkyo