Focal and Kef are two renowned and well-respected brands in the audio industry and produce high-quality speakers, soundbars, headphones, and subwoofers.
In this article, we will cover a general overview of both brands, looking specifically at sound quality, durability, price, and so on.
Of course, each brand has different devices at different price points, however, we will compare them as closely as we can.
Focal is known for its high-quality speakers and headphones, while KEF is a well-respected brand in the audio industry for its innovative speaker design.
Focal and Kef Comparison Table
| Criteria | Focal | KEF |
| --- | --- | --- |
| Brand Reputation | French audio brand known for high-end audio equipment, specializing in speakers, headphones, and studio monitors. | British audio company with a long history, recognized for innovative speaker designs and high-quality audio products. |
| Sound Quality | Emphasizes high-fidelity sound reproduction, often with a neutral and accurate audio signature suitable for audiophiles and professionals. | Known for delivering clear and detailed sound, with a focus on Uni-Q driver technology for accurate and immersive audio experiences. |
| Build Quality/Design | Emphasizes premium build quality, often with attention to detail in design and materials, providing a sophisticated and elegant aesthetic. | Features high-quality construction with a focus on innovative designs, often incorporating unique technologies for optimal audio performance. |
| Product Range | Specializes in high-end speakers, headphones, and studio monitors, offering products for audiophiles, professionals, and music enthusiasts. | Offers a wide range of audio products, including home speakers, bookshelf speakers, floorstanding speakers, and audio systems for diverse applications. |
| Pricing | Falls in the mid to high-end price range, reflecting the premium quality and performance of high-fidelity audio equipment. | Varied pricing, providing options for different budgets, with both entry-level and premium audio products available. |
| Features | Emphasizes advanced driver technology, innovative design elements, and high-quality materials to enhance audio performance. | Known for features such as Uni-Q driver technology, advanced acoustics, and versatile speaker designs to suit different listening environments. |
Before we continue, you can check out similar comparisons in the series:
Pros and Cons of Focal:
Pros: Known for producing high-quality speakers and headphones with excellent sound quality and build quality. Many of their products are well-regarded by audiophiles and have received positive reviews.

Cons:

Some of their products can be expensive.
Pros and Cons of KEF:
Pros: Known for producing high-quality speakers with excellent sound quality and strong bass response. Many of their products are designed to be aesthetically pleasing and can be a good fit for a home theater setup.

Cons:

Some of their products can be expensive, and some users have reported issues with durability.
Quick History
Focal Quick History
Focal is a renowned French speaker brand that is well known for its quality and performance. Focal has been creating and manufacturing home audio loudspeakers, automobile audio speaker drivers and amplifiers, and recording monitoring loudspeakers, and headphones since 1979. The Focal brand, based in Saint-Étienne, France, has earned its place among the audio industry's leaders by producing constant innovative technology.
Every new generation combines existing advancements and inventions, allowing them to continually add new products to their collections. The Focal goal is to create a faithful replica of its original work while preserving its reputation.
KEF Quick History
KEF has a long and distinguished history. The company was founded in 1961 in Maidstone, Kent, by Raymond Cook OBE, a BBC engineer. The British company specializes in designing and producing high-end audio products, including speakers, subwoofers, and headphones.
KEF introduced Uni-Q, the world's first coincident source speaker driver, in 1988, and it still remains a landmark feature in nearly all its speakers today.
The first KEF speaker, the three-way K1, was built from synthetic materials. In 1973, the company became the first loudspeaker manufacturer to implement the use of computers in loudspeaker design and measurement in the whole world.
It continued to develop the use of acoustical, mechanical, and magnetic modeling techniques in speaker design including the Finite Element Analysis in the 2000s, and revealed the Acoustic Compliance Enhancement (ACE) in 2005. In the 2010s, KEF launched the BLADE, EGG wireless speakers, and MUO portable speakers among other brands.
Sound Quality
Focal Sound Quality
The Focal brand has been working on producing high-quality sound that is rich and precise in order to set itself apart from other companies. When you listen to music on low-quality equipment, you lose the richness of the sound.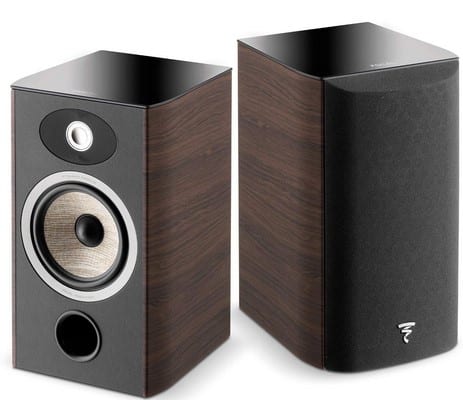 The final presentation is heavily influenced by the sound production equipment type and quality of the initial recording and the file type (MP3, CD, etc.). Focal acoustic professionals specialize in sound precision and know how to bring out the richness of recorded sound samples.
Focal sound qualities include good dynamics (the contrast between bass and treble) and sound neutrality (the absence of coloration or frills which lead to distortion).
KEF Sound Quality
KEF engineers classy, superb-sounding speakers and is one of the finest manufacturers of British hi-fi audio equipment. This is why audiophiles around the world revered KEF for its innovative, high-performance audio systems.
KEF's company's ethos is based on R&D, engineering, design, and development found in their trademark technology including:
Their Uni-Q driver array and Metamaterial Absorption Technology ensure that KEF speakers produce high-quality natural surround sound.
The Metamaterial Absorption Technology is a complex maze-like structure that helps the speaker absorb up to 99% of unwanted sound resulting in less distortion and pure, natural sound.
The Single Apparent Source technology helps to eliminate interference and contributes to clear, accurate, authentic, and immersive sound.
Features
Focal Features
Focal designs every component to work together to deliver the highest possible musical quality. Some of the features of the Focal brand that make it one of the best are listed below:
Magnetic grille for woofers
Aluminum/magnesium inverted dome tweeter
Slatefiber midrange
Bass reflex design (front-firing port)
Lean-back design ensures precise sound at the listening position
Bluetooth, HEOS, Wi-Fi, and AirPlay 2 streaming support.
Multiple input and output ports
Up to 5 years warranty on their product
Innovative technology
Sensitivity 92.5 dB
High power handling
Low distortion
Bi-amp system
Accurate and natural sound output
Reliable construction material
KEF Features
Here are the main features of KEF products:
Uni-Q drivers for the elimination of "sweet spots" and enhancement of surround sound
Tweeters mounted into the center of the mid
Metamaterial Absorption Technology for eliminating distortion and enhancing the production of pure, natural sound
Flexible Port Technology
Single Apparent Source Technology
Build Quality
Focal Build Quality
Most Focal products you buy will have a solid build. Focal has maintained a consistent level of product build quality over the years. If you desire a high level of build quality in your devices, Focal is among the best you can get out there.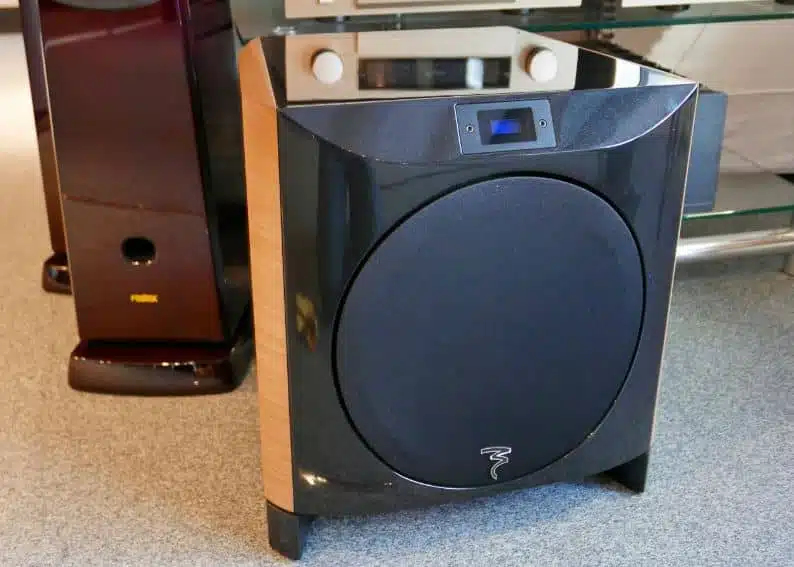 Their products are often compared to more reputable brands such as Yamaha and lots more.
KEF Build Quality
KEF speakers are designed to look acoustically exceptional and attractive. Besides, they are precisely built to the outstanding standards of KEF.
The Reference cabinets are built using finite element analysis to precisely determine bracing geometry and shape and reduce secondary radiation.
The Constrained Layer Damping applied to the finish helps turn any little vibrations into heat that is quickly dissipated.
Ease Of Use
Focal Ease of Use
Focal products are very simple to use and come with a guidebook that explains how to set up and use the equipment.
You'll love the Focal brand speaker base because it makes speaker positioning and alignment (and, if necessary, re-positioning) very easy.
Unlike most other speaker designs, which require reaching beneath a cabinet with one or more spanners to adjust the spikes fitted to the base, the focal speaker base lets you simply reach below and make changes quickly, easily, and without the use of any equipment.
KEF Ease of Use
The Reference speakers are clearly undemanding in terms of positioning and space as they are sleek and compact. The REF5 and REF107 are good examples.
They are easy to fine-tune to conform to your listening area using the Flexible Port Technology. Also, the speakers and subwoofers come with remote control systems that make them easier to navigate without changing your sitting position.
Cost
Focal Cost
Focal products are significantly less expensive than some of the other audio system manufacturers in the same league.
This does not imply that they are inferior to other brands, and, of course, some other manufacturers' products are less expensive, while some are more expensive than Focal.
The price range for different focal devices is listed below:
Home speakers: $150 – $1500
Headphones: $50 – $300
subwoofers: $150 – $2000
Car speaker: $100 – $500
Focal produces sound systems that include a variety of high-quality characteristics, such as a durable design and a powerful sound, and they are all reasonably priced. No matter how inexpensive a focal product is, it will still provide an adequate output for the purpose for which it was created.
KEF Cost
Speakers: $50 to $5,000
Subwoofers: $40 – $2000
Headphones: $50 – $500
Space Requirements
Focal Space Requirements
Focal offers numerous products that are ideal for use practically anywhere and offer excellent portability. These include loudspeakers, soundbars, car audio, Bluetooth speakers, and lots more.
However, it's important to remember that the size of these products isn't the only aspect to consider when deciding where to put them; ventilation requirements are also to be considered.
Insufficient space may cause the device to overheat, resulting in a sudden shutdown. It is ideal to leave a few inches of free space around a Focal device, especially those that must be installed in a confined space.
KEF Space Requirements
Vintage KEF speakers do tend to be large and bulky, but this generally applies to all vintage speakers.
KEF considers placement while designing its speakers to make it easier to enjoy listening to surround, even in small spaces. They are therefore small and easy to install. The speakers are also designed with smooth edges to make it easier to place them anywhere in the room.
Remote Controls
Focal Remote Control
Focal provides easy access to their devices as well as the ability to control them. With the use of remote control, users can listen to music on the gadget from any room. The FSP-8 remote control is an example of this. This LCD remote control enhances the DSP FSP-8 user experience.
You may simply make a change in the primary settings, and also significantly, remember up to four saved presets thanks to the easy control.
KEF Remote Control
KEF speakers come with remote controls. However, KEF also sells replacement remote control systems separately to make life easier for their product users.
The replacement remote controls are classified into HiFi, standard V1, or Luxury V2. They sell at different prices and come with different features, with the Luxury V2 remote system having the most variety of features.
Connectivity Options
KEF Connectivity Options
Here are the main connectivity options compatible with most KEF speakers:
Power Range
Focal Power Range
The amount of power consumed by Focal devices differs from one gadget to the next. For example, an entry-level Focal receiver's power range is roughly 120 watts for one channel and 60 watts for two channels. However, the average soundbar's power range/consumption is around 74 watts.
It is advisable to look through the user manuals to understand the power range of your focal device in order to get the most out of it.
KEF Power Range
KEF speakers can rock up to 1000 watts of power and work perfectly well with amplifiers of between 15W and 300W.
The headphones can deliver up to 5mW maximum power output. On the other hand, the subwoofers consume up to 1000W peak power with up to 300W RMS recommended amplifier power.
Frequency Response
Focal Frequency Response
We will make a few comparisons to give an overall idea. Focal Chora 826-D floor-standing loudspeaker has a frequency response of about 48Hz-28kHz while Focal Sopra SW 1000 BE Subwoofer has a frequency response of about (+/- 3dB) 20 Hz–150 Hz.
You can do your research on Focal Audio products to know about each device's frequency response when you need to get one.
KEF Frequency Response
KEF specifies a frequency range of up to 47 kHz. The low end of this range depends on the bass extension setting used. However, a wide range of KEF speakers responds well between 64 Hz to 28 kHz.
Conclusion
If you need a good sound system in the future, you can put your faith in Focal. Decades of experience have made the organization into a market-leading brand. Try Focal for your next sound upgrade if you're looking for great sound quality and high-fidelity sound. For over 50 years, Kef remains a reputable hi-fi brand. The sound quality is superb and the speakers are easy to install. The vintage speakers are however bulky and will require large spaces for placement.