As an Amazon Associate, we earn from qualifying purchases made on our website.
Surround sound hasn't really changed much over the years. Apart from the fact that we have moved from the center and rear channels matrix-encoded Dolby Pro Logic, to 5.1 channel mixes with Dolby Digital, what else has there been? What else is there to convince you to add more speakers to your setup?
Introducing Dolby Atmos and Dolby Atmos Upward Firing Speakers. The latest and greatest thing in audio surround sound technology.
Best Overall
Klipsch RP-500SA Dolby Atmos Surround Sound...
Most Versatie
Klipsch RP-140SA Dolby Atmos Speaker
Most Modern
ELAC Debut 2.0 A4.2 Dolby Atmos Modules, Black
Best Overall
Klipsch RP-500SA Dolby Atmos Surround Sound...
Most Versatie
Klipsch RP-140SA Dolby Atmos Speaker
Most Modern
ELAC Debut 2.0 A4.2 Dolby Atmos Modules, Black
What Is Dolby Atmos?
Dobly Atmos is a surround-sound technology that offers the most immersive surround-sound experience available today.
In addition to providing sound around listeners, Dolby Atmos provides sound above the audience as well.
If you have ever experienced Dolby Atmos, you know it is spectacular, something rather special. So, if you want to enjoy this experience in your home, we have rounded up the best Dolby Atmos Upward Firing Speakers below.
To learn more about Dolby Atmos, check out Doby Technologies.
Designed to add the incredible Dolby Atmos experience to any bookshelf or floor-standing speaker set, the Klipsch RP-500SA delivers a fantastic sound.
For durability, this add-on speaker set comes in an MDF cabinet, with a brushed veneer finish.
The versatility of this bookshelf home speaker allows you to use it as a surround sound system, perfectly mounted on the wall.
It features an LTS aluminum tweeter and a 4" copper IMG woofer that gives a phenomenal sound experience.
This upward-firing speaker has its drivers angled upward to bounce the sound off your ceiling, giving you a heightened soundstage. It has a power handling capability of about 75.5 watts RMS.
In addition, the RP-500SA bookshelf speakers come with a strong, flexible, and acoustically transparent grille. It has a lightweight package for portability, weighing about 2.5kg.
---
If you love your Dolby Atmos audio effects with a well-defined sound, the Klipsch RP-140SA is the unit to purchase.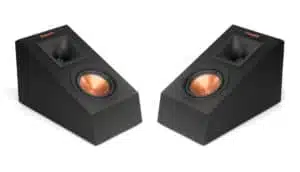 It's hybrid horn-loaded tweeter performs the ceiling bounce perfectly, giving you an amazing overhead sound experience.
The versatility of these speakers allows them to work as surround sound speakers, angled on your wall to give you an immersive sound.
Designed to work with Dolby Atmos soundtracks, the RP-140SA gives you a 50-watt high-impact sound.
Just like its close sibling, the Klipsch R-14SA, this speaker has a maximum power capacity of up to 100 watts. It's able to work well with both front and back floor-standing speakers and features a brushed veneer finish for durability.
Aside from its Dolby Atmos specification, it comes with anti-vibration feet with rubber and integrated wall mounting brackets. However, the speaker may feel a little heavy compared to its competitors.
---
ELAC is not a very popular brand is not as recognizable as say Pioneer. However, they do focus on detail-oriented surround sound standards.
That said, the SP-T22A-LR is one of the top upward-firing speaker sets that stands on top of flat speakers to make the DTS:X and Dolby Atmos compatible.
To minimize the internal standing waves and improve the speaker's performance, the pioneer ELAC Debut 2.0 comes in RF molded cabinets.
It features a 4-inch top-firing concentric driver to optimize sound reproduction and give you an immersive sound. Each speaker offers little to no distortion at loud volumes.
Built in a bigger compartment than most other units on the market, it may be a little problematic to place the speakers.
However, the exterior cabinet is highly durable, holding a 4-inch woofer that delivers diverse sounds.
---
Engineered to allow you to experience the best cinematic sound experience in your home, the SS-CSE speakers are built for Dolby Atmos.
Sony SSCSE Dolby Atmos Enabled Speakers, Black...
Dolby Atmos enabled speaker perfect to provide an extra dimension to your home theater setup
Create a robust 5.1.2 home theater setup perfect for Dolby Atmos with the complete range of CS speakers from...
Experience breathtaking cinematic sound from audio that flows all around you by adding the SSCSE Dolby Atmos...
They feature theater-worthy audio technology and they work perfectly with advanced surround sound formats such as DTS:X. It delivers an immersive surround sound and there is no need for a complicated setup.
Each component in the SS-CSE speakers is built to reduce vibration and sound distortion, giving you audio clarity and richness.
The compact cabinet suits the speaker perfectly and makes it highly durable. Their compact profile gives them versatile setup options and you can discreetly install them on your wall or add them to your existing speakers.
This full range speaker system has a maximum power handling capability of up to 100 watts and it weighs about 3kg. However, these speakers only work great as a pair.
---
Bringing you an immersive and cinematic Dolby Atmos sound, the Q50a speaker is one of the finest products from KEF.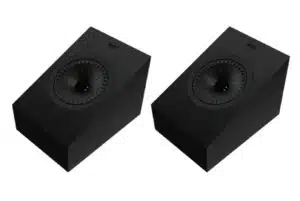 Bringing you an immersive and cinematic Dolby Atmos sound, the Q50a speaker is one of the finest products from KEF.
The speakers feature high-tech audio technology and a Uni-Q driver array to give you fantastic dynamics and a clean response.
Thanks to KEF's acoustic engineers, the Q50a Dolby Atmos speakers are expertly tuned to perfectly perform the ceiling audio bounce when used with q-series speakers.
It comes in a sturdy wooden cabinet with a black finish, allowing it to last for a long time and match your interior décor.
When it comes to power handling capability, the Q50a speaker delivers 10-watt RMS power and up to 100W peak.
It features an integrated keyhole for wall mounting, but it may feel a little heavy for its size, weighing about 4.6kg.
---
How Does Dolby Atmos Work?
Developed in 2012, Dolby Atmos is the latest detail-oriented sound technology that expands the standard 5.1 and 7.1 audio setups.
This setup includes various speakers placed around the room to give you an immersive 3-D sound.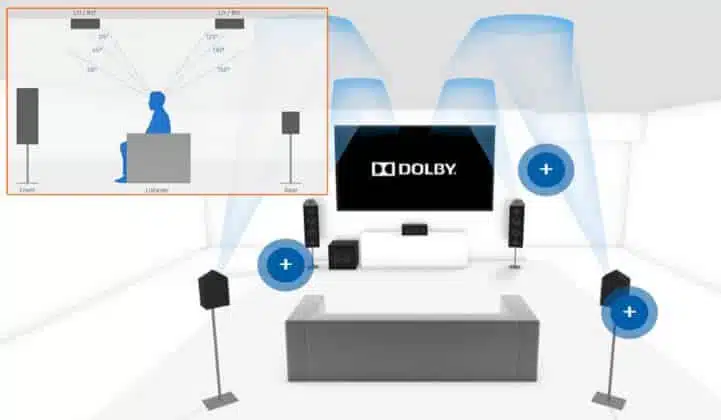 Unlike traditional sound systems where sound travels in a horizontal direction, Dolby Atmos allows you to enjoy a multi-directional sound.
The sound moves around in a 3-D space, rather than getting constrained into channels. This technology also gives you an overhead sound dimension, creating a realistic and breathtaking sound quality. This is why these heavy-duty speakers are often mounted on the wall.
When using Dolby Atmos compatible speakers, you can enjoy astonishing sound clarity, depth, detail, and richness.
The technology is more flexible and easily adaptable than channel-based audio systems and you can easily add it to various speaker set-ups.
What Are Upward Firing Speakers?
By definition, upward-firing speakers are a unique set of audio speakers that can pump sound upwards. Their engineering allows them to perfectly sit in front of your speaker set-up.
These speakers bounce off the audio from the ceiling to your ears, giving you a great surround sound experience.
In simple terms, they help to create a dynamic sound quality, similar to in-ceiling speakers.
Creating the illusion of in-ceiling speakers, upward-firing speakers are mainly suitable for those with bookshelf and floor-standing speakers.
They may lose some sound sharpness compared to in-ceiling speakers, but they are easier to adapt and set up.
In addition, upward-firing speakers allow you to enjoy the amazing Dolby Atmos listening experience in the comfort of your home. This lets you enjoy a cinematic sound experience on an affordable budget.
Dolby Atmos Upward Firing Speakers Vs Ceiling Speakers
Instead of getting Dolby Atmos upward-firing speakers, why not get ceiling speakers instead? This is a common feature of many 7.1.2 surround sound systems that include two ceiling speakers.
Ceiling speakers are an excellent choice for Dolby Atmos. They are used as the height channel and add a vertical plane of sound.
They help to create an immersive experience. However, Dolby recommends using four in-ceiling speakers. In this case, one pair should be located in front of your listening position, and a second pair behind it.
Of course, ceiling speakers are more expensive to install and are expensive to remove as well. If you are renting your space, then this is of course not practical and the better option is upward-firing speakers.
7.1.2 Overhead Speaker Setup
We have mentioned that you can use ceiling speakers for Dolby Atmos. Below is the typical setup for ceiling speakers to take advantage of Dolby Atmos in a 7.1.2 surround sound system:
Choose a seating position
Angle your speakers towards the seating position, keeping them at your ear height when you are seated
Bottom Line
If you want to experience the best in true surround sound today, then Dolby Atmos should be a very important aspect of your sound system setup.
It's not just the latest and greatest audio format, but it offers the kind of soundstage and dynamic range that non-audiophiles will appreciate.
Probably the most important aspect of Dolby atmos upward-firing speakers is that you do not have to install ceiling speakers (these can be a pain to remove). When you think about the sound quality and convenience, it's a no-brainer really.
To make the best of your Dolby Atmos upward-firing speakers, you need a good Dolby receiver as well. Check out our article on the best budget Dolby Atmos receivers for the best choices.
Norvan Martin is the founder of BoomSpeaker.com. He is a professional Electronics Engineer and is passionate about home theater systems and AV electronics. BoomSpeaker was created as an online hub to share his knowledge and experiences as it relates to home theaters and home audio electronics.
My email: admin@boomspeaker.com
Connect on Pinterest and Linkedin