As an Amazon Associate, we earn from qualifying purchases made on our website.
Denon and Pioneer are two renowned and well respected brands in the audio industry that produces high quality speakers, headphones, soundbars, and ssubwoofers.
In this article, we will cover a general overview of both brands, looking specifically at sound quality, durability, price and so on. Of course, each brand has different devices at different price points, however, we will compare them as closely as we can.
Quick History
Denon Quick History
The Japanese manufacturing company, Denon, was founded by Frederick Horn in 1910. It started off by importing recording equipment until 1910, when it started manufacturing recording equipment.
Denon used to be called 'Nippon Denki Onkyo Kabushigaisha' but later changed its name to Denon. The name Denon resulted from the merging of Denki Onkyo with the record label Nippon Columbia in 1947.
The company started by producing one-sided gramophones and records. However, they grew over the years because of mergers and expansion of the product line. Today, Denon is known for manufacturing high-end audio equipment, home theater systems, AV receivers, wireless stereos, and other electronic devices.
Pioneer Quick History
Pioneer is a Japanese company whose full name is actually Paionia Kabushiki-gaisha. It was started in 1938 by Bozomu Matsumoto. The company started as a speaker, radio, and other audio equipment repair shop.
Since the company started, it has been a big part of making sound systems for homes, businesses, and other personal uses, like car stereos. Pioneer was the first company to develop a dynamic speaker (named Pioneer A-8) made of original parts for domestic use.
The Pioneer brand is the manufacturer of some of the major audio equipment today. This includes the first dynamic speaker for the home, which was also the first Hi-Fi speaker. Another example includes the first professional LD player, which also became the foundation of today's Blu-ray disc and DVD players.
Sound Quality
Denon Sound Quality
One thing that cannot be separated from the Denon brand's decades of existence is the production of high-quality audio equipment. It boasts high-quality surround sound in all the home theaters and other audio equipment.
Denon receivers are very good at producing a warm sound that is accompanied by a clear sound effect. The sound quality of an average Denon audio equipment is crystal clear, which makes it an excellent choice for both commercial and professional use.
However, this does not eliminate the fact that they are good picks for home audio equipment. The brand has successfully kept up its reputation of impressive sound quality.
Pioneer Sound Quality
To be fair, Pioneer home sound systems are only good as entry-level audio equipment. Although they provide a decent listening experience, they are best for non-demanding listeners.
However, in terms of car speakers, Pioneer speakers offer a quality that is convincingly worth every penny. The sound calibration on most Pioneer receivers (like the one on the Pioneer VSX-932) makes the sound more personalized.
The Technical Audio Devices (TAD) from Pioneer were produced in 1975 with the view of delivering high-end professional audio delivery. But, it has continued to deliver quality sound and can be found in most professional speaker brands.
Pioneer has also partnered with the amazing Gary Stewart Audio to deliver some of the best sounding club speakers that keep the party going.
Features
Denon Features
Denon has improved their product by introducing new features and improvements to the old ones according to the trend.
Here are some features you can expect from a Denon product:
Up to 13 Channel on the AV Receivers
Surround sound technology includes Dolby Atmos, Auro-3D, DTS, DTS:X Pro, IMAX enhanced, and others.
Up to 8 HDMI input port
Bluetooth, HEOS, Wi-Fi, and AirPlay 2 streaming support.
Multiple input and output ports
Built-in phono equalizer on the turntable
Voice control features include Amazon Alexa, Apple Siri, and Google Assistant.
Pioneer Features
For many good reasons, the Pioneer brand has been more popular in ‌car stereos and entertainment. This is because of the continued research, development, and improvement of its features. Some of the major features of the Pioneer car audio system include:
Bluetooth connectivity
Streaming features
Touch screen
Built-in navigation
Real-time traffic
But most of these features are also found on other Pioneer devices, with only minor changes to make them work better for this one.
The other features that are common to other Pioneer devices include Dynamic leveling, digital inputs, HDMI with ARC, Dolby Atmos, and DTS: X for a rich and immersive audio experience, and other features for ease of use
Build Quality
Denon Build Quality
You can be sure of a pretty decent build for any Denon product you choose. As a company, Denon has been consistent with the build quality of its products over the years.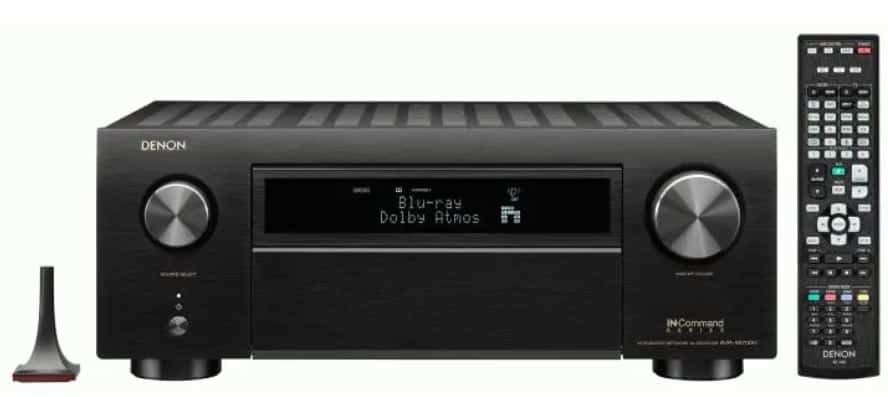 If you are someone that prefers a strong build quality for your appliances, Denon might be a hard road to take for you. This is because most Denon appliances are mostly heavy on design and less on strength.
Denon receivers are still up for the contest against other well-rooted brands in terms of the build quality. It is commonly compared to brands such as Yamaha and Marantz, but the choice here is dependent on individual ‌preference.
Pioneer Build Quality
Pioneer products have a good build quality. This includes the use of aluminum panels and an excellent finish to protect them for a long time. Even beyond the physical build, Pioneer audio devices have improved a lot on the components, which has improved their reliability over the years.
However, the fact that Pioneer makes different devices is a factor that cannot go without mentioning. While Pioneer AV receivers and car stereos are known for their powerful build quality, some of the other products from the brand are not so durable.
Ease of Use
Denon Ease Of Use
On average, Denon products are easy to use. They come with soft buttons that are clearly labeled in plain terms for ease of understanding. Size also contributes to its ease of use. Denon has a line of lightweight and portable products in the audio market that almost anyone can easily operate.
Another factor that contributes to their ease of use is their connectivity. It offers a range of wired and wireless connectivity that allows it to be used and operated anywhere in the house and professionally.
Pioneer Ease Of Use
One of the major features that make most Pioneer devices easy to use is the ability to connect to other devices easily.
This is clear in the car audio system, where they offer different levels of the device without making it hard to use. This includes everything from the touch screen on more expensive car stereos to the easy-to-use menu button on cheaper ones.
Beyond the car stereos by Pioneer, their home theaters are extremely easy to use. It offers different setting options and sound changes that give it a more customized output. But you don't need a lot of technical knowledge to use these because everything is marked and there are manuals to help.
Cost
Denon Cost
Denon products are much more affordable than most other audio system manufacturers. This does not mean they have less quality than the other brands.
Most Denon receivers, for example, deliver amazing quality at an affordable price, from $400 to modern, high performing ones such as the Denon AVR-X6700H with Ultra HD at around $3000.
Note that no matter how cheap the price of a Denon product is, it will still deliver a decent quality of output for what it is designed for.
Here are some price ranges for different devices from Denon:
AV Receivers: $200 – $5000
Soundbars: $200 – $800
Speakers: $200 – $700
Headphones: $50 – $700
Amplifiers: $500 – $5000
Pioneer Cost
Denon products are distributed between low-cost, average-cost, and high-cost devices. They have some of the best products at a low price as well as elite high-end devices.
However, when the chips are down and we compare the device with an equal device from other popular brands, you might realize you get the best value for your money.
Here are some price ranges for different devices from Pioneer:
Stereos: $100 – $500
AV Receivers: $250 – $1500
Soundbars: $250 – $800
Speakers: $100 – $800
Headphones: $50 – $400
Space Requirements
Denon Space Requirements
There are several portable product lines from Denon that are perfect for use almost anywhere with great portability. These products range from home theaters, soundbars, and Bluetooth speakers, to receivers and amplifiers.
However, it is worthy of note to understand that space consideration for using these products is not about their size alone, ventilation requirements are another contributing factor to the space consideration.
Inadequate space could cause the device to heat up hence causing a possible shutdown. For an average Denon appliance, particularly those that require putting in an enclosed area, a minimum of 5 inches is required around it for ventilation.
Pioneer Space Requirements
Pioneer audio devices vary from size to size, but Pioneer AV Receivers are known for having a bulky build. This factor makes space consideration a serious business when considering a Pioneer AV receiver. AV receivers are made to last for a long time, but if they get too hot often, they may break down sooner than expected.
Different devices will always require different amounts of space to function properly. This is because the space will depend not only on the size of the device but also on the amount of ventilation it can provide.
The home theater is another Pioneer product that might need special attention when it comes to space. Pioneer home theaters are quite tall and require as much space as possible.
Remote Controls
Denon Remote Controls
Denon offers ease of access for using their devices and the opportunity to ‌control the device while sitting away from it.
A remote function unique to Denon is HEOS, which allows users to enjoy music on the device from any room. The HEOS feature is a wireless multi-room sound support that uses an integrated Android/iOS app.
Asides from the HEOS feature, you can control a Denon device with the Denon remote control app. Although, this is only possible if the phone that has the app and the Denon device are connected to the same Wi-Fi source.
Pioneer Remote Controls
Most Pioneer devices come with a remote control that makes it easier to operate across the room. This remote can also be easily replaced by getting another one from the popular audio store in case of damage or loss.
Pioneer also has a digital remote control app that can be downloaded from your app store. However, to use the remote control app, the device must be compatible with it and they have to be connected to the same wireless network.
Connectivity Options
Denon Connectivity Options
Power consumption by Denon devices varies from device to device. For example, the power range for an average entry-level Denon receiver is around 140 watts for 1 channel and 70 watts for 2 channels. However, the power range/consumption for an average soundbar is roughly around 53 watts.
To make the best use of your Denon device, it would be best to read through the user manuals to understand the power range of the particular device.
Pioneer Connectivity Options
Here are the main connectivity options compatible with most Pioneer speakers:
Power Range
Denon Power Range
Power consumption by Denon devices varies from device to device. For example, the power range for an average entry-level Denon receiver is around 140 watts for 1 channel and 70 watts for 2 channels. However, the power range/consumption for an average soundbar is roughly around 53 watts.
To make the best use of your Denon device, it would be best to read through the user manuals to understand the power range of the particular device.
Pioneer Power Range
Most Pioneer products are power efficient, i.e., they deliver the best audio quality with minimum power consumption. For example, the mid-range Pioneer elite VSX-LX303 AV receiver is rated at 100 watts per channel.
Frequency Response
Denon Frequency Response
Most Denon portable bookshelf speakers have a frequency range of around 80Hz – 100Hz. But the range common to most portable speakers is 80Hz. However, Denon AVR Receivers such as the AVR X4000H have a frequency range of 16Hz to 200Hz.
Pioneer Frequency Response
Most Pioneer sound systems have smooth frequency responses and a rich sound output that lets them send out sound in a wide area. For example, the frequency response for Pioneer TS series speakers is something around 34Hz to 42Hz. However, the frequency response differs according to each device, which means you might have to check the user manual for each device to understand its frequency response.
Conclusion
Denon is a brand that dates back to the early days of sound systems, but because it produces quality sound systems, it still owns the market. Denon products are quite affordable, with quality that outweighs the price. Although every product comes with its flaws, Denon produces those that can be easily overlooked.
Pioneer products cut across audio equipment for home, professional, and car use. However, they are more popular for the production of car stereos that are affordable, easy to use, and meet industry standards. If you need an audio device that's well-affordable and with good build quality, you might consider Pioneer devices. However, you might have to overlook the sound quality a little bit.
Related Articles
Pioneer Vs Marantz
Pioneer Vs Sony
Pioneer Vs Kicker
Pioneer Vs Bose
Pioneer Vs Alpine