Denon and Onkyo are two renowned and well-respected brands in the audio industry that produces high-quality speakers, headphones, soundbars, subwoofers, and amplifiers.
In this article, we will cover a general overview of both brands, looking specifically at sound quality, durability, price, and so on. Of course, each brand has different devices at different price points, however, we will compare them as closely as we can.
Before we do that, here are some other comparisons in this series:
Denon vs Onkyo Comparison Table
| Criteria | Denon | Onkyo |
| --- | --- | --- |
| Brand Reputation | Denon is a reputable brand known for high-quality audio and home theater solutions. | Onkyo has a strong reputation for producing audio and home entertainment products. |
| Sound Quality | Denon emphasizes impressive sound quality with a focus on accuracy and clarity. | Onkyo is recognized for delivering rich and immersive sound experiences. |
| Build Quality/Design | Denon products feature solid build quality and often showcase sleek, modern designs. | Onkyo emphasizes durable build quality with attention to functional and aesthetic design. |
| Product Range | Denon offers a diverse range of audio and home theater products catering to various needs. | Onkyo provides a comprehensive lineup of audio equipment, home theater systems, and receivers. |
| Pricing | Denon products cover a range of price points, offering options for various budgets. | Onkyo products are competitively priced, providing value for the features offered. |
| Features | Denon products often incorporate advanced features and technologies for enhanced user experiences. | Onkyo integrates advanced technologies, providing a variety of features for audio enthusiasts. |
Pros and Cons
Onkyo Pros and Cons
Pros:
High-quality sound: Many of their products are well-regarded for their sound quality and build quality.
Advanced features: Onkyo products often come with advanced features, such as support for high-resolution audio, multi-room audio, and wireless connectivity.
User-friendly: Onkyo products are generally easy to use, with intuitive controls and user-friendly interfaces that make them accessible to all users, even those with little technical knowledge.
Wide range of products: Onkyo offers a wide range of products to suit different needs and budgets, from entry-level models to high-end options for audiophiles.
Cons:
Reliability issues: Some Onkyo products have been known to have reliability issues, such as overheating or failure to power on. Some users have reported issues with their receivers randomly shutting off and going into protection mode.
Complex setup: Some Onkyo products may require a more complex setup and in some cases, technical knowledge.
Higher price point: Onkyo products tend to be more expensive than some other brands.
Denon Pros and Cons
Pros:
High-quality sound: Denon products are known for their superior sound quality, with clear, crisp, and detailed audio.
Durability: Denon products are built with durable materials and high-quality components that are designed to withstand prolonged use.
User-friendly: Denon products are generally easy to use, with intuitive controls and user-friendly interfaces.
Cons:
Expensive: Denon products tend to be more expensive than some other brands
Limited features: Some Denon products may lack certain features at the same price point as some other competitors
Bulky size: Some Denon products, such as amplifiers and receivers tend to be quite bulky
Quick History
Denon Quick History
The Japanese manufacturing company, Denon, was founded by Frederick Horn in 1910. It started off by importing recording equipment until 1910, when it started manufacturing recording equipment.

Denon used to be called 'Nippon Denki Onkyo Kabushigaisha' but later changed its name to Denon. The name Denon resulted from the merging of Denki Onkyo with the record label Nippon Columbia in 1947.
The company started by producing one-sided gramophones and records. However, they grew over the years because of mergers and expansion of the product line. Today, Denon is known for manufacturing high-end audio equipment, home theater systems, AV receivers, wireless stereos, and other electronic devices.
Onkyo Quick History
Takeshi Godai established the Japanese company Onkyo in 1946. Godai intended to address the gap in delivering satisfactory Japanese-made dynamic speakers.
The work Onkyo originated from a Japanese word meaning "sound acoustics."
Sound Quality
Denon Sound Quality
One thing that cannot be separated from the Denon brand's decades of existence is the production of high-quality audio equipment. It boasts high-quality surround sound in all the home theaters and other audio equipment.
Denon receivers are very good at producing a warm sound that is accompanied by a clear sound effect. The sound quality of an average Denon audio equipment is crystal clear, which makes it an excellent choice for both commercial and professional use.
However, this does not eliminate the fact that they are good picks for home audio equipment. The brand has successfully kept up its reputation of impressive sound quality.
Onkyo Sound Quality
If you are an audiophile, you want a receiver that can deliver your specific notes as perfectly as possible. The range of AV receivers from Onkyo sound very impressive and complete with incredible functionality and product regardless of your listening environment.
When it comes to choosing and paying for the better fidelity unit, putting your money on Onkyo is one of the best decisions for audiophiles.
They have a more well-rounded sound signature that offers more detail; audiophiles refer to it as a more "clinical" sound. The highs, mids, and lows are equally discernable.
Features
Denon Features
Denon has improved their product by introducing new features and improvements to the old ones according to the trend.
Here are some features you can expect from a Denon product:
Up to 13 Channel on the AV Receivers
Surround sound technology includes Dolby Atmos, Auro-3D, DTS, DTS:X Pro, IMAX enhanced, and others.
Up to 8 HDMI input port
Bluetooth, HEOS, Wi-Fi, and AirPlay 2 streaming support.
Multiple input and output ports
Built-in phono equalizer on the turntable
Voice control features include Amazon Alexa, Apple Siri, and Google Assistant.
Onkyo Features
Many people expect to get a bundle of features in today's world, especially when paying more for a product. However, the features of an Onkyo receiver are mainly related to the system's sound.
It has some of the best step-up receivers with features such as:
Streaming suite
Support for Google Assistant and Amazon Alexa
Build Quality
Denon Build Quality
You can be sure of a pretty decent build for any Denon product you choose. As a company, Denon has been consistent with the build quality of its products over the years.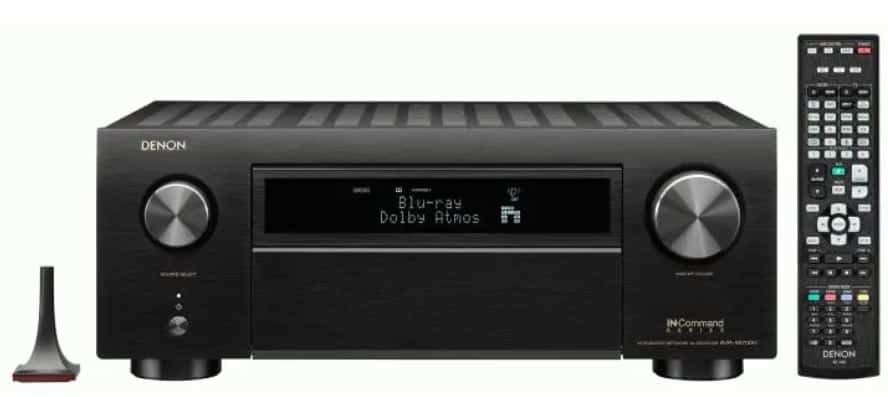 If you are someone that prefers a strong build quality for your appliances, Denon might be a hard road to take for you. This is because most Denon appliances are mostly heavy on design and less on strength.
Denon receivers are still up for the contest against other well-rooted brands in terms of build quality. It is commonly compared to brands such as Yamaha and Marantz, but the choice here is dependent on individual ‌preference.
Onkyo Build Quality
People tend to look at their build quality first when buying expensive devices.
However, other than looking good, the device should be able to deliver good service over many years.
When it comes to build quality, Onkyo is a bit shaky. Many people complain of their receivers either requiring repair or going dead in less than a year despite the two-year warranty on their devices.
Ease of Use
Denon Ease Of Use
On average, Denon products are easy to use. They come with soft buttons that are clearly labeled in plain terms for ease of understanding. Size also contributes to its ease of use. Denon has a line of lightweight and portable products in the audio market that almost anyone can easily operate.
Another factor that contributes to their ease of use is their connectivity. It offers a range of wired and wireless connectivity that allows it to be used and operated anywhere in the house and professionally.
Onkyo Ease Of Use
Onkyo receivers are particularly easy to set up. As an excellent performer, the products are made with superb usability and valuable features that make them easily accessible to all users.
The direct source buttons added for ease of control in the absence of a remote further make the Onkyo TX-NR585, for instance, much more user-friendly.
Cost
Denon Cost
Denon products are much more affordable than most other audio system manufacturers. This does not mean they have less quality than the other brands.
Most Denon receivers, for example, deliver amazing quality at an affordable price, from $400 to modern, high-performing ones such as the Denon AVR-X6700H with Ultra HD at around $3000.
Note that no matter how cheap the price of a Denon product is, it will still deliver a decent quality of output for what it is designed for.
Here are some price ranges for different devices from Denon:
AV Receivers: $200 – $5000
Soundbars: $200 – $800
Speakers: $200 – $700
Headphones: $50 – $700
Amplifiers: $500 – $5000
Onkyo Cost
Onkyo receivers are generally costly. This is most likely attributable to their high-quality build and good sound performance.
Speakers: $20 – $6000
Receivers: $200 – $3000
Amplifiers: $40 – $1000
Space Requirements
Denon Space Requirements
There are several portable product lines from Denon that are perfect for use almost anywhere with great portability. These products range from home theaters, soundbars, and Bluetooth speakers, to receivers and amplifiers.
However, note that space consideration for using these products is not about their size alone, ventilation requirements are another contributing factor to the space consideration.
Inadequate space could cause the device to heat up hence causing a possible shutdown. For an average Denon appliance, particularly those that require putting in an enclosed area, a minimum of 5 inches is required around it for ventilation.
Onkyo Space Requirements
Generally, Onkyo receivers are a little taller. Although they may not take up much space on your table, they are much taller and broader than many competing receivers in the market.
Remote Controls
Denon Remote Controls
Denon offers ease of access for using their devices and the opportunity to ‌control the device while sitting away from it.
A remote function unique to Denon is HEOS, which allows users to enjoy music on the device from any room. The HEOS feature is wireless multi-room sound support that uses an integrated Android/iOS app.
Asides from the HEOS feature, you can control a Denon device with the Denon remote control app. Although, this is only possible if the phone that has the app and the Denon device are connected to the same Wi-Fi source.
Onkyo Remote Controls
Onkyo receivers come with remote controls that make them easy to control even from the comfort of a seat. Besides, the remotes are intuitive and easy to use. The wireless remotes are device-specific and can be purchased separately from the device.
On the other hand, the Onkyo remote for Android utilizes the home network to operate wirelessly and deliver several remote control functions to manage your Onkyo hi-fi systems. Besides, the app permits wireless streaming of audio from personal computers and handsets.
Onkyo is, therefore, more advanced when it comes to remote controls and will make your entertainment system easy to navigate.
Connectivity Options
Denon Connectivity Options
Power consumption by Denon devices varies from device to device. For example, the power range for an average entry-level Denon receiver is around 140 watts for 1 channel and 70 watts for 2 channels. However, the power range/consumption for an average soundbar is roughly around 53 watts.
To make the best use of your Denon device, it would be best to read through the user manuals to understand the power range of the particular device.
Onkyo Connectivity Options
Onkyo receivers have several connectivity options to take care of the analog and digital features.
They are therefore compatible with older devices and the modern class of devices. Some of the vital connectivity features include:
Power Range
Denon Power Range
Power consumption by Denon devices varies from device to device. For example, the power range for an average entry-level Denon receiver is around 140 watts for 1 channel and 70 watts for 2 channels. However, the power range/consumption for an average soundbar is roughly around 53 watts.
To make the best use of your Denon device, it would be best to read through the user manuals to understand the power range of the particular device.
Onkyo Power Range
Speakers: Up to 24 watts RMS
Receivers: Up to 500 watts
Amplifiers: Up to 240 watts
Frequency Response
Denon Frequency Response
Most Denon portable bookshelf speakers have a frequency range of around 80Hz – 100Hz. But the range common to most portable speakers is 80Hz. However, Denon AVR Receivers such as the AVR X4000H have a frequency range of 16Hz to 200Hz.
Onkyo Frequency Response
The frequency response is varied depending on the device. For instance, the speakers have a frequency response of between 50Hz to 20kHz.
Conclusion
Denon is a brand that dates back to the early days of sound systems, but because it produces quality sound systems, it still owns the market. Denon products are quite affordable, with quality that outweighs the price. Although every product comes with its flaws, Denon produces those that can be easily overlooked. Although the build quality of Onkyo can be less than desirable, the vintage brand manufactures audiophile-grade sound systems. They are however costly.