Definitive Technology and Klipsch have grown into some of the world's most respected and beloved home audio brands. This article compares Definitive Technology vs Klipsch with a deep look at these iconic brands and some of their popular products to help you choose the one that best suits your needs.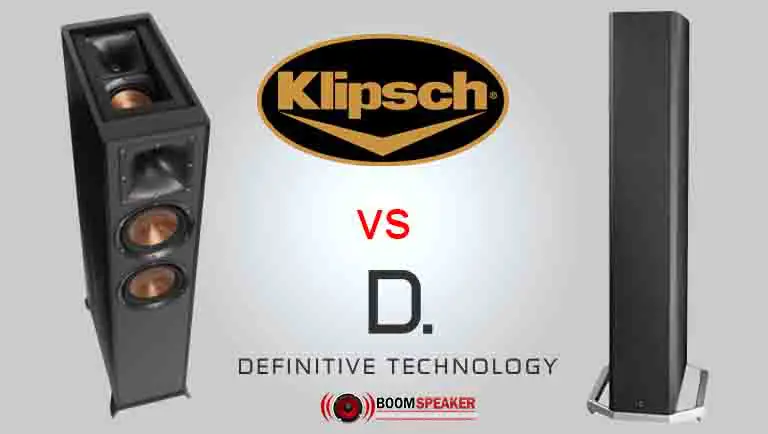 You can also check out the following comparisons:
Definitive Technology vs Klipsch Comparison Table
| Feature | Definitive Technology | Klipsch |
| --- | --- | --- |
| Sound Quality | High-frequency detail | Softer and mellower |
| Durability | Good | Good |
| Tweeters | Pure aluminum tweeters | Dome tweeters with horns |
| Popularity | Moderately popular. Well known in the audio industry | Very popular even beyond the audio industry |
Definitive Technology vs Klipsch Comparisons
Sound Quality: Which One Sounds Better?
Definitive Technology Sound Quality
Definitive Technology is known worldwide for manufacturing quality audio devices that meet the needs of serious audiophiles.
In particular, many of its customers are happy with their speakers for producing clear and rocking audio.
In general, the efficiency of Definitive Technology's tweeters is responsible for this degree of effectiveness.
The brand uses hard-dome and aluminum dome tweeters with a clear edge, especially when it comes to frequency response. The cones dissipate heat and minimize changes in impedance, meaning they prevent sound distortion and are durable.
However, since hard speakers tend to ring, they can cause sound damping in some instances.
This often causes some listeners to think that the tweeters are overly harsh.
According to Definitive Technology, they use the best materials and pay attention to detail to balance the soft and hard cone's positive characteristics. They believe their customers get suitable sonic reproductions that highlight the high frequencies of recordings.
Klipsch Sound Quality
Klipsch is also known for producing quality audio devices. Its speakers have highly advanced tweeters that deliver great sound.
They use an acoustic horn to significantly boost the driving element's efficiency and produce as much as 10 times more sound power than cone speakers.
Many people appreciate the high efficiency of the Klipsch technology. This is why dome tweeters with horns are widely used in large public meetings, auditoriums, sports stadiums, and theatres.
However, some individuals think that the speakers lose the subtle nuances of various media.
Which Sounds Better? Definitive Technology or Klipsch?
So, which sounds better, Definitive Technology or Klipsch? Both Definitive Technology and Klipsch can serve you well depending on your needs.
Nonetheless, if you want speakers that produce 'softer' and 'mellower' sounds, Klipsch speakers are the better option. They are also often louder than Definitive Technology, so you can consider them if that suits you.
However, if you want high-frequency detail and quality ambient, Definite Technology may suit you.
As we have said, Definitive Technology is committed to balancing the positive characteristics of soft and hard diaphragms.
So, these speakers are best for people who are willing to sacrifice some mellow tones and avoid overly harsh tones.
Features Comparison
As you likely know, it is relatively difficult to compare speakers of incomparable features and prices.
So, if you want help to make the best buying decision, we advise you to compare specific features of similar speakers like tweeter type, frequency response, enclosures, and so on.
We have included an example comparison to show you how you can compare Definitive Technology and Klipsch.
General Features of Definitive Technology and Klipsch
If you want to have a general understanding of the differences and similarities between Definitive Technology and Klipsch, let's compare the general features of the brands' speakers.
When equipped with the information, you can eliminate a brand from your buying list and avoid wasting time making difficult buying decisions.
Main Features of Definitive Technology Speakers
Here are the top features of Definitive Technology speakers that most buyers need when making decisions:
Patented Bipole Technology
This technology radiates sound in different directions. This way, you can use Definitive Technology speakers to create a wide, immersive sound dispersion and a significantly huge sound stage.
Definitive Performance
Due to the brand's expertise and commitment to excellence, it creates award-winning speakers for serious audiophiles. It merges exceptional sound quality with an iconic style to meet the varied needs of the customers.
Pure Aluminum
The speakers are durable and efficient since Definitive Technology uses materials that are resistant to corrosion, lightweight, and versatile. With pure aluminum tweeters, you are assured of getting accurate sound at a low cost for a long period.
Main Features of Klipsch Speakers
We have been "Pissing off the Neighbors since 1946." These words are Klipsch's tagline.
They tell it all.
The time-tested technology produces a bold, engaging sonic signature. Its four main features are:
High Efficiency
Klipsch believes that efficiency is inversely proportional to distortion. It manufactures highly efficient speakers with high impedance. So, you don't need a lot of power to get great results.
Controlled Directivity
The speakers direct lots of their sound toward the listening position. Due to this, the walls cannot smear the soundstage. That is the reason listeners often feel they are hearing a live performance.
Wide Dynamic Range
Modern Klipsch speakers produce soft and loud sounds, which gets listeners close to the live experience.
Flat Frequency Response
Klipsch wants the sound to come out as the artist intended. So, unlike some speaker designers out there, it does not play the colorization game.
Is Klipsch Considered High-End?
As one of the most reputable US loudspeaker companies with a track record of success, Klipsch remains a high-performance brand of choice for most home theater enthusiasts and audiophiles across the world. That's why entry-level entry hobbyist often considers their products quite expensive. The quality is always outstanding.
Compare Definitive Technology BP-9020 vs Klipsch Reference R-625FA
Definitive Technology and Klipsch offer a wide variety of quality products.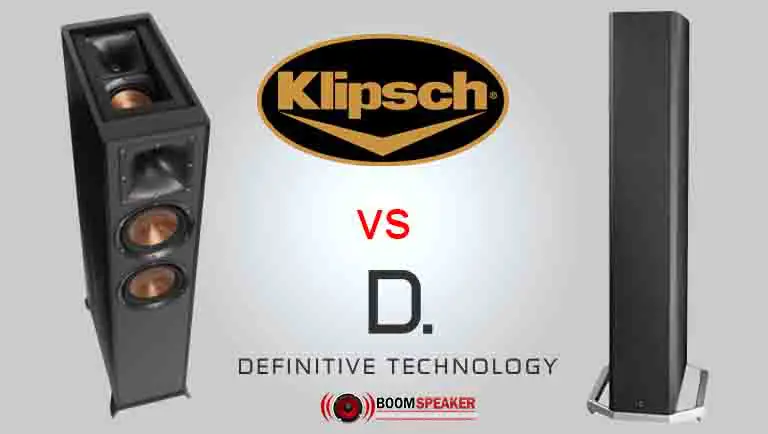 To give you a clear idea of the differences and similarities between these brands, let's compare these two legacy products Definitive Technology BP-9020 vs Klipsch Reference R-625FA
Enclosure
Klipsch Reference R-625FA is a Dolby Atmos-enabled floor-standing speaker. Definitive Technology BP-9020, on the other hand, is a bipolar floor-standing speaker with a built-in powered sub.
More importantly, both of these iconic speakers have bass reflex enclosures. As such, their tuned ports increase the overall efficiency. Moreover, the predominant color of the enclosures is black.
Type of Tweeter
Nonetheless, these two speakers use different tweeter types. Definite Technology BP-9020 uses hard-cone.
This means this bipolar floor standing speaker can provide the highest quality sound. The cones maintain more reliable sound production at high frequencies than is possible with soft ones.
Klipsch Reference R-625FA uses a tractrix horn. The horn's mouth and flare determine the sound radiation pattern, making it more efficient than cone speakers.
These speakers feature only one tweeter each.
Built-in Powered Sub
This bipolar floor-standing speaker from Definitive Technology comes with a built-in powered subwoofer, making it a great source of rich, room-filling bass.
However, Klipsch Reference R-625FA lacks this feature. However, both of them have an impedance of 8, making them compatible with most modern amps.
Conclusion
We hope we have answered your question, which is better, Definitive Technology or Klipsch?
There is no clear-cut answer, but we have provided the information you need to decide for yourself.
Overall, Klipsch speakers are best for people who want a 'softer' and 'mellow' sound. At the same time, Definitive Technology is best for average listeners who want a compromise between the mellow tones of silk and harsh tones.