As an Amazon Associate, we earn from qualifying purchases made on our website.
Have you ever wanted to convert your stereo sound to 5.1 surround sound but didn't know how? Well, this article will be the ultimate guide on converting from stereo to surround sound. To convert stereo to 5.1 surround sound, you have three options:
For Video: Use software like Video Converter Studio or VLC
For Audio: Use Audacity
General: Use a stereo to 5.1 surround converter
While many people have shared various other approaches to this conversion, many end up complicating the process, especially for non-audiophiles. In this guide, we will look at the simplest and cheapest methods.
What is Stereo and Surround Sound?
Most people confuse stereo with mono whenever the subject of audio channels arises. However, mono means a single audio source and so even if you are using two speakers, the same audio signal will go into both speakers.
Stereo on the other hand uses two dedicated signals or channels – left and right.
Surround sound uses more than just two channels. It uses multiple audio channels to give you a more immersive audio experience. Surround sound multimedia speakers are awesome for multi-channel sound and intense realism. Check out our surround sound guide to learn more.
Stereo is the most common and familiar method of audio transmission that you normally listen to your music in, whether through your headphones or computer.
So it's a common question, how do i convert my stereo to 5 1 surround channel? Let's explore the detailed answer.
What are The Benefits of Converting Stereo to Surround Sound?
Stereo is what most people are used to, but there are many benefits to adding an extra dimension.
Nowadays, people want everything in surround sound. On this website, for example, we have already covered:
When you watch movies or TV shows, what's the first thing that grabs your attention? The sound! 5.1 surround sound makes that experience even better! Be it music, dialogue, or effects; surround sound is a powerful way to create an immersive experience.
Let us walk you through the process of converting your stereo system into 5.1 surround sound so you can enjoy all the benefits that come with this upgrade.
Converting Stereo to 5.1 Surround Sound Using Video Software
We can use various stereo to 5 1 surround sound software such as Video Converter Studio and VLC studio to convert stereo to surround sound audio.
Video Converter Studio
Video converter studio is the most preferred file transcoder for frequent users planning to convert between video to another video, video to audio, audio to audio or audio to video.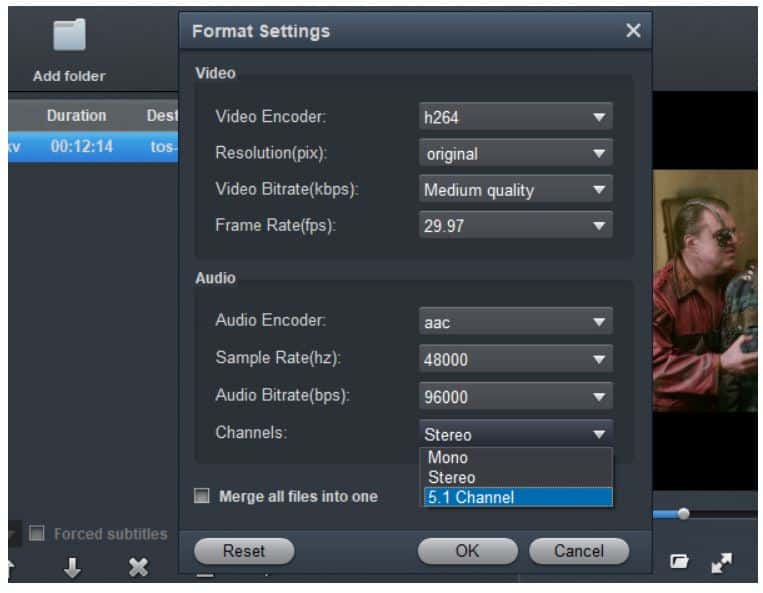 If you are using this software to convert stereo to 5.1, you need to add files and change the audio channel and create a new file to 5.1 channels.
It is easier and convenient than paying lots of money to digital services for conversion. If you spend more time with the software, you'll realize it has all the features you need.
Here are the benefits of using Video Converter Studio:
It can convert the form of video audio file into any format you like
It has a video editing tool
You can download videos online from 10 000 plus video sites
You can record activities that are displayed on your computer screen
You can play multimedia files and don't need to install other codecs
Allows you to create MV using personal pictures plus music in different transitional effects
Here is what you do step by step:
First, you need to download the software to your PC

Go to the "Add files" and open where they are stored
Click the drop-down in your profile and select the appropriate format for outputting the file you want from the listing.
Go to settings and choose channel > 5.1 and click OK.
After that, click the Convert button after getting redirected to the main interface
VLC Player
The conversion process of stereo to 5.1 surround sound is a no-brainer if you master the process. It's simple, just like the way you use VLC to playback movies.
Here are some of the outstanding features you can get from this software:
You can easily stream media files on the web without a single hitch
You can convert any media files between formats that it supports
You can extract audio from a video and have it saved as a separate file
You can beautify your files by applying audio and video effects
You can use VLC as screen capture software to record your desktop to a file.
Here is the procedure to convert your stereo to 5.1 surround sound:
Run your VLC software and click P to open advanced preferences
The next step is to select "All" which is under the "Show Settings" at the bottom left corner
Go to the Audio tree and expand it to choose output "Modules" > "DirectX"
Next, you will see the "Output device" drop-down bar where you select the preferred device to use.
After that, proceed to the "Speaker configuration drop-down and select 5.1 from the menu.
Finally, you can click "Save" and restart the software afresh
How to Convert Stereo to 5.1 Surround Sound Step by Step (Using Video Software)
Step 1
Use conversion software to convert stereo to 5.1 surround sound. The best way is to convert with a Virtual Audio Cable. Go into your computer audio settings and set the output device as virtual cable viable, then test convert by selecting wav or mp3 files under input source for conversion.
Step 2
Use a decoder for 5.1 surround sound, convert to ac3 using an audio converter. Use a software called DSP_Quattro to convert from stereo to 5.1 as it is the best as it has multiple speakers so that each speaker will have its voice and ambiance.
Step 3
Once converted to ac3, then convert ac3 into dts. You can do this by using DSP_Quattro again, convert the ac3 file back to stereo and convert it with DSP_quattro to convert it into 6 channel DTS surround sound.
Step 4
Use a decoder again for 5.1; this time, convert the DTS file into 5.1 ac3 with virtual cable converter and convert it into 6 channel surround sound
Step 5
Use a decoder for 5.1 to convert the ac3 file to 6 channel Dolby digital surround sound, convert it to an mkv container so you can watch it on your home theatre surround sound.
How to Convert Stereo to 5.1 Surround Sound Using Audacity
If you plan to convert Stereo to 5.1 surround sound in Audacity requires a bit of knowledge and skill and if you follow the steps below correctly then it will definitely turn out good for you.
Open your Stereo file in audacity and find out the total number of audio channels present in it. Most of the Stereo files have two audio channels, so you need to click on the drop-down menu and select Stereo: 2 channel output to give you a Stereo file.
After converting Stereo to Stereo channel output, go to channels and select the straight channel mixing option.
Now your Stereo file will be converted into Stereo channel output with two channels which is the first step towards creating Stereo to 5.1 surround sound conversion in Audacity.
Since Stereo is 2 channel output, Stereo to 5.1 surround sound conversion in audacity requires a further conversion step by mixing Stereo Left and Stereo Right channels to form four separate audio channels.
You will see two empty tracks on the screen now with Stereo at the top. Click on the drop-down menu and select Stereo: 2 channel mix and your Stereo file will be converted to Stereo Left and Stereo Right channels. You can also do it manually by dragging Stereo Left and Stereo Right tracks below the Stereo track. Now, these four separate audio files are ready for Stereo to 5.1 surround sound conversion in Audacity.
Stereo To 5 1 Converter Software Free Download
Below is a list of additional free software that you can quickly download and easily use to convert stereo to 5.1 surround sound audio:
Converting Stereo (2.0) To 5.1 Surround Using a Converter
Using an adapter is another common and simple method used to convert stereo to 5.1 surround sound audio.
Using A Bidirectional Stereo RCA to 5.1 Surround (3 x 1/8 (3.5mm) Jack)
There are many converters out there, but a good example is the SGEYR 5.1 Audio Console Adapter Convert Stereo RCA to 3 x 1/8 (3.5mm) Jack Bidirectional Conversion for 5.1 Multimedia Speakers.
With this adapter, you don't need to splice wires together to use your 6 speakers (2-way to 5.1 and 5.1 to 2-way).
This adapter converts your standard stereo RCA plugs to three 1/8 stereo mini-plug jack inputs for your 5.1 surround sound system.
The great thing about this converter box as well is that it is bi-directional. This means you can send a signal to either input and take the converted signal from the other.
Using A Simple Audio Console Adapter Compatible
A simpler and easier converter to use is a direct audio console adapter like the CHUNXIAO Audio Console Adapter.
These little adapters are great because they arent just combative with smaller 5.1 surround systems such as Logitech 5.1 multimedia speaker systems but also works for 5.1 multimedia speaker systems as well.
Can I Use The Stereo To 5.1 Converters for Games?
Yes, you can use these "stereo to 5.1 converters" for games if you are a gamer on a budget. Many gamers wish to use their 5.1 PC speakers for your game console and this audio converter is great for that!
Can The 5.2 Audio Converters Connect To The Headphone Out Jack On A TV?
Yes, the 5.1 audio converter can connect your 3 x 3.5″ jacks from your 5.1 stereo system to the TV.
What You Need to Know About 5.1 Channels
5.1 surround sound is designed to use 6 channels (1 subwoofer and five channels) to help create surround sound. The 5.1 is made of a center speaker, left and right rear speaker, left and right front speaker, and subwoofer for low-frequency effects.
In 1976, Dolby Labs invented 5.1, but it was used in 1992 for Batman returns. The 5.1 technology is achieved using Dolby Digital and DTS systems. Here are their differences:
DTS is less common and less compressed compared to Dolby digital
DTS provides deeper and tighter low-frequency sound effects than Dolby Digital
Dolby Digital is less three dimensional when you compare with DTS
Dolby Digital produces sound like an MP3's encoded at 96kbps when at a lower bitrate
5.1 surround sound is best suited for both small and medium-sized rooms. It's because the 5.1 system is designed with a smaller number of speakers. It is an industry-standard that applies in various DVDs, video games, and commercial cinemas, HDTV, and Blu-rays disks.
To learn more, check out our complete guide on surround sound audio.
Can I Play 5.1 On Stereo?
With the same logic, the metadata of a 5.1 soundtrack is mixed in stereo and uniformly distributed between the front left and right speakers. Also, sound attenuation may vary from one movie to another. In addition, you can completely exclude the surround channels from the restitution.
Wrap Up
Getting to convert stereo to 5.1 surround sound can transform your video and audio experience. A normal user, though, may not differentiate sound quality between stereo and 5.1 surround sound. But this is a dream come true for audiophiles planning to upgrade their home entertainment to the next level. Luckily, it's now possible by following the two procedures shared above to convert from stereo format to surround sound without consulting an expert.
Surround sound is necessary today because it allows the subwoofer to handle low frequency that your satellite or soundbar cannot. So, you can now practically test the process on your own and see how it goes.