Computers aren't designed to deliver excellent audio performance from their built-in speakers. For this reason, people often use external computer speakers for better audio output.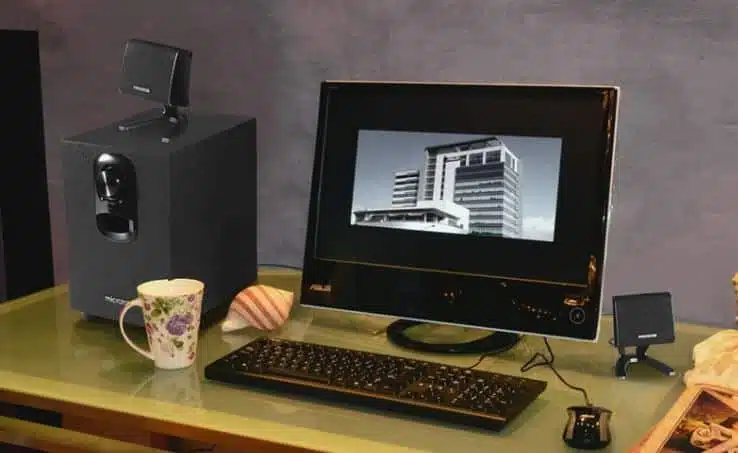 However, even with an external speaker, you may need some more bass and that requires a subwoofer. For some people, the quick and easy option is to get computer speakers with a buildin subwoofer. However, if you need more powerful bass, you need an external subwoofer.
Here is how you can quickly connect your subwoofer to your PC:
Connect a 3.5mm Y-splitter to the green output on the computer.
Connect a 3.5mm cable to dual RCA cable to the Y-splitter.
Connect one end of the RCA cable to the sub's left and right line-in.
Connect a 3.5mm to dual RCA cable to the yellow output on the computer. In this case, the subwoofer output is either the white or the red RCA.
You can leave the other channel empty since you are feeding the sub a mono signal.
Adjust the crossover frequency on the subwoofer. Typically, you can turn the frequency knob on the subwoofer to about 150Hz.
Adjust the computer settings to output 2.1 sound
Adjust any bass management options that may be available on your PC.
Please note that if you are using a laptop, we have a separate article on how to connect a 5.1 surround system to a laptop. 5.1 surround systems are 6 channel speakers that include a subwoofer.
Read on for more details on how to connect your subwoofer to your PC.
Here is a video for those who prefer that:
Can I Connect Any Subwoofer To a PC?
Yes, you can connect a subwoofer to your PC. If you want to get audiophile sound from your computer, adding a subwoofer is an integral part of this process.
However, the input signals of the subwoofer and the output specifications of the PC must be matched. In this case, we will describe a step-by-step connection process with a 6-channel-enabled PC (5.1 channel).
Read on and let us walk you through an analog connection of a 6-channel (5.1 channel) subwoofer unit to your PC. Remember, this kind of connection uses a two-wire cable that is connected to an RCA male connector.
The kind of systems connection we are about to describe uses three sets of cables:
A power connector that feeds the volume control
A power connector that feeds the PC to the AC, and
Subwoofer wires
Understanding Your PC
All modern desktop computers are fitted with motherboards with at least three audio jacks.
Green jack: this jack is for line out
Pink jack: for Mic-in
Blue jack: for line in
If your PC is preinstalled with six-channel (5.1 channel) capability, you will require two additional connectors – a rear out that may be black or blue, and a subwoofer out that may be orange or yellow.
Check your computer for these outputs as it is not all PCs that have them. If your PC has this functionality, you will need to avail the two additional connectors.
It is therefore important that you check the back of your computer as the first step before beginning any connection.
However, if the two extra jacks are not provided on your computer, you can still have the connection through the mic in and line in plugs.
You will however not be able to use any other line in inputs or microphone at the same time.
Connecting The Cables
The volume control unit has two jacks on the rear side. Begin by connecting the cables, and matching the colors on the jack with the cables.
If you are not very comfortable with this color matching, see the description below:
Front input:

Green
Subwoofer:

Orange

,

yellow

or

pink

Rear Input:

Blue

or black
Once the cables are all connected, you should ensure the other main cables are also properly connected. These include subwoofer, power, and any other speakers. Just be careful to follow the polarities indicated on every connector.
Computers With Separated Subwoofer And Rear Output
If you want to plug in the microphone to use skype or zoom, for instance, you will have to disconnect the speakers first before connecting the mic.
After you are done with the Skype call, you can plug the speakers back and enjoy your music.
This kind of changeover may not give you a good audio experience though. It is therefore advisable that you get a PC with the right motherboard to be able to have all your speaker connections hassle-free.
Connecting The Speaker System
The kind of connection you perform will highly depend on whether there are separated outputs for the subwoofer and rear speakers on your PC or not. We'll talk about both cases.
1. Computers With Subwoofer Outputs And Rear Output Separated
If you have a PC with separated outputs, proceed with the connection as described below.
Wire the green front cable to the green jack
Connect the blue or black rear cable to the blue jack. Remember the blue jack in this case is not the one exactly adjacent to the green jack. It is not the same as the line in
Connect the yellow, pink, or orange subwoofer cable to the yellow or orange jacks
This kind of connection is simpler. However, pay more attention to the description ensuring that the color notations for every cable match that of the PC and that wires are not wrongly hooked up. Enjoy amazing surround sound from your subwoofer, powered by your PC.
2. Computers Without Separated Subwoofer And Rear Outputs
If your PC does not have a separated subwoofer or rear output, follow the procedure described below to get our subwoofer connected with ease.
In this case, proceed with the connection as described below:
Wire the green front cable to the green jack, also marked as the line out
Wire the blue or black rear cable to the blue line in the jack
Connect the yellow, pink, or orange subwoofer cable to the pink mic in the jack
Once you successfully match the cables and have the subwoofer properly connected, it is now time now to configure your computer to use a 6-channel sound system.
How To Connect A Subwoofer To Your PC Without Amp
Generally, amplifiers are needed for your PC to send reasonable sound to the speakers to revamp your listening experience. There are primarily two subwoofer types – passive and active subwoofers.
Active subwoofers have inbuilt amplifiers and will not require an external amp to work. On the other hand, passive subwoofers do not have inbuilt amplifiers and require that an external amp be connected for a better sound experience. Learn more about active and passive subwoofers.
Here is how you connect them:
Passive Subwoofer: Please note that you should not hook up a passive subwoofer to the onboard amplifier of your computer. It'll blow up the amplifier and maybe even damage your PC. You instead need a larger and more powerful amplifier that can drive speakers.
Below is the correct connection:
You connect the PC to the amplifier with 3.5mm to 2xRCA cables like this one.
Connect the subwoofer to the amplifier with normal speaker cables
Active Subwoofer: To connect an active subwoofer to a PC, you don't need an amplifier. Instead, follow the same process we have described above.
Configuring The PC
Configuring your PC involves adjusting the audio driver properties of the computer.
When new drivers are installed on your PC for your speakers, a new icon is created and it appears on the control panel.
If your computer uses Realtek drivers, look for the "Sound Effect Management" icon on the Control Panel. Double-click on it and click on the speaker configuration tab.
While on the Speaker Configuration tab, click on the "6 channel" mode. This represents a 5.1 speaker output. If the computer you are using has separated rear and subwoofer outputs, select "Only SURROUND-KIT".
Final Thoughts
Connecting subwoofers to PC is not a big deal as the cables are usually well-marked and color-coded. Besides, the colors on the subwoofer cables perfectly coincide with the colors on your computer jacks for easy connection.
It is therefore easier to perform simple connections to increase your audio output with a sub.
Adding more speakers to your subwoofer, however, gives you a better sound experience especially if you love loud music with bass you can control.