As an Amazon Associate, we earn from qualifying purchases made on our website.
Pairing several Bluetooth headphones to your iPhone is a convenient way to share audio from one device. Connecting multiple headsets makes listening to audio content together convenient – for example, when traveling with friends and family.
In this article, we will walk through how you can easily pair multiple Bluetooth headphones to your iPhone using this guide; so everyone can enjoy listening together!
Connect Several Bluetooth Headphones To an iPhone – Step By Step Process
If you want to enjoy music or watching a movie without disturbing those nearby, connecting multiple Bluetooth headphones to your iPhone may be the ideal way to do this. While initially this process might appear daunting, with just a few easy steps you're on your way towards connecting multiple headphones at the same time! Here is our step-by-step guide of how to do just that:
Step 1: Verify Compatibility Before making your selections, ensure all Bluetooth headphones you plan to connect are compatible with the iPhone. You can do this by consulting either their documentation or visiting their manufacturer's website – these steps should ensure a successful pairing!
Step 2: Turn On Bluetooth. To start, ensure Bluetooth is turned on on your iPhone by visiting "Settings," tapping "Bluetooth," and moving the toggle switch over.
Step 3: Make Sure your headphones are in Pairing Mode Now, put all the headphones you wish to connect into pairing mode. Depending on their model, putting headphones into pairing mode might vary; therefore, for best results referring to their user manual may help.
Step 4: Once your headphones are paired and in pairing mode, head into "Settings" on your iPhone and select Bluetooth. Your iPhone should search for available devices; once found you should see their name listed and tap to connect.
Step 5: Connect the second pair of headphones once you've connected one pair, place both sets into pairing mode, and repeat step 4 to connect both pairs to your iphone.
After the second headphone is successfully connected, avoid closing or navigating away from the Bluetooth settings on both devices.
By keeping the Bluetooth settings open on both devices, you ensure that they are actively maintaining connections with their respective headphones. This prevents the second device from disconnecting the first device's headphones.
Step 6: Check Volume and Audio Balance Once both headphones have been connected, make sure the audio balance setting is set to "Center," this way both pairs will receive equal amounts of sound. Likewise, adjust each pair individually as far as volume adjustments go.
Let that do it! With these steps, connecting multiple Bluetooth headphones to an iPhone should be simple enough so you can enjoy listening to music or watching a movie together without disrupting anyone else in your vicinity.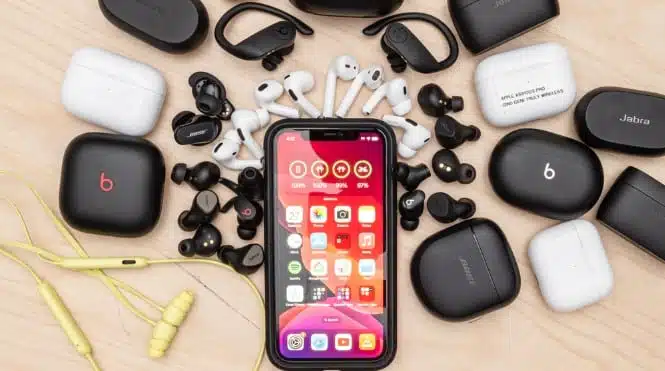 Frequently Asked Questions
How Do I Use An iPhone Bluetooth Splitter App?
An iPhone Bluetooth splitter app enables two pairs of headphones or speakers to your iPhone simultaneously so two users can listen to audio at the same time. Here's an outline on how it works:
Step 1: Download and install a Bluetooth splitter app from the App Store; popular options are "Audio Sharing" by Apple, "Headset Buddy" from Moftware and "Splitter" by Weydo.
Step 2: To use, launch the app on your iPhone and turn Bluetooth on.
Step 3: To connect a pair of Bluetooth headphones or speakers to your iPhone, go into Settings Bluetooth and select it from the list.
Step 4: Once your first device has been connected, open up the Bluetooth Splitter App and choose either "Add another device" or "Connect another device".
Step 5: Follow the prompts to connect a second pair of headphones or speakers that support Bluetooth 5.0 or later, noting both must support this feature for proper functioning.
Step 6: Once both devices are linked, you can begin playing audio from your iPhone on both sets of headphones or speakers simultaneously.
Step 7: Adjust the volume levels on both headphones or speakers according to your personal taste, using Bluetooth splitter apps which also enable you to balance them out between them.
Step 8: Once listening is over, disconnect all headphones or speakers by switching off Bluetooth on either your iPhone or the Bluetooth splitter app.
How Do I Connect Two Bluetooth Headphones To An iPad App?
How can I connect two Bluetooth headphones to an iPad app? A: Pairing multiple Bluetooth headphones is possible but will depend upon both your app and headphones – these general steps may help get things underway:
Make sure that both Bluetooth headphones are charged, turned on, and in pairing mode according to their user manuals. Go into "Settings" app on your iPad and choose "Bluetooth."
Turn Bluetooth on, if it isn't already. Your iPad will begin searching for available Bluetooth devices; once found, select it to pair your first pair of wireless headphones to it and pair the iPad accordingly.
Once one pair is connected, switch back over to the Bluetooth menu and search for another pair.
Select an additional pair of headphones to pair with the iPad. Providing that your chosen app supports multiple audio outputs, this step should enable you to choose both pairs as audio output. Unfortunately, not all apps support multiple outputs – therefore this step may not always be possible.
Play audio in the app and both pairs of headphones should receive the audio.
Note that not all Bluetooth headphones support simultaneous connection with multiple devices at the same time; ensure your headphones can meet this criteria before trying to pair them up with an iPad.
How Do I Connect Two Bluetooth Headphones To My iPad Pro At The Same Time?
The iPad Pro supports simultaneous pairing with multiple Bluetooth devices, such as two pairs of headphones. Here are the steps for connecting two Bluetooth headphones to your iPad Pro:
Press and hold both Bluetooth headphones until the LED indicator begins flashing rapidly,
Then launch the Settings app on your iPad Pro and choose Bluetooth from there to make sure Bluetooth is activated and search for devices.
Tap one of the Bluetooth headphones listed under "My Devices" to connect it to your iPad Pro.
Once connected, return to the "Bluetooth" menu and tap "Scan for Devices," find the second Bluetooth headphone that needs connecting then tap on it before tapping "Connect Now."
Now both Bluetooth headphones should be successfully connected to your iPad Pro and ready for simultaneous use. However, keep in mind that audio may be split between both headphones.
Adjusting this setting in apps or devices you use for listening purposes may also need adjusting. If any issues arise when connecting, try either resetting them or rebooting your iPad Pro before trying the connection process again. If no luck, restart them instead before trying the reconnection process again
Can You Connect Two Bluetooth Headphones To One Phone
Yes, two Bluetooth headphones can be connected simultaneously with one phone; however, not all phones support this capability so be sure that yours supports multiple Bluetooth connections at the same time.
How Can I Share Audio On My iPad?
Use the built-in Speaker:
When sharing audio in person with someone nearby, using iPad's built-in speaker may be the simplest and quickest method. While this approach might work great if it's quiet enough or you have space between you both to talk quietly if in noisy or public environments this approach might not work so well.
Use headphones:
If both parties own headphones or earbuds, plugging them into an iPad may allow for easier listening in quiet environments or without disturbing others around you.
Use
Airplay

:

If you own an Apple TV or another AirPlay-enabled device, AirPlay makes sharing audio from an iPad easier so that it can play through to other devices for viewing or listening pleasure – this makes for an ideal way to experience music or movie viewing on larger displays with superior audio systems.
Use a third-party app:
There are numerous third-party applications that make sharing audio simple, even across networks. Most utilize Bluetooth or Wi-Fi technology for this process and may require both parties involved have installed identical copies of this specific program on their respective devices in order to be effective.
Sharing audio on an iPad is generally straightforward and there are various approaches you can take depending on your individual requirements and those sharing. Simply find what works best for both of you, then enjoy your audio together!
Conclusion
Conclusion Connecting multiple Bluetooth headphones to an iPhone can be an efficient and useful feature for sharing audio among friends and family members. Simply follow our step-by-step guide, enabling up to two pairs of headphones at the same time to an iPhone simultaneously for shared listening experience.
However, note that not all devices or headphones support this feature, with possible restrictions to audio quality or control playback; nevertheless, for those seeking shared listening pleasure, it can be done easily in just a few steps!
Norvan Martin is the founder of BoomSpeaker.com. He is a professional Electronics Engineer and is passionate about home theater systems and AV electronics. BoomSpeaker was created as an online hub to share his knowledge and experiences as it relates to home theaters and home audio electronics.
My email: admin@boomspeaker.com
Connect on Pinterest and Linkedin