Installing ceiling speakers is one way of filling your room with surround music without worrying about floor space. Besides, you can easily get ceiling speakers designed for any ceiling space. In this article, we will discuss how to connect ceiling speakers to receivers and some of the elements to consider before installing them.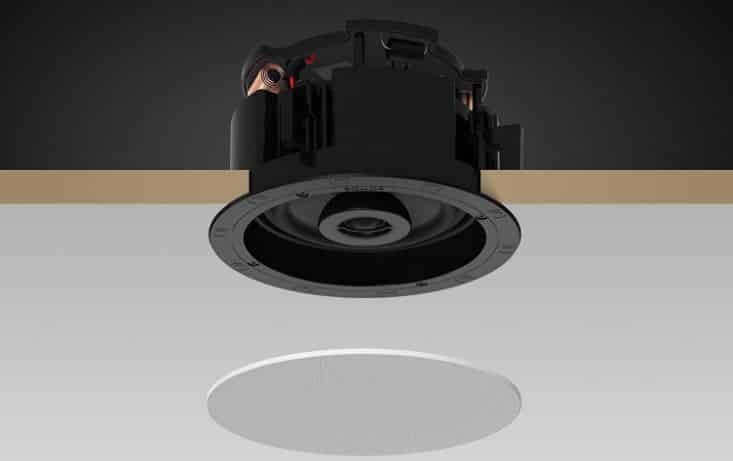 If these speakers are wireless, check out our guide on how to connect wireless speakers to your receiver.
You can connect ceiling speakers to a receiver in three ways:
Using Regular Speaker Cables: Use regular speaker wires that can handle a 70 volt or 100 volt constant voltage system to feed the transformer in the ceiling speakers. If the transformer is bypassed, you can connect the receiver on smaller gauge wires. It is best to use an amplifier as well. Most receivers and passive speakers have some sort of speaker connection terminals on the back (screw-type or spring-type). We recommend at least 16 AWG thick and CL2 rated for ceilings.
Power Over Ethernet (POE): Network ceiling speakers are connected to receivers over POE. These are active speakers (build in amplifier) that receive streaming audio over the network.
Wirelessly: These speakers are wireless in terms of the signal they receive, but they are often powered by POE. The audio signal comes in over WiFi or a Dect signal.
Please note that you should only connect your ceiling speakers to a receiver if the receiver is powerful enough to carry the speakers. Check your speaker power ratings and receiver power ratings. In addition, ensure your speaker's and receiver's impedances are matched.
Let's get into more detail about connecting ceiling speakers to a receiver.
Why Use Ceiling Speakers?
Ceiling speakers are built to give you a long-term solution for aesthetically pleasing sound quality in your room.
Having speakers on your ceiling helps you in several ways. One way is with space. Say for example you want to install speakers in a small bathroom, ceiling speakers will save a lot of space. In fact, in this case, it would be a great idea to use in ceiling waterproof speakers.
To successfully install ceiling speakers, there must be clear access behind the ceiling or walls to wire the speaker cables.
But Do Ceiling Speakers Need A Receiver?
If your ceiling speakers are passive speakers, you will definitely need a receiver and/or an amplifier. It's a good idea to use an amplifier with your passive speakers along with the receiver.
Additionally, you may want to route a multi-channel surround sound to the available ceiling speakers, and you will need a receiver to do that.
However, getting speakers into the ceiling is not easy for the layman. Removing ceiling speakers also takes some skills. Let us discuss some of the things to consider before taking your speakers up.
How To Connect Ceiling Speakers With A Receiver
Connecting ceiling speakers to the receiver is not hard science. We will show you in steps how to start and finish the connection without breaking a sweat.
Let's begin by looking at the materials. Before you can begin this connection, you should assemble:
A pair of ceiling speakers
Fish tape or coat hunger
Drill
Flat bit
Gloves
Level
Keyhole or drywall saw
Philips screwdriver
Wire strippers
If you intend to DIY, take precautionary measures such as turning off all mains powers, and wearing protective gear for the hands, eyes, and legs.
1. Find The Correct Speaker Placement
Once you have the right tools and have taken enough precautionary measures, identify the best location to place the speakers.
Make sure the ceiling speakers are placed closer to the listening area to the left and right of the receiver.
However, if you prefer to listen to surround sound, choose to place the speakers behind the listening area.
2. Working On The Speaker Openings
Once you choose the right placement for the speakers, use the speaker cardboard insert to trace a hole on the ceiling.
Use the drywall saw to cut the area you just traced. Ensure the selected area is free from obstructions such as wires or pipes. Remove the drywall scraps and clean the area.
3. Run A Cable To The Speakers
Run the speaker cables using fish tape from the receiver towards the first speaker. Repeat with the second cable.
Check if insulation is required. Once the cables are run to the ceiling, strip them with wire strippers to expose the copper wire.
Fix the wires to the receiver and the other end to the speaker, paying attention to the polarities of the output and input channels. Ensure the wires are firmly fixed.
4. Install The Speakers
Before installing the ceiling speakers on the holes, make sure you have read the manufacturer's manual.
This is because manufacturers may sometimes provide special instructions to guide the installation process and avoid damaging or placing the speakers incorrectly.
Tighten the screws using the Philips screwdriver. Do not tighten the screws excessively as you may need to adjust the speakers at some point. Repeat the same procedure to install the second ceiling speaker.
5. Seal And Paint
Once the speakers are properly fixed on the ceiling, seal the spaces around them with tape. Additionally, you can paint the area to add more finishing touches for extra style.
For additional glamor and blending with room décor, some manufacturers allow users to paint the ceiling speakers so that they can seamlessly blend with the wall and ceiling.
How Many Ceiling Speakers Do I Need?
Consistency of sound is one of the most valuable aspects when setting up ceiling speakers. Generally, ceiling speakers are sold in pairs to be set up as left and right stereo speakers.
If you have a large space, balancing audio levels should be done properly. It is therefore much more advisable that more speakers are used in a large space, than fitting one large speaker.
Most music lovers choose to fit 4 or 6 speakers in a square orientation when the space available is large enough.
Also, consider the number of receivers and their power ratings. If you connect the speakers to the same amp, they will play the same sound and the same volume.
However, if you have several rooms to fit with ceiling speakers, you may need two or more amps for every room to play independent music.
How To Position Ceiling Speakers
When setting up ceiling speakers, it is important to set them apart at equal distances of about 2 meters.
They should also be equal distances from the wall. If the space available is not large enough to permit 2 meters from one speaker to the other, you should use only one speaker for the best stereo effect.
If your room layout is not regular enough to allow proper positioning, you can choose a speaker with an angle-able tweeter so that sound is directed to the right sections of the room.
Ceiling Speakers and Mains Power
Ceiling speakers are generally passive speakers. As a result, they will not need to be wired to the main power as they do not have in-built amplifiers.
They, therefore, require to be connected to the receiver or amp and not the mains power supply.
The receiver will however require to be placed in a room with wall sockets as it will require to be wired to the mains power to operate.
Mono Or Single Stereo Ceiling Speakers?
Ceiling speakers are traditionally designed to work with stereo receivers. However, if you have limited space and cannot wire a pair of speakers, you will be able to use mono amps.
Ceiling Speakers and Fire Hoods
To prevent the spread of fire in the void, fire hoods are legally recommended as they help to preserve the integrity of your ceiling in case of fire.
On the other hand, fire hoods prevent sound leakage to the upper rooms when playing loud music. Check with your installer if this is a legal requirement or a necessity in your building.
Ceiling Speakers and Humidity
Before installing ceiling speakers, it is recommended to check with the manufacturer whether they will work well in high-humidity areas or not.
This is important especially if you intend to install the speakers in high-humidity areas such as bathrooms or the kitchen. Most of the ceiling speakers are however resistant to humidity and steam.
Can Ceiling Speakers Be Painted?
Matching ceiling speakers to the environment may be necessary. However, it is important to check with the manufacturer if the speakers you are about to install can be painted or not.
How Slim Should Ceiling Speakers Be?
You do not want ceiling speakers to protrude much lower than the ceiling. If the space behind the ceiling is too shallow, acquire a slim ceiling speaker for proper fitting.
Receiver For Ceiling Speakers
With the right receiver for your ceiling speakers, music will be more thrilling. There is a wide range of AV receivers on the market that are specifically designed for matching with ceiling speakers.
Here's a list of some of the top AV receivers to choose from.
Denon AVR-X3600H
Powerful 9-channel amp
105 watts per channel
Advanced video processing with 4k upscaling
Sony STRDH590
S-Force Pro virtual surround sound
4k HDR pass-through
HDCP 2.2 and Bluetooth
Onkyo TX-RZ830
Supports 4k/60 Hz, Dolby Vision, HDR10, and HDCP 2.2 pass-through
THX certified
180W per channel
Sony STR-DH90
4k support
Virtual surround with S-Force Pro
Bluetooth capability
2-channel sound
What DO I Connect Ceiling Speakers To?
All the ceiling speakers should be powered by an external amplifier connected to each ceiling speaker with a speaker wire. For best multi-room listening, you need a versatile amplifier such as the Sonos one.
How Many Ceiling Speakers Do I Need
Generally, and as a rough guide, it is recommended that you use one pair of ceiling speakers for rooms larger than 3 meters by 3 meters and two pairs of speakers for rooms bigger than 5 meters by 5 meters.
Types Of Ceiling Speakers
There are three main types of ceiling speakers. These are:
Passive mono ceiling speakers

Passive stereo ceiling speakers

Active ceiling speakers
Conclusion
So that's how you go about connecting your ceiling speakers to a receiver. In most cases, the connection will be a rather simple process. However, the installation does take some time and effort and may require an expert.
Related Articles:
How Do I Connect Wireless Speakers Connect to a Receiver?
How To Connect A Subwoofer With Speaker Wire To A Receiver That Has A Jack