Even before the advent of Bluetooth, Bose speakers were counted among the Ferrari of speakers, not just for their performance but for the huge price tag that came with it.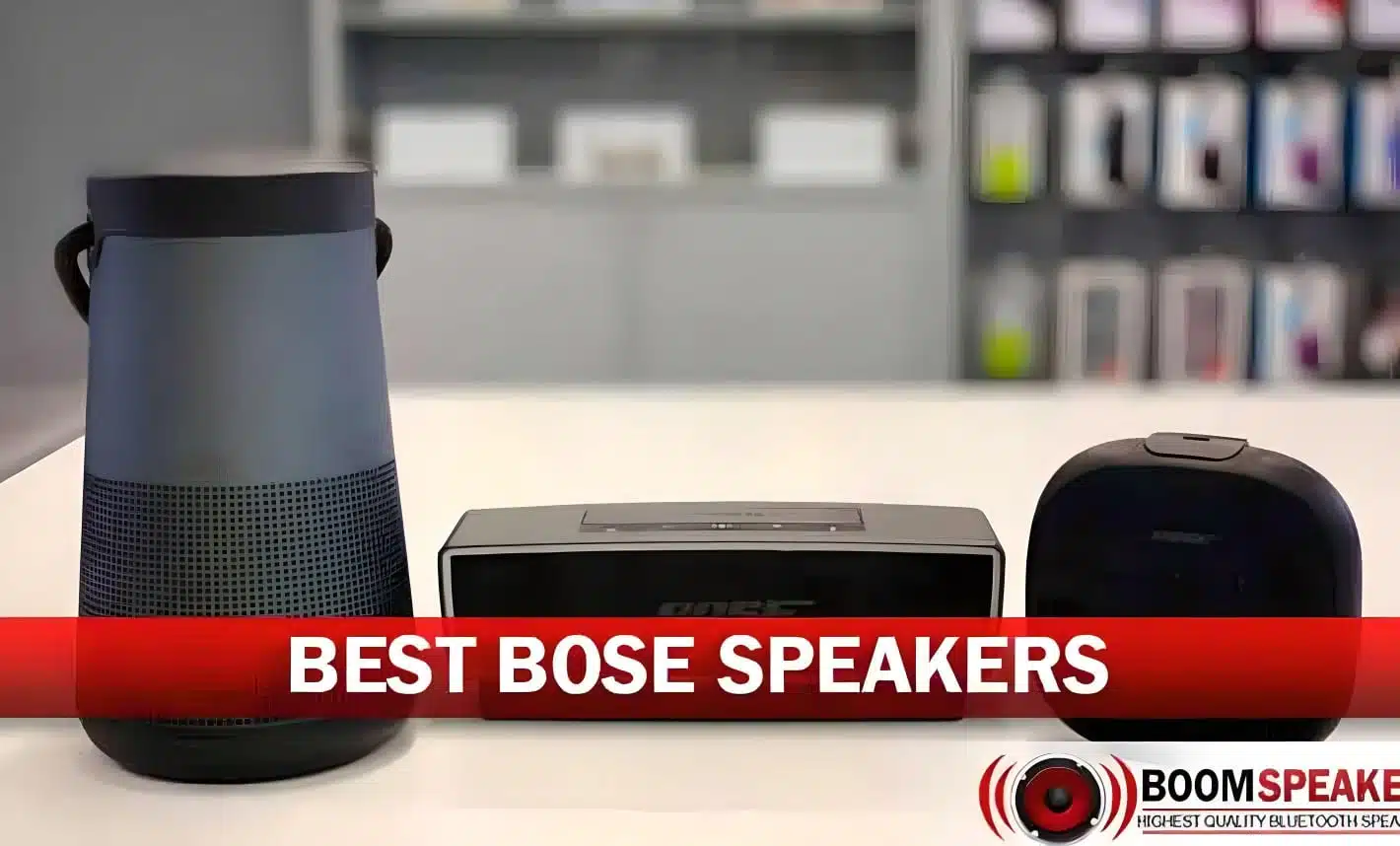 However, in the Bluetooth speaker world, there are now a lot of brands that rival the performance of Bose with only a fraction of the price.
For this reason, most people compare Bose speakers before deciding which one to buy. So with that, let's take a look at the best Bose speaker available.
The fact is, brands like Anker, JBL, UE, and even Beats by Dre come with fantastic sound quality with a lower price tag, but the Bose brand still means a lot to many people! So in this competitive market, let's compare Bose speakers by features and individual speakers.
Check out our comparison of Bose vs. JBL to learn more. It's often a contentious question – is Bose better than JBL? Reading this will give you a pretty good idea about how they stack up.
Bose speakers are excellent as portable speakers, especially on the low end. Check out our comparison of Bose vs. Boston Acoustics (which makes amazing low-end speakers), and you'll see that the Bose advantage is portability.
Keep in mind; however, if you are looking to purchase a complete Bose speaker system like Bose Lifestyle, then these Bose speakers aren't compatible with other receivers out of the box. However, you can read our article on how to use Bose speakers with other receivers.
---
Best Bose Speakers On Amazon
---
Best Bose Speakers For Portability
One of the key reasons people choose Bluetooth over traditional speaker options is because they can take them places.
You can toss them in the back of a truck, pack them in a purse, and generally take them to get the party started anywhere.
The portability of a speaker combines the aspects of size, convenience, and sturdiness to create a completely portable package. Let's compare Bose speaker for portability:
1. Bose Soundlink Mini II:
Bose has created a Mini product line that allows its traditionally very clunky and large speakers to be more portable. Still, even the Mini model won't be able to slip into your pocket.
They have also reinforced their SoundLink Mini models with more durable material (Aluminum) that makes it tough while still allowing it to be exceptionally lightweight.
2. Bose SoundLink Revolve+:
The Bose SoundLink Revolve+ is an excellent speaker from Bose, delivering deep, loud, and 360 degrees sound.
This speaker is also great for taking with you outdoors. First, it has a convenient handle that you can use to carry it in hand, onto your bike, etc.
Moreover, the speaker is portable with an aluminum body and is water-resistant (not waterproof).
---
Best Bose Speakers For Ease of Use
What good is a Bluetooth speaker if you can't figure out how to connect and use it without much effort?
The good news is that Bose speakers connect relatively painlessly with most Bluetooth devices.
The bad news is that it lacks many useful features that users have grown accustomed to with other speakers, like speakerphones and USB charging. Let's compare Bose speaker for ease of use:
Bose SoundLink Color:
The Bose Soundlink Color is a simple speaker. This speaker offers full-range sound. For example, you can easily pair this speaker with voice prompts.
Looking at it, you can see that it has a simple design with simple buttons that you are already familiar with.
---
Bose Soundlink Mini II:
Again, the Soundlink Mini II offers voice prompts for pairing, a built-in microphone, and simple controls you are familiar with.
The speakerphone is a feature that most people can live without, but USB charging is another story.
It might even be a deal-breaker since many users want to charge their Bose without lugging around another set of cords and its mobile charging station.
Best Bose Speakers For Battery Life
The battery life is one of Bose's significant failings. If you want to compare Bose speakers to other speakers, they might fail related to battery life.
With only around a seven-hour battery life on most models, it lacks the battery charge of Bluetooth speakers available at even a fourth of the price.
To combat this, models like the SoundLink Mini come with a replaceable battery so you can keep the music rolling without connecting it to a charging station, but at the same time, replacing the battery is a pain. However, the Bose SoundLink Revolve+ is an exception:
1. Bose SoundLink Revolve+:
In terms of battery life, the Bose SoundLink Revolve+ offers 16 hours of playtime from a long-lasting, rechargeable lithium-ion battery.3.6 inches Full-Range Driver.
2. Bose Soundlink Mini II:
This speaker offers up to 10 hours of battery life. There are no exceptions to other long-lasting Bluetooth speakers, but it's pretty good for Bose!
---
Bose SoundTouch 10 is a small wireless speaker that can fit almost anywhere. Despite the size, it provides rich sound.
SALE!!
Bose SoundTouch 10 wireless speaker, works with...
Works with Alexa for voice control (Alexa device sold separately)
The smallest one piece wireless speaker from Bose features delivers room filling sound;Instant Listening
Works with your Wi Fi and Bluetooth devices to play music services like Amazon Music, Spotify, Internet radio...
Since this speaker is a perfect companion for any occasion, it gives you instant, easy access to your favorite music.
With Wi-Fi, Bluetooth, and Apple AirPlay 2 compatibility, you stream whatever you want and get more music with less effort.
Bose Home Speaker 500 has two custom drivers that point in opposite directions and deliver wall-to-wall stereo. Due to these drivers, the speaker has a wider soundstage than any other smart speaker.
Bose Home Speaker 500: Smart Bluetooth Speaker...
SOUND PERFORMANCE: Fill any room with impressive wall-to-wall stereo sound from a single speaker
BUILT-IN-ALEXA: Amazon Alexa and Google Assistant are built into this smart speaker for hands-free voice...
CONNECTIVITY: Pair your device to this home speaker to stream your favorite music and more via a Bluetooth...
It can fill any room with outstanding quality stereo performance.
You can also use the Bose Music app to control your listening experience in a central location. With this app, you can seamlessly jump between services, playlists, and stations. You can also set up presets with this simple app with incredible ease.
In other words, it allows you to access and listen to your favorite music with a single touch. Moreover, various multiple users can use it to personalize their experience and content.
Best Bose Speakers of All Time
The best Bose speakers of all time are the Bose SoundLink Revolve+ and the Bose Home Speaker 500. These have been known as serious pound-for-pound performers. These speakers offer premium build quality, intuitive controls, and bold, expressive audio. Even the smallest one can impress you.
Bose Speakers Functionality
Now, this is what you are paying for. Why buy the Ferrari of speakers if you don't get that same roar?
Audio Quality
Like traditional Bose speakers, the company brought the same audio clarity and richness to its Bluetooth models.
For many, that alone justifies the price, as listening to a Bose speaker has the same powerful sound as listening through a good headset, no matter where you are located from the speaker.
Bass
Besides its superb audio clarity, Bose knows how to bring the bass. It can be counted among one of the best bass-producing Bluetooth speakers on the market.
As the bass is balanced and doesn't overwhelm the sound, you won't get that table-shaking boom, but it creates the speakers' wholesome sound.
Volume
For as praised as Bose is for its sound quality and even the quality of its bass, Bose Bluetooth speakers aren't perhaps the best choice for larger parties.
The volume is a bit toned down compared to other Bluetooth speaker brands. Unfortunately, what you usually get from other speakers is either good bass or louder volume, rarely both.
Water Resistance
Unfortunately, like all Bose models, its Bluetooth speakers should be kept as far away from water as possible.
Even light rain can mean the end of its expensive life, meaning that the Bose line is probably not an option for outdoor excursions or poolside parties.
FAQs
1. What are the different types of Bose speakers?
Bose has a wide range of speakers; some of these include Bose Home Speaker, Bose Soundlink, Bose Smart Soundbar, Bose Lifestyle home entertainment system, Bose surround speakers, and various others.
2. What is the top of the line Bose speakers?
Bose Home Speaker is certainly one of the best speaker lines of Bose. The circular design of these speakers offers a tremendous 360-degree sound.
3. Can I use a Bose speaker with my TV?
Most Bose speakers have amplifiers that can easily connect to your TV. Joining these speakers to TV sets will offer you an enhanced audio treat.
4. Is Bose considered premium sound?
Bose is among the companies producing some of the best audio solutions. It has been providing premium sound experiences to its users for many years.
Conclusion
When you buy a Bose, you are paying for that rich, wholesome sound for which the brand is known.
If you are looking for a Bluetooth speaker that is waterproof, loud or charged with the same cord that charges your phone, then it may be better to consider some of the cheaper options.
However, if you want a solid Bluetooth speaker that can fill your house with music as it is supposed to be heard, you get what you pay for with Bose, and it's worth every penny. In any case, it's good that you decided to compare Bose speakers; I hope you will make the right choice.